Waikiki the busy and fun beachfront area of Honolulu is a place that is teeming with activity. It's also a place that many holidaying Australians position themselves when holidaying on Oahu. So what can you do if you have 24 hours in Waikiki? Well it turns out, plenty of things! From breakfast at Duke's, shopping, afternoon tea at the Moana Surfrider and dinner at Morimoto's and a stay at The Modern, Waikiki is food lover's heaven.
Let's face it almost any day in Waikiki is kind of crazy. From Waikiki's busy beach thick with bathers and shopping promenades there is so much to do in the one small area. And when we've just one day left and the urge to see and do everything on your list at once, well the best thing to do is eat lightly and at as many places as possible.
Many people would like to start their day at Duke's. On the beachfront at the Outrigger waikiki Resort on busy Kalakaua Rd, the atmosphere is pure old Hawaii. There are thatched roof huts, hibiscus primary coloured prints and evocative black and white photos and memorabilia showing the history of Duke's. Duke's is named after Duke Paoa Kahanamoku, the world's most famous and revered surfer who was credited with introducing the world to surfing.
Service at Duke's is very friendly and chilled as per the vibe of the place. For breakfast there is a buffet selection. Alas the famous Hula Pie isn't available for breakfast although some of the selections could be just as sweet.
There's pina colada bread pudding, French toast with coconut syrup and poached strawberries as well as healthier options like freshly made omelettes and excellent home made granola. We try a bit of everything including a glass of POG, that ubiquitous and sweet Hawaiian creation with passionfruit, orange and guava juice.
A Hawaiian friend once told me "You Australians are obsessed with shopping in Hawaii you know?" I was holding a whole lot of shopping bags with $400 of skincare so I wasn't in a position to argue (it's cheaper and lasts me 2 years!). There are plenty of boutiques in the Waikiki beach area, although most people head to Ala Moana Shopping Centre about 30 minutes' walk away or a short drive from Duke's where there is pretty much every brand you can dream up.
Hawaii's state tax is just 4.5% which makes it a popular destination for shoppers. Department stores in Hawaii offer customers free wifi and bottles of water and cookies as well as generous gifts with purchases.
It's here that Mr NQN and I part ways for a short time and he takes up the Outrigger Canoe ride. For just $25 you can ride the waves on a wooden canoe right on the heart of Waikiki Beach. There are plenty of vendors that offer this service and they leave at various times of the day. Mr NQN comes back from this exhilarated and smiling.
But once you've shopped or canoed, may I offer you my preferred method for recovery. Slump into one of the chairs at the Moana Surfrider Hotel and partake of their afternoon tea. I'm dining with Melissa Chang (@melissa808) and Catherine Toth, two blogger friends that are local Oahuans. The Moana Surfrider is a regal lady that is often referred to as the "First Lady of Waikiki" Since 1901, the distinctive Beaux Arts designed hotel has offered lodging to the wealthy. As guests would often arrive by boat, the original hotel was built with views away from the water. People didn't want to see the water after being on a boat for so long! The hotel later built the new wing on the waterfront to cater for its modern day guests' preferences.
The afternoon tea is held at the Beachhouse on the verandah terrace. Sea breezes blow and we watch the waves break and the swimmers dip in and out of the water. We order the Classic Tea Service. There are three to choose from starting with the Verandah tea, the Moana Classic tea to the First Lady champagne tea. The classic tea offers just a bit more food so naturally we opt for that.
To start with, they bring out a selection of tea for us to smell. I go for the intoxicating vanilla and caramel of the Verandah Breeze while Melissa and Cath go for Moana Sunset and Moana Royale. Because you know that's what bloggers do so that they can taste more ;)
They bring the stands out and they are generously portioned and include two separate plates of extra food. We start on the sandwiches and the first is a smoked salmon and cream cheese. The second is a profiterole filled with jamon, goat's cheese and rocket while my favourite morsel is the pork banh mi with mango and radish. Although the baguette isn't crunchy it's a fantastic sandwich.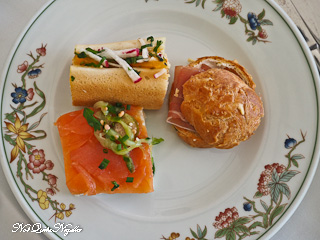 The scones however aren't as much of a hit. They're hard and resemble a cookie. Served with cream and passionfruit or lilikoi curd they would have otherwise been great.
The top tier holds a range of sweets from pineapple and papaya macarons to buttery macadamia nut shortbread fingers. My favourite is the huapia (coconut pudding) Swiss roll - it's light as a feather and soft as down with a light real coconut flavour.
The bottom tier has a Kona coffee cheesecake with a chocolate base. It's light and not too thick or heavy. The rose and guava sponge cake is also a soft, light number with a nice tropical twist on the traditional sponge. Sigh I do love cake!
The second extra plate also offers a mix of sweet and savoury. The savoury is rich crab meat sandwiched between cucumber and radish. Meant to be a low carb sandwich it's a bit awkward to eat but nevertheless the crab is delicious. In a cup is the chocolate creme de pot with a whipped milk froth topping with a perfectly sweet chocolate cream underneath. And at the end is a ginger biscotti.
As we are getting ready to leave they let us know that we haven't had our last mouthful. It's a refreshing lemongrass sorbet! I sadly bid my Oahuan friends farewell.
For our stay in Waikiki, we are at The Modern and it is certainly lives up to its name. A hotel unlike any other in Waikiki, it offers a playground for adults away from the family resorts. A modernist, all white structure, its location isn't on the beach which is not necessarily a bad thing as it makes it somewhat quieter than the main beach drag of Waikiki. There is one adults only pool available in the hotel for sunseekers.
There is an artwork of broken surfboards in the reception area and a sliding bookcase partitions off the bar area where there is complimentary tea and coffee in the morning and at night, it morphs into a bar. It's valet parking only here and we hand the valet the keys and check in and head upstairs.
We are in room #1210, a corner ocean view suite 665 square feet large. The colour scheme is white giving the suite a spacious and airy feel. There is a modular sleeper soda and a large full length mirror as well as a two flat screen televisions (one in the lounge and the other in the bedroom).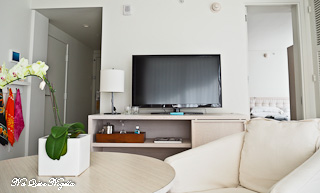 There are two balconies both offering different views. One view is of the marina and the other is of the city. There is a good sized work desk although plugs could be easier to access as they are under the desk. Internet is fast and free for an unlimited amount of devices.
The bedroom has a king bed and a large credenza/closet that also fits in the television. The bed is comfortable - the mattress is a tad bouncy but they have gorgeous Frette linens.
The bedroom isn't quite as spacious as the lounge room and there isn't a great deal of space for luggage. Also the wooden louvres and blinds are quite bright in the morning and don't really allow for a long, luxurious sleep in. A bonus however is the fact that check out is at noon.
The bathroom is on the snug side. There is no bath and the shower is spacious but there is plenty of elbow touching if you are both getting ready at the same time. There are amenities by brand Lather that include shampoo, conditioner, lotion, body wash and soap but no other items. Tip: if you need a shower cap in Hawaii, bring your own as none of the hotels we stayed at gave them whereas hotels everywhere else seem to.
There is also no coffee or tea machine in the room but they can send up a tea set that includes a kettle and a range of organic tea bags and takeaway paper cups. We did notice that we were supposed to get twice daily housekeeping but this was a bit sporadic.
There were supposed to be slippers in the room but there weren't (robes are by request but we didn't request these). And as nice and friendly as the valets are, the directions and information given was often incorrect.
Dinner that evening is in house and it's nice to stay in at the hotel. The Modern's fine dining and sole restaurant is Morimoto's by Masaharu Morimoto from Iron Chef tv show fame. The entrance to the restaurant resembles a gallery and we pass by seaweed encased in resin and displays of enormous shells.
Morimoto's has an indoor section right in front of the open kitchen but the outside section is the pick, especially on a beautiful night when you watch the boats berthed at the marina outside. Service is efficient and deferential and in keeping with the hotel's theme, the predominant colour is white. I particularly like the clear chopsticks.
And our debate on whether there are lots of Australians in Waikiki is answered when the two tables next to us are also Australian and we end up chatting to them during the meal! You cannot keep Aussies away from Waikiki ;)
Tuna pizza $19
We start with what ends up being one of my favourite courses. A flour tortilla is baked until crispy and then topped with thin slices of sashimi tuna, tomato, onion, and jalapeno chillies and then drizzeld with anchovy aïoli. The overall sensation is a contrast of crunchy base, soft tuna and creamy dressing with just the right amount of heat. I loved it so much I ended up making my own version of it.
Wagyu carpaccio $22
The wagyu carpaccio is thinly sliced beef with a yuzu, ginger and soy dressing. A mixture of hot olive and sesame oils is poured over the beef cooking it slightly and giving it a silky texture
Hamachi tacos
This is an experiment from the kitchen. Four dumpling skins are deep fried and shaped into taco shells. They are filled with hamachi, sour cream, fish sauce, tomato and micro coriander for a Japanese take on Mexican tacos. They're fresh, crispy crunchy and satisfying although I might have liked some onion or chive in them.
Pork gyoza $18
I've eaten a lot of gyoza in my life but never a pork gyoza on a Big Island Hamakua Springs Farm tomato sauce with bacon cream foam and potato juice pancake. And yes it's rather brilliant. The pork gyozas are wonderfully juicy and sit joined together under the thin potato starch layer. The bacon foam melts into the sweet, intense Hamakua tomato sauce (that is incidentally nothing like ketchup) and suddenly tomato sauce seems the most natural thing to pair with gyoza.
Takoyaki $18
If I thought the gyoza were one of the best gyoza I've had then I tried the takoyaki. I always love browned butter and it adds so much to these takoyaki. There isn't any tako or octopus in this takoyaki. Instead it's a slice of tender Big Island abalone surrounded by feather light batter and then drenched in browned butter and topped with Kewpie mayonnaise. A dozen of these please and could you just shut the door behind you?
Kinmedai or golden big eye snapper $7; mirugai or giant clam $7, kanpachi and amber jack $7 (from Kona)
It would be silly to go to Morimoto's and not try the sushi. Here we are trying three types of nigiri sushi. A golden big eye snapper, a tender yet slightly chewy giant clam and a soft kanpachi or amber jack from Kona. All come with a dot of wasabi.
Ishi yaki buri bop $30
The Ishi yaki buri bop is made with sashimi slices of hamachi with a raw egg yolk, rice and a sesame soy sauce. It is then mixed up in the hot 450F/232C bowl so that the egg cooks up and the rice gets a tiny bit crispy.
Our server then puts the dish back together so that it resembles the dish in its original state.
It's delicious but also incredibly filling especially after I had made a glutton of myself with the takoyaki, tuna pizza and gyoza.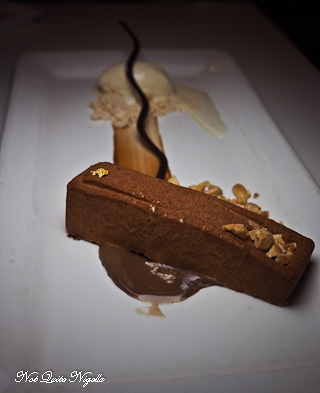 Chocolate peanut bombe $12
I must admit that I always expect peanut butter and chocolate dessert to be rich and dense but in the hands of the Japanese, they are gorgeously light. This is a milk chocolate crèmeux, peanut dragée, salted peanut ice cream.
Vanilla strawberry ume profiteroles $12
The dessert that stole my heart however is the profiteroles. Freshly made so that they are still crisp, there is a strawberry ume plum ice cream with roasted white chocolate ganache, brown butter brown sugar streusel and diced macerated strawberries. It's fresh but the browned butter adds an appealing richness. It seems the perfect note to end a busy day eating in Waikiki.
So tell me Dear Reader, if you had an ideal 24 hours anywhere what would you do? Do you prefer modern or traditional hotels? And how often do you dine in at the hotel?
NQN visited Hawaii as a guest of Hawai'i Tourism Oceania
Duke's Waikiki
2335 Kalakaua Ave #116, Honolulu, HI 96815, United States (part of Outrigger Waikiki) Phone:+1 808-922-2268
Open 7 days 7:00 am - 12:00 am
http://www.dukeswaikiki.com/
Moana Surfrider, A Westin Resort & Spa
2365 Kalakaua Ave, Honolulu, HI 96815, United States
Phone:+1 808-922-3111
Afternoon tea: 12pm - 3:00 pm (on the Verandah at the Beachhouse)
http://www.moana-surfrider.com/
The Modern
1775 Ala Moana Blvd, Honolulu, HI 96815, United States
Phone:+1 808-943-5800
http://www.themodernhonolulu.com/
Morimoto's
1st floor, The Modern Hotel, 1775 Ala Moana Blvd, Honolulu, HI 96815, United States Phone:+1 808-943-5900
Open 7 days: 7:30-10:00 am, 11:00 am - 2:30 pm, 5:00-10:00 pm
http://www.morimotowaikiki.com/