In October and November Hawai'i plays host to the 12th Hawaii Food & Wine Festival. There are a range of stellar events for food lovers. Mingle with America's top chefs, taste their food and sip drinks made by the country's top bartenders all in a tropical setting.
A couple of young American physicians I met at a Hawaii Food & Wine Festival event asked me why Australians loved Hawaii so much. Certainly we have no shortage of tropical holiday destinations closer to us. It may be something as simple as in the past someone struck up a deal to promote Hawaii with Aussie travel agents.
But it might be something as simple as Aloha.
The Aloha spirit literally means in Polynesian language, "the breath of life" (Alo is presence and Hā is breath) and encompasses love, compassion, sympathy and kindness. It's also a greeting to say hello or goodbye but also a way to express love. The state of Hawaii introduced the Aloha Spirit law in 1986, which mandates that state officials and judges treat the public with Aloha. Indeed my new physician friends said that everywhere that they worked across America they've never felt more appreciated than in Hawaii.
It has been 10 years since I visited Hawai'i (although I think most of us can disregard the last 2 years) and during the pandemic it was one of two places that I missed the most. And this year I'm back to attend the annual Hawaii Food and Wine Festival which is in its 12th year. This year it is being held from the 20th of October to the 6th of November, 2022.
The festival was the idea of chefs Roy Yamaguchi and Alan Wong who were part of a collective of 12 Hawaiian chefs who in the 1990's banded together to uplift Hawaiian cuisine. While Hawaii was always known as a desirable location to holiday, the cuisine here was less recognised. To do this they knew that they had to support local industry instead of shipping in frozen, imported produce.
One way to get the word out was through the Hawaii Food & Wine festival that first started in 2011. "The focus at that time was to support our farmers, ranchers and local fishermen. We ask all of our chef to use locally raised product and that's the same today. We also want to put Hawaii as a spotlight as a culinary destination and give exposure to our young, local talent," says Denise Yamaguchi who is the Executive Director for the Hawaiʻi Agricultural Foundation and married to Roy Yamaguchi of Roy's restaurant. "The visiting chefs from other cities in America take back the culture and spread the word and become ambassadors," adds Roy.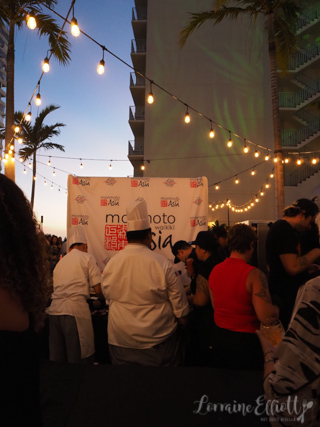 That evening I make my way to the 5th floor of the 'Alohilani Hotel for one of the Hawai'i Food and Wine Festival's signature events. The "Momo and The Tiger" is an outdoor event with a collection of the country's best chefs and bartenders at different stands. Guests help themselves to their dishes and drinks and roam around. There are around 20 events over the festival period involving 100 chefs from all over the country.
Rick Bayless
The Momo and the Tiger is chef Masaharu Morimoto's event and he takes court in centre of the festival - the Momo in the title is actually his nickname Momo San. Superstar chef Rick Bayless is there serving up black cod tostadas - these are incredible and will be the first to sell out. I help myself to Calvin Eng from Bonnie's shrimp, candied walnuts and Granny Smith apple with Dole pineapple and honey kewpie. It's delicious and perfect for the tropical setting.
VIPs get early access from 5pm while the main crowd starts at 6pm so if you want unfettered access go early. Still there is plenty of food and you can eat and drink to your heart's content. Although I'm here by myself (Mr NQN is on a conference call to Sydney in our hotel room) I make new friends with Anna, Drew and Megan, three physicians who are here enjoying the event.
Rick Bayless's Cod Tostada
On each drink cup is a QR code that takes you to a map of where all of the chef stands are so you can make sure that you don't miss any as a whole cluster of them are located around the corner.
Fans of Top Chef and chefs in general find themselves mingling with them and everyone is excited to meet all of their favourite chefs. At 7pm everyone gathers to watch chef Masaharu Morimoto and his team carve up a whole ahi tuna which will then be served to guests.
The next evening is the Hawaiian Airlines Presents On Cloud Wine. This is held at the Honolulu Convention Centre and features a similar arrangement where people prebook a ticket and can have all of the food and drink that they want from various stands. At this event there are 20 winemakers paired with 20 chefs and if wine isn't your thing there is also a range of cocktails. A ticket is $400 per person and gets you all the food and drink you want for a three hour period. This year it is located indoors whereas in the past it has been held on the rooftop.
There are out of state restaurants like State Bird Provisions from San Franciscoand Grammercy Tavern from New York and local restaurants like MW who look after the inflight cuisine for Hawaiian Airlines. The biggest line is for Tiffani Faison from Boston, MA. Her dish is a petite cannolo with creme fraiche and caviar; generous with the caviar we note.
Nami Kaze's Vietnamese inspired escabehce of shutome belly with fermented Dole pineapple mam nem, herb salad and butternut soba is delicious as is State Bird Provisions' kabocha mochi ball. The Big Island abalone with abalone liver bechamel from Maru Sushi was also delicious and a surprising delight was by food network personality's Amanda Freitag. She made a creative shave ice which was savoury, crunchy and fresh with sashimi fish.
For dessert we try Gramercy Tavern's lime meringue tart made with lime leaf oil, macadamia nut honey and roasted mauna loa macadamia nuts. Everything that we tried was delicious as the chefs are showing their best dishes as it's a good chance for them to promote their restaurants.
After this event there is an after party at the Hyatt Waikiki Beach on their pool deck level. There host Adam Richman from Man Vs Food introduces the event and again you walk around and help yourself to the food and drink from the chefs there. This is on a smaller scale with 5 chefs paired with 5 mixologists for $200USD a ticket.
Bar Maze is known for both their food and drink and their offering is salted baked kanpahi, shirodashi buter sauce, ogo and radish. This is buttery soft and melts in the mouth while the cocktail made with Ichiiko Shochu, haku vodka, mango, elderflower, tomato water, sansho and herbs de provence finished with grated cheese is a complex mix that is light and fruity. By this stage we're too full to try everything but the selection is top notch and the ramen with kimchi chilli by Esther Choi's from Mŏkbar is New York is also a tasty standout.
Where To Stay
During the Food & Wine Festival I stayed at the 'Alohilani, a 380 room and suite hotel right along Waikiki beach which was really handy for the Momo and The Tiger Event. There are two towers at the 'Alohilani: the Seascape tower with 35 floors and Beachside tower with 17 floors. The seascape tower has views of Diamond Head while the beachside tower has direct water views and is located on the beach promenade.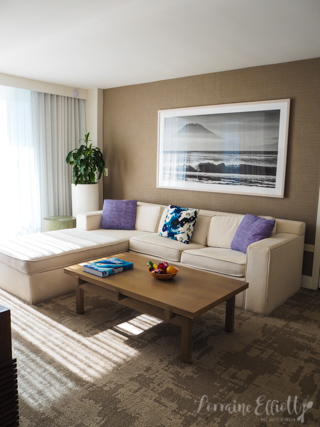 Our room is an expansive one bedroom suite in the Beachside Tower with incredible views of the Pacific Ocean. The balcony or lanai stretches across the sitting room and bedroom and the view beckons you out onto it. I watch as surfers try their luck down below near the swimmers the water glistening like a sea of diamonds in the afternoon light. The suite opens out into the sitting room with L shaped lounge, large 65 inch flatscreen, Harmon Kardon Sound System and a table and chairs at one end. There is also a wet bar area with a coffee machine (tea pods can be ordered on request).
The bedroom is separate and has a supremely comfortable king sized bed with soft pillows in different thicknesses so you can easily find one that you like. The bathroom is enormous with a two head shower, twin sinks and plenty of room to spread out your toiletries (or is that just me?).
Malie Organics Koke'e miniature toiletries are provided. There's a Japanese bidet toilet which keeps your tushy warm when you sit on it. There's also a separate WC that we only discovered on the second night there (let's blame that on jetlag!). 'Alohilani suites include access to the Longboard Club. The 5th floor where Swell Bar is located is also where Longboard club guests can enjoy the amenities including breakfast and pre-dinner snacks during their stay.
Tip: make your way to the cabanas just before 4pm which is when the afternoon drink and food service starts. Longboard Club Cabanas are first in first served and are included in the Longboard Club rate of $150 a day. At Swell Bar the cabanas can be booked but incur a charge of $250 with a minimum food and drink spend of $150.
There are six eateries attached to the 'Alohiliani including Morimoto, Double Fat ice cream, Momosan ramen and Kai coffee who do an excellent iced latte. There is also an ABC store in the lobby of the Beachside tower that opens up to the beach promenade.
The Spa U'ilani spa is located on the 3rd floor of the Seascape tower and offers a range of massages and facials. I have the Desembre custom facial done using K Beauty products by Nalani, a very talented facialist. This facial is $170USD for 60 minutes plus tax and 21% gratuity. It was one of the best facials I have ever had. It was so relaxing and Nalani utilised a lot of facial lymphatic drainage in the facial which helped to alleviate the effects of the flight.
Suite guests also have access to borrow up to 3 items each day for free from Beach Candy, a store located on Waikiki beach where surfing was said to have been invented by native Hawaiian Duke Kahanamoku. As soon as he can, keen surfer Mr NQN borrows a surfboard and paddles off into the ocean.
So tell me Dear Reader, have you ever been to Hawaii? And what do you think of the food festival events?
NQN was a guest of Hawaii Tourism Oceania and flew to Hawaii as a guest of Hawaiian Airlines but all opinions remain her own.
Hawaii Food and Wine Festival
https://hawaiifoodandwinefestival.com/
Hawaiian Airlines service from Australia - www.HawaiianAirlines.com.au
Flight HA452 operates non-stop from Sydney to Honolulu departing 9:40 pm every Tuesday, Thursday Friday, Saturday and Sunday, arriving in Honolulu at 10.35am.
On the return, Flight HA451 flies 5 x weekly non-stop from Honolulu to Sydney departing at 12.00pm every Monday, Wednesday Thursday, Friday and Saturday, arriving in Honolulu at 7.45pm.