I watch the young girl in her pink and orange sundress. She gnawing on the beef bone contentedly and I imagine her laying down the memories for all of the future years of visits to Helena's. She shows her dad the finished bone proudly and he smiles. I imagine that perhaps he has that familiar feeling of deja vu.
Helena's in Honolulu is truly a local's paradise. It's where Hawaiian teens make their last pilgrimage just before heading to the mainland to college so they can taste their last bites of kalua pig, salmon lomi, pipikaula (beef short ribs) or creamy taro puree poi. It is always busy at Helena's and the small carpark out the front can barely fit the regulars let alone the interlopers like Mr NQN and I.
I walk in by myself as Mr NQN goes to park the car and it seems that every pair of eyes looks up but it's in such a friendly and welcoming way that instantly puts me at ease. There's a wait for tables (I'm told that there is always a wait for tables) and they offer me a smile and a menu to read while I wait. A sign says "Aloha served daily" and I believe every word of it. There's conversation, much of it in pidgin.
Helena's was started in 1946 by a woman called Helen Chock, recipient of a James Beard award. The walls are lined with other accomplishments and letters from congresspeople and the senate congratulating her on her services to Hawaiian culture. Other framed photos are of famous diners. A framed black and white photo of Helen and friends is on the left decorated with a shell lei. Helen passed away in 2007 and her daughter Elaine Katsuyoshi is another welcoming presence that sits at the cashier and Helen's grandson Craig Katsuyoshi now runs the business.
And how did I hear about Helena's? By Honolulu based blogger Melissa Chang or @melissa808. I was introduced to her by Marilyn Jansen Lopez from Maui Country Farm Tours and Melissa was kind enough to meet Mr NQN and I there for lunch. Helena's is on North School street, a little out of downtown. It is cash only and the service is as warm and welcoming as it would be if you dined at someone's house.
So what is traditional Hawaiian food like? It's seafood rich with the surrounding coastline and poi, a taro puree is used in a similar way to mashed potato rather than being eaten by itself. A small bowl of red salt comes along with slices of white onion which you can dip in the salt. On the table are a bottle of soy sauce and also Hawaiian hot chilli pepper water. And the prices here? Well they're unbelievably good. A set meal which is enough for two to share is $19USD but of course we want to try everything. Melissa even brought along some lovely Hawaiian treats for us! :)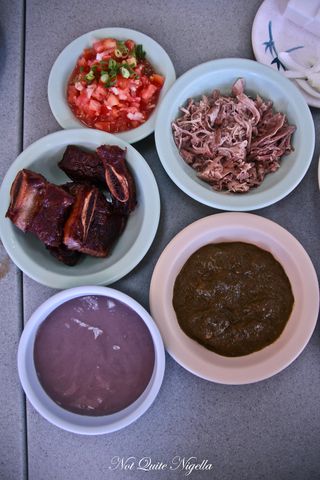 The food comes out quickly and we have a little bit of everything. The picture above is of everything in the set menu option D. The short ribs pipi kaula style or the Hawaiian dried short ribs are the item that get people all excited. Once I try them, I see why. There are rows of racks of these beef short ribs drying in view behind the register. They are served bone in for maximum flavour with a crispy texture to the outside but still retain a good texture, even though they are dried. The flavour with the marinades is a mix of chilli, soy, garlic, ginger and other flavours. I may have had three pieces, I'm not telling ;)
The kalua pig is smoked in an imu and has a light smokey aroma and a soft, cottony texture. And Melissa shows us her way of eating poi-mixing the lomi salmon which is finely diced salmon with tomato and white and green onion to give it more flavour. Melissa tells me that this is called "Brok' da Mout'" although Cat Dish's blogger Catherine Toth says that it's a "cultural faux pas" to do this. And one of my other favourites was the squid luau which is tender squid pieces in a coconut and luau leaf puree. It was so full of flavour and it reminds me of a palak peneer in appearance.
Poke is a dish made with sashimi grade tuna or ahi, cut into cubes and seasoned with garlic, onion, soy and sesame sauce. This one comes with little tendrils of brown seaweed and sliced opili or limpets which has a similar texture to clams. Melissa tells us that they're an expensive ingredient as fishermen risk death catching these. The poke has a little seasoning on it but you can add more with the soy and Hawaiian pepper water.
One of my favourites, these clear, crystal noodles are slippery and hard to spoon onto a plate gracefully but they're worth every slurp. It's comfort food, full of flavour with a small amount of broth and some shredded chicken breast.
This came with the set meal and it was a jellied coconut milk rectangle with a mild sweetness to it. It can be bought by the trayful and I see lots of people going in and out carrying large cardboard trays of food to take home with them. As we leave Mr NQN buy a Helena's t shirt for himself and his brother Manu. Other customers ask us where we are from and are warm and wish us well on our travels. I'd say that aloha is definitely served daily.
It seems as if I am on a hunt for the President. But in Honolulu, it is entirely possible to follow the President, or at least his palate. Melissa points out some buildings on her left "Oh that's where Obama grew up" and then further up another road is a Baskin Robbins where he worked scooping ice creams. Hawaii is a staunchly Democratic state and not just because President Obama was born here. It is also very multicultural.
But where does the President like to eat? Well he is a Hawaiian local so he is going to find comfort in traditional Hawaiian flavours. And one of his favourite places is said to be the Rainbow Drive Inn where his favourite menu item is apparently the plate lunch. What is a plate lunch? It is plate where there is usually two scoops of rice, macaroni salad and a meat dish of some sort. Originating with the sugar cane workers from Japan, China, Philippines and Portugal, they mainly subsisted on ingredients like SPAM and canned goods and the lack of fresh vegetables spoke to how hard they were to come by for Hawaiians in the past before the agricultural industry was established and there were imports from the mainland.
Jim Gusukuma, owner of the Rainbow Drive Inn,
Rainbow Drive Inn was opened in 1961 by Seiji Ifuku who learned to cook while serving in the US Army. He aimed to serve large portions of wholesome meals to the working public and the nearby beach crowd. Careful to serve customers quickly, it became a popular place to eat. Even today, tourists come and visit as well as locals craving a meal. I listen  as a group ask "I heard that this is where Obama eats?"
To order, you go up to the counter and order and a few minutes later, the food arrives in a square cardboard box that you can either eat out of or take away with you. There are pick up orders and a little shop nearby sells merchandise like bags and tshirts. And for this meal I've left Mr NQN at the hotel as he's not feeling well and I'm eating with Melissa and Cath.
The stuff of kid's fantasies, the ice cream icy float is perfect for the weather with a thick scoop of vanilla ice cream and a raspberry flavoured slushee surrounding it.
The mix plate has a sheet of parchment paper so that the food doesn't stick to the lid of the box. On the plate is a layer of shredded cabbage, two scoops of rice and scoop of macaroni mayonnaise salad (also sold in a large $14 bucket size). On top of the cabbage is a slice of barbecued beef as well as pieces of crumbed mahi mahi and boneless chicken. Melissa and Cath tell me that "gravy all over" is a common request and Cath tells me that the gravy here is what they're known for.
Everything is made in house, even the gravy and this is why it can taste different day to day. Whilst others move to packet mixes for consistency, here they stay with their home made recipes and I must say the gravy is delicious and unmistakably different from the boxed or packet kind. The meat is tender for the most part and I particularly like the crumbed mahi mahi which you spread with the portion of tartare sauce.
I was curious to know more about Saimin and this is like a version of ramen noodles served with a soup stock and white Chinese flat noodles and slices of ham. It's not bad although this is not the Rainbow Drive Inn's specialty. My mother used to make something very similar for me when I was at university.
I watch as others order Moco Loco plates and a range of the mixed plates. A group of young Japanese surfer girls polish off every bite of their Moco Locos.
A little later that evening, I meet up with Cath and Melissa again. We are off to Frost City to try the Taiwanese layered shaved ice. We get our fair share of ice desserts in Sydney but I've yet to come across this layered shaved creation. The flavours are made using all natural ingredients in large cylindrical blocks and each block makes about ten desserts. The owner made a couple of visits to Taiwan to see how this would work.
Melissa tells us that a friend drove past and complained of the line outside but when we arrive, there's no line or wait. We take a look at the ice being made using a heavy duty looking machine. They also own a jewelery store next door that specialises in knot jewelry.
A machine shaves the ice in thin layers that resemble rock formations-the best effect is with the more vividly coloured flavours. There are a lot of flavours available including some intriguing ones like watercress, seasonal pumpkin and starfruit but there are more regular ones like strawberry, cookies and cream and almond. You can't get half and half mixes but there is a list of flavours that they have pre-mixed together already.
The milk coffee shaved ice is very refreshing and just the right amount of sweetness. Each one comes with different little morsels to eat with it and this one has pearls and mochi. The texture of the shaved ice melts on the tongue as it is so thin-much like a thin layer of Flake bar.
Haupia is the coconut pudding which we had earlier which makes up the shaved ice portion. There are mango pearls and mango pieces and the pink pulp of sightly tart citrus fruit pomelo on the side.
Li Hing Hui is another thing that we discovered while in Hawaii. It's a vivid orange powder sold in packets and is a mixture of  of dried salted plums, sugar and salt. Salty and sweet and full of flavour, this one should be eaten last as it makes the mild flavoured coconut haupia fade in flavour. It's bold and gutsy and strong and really quite good although the salty aspect might surprise those who are new to the Li Hing flavour.
By the time I realise that we've been out for a few hours and it's 11pm already. Nothing like hanging with the local bloggers for the lowdown for what locals eat!
So tell me Dear Reader, what local or home grown food would you have to eat if you were going to go away for college or university? And have you ever seen ices like that before?
NQN travelled to Hawaii as a guest of Hawaii Tourism and Hawaiian Airlines. All meals in this post were independently paid for.
Helena's Hawaiian Food
1240 North School Street Honolulu, HI 96817
Tel: +1 (808) 845-8044
Open Tuesday to Friday: 10:30 A.M. to 7:30 P.M.
Cash Only
Rainbow Drive-In
3308 Kanaina Avenue Honolulu, HI 96815
Tel: +1 (808) 737-0177
Open 7 days a week from 7am-9pm (closed Christmas, Thanksgiving and New Year's Eve and New Year's Day)
Frost City
2570 Beretania St, Suite 105, Honolulu, HI 96826
Tel: + 1 (808) 947-3328
Cash Only
Tue-Thu 12:30 pm - 10 pm
Fri-Sat 12:30 pm - 11 pm
Sun 12:30 pm - 5:30 pm