Chef George Mavrothalassitis or Chef Mavro as he is affectionately known, is one of Hawaii's most prominent chefs and one of the founders of the Hawaiian Regional Cuisine Council that changed the face of Hawaiian food. With his wife and business partner Donna he shows us what makes the food scene in Honolulu so special and why dinner at his eponymous restaurant is a sublime treat that is not to be missed.
When Chef George Mavrothalassitis aka Chef Mavro thinks back to the 1990's and the food scene in Hawaii, he screws up his face and rolls his eyes. "Nobody was making any effort. It was a tourist destination and all I saw were Caesar salads and mahi mahi using frozen mahi mahi from Mexico. This disturbed me," he says. For a chef who grew up on the port side city of Marseilles, it was even more foreign to him than the shores of Hawaii.
Inside Chef Mavro, the restaurant
He met his wife and publicist New York state born Donna Jung in the 1990's on a Hawaiian foods publicity trip in Paris. It was then that he and eleven other prominent chefs took stock of the situation with produce and supplies and banded together to create the Hawaiian Regional Cuisine Council. At first nobody wanted to back it. "The hotels thought that it was a stupid idea," Chef Mavro says but against expectations, it became wildly successful.
"Nobody was eating fish, Americans didn't know how to cook it," he explains. Ironically now a lot of Hawaii's catch doesn't need to be promoted overseas and they keep it all for the islands due to over fishing.
He fell in love with Hawaii immediately. "I was home on the first day," he says. He explains that while there are classic and modern chefs and customers he is firmly a modern chef. It's the blending and fusion cuisine that appeals to him and he loves to visit Honolulu's Chinatown Vietnamtown.
Chef Mavro wasn't always meant to be a chef. He was supposed to follow in his father's footsteps and dutifully became an engineer destined to work on tankers. Then the industry in Marseilles collapsed and he started up his own business trading helicopter parts. With the Vietnam War he made a fortune but he wasn't comfortable with what he considered the ill gotten gains.
His yearning to be a chef never abated and he sold his share of the helicopter parts business and started a restaurant on the French Riviera as a business partner. He hired himself as an apprentice chef and learnt from his own accomplished chefs. When the business closed for winter, he worked for some three Michelin starred chefs developing his trade. He has two children from a previous marriage and his son and former wife now runs the French Riviera restaurants. He now calls Hawaii home although he visits France once a year to see family.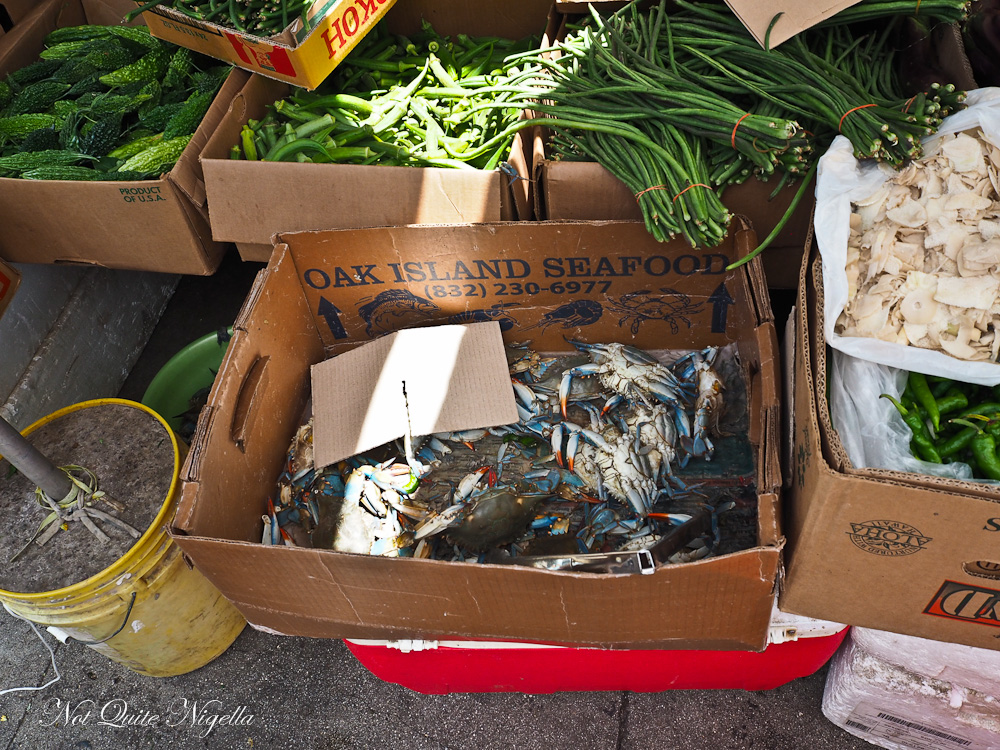 Honolulu's Chinatown spans about seven by seven blocks. We walk past shops with live blue swimmer crabs, melons and catfish in a bucket. These aren't his restaurant suppliers but on a day off or when he makes food for home, he heads here.
He shows us the tuna and explains that the price and quality of tuna is dependent on where it is fished from. Blue fin tuna is the most prized and is fished in the deepest water, after that the big eye tuna that is fished one layer up - this is the most common tuna fished in Hawaii. After that is the yellow fin tuna and then the albacore tuna that is never served as sashimi, only cooked (most canned white tuna is albacore).
He is on the hunt for mangoes. He has a mango dessert on the menu at his eponymous restaurant Chef Mavro but his supplier hasn't been able to get him mangoes of the quality that he wants. So he has been trying to buy each mango individually from a farmer. No luck so far.
We stop at Ying Leong Look Fun Factory where we watch people pour and roll rice rolls in large baking sheets. Donna buy some char siu rolls and they serve them sliced up with toothpicks. A quick douse of soy sauce and we sink our teeth into these spongy, slightly glutinous bites.
Maunakea Marketplace holds a variety of fresh seafood and at one end there is a range of Korean, Filipino, Thai and Japanese food stalls with plenty of patrons sitting down having lunch.
We reach our place for lunch: Legend Dim Sum right near River Street. "This is the best dim sum here," he and Donna say firmly. We take a number but the wait is only a few minutes. And we are led into the restaurant where trolleys glide past. Here they put the name of the item in the front of the trolley in both English and Chinese.
Chef Mavro chooses all of his favourites from the trolley and I choose some too. Before we know it, we have the makings of a delicious lunch. The siu mai are fantastic - juicy with plenty of seafood inside. The pork spare ribs are delicious as is the tripe, chicken's feet, scallop dumplings. I get a serve of my favourite har gau dumplings and they are excellent specimens.
One of my favourite items is the scallop rice paper rolls. We don't tend to see them much in Australia but they are delicious with the slippery lightly soya sauced rolls and lots of small, tender scallops.
The dessert that has us intrigued are the yellow and white dan tarts. The white ones are egg white tarts while the yellow have egg yolk in them. The whites are less rich that the egg yolk ones but still very tasty and the multileaved pastry is also rich and crisp.
I ask who is the cook at home and Donna cedes to Chef Mavro. "In ten minutes he can have something wonderful," she explains. He says that he finds the whole process of cooking at home like meditation. "There is no pressure, I work alone and I make a mess," he says. The deal is that Donna cleans up afterwards.
We take a walk around the new Chinatown area. Just a few streets away are the new boutiques of Chinatown selling locally made and uniquely crafted items. These boutiques are a far cry from the old Chinatown shops and there is a great range of items for gifts or for the home.
Some of the shops include Roberta Oaks, Madre Chocolate, Owens & Co, Barrio, La Muse, Fighting Eel and Hawaiian artist Pegge Hopper has a gallery here. Chinatown also features an initiative called "First Fridays" where restaurants and shops open and do special events and menus for the first Friday of the month.
We hop into the car again. This time it is to visit one of Mavro and Donna's favourite places: Ethel's Grill. "The atmosphere is high here," says Donna and she's right. Located in an industrial area of Kalihi, it is unassuming and family run. Jacob is the chef along with his mother Ryoko, a diminutive Japanese woman who has owned Ethel's for the past 37 years. There was never an Ethel. Prior to Ryoko it was owned by a woman called Frances. Jacob also works in Chef Mavro's kitchen.
Sumo is the theme here from the large Sumo wrestler painted on the wall to the various photos and clippings and portion sizes. When Chef Mavro and Donna usually visit they ask them to put whatever they think is good on the table. Ethel's is usually frantically busy and doesn't take reservations-except if you are Chef Mavro. Normally the system is to "check in" and then wait outside for a table to free up.
Unsweetened iced tea is brought to the table along with bowls of fresh salad with a creamy, garlicky dressing.
Spam with bitter melon and egg $8.75USD
The first plate to hit the table is one of today's specials: Spam with bitter melon slices, egg, tofu and topped with bonito flakes. It's strangely satisfying and even Chef Mavro with his high end taste murmurs about how much he loves the dish.
Turkey Tails $8.75USD
Literally, the fatty tail of the turkey, I just had to try this. Chef Mavro warns that while it is delicious, it isn't an item that you would eat every day and he's right. The fleshy, fatty Parson's nose of a turkey is enormous, the size of a child's fist and there are small bones inside it. It's lightly battered and deep fried and comes with a sweet vinegary sauce not unlike a nuoc cham that helps to lift the creamy fattiness.
Tuna Sashimi Tataki $9.50
The serve of tuna sashimi tataki is enormous and goes to prove that not everything here is deep fried. It's fresh and plentiful and topped with razor thin fried garlic slices and fiddle head ferns.
Japanese Hamburger Steak $7.75
I remember the Japanese obsession with burger patties without buns from when I lived there and here it's a juicy beef patty on a bed of cabbage with shredded daikon on top. The patty is well seasoned and it's a filling low carb lunch.
Mochiko chicken $7.50
Mochiko chicken is a favourite Japanese style chicken in Hawaii similar to a karaage chicken made with boneless, juicy chicken marinated in a ginger, garlic and soy marinade.
And dessert? A fresh banana and pineapple muffin with sugar crystals on top of course!
I ask Chef Mavro if there is a good that he doesn't like to eat. He nods. "I dislike bad food. Life's too short so I'll only eat what is delicious."
Later that evening, we get dressed up to go to dinner at Chef Mavro. Dear Readers, if you are in Honolulu, this is where you want to spend a special or romantic dinner. From the moment that you drive up, you are escorted into the restaurant where you are perfectly looked after by the staff. In fact it was voted one of the "10 Most Romantic Honeymoon Hotspots" by theknot.com amongst countless other accolades.
There is an a la carte menu available but the best way to experience his food is through the degustation at $165 per person and $95 for matching wines. He changes the menu frequently and the current menu is inspired by Provence and The Islands. And this evening, Chef Mavro is bringing back two of his classic dishes for just two weeks.
Service is extremely deferential without being overwrought or stuffy. And even though we're having close to a dozen courses, there isn't an enormous lag between courses and everything comes out in a timely manner. There are nice touches like when I leave the table to visit the ladies room, they lift the tablecloth to the side so that I can slide out of the booth easier.
Bread is set down with a cube of salted butter. The bread is a rye roll, with a chewy texture reminiscent of French sourdough baguettes.
Amuse bouche
Our amuse bouche comes out and they rest the cup with the bubble tea straw down on the black rimmed plate. It's a chilled or crecy carrot, orange and coconut soup with a fluffy coconut foam and crushed cacao nibs on top. I take a sip through the oversized straw. It's delicious and light and has a Thai curry flavour to it particularly with the coconut and sweet aspect to the soup.
Abalone served with Bodegas del palacio de fefinañes, 2012 Albariño, Rias Biaxas
The abalone is a confit of Big Island abalone on baby leek étuvée. Oursinade means "feasting on sea urchins" and the abalone that has an incredible texture - soft and almost jellied lying in a rich sea urchin emulsion. On top is a jelly encased rectangle of uni or sea urchin. It is a rich, sophisticated dish with a strong briney flavour to it.
Foie gras served with Albert Boxler, 2010 Gewürztraminer reserve, Alsace
This ends up being one of my favourite dishes. The Hudson Valley duck foie gras is transformed three ways. First, there is foie gras wrapped in savoy cabbage and cooked au torchon (wrapped) with a paper thin slice of pickled mango on top. The next treatment is the foie gras seared with a li hing mui (plum powder) and a deconstructed mango tatin. The third is a foie gras bavarois, light and with a texture like airy rillettes with mango kanten. It's hard to choose a favourite as each treatment is so different but I loved the measured simplicity of the first with the pickled mango.
Chef Mavro told us that this is the dish that was so lauded by many that he ended up making it 8,000 times. So sick of it, he removed it from the menu to much protest from both Donna and his customers. But starting this evening it is back for a period of two weeks as he revisits his classics. This dish has some theatre to it as a server emerges from the kitchen with a tray balanced on his head.
Onaga Baked in a Hawaiian Salt Crust served with Chateau Mirival, 2013 Cotes de Provence Rose
He sets it down and Chef Mavro follows soon after. He shows us the fillet of onaga or island day boat longtail snapper and the fish shaped Hawaiian salt crust. He explains that the fish is cooked within the salt crust and then served with his own unique sauce made with tomato, ogo seaweed, chervil, tarragon and chive. This combination is fantastic and gives the sauce a licorice or aniseed flavour to it. And a little insider's tip Dear Reader: he tells me that if diners give him a few day's notice, he will prepare this for them ;)
He combines it with a new wine, the Chateau Mirival rose wine from the winery that Brad Pitt and Angelina Jolie have invested in.
Roasted keahole lobster served with Louis Jadot Vignoble, 2009 Puligny Montrachet, premier cru, "clos de la garenne" (premium selection)
The next course is a two parter. Starting on the left there is a perfectly roasted Keahole lobster with the claw meat removed and two tail sections. Over this they pour one of Chef Mavro's signatures, a crustacean jus which is a potent mix of sweetness and concentrated seafood. To the side is a taro dumpling, not unlike a similar one that you might find at dim sum or yum cha. The soup is a tamarind tapioca jus that helps to cut through the richness of the lobster and it contains up country vegetables with a distinct Thai basil flavour to it.
Duck served with Patz & Hall, 2011 Pinot Noir, "Hyde vineyard," Carneros (premium selection)
The duck is also a two parter using a free range duckling from Grimaud farm in Sonoma, California. The duck is double cooked and served with braised fennel and a star anise duck jus. The flavour reminds me of a Peking duck but the duck is juicy and pink inside. It is served with a bowl of fried Bhutanese rice with black garlic, duck leg bacon, baby carrots and haricot verts that has a lovely nutty flavour to it.
Lamb served with donnafugata, 2009 Tancredi, Sicily
The last savoury dish is the roasted Niman Ranch, California lamb loin "Monegasque" that is rolled in cepes with rosemary lamb jus poured on. It is served with a Monegasque, inspired by ratatouille with layers of confit maui onion, eggplant, zucchini & tomato. There is a petite salad of Sumida Farm watercress dressed with shoyu (soya sauce) aϊoli dip. The lamb's richness is balanced with the fresh flavours of the roasted vegetables and bitey watercress salad.
Pre-dessert
Instead of sorbet, the pre dessert is refreshing watermelon balls in champagne gelée. Mr NQN makes moon eyes at me to make something similar for him at home.
Top 10 Donuts in the U.S. served with "braida" di giacomo bologna, 2010 brachetto d'acqui, piedmont
This is the dessert that Chef Mavro is well known for. Along with the onaga in the salt crust, it too is making its comeback. Malasadas are Portuguese donuts that are very popular here in Hawaii when the Portuguese plantation workers would make them using up butter and sugar just before Lent. Here the malasadas are made using brioche dough and filled with lilikoi or passionfruit curd on pools of guava coulis with Hawaiian vanilla ice cream. The lilikoi filling is generous and the sugar dusted donuts are freshly fried and utterly delicious. And despite having so many courses, not a crumb goes back to the kitchen!
Chocolate served with Fonseca, 20 year tawny port (premium selection)
The chocolate used in this dessert is a Waialua chocolate that is made in the North Shore of Oahu using locally grown cocoa beans. After the demise of the sugar and pineapple industry, they have found success with growing cocoa beans and it is considered the next big crop. Here it is made into a "marquise," with a rich chocolate ganache topped with buttery brik crunch pastry, candied macadamia nuts and dulce de leche. To counter the sweetness there is a sea salt caramel flan drenched with lilikoi coulis and two small quenelles of frozen crème fraiche (our server tells us that they make everything from scratch here including the creme fraiche).
Mignardises
The mignardises or petit fours are also made in house. There is a divine diamond of matcha truffle that Donna tells us that he is developing a dessert around. There is also a square of toasted coconut with chocolate and caramel and a Maui lavender strawberry macaron. It is the end of quite simply one of the best meals we have eaten.
And Chef Mavro has kindly shared his list of the top 10 places to visit in Honolulu!
So tell me Dear Reader, is there a chef that you would like to follow around for a day and get their list of favourites from? And has the food scene changed a lot over the years where you live? And have you ever tried turkey tails?
Chef Mavro's Top 10 Places to Visit in Honolulu
In no particular order, Chef Mavro's list is always evolving and changing but this is his current list:
Sushi Ii (two "i" pronounced like the letters "e e") on Keeaumoku St. (young chef, great highest quality sushi). Dinner 655 Keeaumoku St #109, Honolulu, HI 96814 in the Sam Sung Plaza way in the back; hard to find but worth it. (808) 942-5350
Sushi Sasabune (the "sushi nazi" who learned from the original one in LA as the story goes, creative highest quality sushi, he tells you exactly how to eat each piece - shoyu, no shoyu etc) Note: In Hawaii we say shoyu for soy sauce. Dinner 417 S King St, Honolulu, HI 96814 (808) 947-3800
Ono Hawaiian Food Kapahulu Ave. Chef likes tripe stew, pipikaula, fresh poi. Lunch 726 Kapahulu Ave, Honolulu, HI 96816 (808) 737-2275
Jimbo Udon S. King across the street from Chef Mavro - everything but Chef likes the stir fried udon with spicy beef and Donna prefers the same but with chicken mild spicy. All their udon soups are great too. Lunch. 1936 S King St #103, Honolulu, HI 96826 (808) 947-2211
Pint + Jigger S. King across the street from Chef Mavro - burgers, beer, creative cocktails. Nighttime. Loud. Crowded. 1936 S King St, Honolulu, HI 96826 (808) 744-9593 www.pintandjigger.com
Legend Seafood Restaurant Dim sum in the Chinese Cultural Plaza Lunch. 100 N Beretania St #108, Honolulu, HI 96817 (808) 532-1868
*Ethel's on Kalihi St. * 232 Kalihi St, Honolulu, HI 96819 Lunch (808) 847-6467
Shirokiya's food court in Ala Moana Shopping Center - takoyaki, inexpensive sushi, ramen (they have stations where you pick up what you want and sit at very small tables) 1450 Ala Moana Blvd #2250, Honolulu, HI 96814 (808) 973-9111 www.shirokiya.com Lunch or dinner. They have a "beer garden" to with super cheap prices on regular beer.
Barefoot Beach Cafe just before the Aquarium on the beach. The steak salad is great. Always wish we could check out the weekend sunset barbecue party. http://barefootbeachcafe.wordpress.com/
Little Village Noodle House 1113 Smith St, Honolulu, HI 96817 (808) 545-3008 Lunch or dinner. No MSG. Welcoming.
NQN visited Hawaii as a guest of Hawai'i Tourism Oceania
Chef Mavro
1969 S King St, Honolulu, HI 96826, United States
Contact: +1 808-944-4714
http://www.chefmavro.com/