If you're on O'ahu you must try these 21 must try Hawaiian foods and drink! These Honolulu must eats are absolutely delicious, unashamedly popular with tourists and locals alike and infinitely photographable! These dishes reflect the delicious melting pot that is Hawaii with Polynesian, Japanese, Chinese and Portuguese influences.
Waiola Shave Ice's Azuki bowl
Mini Hawaiian Glossary
Here are some basic terms that you'll probably come across when you're eating out in Hawaii.
Grinds or grindz: food
Kane: man
Keiki: child, also seen on menus as small or child sized serves eg keiki sized shave ice is a small shave ice
Lānai: balcony or porch
Lilikoi: passion fruit
Moana: ocean
'Ono or onolicious: delicious
Pupus: appetisers
Pau Hana: happy hour (pau means finished, hana means work)
Wahine: woman
1 - Leonard's Bakery's Malasadas
In a city there's always one place that people ask if you've been and on O'ahu it's Leonard's Bakery for their signature malasadas. A malasada is a Portuguese donut without a hole and at Leonard's Bakery the malasadas are absolutely worth the hype. There are 9 flavours to choose from and they come either filled with custard or rolled in flavoured sugar. These reasons why Leonard's malasadas are so good is because the dough is so light and they come out hot from the fryer, the cool custard a lovely juxtaposition against the hot and puffy dough.
Buy half a dozen and they'll come out in their cute pink box. We also bought some merch including t shirts and mugs (their pink mugs with a pineapple design are adorable). The only off putting thing is that there's often a long queue. We went twice, once at night where we waited about 15 minutes but when we went around 2pm there wasn't much of a queue at all.
Where to find it: Leonard's Bakery is located near Kaimuki, about a 30 minute walk from Waikiki. But it's a good excuse to go for a walk or if you have to drive, there's a small but busy car park.
2- Poke
K.Bay Bros poke
Poke is one of the most delicious seafood dishes in Hawaii. Diced cubes of raw fish (or cooked prawns or scallops) are seasoned and served as is or on a bed of rice or salad with a range of additions. Ahi or tuna is the most popular fish on top of poke. Everyone had a favourite poke place and really, a lot of it depends on your taste and what you like to combine with it. Maguro Spot poke in Waikiki is a good place to try poke at a great price. A small bowl which is ideal for a snack is $6USD and the service is fast. You basically choose your fish, the type of rice (brown, white, sushi),the sauces you want (spicy mayo, shoyu or spicy volcano) and any additions like ginger, spring onions and then the size. We loved the tuna and salmon on sushi rice with volcano sauce mixed with spicy mayo with spring onions and ginger but the marlin with house shoyu was also absolutely delicious.
Sato Seafood's macadamia aburi salmon bowl
If you're looking for another place in the centre of Waikiki, Sato Seafood on Kūhiō Ave offers up poke bowls - you'll find it slightly obscured by the queues at Marugame Udon. Some of their most popular bowls are the macadamia aburi salmon for an uniquely Hawaiian flavour and crunch from the chopped macadamias. I also loved the Hawaiian Munchies bowl with ahi tuna poke, crispy garlic pieces, tenkasu, spicy mayo and a sweet soy glaze.
Poke Fix
My favourite poke in Waikiki was at Poke Fix, located down Seaside Avenue across from the Ross Dress For Less store. It wasn't too busy when I went so I had a chat with the girl behind the counter and she gave me a taste of all of the toppings before I decided which ones I wanted. The point of difference with Poke Fix's poke is how flavour forward and balanced the toppings are.
Poke Fix Poke Bowl
In each poke bowl you get a base of rice or lettuce and then two ice cream scoops of a seafood and then 3 extras (avocado, edamame, spring onion, nori etc). There's around 8 types of seafood available and the most popular is the finely chopped spicy ahi followed by the salmon furikake. Also on offer as a special is the ginger hamachi or if you're looking for a Hawaii only poke topping try the Hawaiian style ahi with ogo and limu seaweed. The scallop and the prawn poke are the only two cooked seafood. I loved the salmon furikake and spicy ahi on salad with crab salad, seaweed and a sweet and spicy fish cake strips and the girl was nice enough to give me a bit of ginger extra on top of this. It was so ono aka delicious!
Where to find it: Poke Fix, Waikiki , Sato Seafood, Waikiki, Maguro Spot, Waikiki, Tanioka's, Waipahu, K.Bay Bros Fish & Ice, Kaneohe
3 - Paalaa Kai Bakery's Snow Puffys
Snow Puffy at Paalaa Kai
Towards the North Shore in a town called Waialua there's Paalaa Kai bakery. Service is super friendly and they have a steady stream of customers buying their delicious baked goods. The Snow Puffy pastry is their own invention: layers of puff pastry are filled and I mean FILLED with at least an inch of vanilla custard topped with a chocolate pattern and icing sugar. Heaven.
Where to find it: Paalaa Kai Bakery, Waialua
4 - Halekulani's Coconut Chiffon Cake
Coconut Chiffon Cake at the Halekulani Hotel
I swear when you order a slice of the Halekulani's coconut chiffon cake and they bring it to your table, people around you will treat it like a celebrity. "Oooh that's THE coconut cake!" other tables will whisper to each other excitedly. Halekulani's coconut chiffon cake recipe was developed in the 1950's and is the hotel's signature cake and no matter where you are in the hotel you can order some (at House Without a Key, the hotel's waterfront, outdoor bar you can pair it with a coconut cake martini!). The legend goes that the cake can only be made on the premises for it to work. If you're keen the recipe is actually circulating on the internet and is 4 pages long. Or you can just enjoy it at the hotel!
Where to find it: Halekulani, Waikiki
5 - Mai Tai Cocktails
Mai Tais at the Halekulani Hotel
The Mai Tai is the perfect sunset drink for Happy Hour. There's a lot of debate about which place on Oahu does the best Mai Tai's and there is no shortage of choice as it's available pretty much at every bar! We loved the one at the Halekulani that uses lime juice in replacement of pineapple juice so that it has a more refreshing quality. Whatever you do, make a booking at House Without A Key for sunset mai tais, Hawaiian music and hula dancers. Rumour has it that Monkeypod Kitchen and the Royal Hawaiian also does a great mai tai.
Where to find it: The Halekulani Hotel, Waikiki
6 - Liliha Bakery's Coco Puffs
Liliha Bakery is one of those classic Hawaiian bakeries that has been baking since the 1950's. Roy and Koo Takakuwa first opened the bakery on Liliha Street and it has since opened other branches. For those staying in Waikiki they're on the third floor of the International Marketplace where there is a café attached. Their son Fred took over but without an heir it was sold to restaurateur Peter Kim.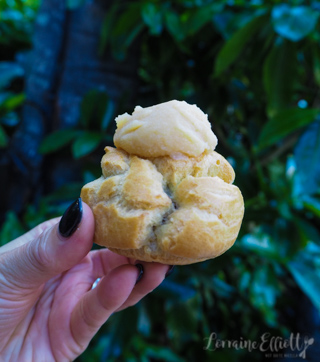 Liliha's Coco Puff $2.89USD
They're most well known for their cream puffs, specifically their coco puffs. These are soft choux balls filled with a rich chocolate "pudding". The Coco puff has a topping that they call chantilly but it isn't chantilly cream (whipped cream with vanilla). Instead it looks a little like marzipan but tastes like sugar, egg, evaporated milk and butter with a distinct saltiness that makes the Coco Puff so moreish. In fact it wasn't until the chantilly topping was added that they flew off the shelves.
Where to find it: Liliha Bakery (several locations)
7 - Shrimp Trucks
Jenny's Shrimp Truck Garlic Butter Shrimp
My favourite adventure when on O'ahu is renting a car and driving to the North Shore for a taste of their shrimp trucks. All along the Route 83 drive are dozens of shrimp trucks all offering their take on the simple but delicious dish of shrimp or prawns with rice or salad. The classic flavour is with garlic butter but there are variations thereof. Driving along the Kamehameha Highway or Route 83 is scenic especially via the East coast where you pass lush greenery and beaches. Two major towns with shrimp trucks are Kahuku (where shrimp trucks started and where you'll find Giovanni's shrimp truck which is the most famous one) and Haleiwa. None of these shrimp trucks are fancy - just a truck, some seating and one of the most memorable meals that you can have while on the Oahu! Finish it with a shave ice afterwards.
Where to find it: Giovanni's Shrimp Truck (Kahuku and Haleiwa), Hono's Shrimp Truck, Haleiwa, Jenny's Shrimp Truck, Haleiwa, Da Bald Guy, Kahuku
8 - Shave Ice
Matsumoto's Shave Ice
Shave Ice (not shaved ice) is a Hawaii classic and is the sweetest, tastiest way to take the edge off the heat. It was originally brought over to Hawaii via Japanese migrants who came to work on the sugar and pineapple plantations. Kakigori or shave ice is most commonly associated with the North Shore of Oahu and that's where Matsumoto's, the most well known shave ice shop, is located.
Uncle Clay's Strawberry Dream Shave Ice
But never fear if you're in Honolulu there's so many available there. Everyone has a favourite shave ice shop (I definitely do - Uncle Clay's House of Pure Aloha's or Waiola Shave Ice for the Azuki bowl) and syrups can either be made using fresh fruit pureed for a healthy shave ice or commercial syrups in dozens of flavours. You can add ice cream, mochi or condensed milk or other toppings. Some ice is finely shaved, some is flaked. A shave ice can set you back as little as $3.50USD or as much as $13USD. There's literally a shave ice for everyone's taste all over the island! We loved it so much that I'm doing a separate blog post on the best shave ice on Oahu.
Where to find it: Uncle Clay's House of Pure Aloha, Waiola Shave Ice
9 - Kalua Pig
Highway Inn tasting platter. Clockwise from bottom: squid luau, salmon lomi lomi, sweet potato, haupia, poi, kalua pig, chicken long rice and laulau (centre)
Kalua pig is a traditional Hawaiian Polynesian dish made with a whole pig smoked underground or in an oven. At Highway Inn we tried a tasting plate that gave us a good sized taste of all of these Hawaiian dishes inculding Kaulia Pig, lomi salmon, poi, lau lau or squid luau. They smoked their kalua pig using Kiawe wood with banana leaves. It is served in fine threads after being hand shredded.
Where to find it: Highway Inn (several locations) or Helena's, Honolulu or Waiahole Poi Factory
10- Laulau
Taro is a popular vegetable used in Polynesian cooking and Laulau is a dish made using taro leaves. Portions of pork shoulder and a cut of salted butterfish are placed inside luau (taro) leaves. Tī leaves then cover this package using the stems to tie a knot at the top to seal it up. The laulau are steamed for about two hours and when you open up the soft leaves you'll find a wonderfully soft pork filling that just melts in your mouth.
Where to find it: Highway Inn (several locations) or Helena's, Honolulu or Waiahole Poi Factory
11 - Poi
Not only are the taro leaves used but also the taro root. Poi is mashed taro root that is pureed until it becomes a thickish, purple paste. Poi itself is quite mild and usually served alongside traditional Hawaiian dishes like lau lau, kalua pig and lomi salmon. We loved it in Kamehameha Bakery's poi glazed donuts where they use freshly pounded taro in their poi donuts. These tasty donuts similar to malasadas but with a slightly chewier texture.
Where to find it: Highway Inn (several locations) or Helena's, Honolulu or Waiahole Poi Factory
12 - Squid Lū'au
Squid Luau is another Hawaiian Polynesian dish made using taro leaves. The leaves are chopped and then cooked for hours until soft and then sautéed with onions, coconut milk and squid. It comes as a smooth, dark green puree that has a wonderful depth of flavour to it.
Where to find it: Highway Inn (several locations) or Helena's, Honolulu or Waiahole Poi Factory
13 - SPAM Musubi
SPAM has a long history with Hawaii. The tinned meat was introduced to Hawaii when soldiers were stationed there and it was sent to feed the soldiers during World War II. Also in Hawaii way back when a lot of food was shipped over on the mainland, tinned SPAM became a inexpensive tasty food that was easy to get as it was manufactured in Minnesota. If you marry the luncheon meat with Japanese food and you have SPAM musubi. It is a larger than a nigiri (think the size of a slice of SPAM) and at Musubi Cafe Iyasume (incidentally across the road from Maguro Spot poke) they make them fresh and serve them warm with a range of toppings from SPAM (of course) to eel, bacon, cheese and egg!
There are a lot of combinations to choose from so I try the classic SPAM but with avocado, bacon and cheese, the tempura shrimp with avocado and SPAM and the eel, egg and shiso leaf. These are sizeable with a big ball of warm rice on the base and a strap of nori seaweed to hold the toppings in place. They're all fresh and delicious and the egg, cheese bacon and SPAM could be a perfect breakfast musubi while the shrimp and avocado SPAM one has a sweet teriyaki glaze on it while the eel, egg and shiso SPAM is lush and creamy and a little bit luxe too.
Where to find it: Musubi Cafe Iyasume, Waikiki and any convenience stores or gas stations
14 - Loco Moco
Loco Moco is a really classic, contemporary Hawaiian dish. It was said to have been invented in 1949 after a group of about 15 teenage boys at a diner in Hilo, Hawaii wanted something inexpensive but substantial to eat. Enter the Loco Moco. It starts with a bed of rice, hamburger patty, gravy and a fried egg. You can get many different versions of this. Westman Cafe & Lounge is located where the now defunct Bill's Honolulu site once was on the Beach Walk. Their Loco Moco is a very tasty version made using a wagyu patty on a bed of brown rice with beef stroganoff, a fried egg and halved Brussels sprouts. It's rich, hearty and delicious with lots of soft cooked onions and a rich gravy.
Where to find it: Westman Cafe and Lounge, Waikiki
15 - Butter Mochi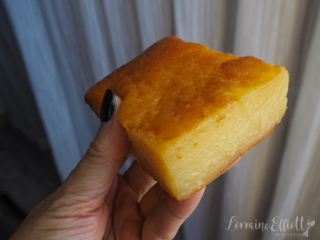 If you love the chewy texture of mochi then you will LOVE butter mochi. This is a cake form of mochi made using glutinous rice flour. It's sweet, chewy and utterly delicious with the flavour of butter but the chewy, stickyness of mochi. You can buy it at bakeries-I picked some up at Sing Cheong Yuan Bakery bakery in Chinatown. It's easy to make and if you want to give it a try I have a recipe here for butter mochi with likiloi or passion fruit.
Where to find it: Sing Cheong Yuan, Chinatown
16 - Kona Coffee
Hawaii grows some of the best coffee in the world whether it be Kona Coffee grown on the sides of the Mauna Loa volcano or Mokka beans of Hawaii. I'm not usually a coffee drinker but I loved the macadamia nut latte at Kai Coffee. Coffee in Waikiki however is expensive, setting you back around $8 plus tip. We ended up paying around $14-$15AUD per coffee!
Where to find it: Kai coffee is located on Kalākaua Ave next to the Alohilani Hotel as well as other locations
17 - Manapua
I'm sorry Dear Reader but I didn't get a picture of the Manapua that I bought from Sing Cheong Yuan because I put it in my bag and it got really squished so that it no longer resembled a manapua. It is essentially a baked bun filled with char siu filling. Instead of the steamed white dough, it looks like a burnished brown, baked bun.
Where to find it: Sing Cheong Yuan, Chinatown
18 - Mochi
Hawaii is mochi mad which suits me just fine because I am too (I named my dog after one of my favourite treats). You can get mochi cakes (see butter mochi), or you can get it in pancakes and in mochiko flavour for fried chicken. Or you can just get mochi but with a Hawaiian flavour at Izu Mochi. They have classic red bean and strawberry mochi alongside Hawaiian flavours like coconut macadamia or Kona coffee
Where to find it: Izu's Mochi at the Kaka'ako Farmers Market every Saturday morning
19 - Pink Pancakes
On a glorious sunny day (and really is there no other in Hawaii?) head to The Royal Hawaiian. The hotel is famous for several things: it is where Elvis Presley, Marilyn Monroe, Frank Sinatra and a whole lot of old time Hollywood stayed. Nowadays it seems de rigueur to stand in front and get a photo of the front façade of the Spanish-Moorish style building and then head inside for brunch at their Surf Lanai restaurant.
Signature Pink Pancakes $27USD
The pink pancakes are the best selling item and are coloured pink using beet powder and are said to be flavoured with guava and raspberry. They are served in a stack of three with haupia or coconut pudding sauce and fresh berries. They come with two pats of butter and a pot of maple syrup on the side. They are light and fluffy and very nice although I would have loved a bit more of the guava and raspberry coming through.
Tip: You don't need to book and when we visited on a Saturday at 9:45am there were plenty of tables. If you dine there you can get the first 4 hours of parking complimentary with a $25 minimum purchase at a restaurant or bar there.
Where to find it: The Royal Hawaiian Hotel, Waikiki
20 - Haupia
Ted's Bakery Chocolate Haupia Pie $4.53USD
Haupia is a traditional coconut pudding made with coconut milk, sugar and cornstarch. It is often served as a dessert after a traditional Hawaiian meal of salmon lomi, Kalua pork or Laulau. It is lightly sweet and can also be found as a popular flavour filling - Leonard's Malasadas has a haupia malasada and if you're on the North Shore Ted's Bakery has a chocolate haupia pie with a bottom layer of chocolate pudding and a top layer of coconut pudding with whipped cream!
Where to find it: Highway Inn (several locations) or Helena's, Honolulu or Waiahole Poi Factory
21 - Crack Seed Stores
While the name might sound a bit odd, Crack Seed stores are little mom and pop stores that sell a range of snacks. You buy them by the weight and kids often go after school to buy treats. These stores are given their names from a popular Chinese flavouring called Li Hing Mui, a powder made from salty, dried Chinese plums. When they are dried to form powder the seed inside the plum cracks giving them their name. Li Hing Mui is a tangy powder that is often used to coat dried fruit, gummi bears or fruit straps.
Where to find it: Kaimuki Crack Seed Stores, Waiola Shave Ice
So tell me Dear Reader, how many of these things have you tried? Which one is first on your list as a favourite or must try?
NQN was a guest of Hawaii Tourism Oceania and flew to Hawaii as a guest of Hawaiian Airlines but all opinions remain her own. All food purchased in this post was independently paid for.
Hawaiian Airlines service from Australia - www.HawaiianAirlines.com.au