Looking for dinner, ice cream or lunch in Honolulu, Hawaii? Give these four Honolulu restaurants a try! There's an bar with the most eye catching cocktails, the udon eatery that always has a queue, a classic Hawaiian restaurant by one of Hawaii's most respected chefs and ice cream with distinct Hawaiian flavours!
Margugame Udon
OK Dear Reader, let's start with lunch! Marugame Udon is what happens when a high school cafeteria set-up morphs with a well known Japanese udon chain that produces freshly made udon all day long. When we stayed at the Laylow Hotel every time we'd leave the hotel we'd see a long queue outside Marugame Udon no matter what time of day it was (even when it opens at 11am, a queue has already formed and will continue until 10pm that night). But don't worry, the queue moves quickly because they've got a system in place.
The reason for the queue is the udon - the dough in huge, creamy slabs ready to be cut. You order and pay and then are directed to a table. Grab a tray and join the queue where you can see the menu of around a dozen udon dishes and other rice dishes. The chefs will ask you what you want and by the time the queue moves a metre to pick up it will be ready.
Prices are excellent at around $11USD for an udon which is an absolute bargain in Waikiki. There are regular and large sizes for just $1 more but regular is ample for a big eater like Mr NQN (there are also to-go boxes if you need them). Vegans also have a vegan udon selection. We try two udons and then go past the range of tempura'd items and musubis. We help ourselves to a tempura prawn, a tamagoyaki tempura and a chicken tempura. You also grab chopsticks, spoons and sauces.
The beef nikutama is their signature udon noodles served with sweet and savory beef, hot spring egg and BK sauce. This cna be served hot or cold but we have hot. The broth is wonderful, full of flavour and really supports the thick, chewy udon well. The sweet beef is thinly sliced and sweet and salty at the same time.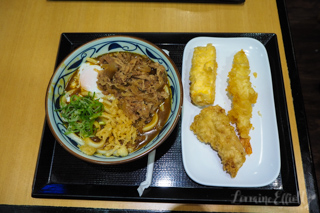 Mr NQN likes the cleaner broth of the beef nikutama but I love the creamy Japanese curry sauce with the curry nikutama. It too is served with seasoned sweet beef, soft egg in a curry sauce. I also try the tempura. The prawn tempura is good but the surprise favourite is the tamagoyaki tempura with the springy, sweet egg omelette inside. The chicken drumstick is also tasty with a good amount of seasoning in it.
Roy's Waikiki
Roy's is an institution and the restaurant founded by one of the 12 founding father chefs Roy Yamaguchi. There are several outposts across O'ahu and a Roy's right in the heart of Waikiki. Outside are tiki torches and there's an outdoor section. Inside it is air conditioned and diners can watch the chefs at work in the open kitchen.
We are led to a booth and our server is very friendly and hospitable. A 4 page paper menu is given to us and it contains 2 pages of drinks and 2 of food. Having literally just had sunset drinks at House Without a Key across the road we go straight into food.
The crab cakes come two to a serve but these are crunchy crumbed and full of seasoned crab rather than potato or any other filling. They sit in a pool of sesame beurre blanc, a nice juxtaposition from the rich crab cake itself.
Last time I really loved the sushi but this time I preferred the other dishes. The Ahi 20 roll with soft shell crab, trufle ahi tataki and dashi soy didn't have a lot of flavour and really fell apart when trying to pick it up. We much preferred the Da Palala Roll with katsu shrimp and avoado in the centre with spicy raw tuna on top and a pepper yaki sauce.
We have eaten a lot of seafood and steak on this holiday so I was craving something different. That came in the form of some kiawe wood smoked Szechuan baby back ribs. I think I expected these to be spicy when I read Szechuan but they're sweet, rich and saucy but not overly spicy. The meat comes off the bone easily and this is quite a big serve especially given the price. As we are flying out the following day I get what we don't eat to go and eat them on the plane (along with a slice of the Halekulani coconut cake) for lunch. Best. move. ever.
I absolutely love how American restaurants do half serves. I was tossing up between the two salads and our server offered us the option of half serves so I ordered two half serves of the vegetables. A half serve of the Kuli'ou'ou Salad is the perfect size for two people and this salad is full of soft green salad leaves with a creamy herb dressing and thinly sliced radishes.
The Brussels sprouts are fantastic. The bacon is diced into tiny pieces so that it just gives them a lot of flavour without over powering them and the house made granola gives it a lovely crunch with some creaminess from the fine Big Island goats cheese crumbles.
Double Fat Ice Cream
For an unique taste of Hawaii try Double Fat's Ice Cream, a locally made, small batch ice creamery. Double Fat's food truck is hidden away behind the Alohilani Hotel up a ramp (there are signs, I promise it's not an escape room). Hawaiian born Chef Brandon Lee has worked at The Pig and The Lady and MW. The name doesn't refer to the fat content but rather fat means 8 in Chinese and 8 is a lucky number. Hence double the happiness or luck. Brandon and Will Chen the owners both call themselves "large Chinese men" to add another layer to the name.
Like many American eateries there are plenty of choices. If you're after a single scoop the most popular are the honey furikake or Asian rocky road.
Apart from single scoops there are two sundaes on offer. A must order is the Crack Seed Delight Sundae. Crack seeds are a type of snack originally from China that are popular in Hawaii. They're snacks or sweets made of dried sour plums or li hing mui powder or Hawaiian sour plum-the seeds or pits crack open. The Crack Seed delights sundae is a scoop of strawberry ice cream, a scoop of sweet cream ice cream (like a custard ice cream), mochi crumbs (like crushed senbei rice crackers) and the key to it all: Li Hing powder, a distinctly Hawaiian sprinkle condiment made with salted plum, salt and sugar that ties this concoction together with its salty, sour flavour balancing it against the sweetness of the ice cream.
Tip: how to get there. Go to the Kalakaua Avenue exit of the Alohilani then turn left on Kealohilani Street (past the Haagen Daaz) and follow the signs up a ramp on your left. Check out the greetings mural! The hotel will also validate your parking for up to 2 hours for free with purchase.
Bar Podmore
At first glance one might mistake the cocktails at Bar Podmore as a bit gimmicky. Certainly if I described the gin and tonic as a cocktail that shot out and crashed into a glass at the bottom of a specially constructed wooden tower or showed you the absolutely Instagramability of the Chung Chow rainbow ball cocktail one may think that it's all for show.
But this gorgeous heritage building located in Honolulu's CBD is well worth a stop. They describe themselves as cocktails through a culinary lens and the snacks feature caviar bumps, foie gras parfait or buffalo chicken tenders although we didn't try these as we are headed out to dinner.
Bar Podmore is located in the CBD financial district so it's a prime location for after work drinks and these signature cocktails don't come cheap and at $30USD a pop (it worked out around $60AUD per cocktail with tax and tip) but they are a real talking point. It is by husband and wife duo Anthony Rush and Katherine Nomura of Senia.
The Chung Chow is a riff on a classic Pimms Cup cocktail with Pimm's no. 1, ginger, cucumber, mint, strawberry, orange, lemon the last few in the form of frozen balls that resemble boba that melt while you sip your drink. It's fun and fruity but pared back so that it isn't sweet.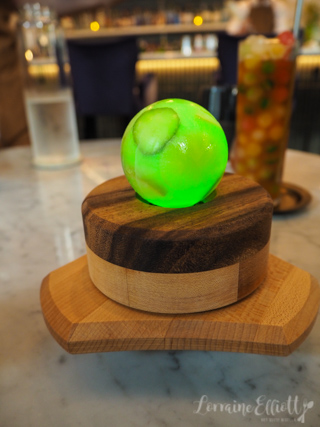 As the name suggests the "It's Just a Gin & Tonic" is just that, made with Hendrick's gin, fever tree tonic, cucumber, lime and mint. I don't want to give away too much of the spectacle but just have a look at the way it's presented with an illuminated sphere of ice that shoots through a bondage looking contraption. If you want to take a peek at what happens, have a look at my Bar Podmore TikTok video here.
Tip: book online if you're going at peak times. We went before dinner jsut as they opened on a Saturday night and easily got a booth.
All food in this post was independently paid for. NQN was a guest of Hawaii Tourism Oceania and flew to Hawaii as a guest of Hawaiian Airlines but all opinions remain her own.
Hawaiian Airlines flies direct from Sydney to Honolulu several times a week - www.HawaiianAirlines.com.au