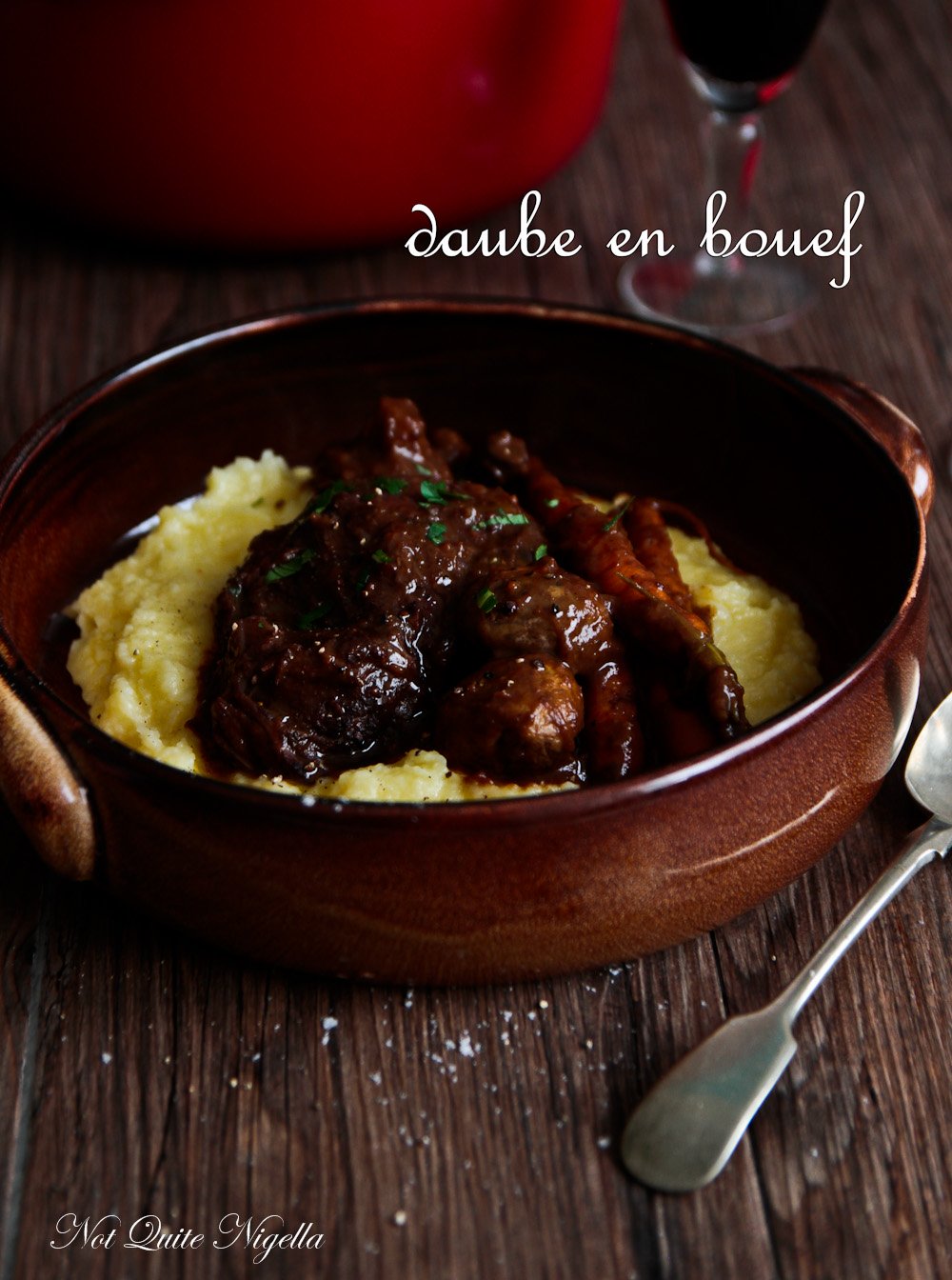 This divine Provençale dish makes the most of cuts of meat that need a long slow cook. Beef cheeks although not traditional are fantastic in Daube en Bouef. The key to this dish is marinating the beef cheeks in red wine overnight and then cooking them with vegetables. I've upped the amount of vegetables in this so that it truly is a one pot meal. For an utterly satisfying winter warmer look no further than this.
A couple of weeks ago I was invited to try out a girls getaway with two of my friends in the Blue Mountains (coming up in a story soon!). Belinda and I drove up together and Queen Viv met us up there. I had read up about the place and saw that there was butler service but the only experience I have with butlers when we stayed at the St Regis in Kauai (and even then we didn't know what we could ask them to do so we never called them except to ask for tea) and from watching the television show Different Strokes. Probably not ideal...
The butler gave us a tour of the house and pointed at one room. "That's just where I sleep," she said and I did a double take for a moment before realising of course the butler would have to stay in the house because how else could they buttle (it's a word I promise! :) ). I wasn't sure how it would be having someone there all the time. But she was so good at just appearing when you needed her and anticipating things that by the end of the weekend while we were driving Belinda mournfully looked at the butler as we were driving away and said, "I'm going to miss life without a butler...". I agreed, it was certainly a lovely treat to be able to have a cup of tea, a fire stoked, ironing done and beds made that I wondered if Mr NQN would go for the idea of a butler (finances be damned but it's nice to fantasise...). He was unimpressed by the idea but I really think that's just because he hasn't experienced one.
There is an appliance that we tend to pull out during winter that is kind of like a butler: the slow cooker. You can pop a few things down and it does all of the work for you. And one thing I had wanted to make for weeks was a Beef Daube when I saw a French friend Jean put one up on his facebook page. Beef en Daube is a Provençal dish made by marinating beef in red wine overnight and then slowly cooking it in a daubière, a ceramic baking vessel and it is then served the next day once the flavours have developed. I don't have one of those but I figured a slow cooker would do.
I decided to use beef cheeks in mine because I love this fabulous cut of meat that benefits from slow cooking so well. I also changed it slightly to add a lot more vegetables into the sauce that enhance the flavour but also because I wanted it to be a one pot meal. There were also button mushrooms and Dutch carrots added to it. Some variations add a range of ingredients to the stew from prunes to vinegars.
I came home from a busy day out to an incredible stew. The meat was fall apart soft. I removed the beef cheeks carefully along with the mushrooms and carrots and then pureed the sauce so that it became thick and slightly sweet from the prunes (but it never verges into too sweet I promise). It took a lot of will to not tuck into it that night but I let it sit in the fridge overnight where the flavours developed even further and served it the next night with a buttery pommes puree. Heaven!
So tell me Dear Reader, have you ever had a butler or live in help? And do you use the slow cooker more in winter? What are your favourite cuts of beef to cook with?
DID YOU MAKE THIS RECIPE? Share your creations by tagging @notquitenigella on Instagram with the hashtag #notquitenigella
Daube en Bouef
Rated 5.0 out of 5 by 2 readers
An Original Recipe by Lorraine Elliott/Not Quite Nigella
Preparation time: 30 minutes plus overnight marinating
Cooking time: 20 minutes plus 4-8 hours. Note: sometimes I find that these slow cooked beef cuts take longer than other batches. I'm not sure why, perhaps it has to do with the beef itself. So leave yourself plenty of time.
Serves 4
4 beef cheeks (about 1 kilo, 250g or 0.5lb per cheek)*
2 cups red wine (Burgundy)
Oil for frying
1/2 cup of all purpose flour
3 onions, peeled and finely chopped
2 carrots, finely chopped
2 large ribs of celery, finely chopped
5 garlic cloves, peeled and finely chopped
2 rashers middle bacon, rind removed and finely chopped
1 cup orange juice
200g button mushrooms
1 bunch Dutch carrots
1/2 cup prunes, pitted
2 bay leaves
1 teaspoon herbs de Provence
1/4 teaspoon ground cinnamon
Salt and pepper to taste
*Beef cheeks are best ordered two days ahead of time from your butcher.
Step 1 - Marinate the beef cheeks in red wine overnight.
Step 2 - The next day, chop the onions, carrots (not the Dutch carrots), celery, garlic and bacon (I put this all in a processor) and heat a large frypan on medium to high heat. Saute this mix until sweet and cooked through. Place this in the slow cooker. You can also do this in an ovenproof pot with a lid in the oven.
Step 3 - Spread the flour out on a large plate. Remove the beef cheeks from the wine marinade (but reserve the wine) and lightly dip them in the flour. Sear them on both sides in the same hot pan. Remove from the pan and place in the slow cooker or in the ovenproof pot. Add the wine into the pan and deglaze by scraping off any bits that may have caught. Place the wine also in the slow cooker or pot. Add the orange juice, mushrooms, prunes, bay leaves, herbs and cinnamon and cook. Add the carrots in when you have 2 hours to go on the slow cooker or 1 hour in the oven.
Step 4 - For a slow cooker: cook for 8 hours on low. For the oven: cook at 180C/350F for 4 hours.
Perhaps the least attractive photo on the blog. And there are many...
Step 5 - Carefully lift the beef cheeks, carrots and mushrooms and place in a container. Fish out the thyme and bay leaves and discard. Puree the sauce with a stick blender or you can also place it in a food processor. Add salt and pepper for taste.
Step 6 - Refrigerate overnight to allow flavours to develop. Serve the next day warmed up again and with some pommes puree. This is a recipe by Joel Robuchon which is divine but very buttery (so we don't eat it that often!).