The flight from Vancouver to Sydney takes around twelve and a half hours. Air Canada's business class option is miles ahead of the economy experience with lie flat beds, an excellent amount of privacy and the option for a flexible meal when you want it or all at once shortly after take off. We start the experience with the Airport Butler at Vancouver Airport.
In the world of travel, there is no sweeter word than the simple word "upgrade." It can make flying enjoyable. I once stood in a queue behind a man who was upgraded from business class to first. His expression remained deadpan throughout and it was as if a flight attendant had just told him the gate number rather than what sounded like amazing news to me.
I'm at Vancouver Airport in Richmond, Canada. My start to the whole upgrade experience is through the airport's new Airport Butler service where a butler can either meet passengers arriving or see them off. My airport butler is scheduled to pick me up at the Fairmont Vancouver Airport at 8:30pm to guide me through the checkout. They can also meet customers by the airport kerbside.
There are two levels of service: a gold one ($99 per person) and a platinum one ($160 per person), the latter which includes a cart. It is predominantly used by celebrities, business people and by families of elderly or infirm who need guidance through the airport. At the end they notify the customer contact when their client has boarded the plane.
At 8:15pm my room phone rings while I'm busy packing everything into my suitcase. I don't pick it up in time as it rings just three times and then another 5 minutes later it rings again, three times again and I don't manage to catch it. It is the airport butler-they are apparently early. Thinking that I was late I rushed downstairs to meet my butler breathless just hoping that I hadn't left anything behind.
Michelle is a former flight attendant that now works full time as an Airport Butler. She takes my coat and bags and places them on the trolley and we head downstairs. She's friendly and chatty and tells me about the service-last week's client was George Clooney who gave her a hug and prior to that it was Katherine Mc Phee.
Michelle does all the talking and this is because a lot of people book this service for elderly parents who perhaps don't speak the language or are hard of hearing. The Air Canada flight is running one hour and fifteen minutes behind due to a late arrival from a Toronto flight. I don't mind so much about the delay because I am pretty spacey with the flu although the brochure does say that the Airport Butler monitors flights and I guess I assumed that delayed departures are passed onto passengers before they leave their hotel room.
Michelle is well known to the staff at YVR airport so she whisks me through security and then we arrive at the Maple Leaf lounge. But because I am so ahead of time she takes me on a spin of the airport on the cart where she explains the layout of the airport to me. They also offer a service where they help with shopping and they will stay with a passenger for up to two hours. Any time after that is charged at $50 an hour. A short while later I'm back at the lounge and she will meet me back here 10 minutes before boarding to escort me to the flight.
The Air Canada Maple Leaf lounge is a fairly simple lounge. Staff are very friendly and courteous and I take a seat collapsing into a chair my bones aching, the illness taking hold. I need something warm so I take a look at the selection. There are two soups: a cream of carrot and a vegetable soup, hummus, crudites, crackers, corn chips, salsa, blue cheese dip and three salads. Everything is vegetarian and I try some salads and the soup. The kale salad is good although I'm not smitten by the cream of carrot tastes a little of a premix.
There is free internet and as the time gets closer to take off Michelle arrives to escort me to the gate. After my boarding pass is scanned she bids me a farewell and I board the Air Canada flight AC033 from Vancouver to Sydney.
It's a Boeing 777 200LR and my seat is 5K which is on the right hand side of the plane in the front business class section in the second seat from the back. The cabin is laid out in a herringbone pattern for a good amount of privacy. I'm offered champagne (Champagne Drappier Carte d'Or Brut) or orange juice and I try the orange juice. I need to stay hydrated and with lots of Vitamin C.
The bed is a completely lie flat bed. They've also got a thick padded blanket and a large square pillow which is very comfortable indeed. A bottle of water and magazines are tucked away into the left hand side while the right hand side has a control panel for the seat with a very light massage (I didn't really notice that it was on) and all sorts of recline positions. The television swings out when you press a button and there's a foot rest at the base if you are tall enough to reach.
The amenity bag has a good selection of items - it is a navy blue self branded bag with eye mask, toothbrush and toothpaste, earplugs, single mint and Canadian brand Escents lip balm, cleansing cloth and body lotion. They hand around the menu and a refresher towel.
Shortly after takeoff the drinks service commences and I request a spicy clamato juice as detailed on the menu. They're out of it and I ask for a Virgin Mary instead. They tell me that they don't have the Worcestershire sauce or Tabasco to make it so I take a regular clamato juice. I'm given a small tray of salted almonds and cashews but these are too salty for me. They come around a short while later offering a top up on the nuts to everyone.
The menu also have a "flexible meal option" where you can choose one of the main courses to be served with bread and butter, mixed greens, cheese and crackers and fruit presented all at once shortly after takeoff or during the flight at any time.
The director of service comes around, introduces herself and addresses me by name which is a really nice personal touch. She asks for my main preference and a few minutes later they bring out the entree. Food service is fast on Air Canada in every class. The Nova Scotia lobster salad has a single piece from the lobster tail, a marinated shrimp and a seared scallop on a corn and green capsicum quinoa salad with a caper tartar sauce. They offer a white or brown bread roll and they're warm and good and I make myself a lobster, scallop and shrimp sandwich using the bun as I don't really go for the quinoa salad.
The mixed green salad came with mixed greens, halved cherry tomatoes and shavings of parmesan. There is a small 20ml bottle of Spanish organic olive oil and balsamic vinegar to add to this.
Sauteed Atlantic Salmon
I was tossing up between this and the Indian braised chicken because I love spicy food on flights but this is the healthy main option. It is a sauteed Atlantic salmon fillet with a lemon and scallion sauce. There are also French beans and carrots and a grain medley with wheat berries, rice and Acini di Pepe pasta but I preferred the salmon over the grain salad as it needed some dressing or flavour added to it.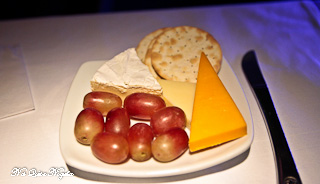 Selection of cheese
The cheese comes out next and there are three cheeses: a L'Artisan Oka, Camembert and a medium Cheddar served with water crackers and grapes. I try a little of each but then remember that I don't want to fill up too much before going to sleep.
Blueberries and strawberries
The dessert cart pushes past and there are two selections: a round chocolate pecan brownie which smells divine but I opt for the sliced seasonal fruit (sorry but I really needed it for my throat, will you forgive me for giving up cake? ;) ). I love strawberries and cream so I have just a little dollop of unsweetened cream. The blueberries are sweet and juicy.
I brush my teeth in the bathroom. There is a motion activated tap in the business class bathroom as well as a hand wash and hand lotion. There aren't any cups though. I go to bed buckling my seat belt over my blanket and sleep for a good eight or so hours which is absolute heaven. I hadn't intended to - there were snacks available throughout the flight like hot noodle soup, orange, ginger chicken skewer, crudites with artichoke Asiago dip, dim sum selection, ice cream and other packaged snacks and fruit.
About one and a half hours before we land the blue lights turn pink and brighten. Breakfast is served and before I've had a chance to go to the bathroom, they're laying down white tablecloths. I guess they know that people really want their food quickly! Fresh orange juice is served along with a plate of fresh fruit salad which I always enjoy on planes as the air tends to be dry. There's a tub of vanilla flavoured natural yogurt and I'm offered a croissant or blueberry muffin. I opt for the croissant. It comes with a pot of strawberry jam and a pat of butter. The little cardboard square is the salt and pepper.
Pancakes
The pancakes are spongey and aromatic with vanilla. I pour the maple syrup on top and have the pancakes. The cranberry apple compote is a little savoury, like a chutney so I have some of this with the sausage but I prefer the pancakes and maple syrup.
There's less than an hour to go and we've made up most of the time and sees us landing just 15 minutes after schedule. Well rested the best welcome home is the warm sunny weather in Sydney!
So tell me Dear Reader, have you ever seen a celebrity at the airport? Have you ever been on one of those carts? And do you monitor flights to see whether they are running on time or not?
NQN tested out the flight as a guest of Air Canada
Air Canada
http://www.aircanada.com/au/en/home.html