We are up in the skies again but first, a visit to Qantas's First Class airline lounge where the a la carte menu changes seasonally. Come along as I taste the new menu before I head overseas!
It's been years since my last visit to Qantas's First Class Lounge. I remember the angular design of the sections and how quiet it was. The buzz was different from Qantas's busy Business Class lounge and it felt much more exclusive. A member of the lovely ground staff shows me in and she mentions how much she enjoys my Peri Peri chicken recipe which makes me feel much less out of place. It's busy this Monday evening owing to the flight that I am about to board from Sydney to San Francisco, the first since the COVID pandemic and the first three sections of the lounge are full of people but they take me to the second last section which has less people.
I start with a glass of champagne. Drinks-wise the menu has a range of Australian wines, signature cocktails, beer and cider and soft drinks. The new Autumn menu is designed by Chef Neil Perry AM who has been with the airline since 1997. When it comes to designing airline menus for lounges there are a range of considerations. Neil explains, "The biggest restriction is time. Travellers coming through the First Lounge are on a time frame given they have a flight to catch so we are mindful of making sure we have beautiful food that can be cooked, plated and served within a short time frame so they have time to enjoy their dining experience. We always try to ensure we can do dishes that are able to be cooked and served swiftly. Whilst we do slow braises, this is all done before the service begins, so the chefs can plate and serve quickly. We need to be nimble to ensure our customers get to their boarding gates on time. " There are also trends such as plant based dining with two dishes on the menu being plant based or vegan.
View from the lounge
Whipped Macadamias with witlof,peas, mint and olive oil
One of these plant based dishes is the whipped macadamias puree with witlof, peas, mint, macadamias and olive oil with lacy, thin crackers. This really works when you get a bit of everything on your fork especially the macadamias and crackers.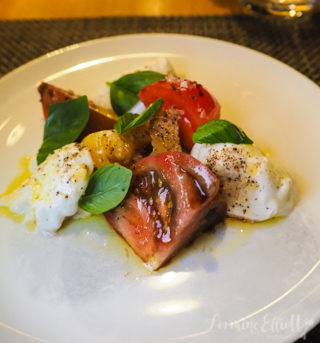 Buffalo Mozzarella with heirloom tomatoes and basil
The buffalo mozzarella is a popular entree with wedges of heirloom tomato and fresh basil leaves. It's simple but well done the tomatoes beautifully sweet even with this rapidly approaching winter weather.
Gua Bao with roast pork, chilli paste, sesame and pickles
There are also fun items like Korean fried chicken or gua bao with a slice of roast pork inside with chilli paste and pickles. I would have loved the bao and the pork to be hotter so that it really melts in the mouth but both are a bit cool to the touch.
Sashimi of salmon with Finger Lime and Coriander
Apart from the main menu there are also a couple of specials so make sure to ask for the specials menu. These include a sashimi dish for entree and a minute steak with café de Paris butter for the main. I really enjoy the salmon sashimi with pops of finger lime caviar and coriander. I add some chilli from the squid below and some salt.
Salt and Pepper Squid with green chilli dipping sauce and aioli
So what is the most popular dish in the lounge? Neil says, "There is a clear favourite! We serve over 250,000 serves of our signature salt and pepper squid with green chili dipping sauce each year in our lounges and we know if we took that away we'd have a big problem on our hands!". Once you try it it's easy to see why it has such a following. The squid is tender with a perfect amount of coating to support but not overwhelm the squid. On the side there's a garlicky aioli and a sweet coriander dipping sauce. I enjoy this so much that they offer to put in another order but knowing how much I am tasting, I sadly decline.
Steamed Blue Eye Cod with pickled daikon, sesame and shiso dressing
I ask the staff about the most popular mains and this steamed blue eye cod is one of them. The steamed blue eye cod is a thick, perfectly cooked fillet of fish that comes with pickled daikon, sesame and shiso dressing. It's both healthy and tasty.
Fettuccine with roast mushrooms, cavolo nero and hazelnuts
The other plant based dish is the fettuccine (linguine today) with roasted mushrooms, cavolo nero and toasted hazelnuts. I like the medley of mushrooms that range from shiitake to enoki and this dish has got a good amount of flavour and creamy mouthfeel.
Grass fed cheeseburger
The grass fed beef cheeseburger is a classic cheeseburger with a juicy beef patty, slice of American cheese, burger sauce, tomato, lettuce and red onion. And if you want fries, they come separately or you can choose from some side salads.
Signature Pavlova With Raspberry and Nectarine
It's time for dessert and that means one thing: the signature pavlova! The pavlova like the salt and pepper squid has weathered all storms staying on the menu the whole time. There's fat squirts of thick cream, sweet fresh raspberries and nectarines, pink meringues and pashmak on top. The fruit for this pavlova changes seasonally.
Apple Butter Cake With Caramel Apples and vanilla yogurt sorbet
A new Winter dessert is the apple butter cake. This is served warm and buttery with a round scoop of tangy vanilla yogurt sorbet and thinly sliced apples. This is a very comforting dessert.
Margaret Brookie and vanilla ice cream sandwich
The ice cream sandwich is a chocolate brownie cookie (brookie) filled with vanilla ice cream. The brookie is crunchy and chocolatey with a creamy vanilla ice cream. I finish just as they call the flight and I am ready for my flight from Sydney to San Francisco!
So tell me Dear Reader, have you tried the First Class lounge? Which dishes would you order?
NQN visited the First Class lounge as a guest of Qantas but all opinions remain her own.
Qantas First Class Lounge
Sydney Airport, Terminal 1 Departure Plaza, Mascot NSW 2020
https://www.qantas.com/au/en/qantas-experience/at-the-airport/airport-lounges/all-qantas-airport-lounges/airport-lounge-locations.html/syd/International%20First%20Lounge