This recipe is brought to you by Oster Versa Performance Blender
These raw lamingtons are a decadent treat that is low in sugar but high in fun. They are made with coconut and cashews and just a little bit of honey to sweeten them. The recipe makes 12 generously portioned lamington slices and we give readers the chance to win an Oster Versa High Performance Blender worth $999 so that they can blend to their heart's content!
Because of both of our travelling plans, my trainer Nina and I hadn't trained together in a couple of months. So when we saw each other again we had a lot to catch up with. First and foremost she had some very exciting news to share (which made my news of eating a really good croissant in Thailand totally pale in comparison ;) ). She and her boyfriend Garth recently got engaged! I was very excited for her. I know how much that meant to her as she would often wonder to me if he was ever going to propose after dating for several years.
Even the cut offs are delicious
"So what was the proposal like?" I said after taking a look at her beautiful ring. "Well...um," she began, "He sang to me...with his bottom," she said laughing.
The story goes that because Nina wanted a specific ring, the jeweller took a bit longer than expected. So one day Garth messaged her that Fedex had tried to deliver the ring but could she call them to arrange a re-delivery.
"You don't get it, you're supposed to get the ring!" Nina insisted to a befuddled Garth. So he got the ring delivered at another time. It arrived while Nina was at home and Garth was at work.
"Why don't you go ahead and try it on to see if it fits?" he said when she said that it had arrived.
"You don't get it, you're supposed to do something big (miming big gesture with her hands)", said Nina.
That evening Garth tried to hand over the ring but Nina reminded him of the big gesture. I think she really just wanted him to get down on one knee. So Garth did the only big gesture he knew and pulled down his pants and shook his bottom at her and sang, "Will you maaaarrryy me?". Nina was caught between laughter and incredulity knowing that this would be the proposal story that she would re tell to friends and family. She did say yes and they are now busy planning their engagement party and wedding.
"He forgot my birthday though!" she said and then looked at me. "And you were away too so I didn't even get a cake!" she said sulkily. I promised her that a cake would be forthcoming and that I would make up for a birthday cake less birthday with a cake that is just up her alley.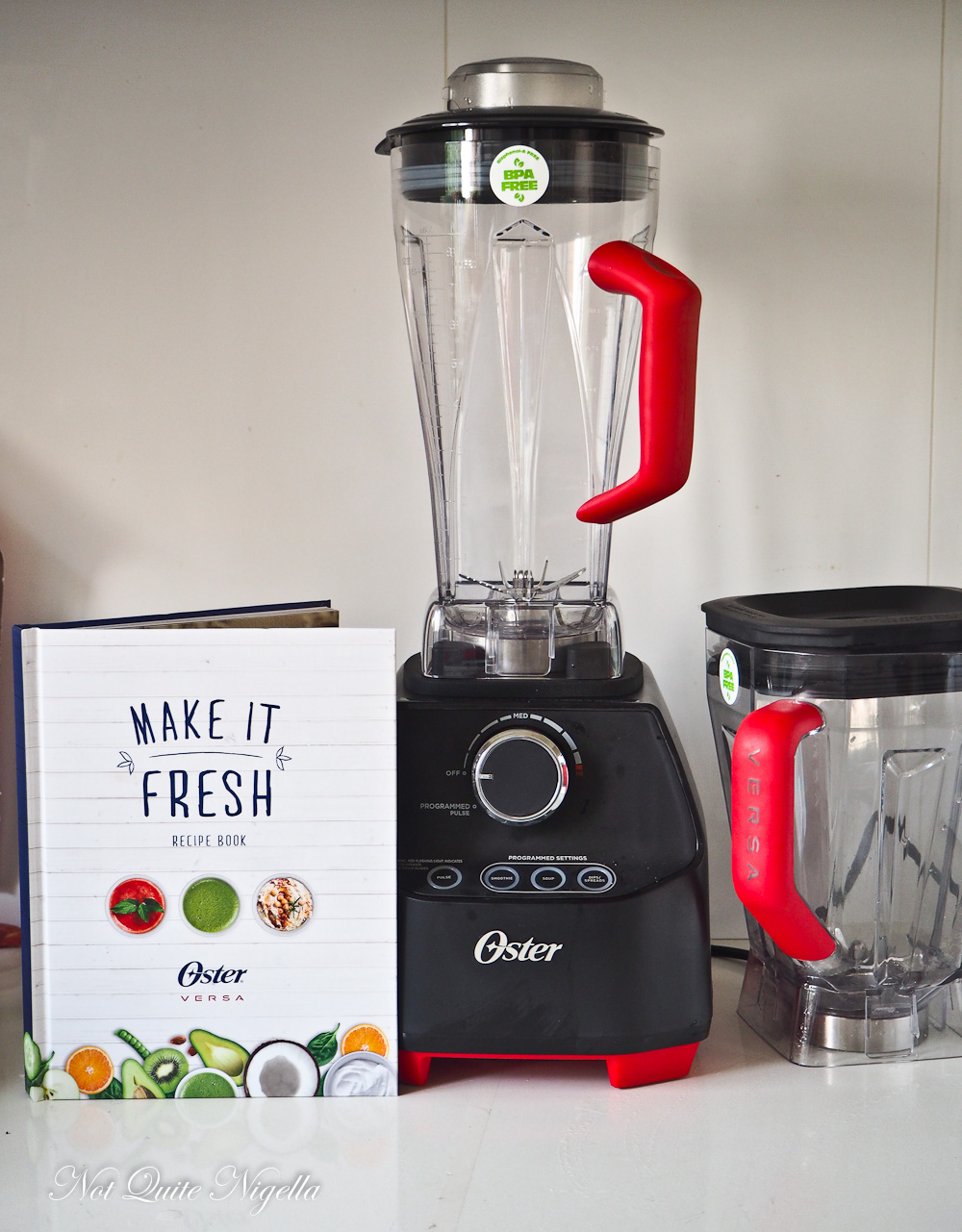 I was sent an Oster Versa Performance Blender to try and Nina's cake was the first thing that I wanted to make in it. It's the #1 blender in the US and it's a cyclonic blender that can make fast work out of anything. It can turn sugar into icing sugar within seconds and make hot soup with the cyclonic speed blades in 5.5 minutes! It whirrs as fast as a Category 5 Cyclone (measured up to 400kmph or 250mph) which is super, super fast.
A lot of people use them to make smoothies in and that's great but what I wanted to make in it was a raw lamington. Regular blenders aren't quite powerful enough to blitz a lot of ingredients and I wanted it to have a light, smooth texture. It comes with two jugs, a shorter one ideal for milling nuts etc and a taller one for smoothies and liquids which is super handy because sometimes you need two bowls or two jugs for recipes.
Each jug comes with a tamper to help mix all of the ingredients. One thing that always annoys me is hard to clean items especially ones with lots of nooks and crannies but this is super easy. You fill it halfway with warm water and two drops of liquid soap and blitz it for 60 seconds and that's it! There is also a hard cover recipe book with loads of recipes including hazelnut spread (which tastes like Nutella), creamy chocolate hazelnut milk, peanut buttercup brownies (sensing a chocolate theme here?) and a delectable looking raw chocolate torte. You can also make nut flours, bread and pizza dough, cocktails, soups and smoothies and even hollandaise sauce with it.
The Peanut Buttercup Brownies from the cookbook
And thanks to the super nice people at Oster, we're giving one away! Simply enter by leaving a comment telling me what your first item that you make would be! That's all! Please leave your answer as a comment and you can enter once daily. The competition is open to anyone in Australia. The competition closes at midnight AEST 30th of August, 2015.
ETA: The winner is Fatima D. of Qld!
But back to the lamingtons. They were really easy to put together as they don't require any baking and the two jugs helped with that. I rolled them in chocolate and placed them on a plate and handed them to Nina with a birthday candle. For her part Nina said, "Garth just said he is going to fight me for it. I'll take him on!". Both Nina and Garth wrestle so I'm picturing a very funny wedding here Dear Reader!
DID YOU MAKE THIS RECIPE? Share your creations by tagging @notquitenigella on Instagram with the hashtag #notquitenigella
Raw Lamingtons
An Original Recipe by Lorraine Elliott/Not Quite Nigella
Makes 12 lamingtons
Preparation time: 30 minutes
Freezing time: 1 hour
2 cups desiccated coconut
2 cups raw cashews
1 1/4 cup water
1 banana
3-4 tablespoons honey
1 generous teaspoon vanilla bean paste or extract
100g/3.5 ozs raspberries (thawed if frozen)
3 tablespoons honey
2 tablespoons chia seeds
100g/3.5 fl ozs coconut oil, liquid (place in hot water)
6 tablespoons raw cacao
Honey to taste
2 cups coconut flakes
Step 1 - Place the coconut, cashews, water, banana, honey and vanilla in the short jug of the Oster Versa Performance Blender and blender until smooth. Line a small rectangular baking tray (about XXX with non stick paper) and spread out half of the mixture into the prepared tray and smooth down with an angled spatula. Place in the freezer.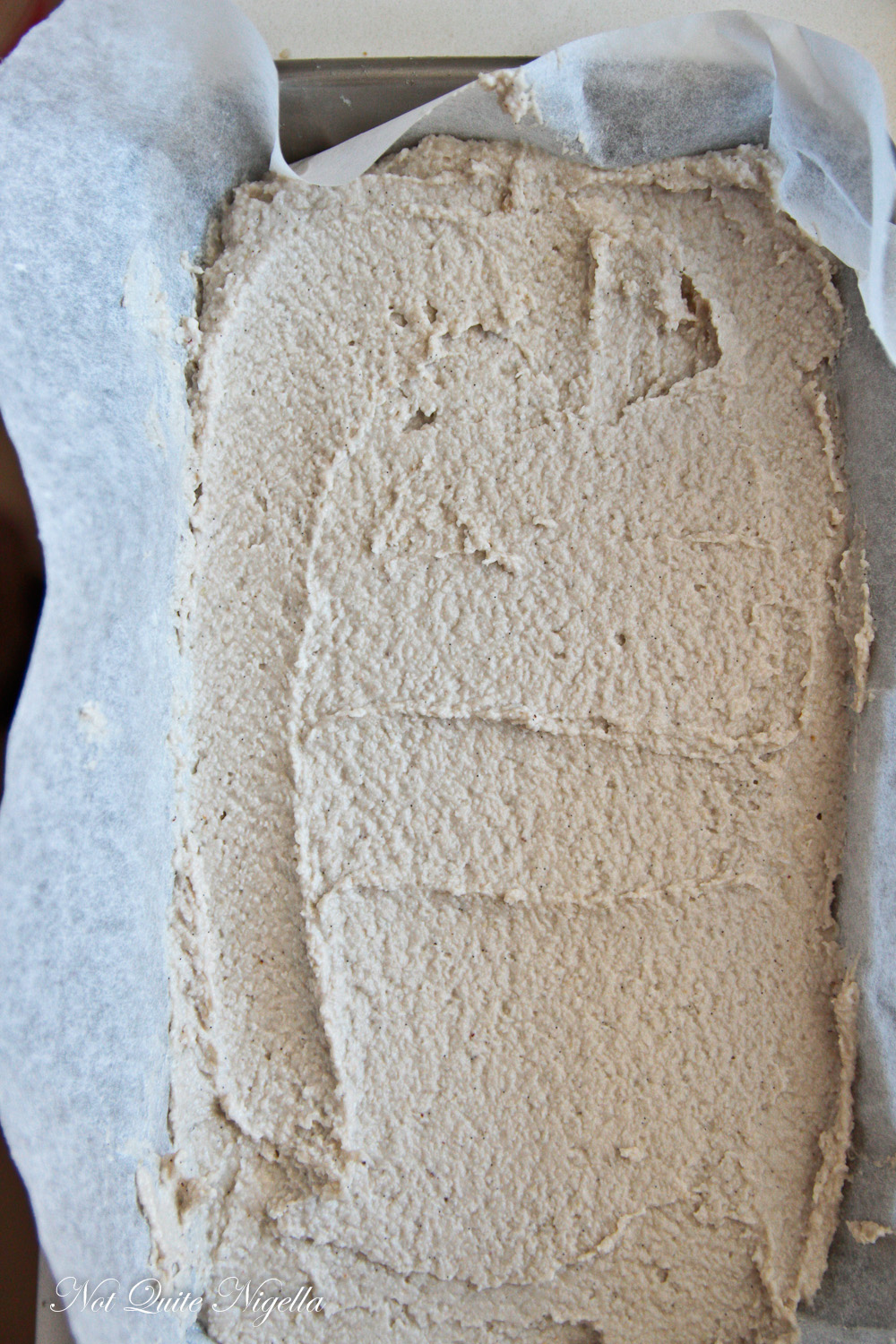 Step 2 - Wash out the jug or use the taller jug and pulse the raspberries and honey together. Empty into a bowl and add the chia seeds and allow to thicken. Remove the tray from the freezer and spread over the mixture. Place back in freezer to set (it won't take long as this is a thin layer). Then add the remaining cashew mixture on top and smooth over. Freeze for 1 hour.
Step 3 - Mix the coconut oil, cacao and honey until smooth and thick. Place the coconut flakes in a large shallow plate with rims. Cut the lamingtons into twelve pieces (you can trim off the edges to get even pieces). Dip them in the liquid chocolate mix and then roll straight away in the coconut flakes.