The capital of Tuscany, Florence is known not just for its art but also food. Here we fit in as many Tuscan delights as we can from bowls of ribollita, Zuppa di Cippoli and porchetta and prosciutto stuffed focaccia as well as a visit to see the Leaning Tower of Pisa and the medieval town of Volterra.
Italy is the birth place of the slow food movement so it's with a slight sense of alarm that I am presented with seeing the city of Florence and availing myself of its gastronomic delights in the space of three hours. Yup three hours.
Gulp.
Cruising to ports has been wonderful but when the destination is a land based destination far from the port, things can get tricky. When we dock in Livorgno, it is a one and a half hour drive to Florence. We decide to try out one of Azamara's on-shore excursions to make the most of our time.
Tuscan food is famous around the world and much of the food was abundant and rich and able to be grown in the gardens of the homes. This is based on the way that the ancient Estruscans grew and ate their food. They were the first major civilisation in the Tuscany region and ruled for eight centuries. The food is simple and peasant style using the freshest of ingredients.
One thing wasn't able to be grown in Tuscany and that was salt. Called "Sale" it is what the word salary was based on as people were paid in salt. It was vital when it came to preserving items before the advent refrigeration and freezers.
Several famous Italian hail from Tuscany-astronomer Galileo, Michelangelo, Macchiavelli and the story of Pinocchio was written by Tuscan Carlo Collodi. The word Pinnochio comes from the word Pino or pine tree which he was said to be made of. Occhio means "eye" which is the first part of Pinocchio that Gepetto made.
We arrive in Florence at 1pm eager to get going. This tour allows you to have three free hours in Florence. Florence is like a living art gallery and some people on the tour make plans to see all the art they can and just grab a panino to eat. But for us, we are seeking food. We head straight for the long queue at All'Antico Vinaio. You can spot the small panini shop from the the queue and you have no choice but the join the snaking line and wait your turn. We watch people walk out with foccacias spilling out with prosciutto and carrying glasses of wine.
The line moves slowly but surely and after about half an hour's wait we are standing at the front of the queue. There are about a dozen panino suggestions or you can build your own. Once we get to the front we realise why the queue moves slowly.
They make every single sandwich to order including slicing the prosciutto and meats onto the bread to order. It's one of those things that no doubt produces an amazingly good sandwich and one in which customers are more than happy to wait.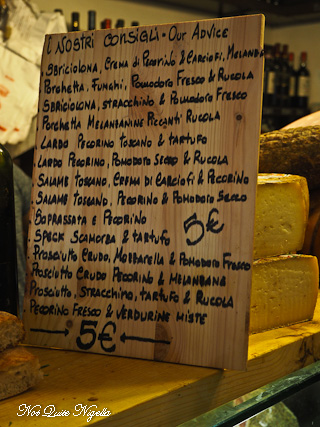 We chuckle as we read signs that say "We do not have pesto!" and "Don't mix meats, this is blasphemy!". They hand us our filled focaccias and we pay the extraordinarily reasonable price of €5 and take them out to eat while we search for our next treat, the time ticking away.
I start with the porchetta or the roast pork, one of my favourite meats. The sandwich is generously filled and the pork is salty but tasty and complemented well with the drizzle of olive oil and the sweet, fresh tomato. It's also enormous and I think two people could easily share one. But once you get in a queue, you may as well get one each of course...
Mr NQN loves the prosciutto one which is also excellent because it also has stracchino cheese (one of my favourite cheeses) and a truffle cream that is strong in truffle aroma.
We pass Il Duomo di Firenze or the Cathedral of Florence and the sight of it in all its Gothic splendour makes me pause and stop chewing. We rue the amount of time we have left - you do need a lot of time to take it all in as the lines are long every where you go.
We walk towards Saint Lorenzo towards the central markets. We had intended to have lunch at Trattoria de Mario but so had dozens of other people and when we hear that the wait is an hour for a table we have find somewhere else as we won't make the transfer back to the ship. The restaurant doesn't take reservations so if you only have three hours put your name down immediately as soon as you arrive and then just maybe you will nab your prized table.
Clutching my hit list of Tuscan specialties to try we walk towards Le Grotta Guelfa, an outdoor restaurant that was recommended to us by our guide. Our faces fall when we see the big queue at the restaurant but then a lovely waitress spots us and beckons us over. "Here," she whispers winking and sets a table for us. Because time is rapidly running out we show her the list and she helps us order.
I resist the urge to order spaghetti pomodoro as the other tables have done and we go for a mixed crostini. There is a mushroom crostini, tomato, white beans and chicken liver (the latter is a Tuscan specialty). The chicken liver is strong in liver taste while the mushrooms are milder and lightly garlicky.
Another quintessential Tuscan dish is tuna and white beans. Here it is served in a salad with lettuce, tomato, tinned tuna, white beans and white onion.
Our mains arrive - two Tuscan soups that are perfect for us as we are both feeling a bit under the weather. The temperature has cooled considerably and we are on our second last day of the cruise so tiredness has set in. The zuppa di cippoli does the trick of sustaining us. It's like a Tuscan version of French onion soup, salty and with creamy onion strands and a cheese topped toast on top.
I'm a bit more smitten with the La Ribollita, a thick stew textured soup. It has a bit of everything, really, including celery, thyme, white bean, ham hocks, carrot, rosemary and garlic. I'm so besotted by this I had to make a version when I got home (see Ribollita recipe here). It's hard to stop eating this but with having had so much foccacia we need to and forego dessert as we need to be back to the meeting point.
The leaning tower of Pisa is 40 minutes' drive from Livorgno and the tour stops for 1 hour to take photos of the iconic monument that stands at just over 55 metres/183.27 feet high with a 3 metre foundation. Originally the tower leaned because it was built on a swamp and over the years it leaned by a measure of 1 millimetre every year.
They corrected it by moving it back a little giving it another 200 years for it to lean. Of course there are the obligatory photo opportunities with people holding up the tower and selfie sticks abound, sold by hawkish sellers. Next to the leaning tower is the Baptistery and the Cathedral.
Our second day in Tuscany starts off early with another visit to the tower of Pisa before we head off to the Tuscan countryside for lunch. I have to say that it was for travellers like us who like to be independent as the choice of day trips often overlapped and no tours really focused enough on food. Up until Florence we had discovered each city on our own which we both loved but once tied to a group excursion we felt restricted and frustrated. However because it was so far from the port it was the most cost efficient way to see Florence.
Once off the highway the green Tuscan hills appear peppered with terracotta houses and towers. Houses in Tuscany follow a colour code where people have to build their houses in colours that are sympathetic to the surroundings.
Tuscany is known for several types of food and the coastline with Livorno afford Tuscans with plenty of fish but further inland there are olives, wild boar and pine nuts - here they are about an inch long and thin. Tuscan wine is also renowned, the most famous being Chianti and Brunello di Montalcino.
Then there are the Super Tuscan wines or wines made using French grapes grown in Tuscany and include grapes such as Cabernet, Cabernet Franc as well as Sangiovese. These are expensive at over €100 a bottle and the Super Tuscans came about when wine makers wanted to make a wine outside of DOC regulations. What resulted was superb wines whose price outstripped that of Chianti and other DOC wines. In Tuscany they are not permitted to irrigate the vineyards which can present problems during extreme weather conditions. Not irrigating produces stronger flavoured wine higher in sugars.
We are visiting mid truffle and hunting season and there are plenty of hunting opportunities that include wild boar, hare, pheasant, wild horse and varieties of birds. Tuscany has both the prized white truffle as well as the black truffle.
On the way to lunch we pass through Lajatico where tenor Andrea Bocelli was born. His family still lives there and our guides point out their house. The town of Lajatico has one theatre, the "Teatro del Silenzio" that opens up one a year for one concert, by Bocelli of course and remains silent for the rest of the year.
We arrive at Fattoria Lischeto, a 205 hectare working agropastoral farm where a lunch lays waiting. It's a four course lunch starting with bread topped with fresh tomato, garlic rubbed bread, salami, prosciutto, baked ricotta and pecorino. Much of the cheese is sheep's milk cheese - pecora is the Italian word for sheep upon which pecorino is based.
Traditional Tuscan bread is unsalted - it was the only thing that they couldn't grow or harvest in Tuscany in part to government controls and the ham here is said to be saltier to balance the lack of salt in the traditional bread.
Our second course is lasagna followed by salad, grilled eggplant, tomato with vegetables and zucchini. It's simple fare and ends with a cheese cake with chocolate chips. We wander outside to watch patches of sheep graze on the pastures and the distant "Balze". This is natural erosion with wild ravines and scoured cliffs.
Our next stop is Volterra, a small Medieval town with around 11,000 residents. It's markedly colder here due to the elevation and it's a popular stop for motorcyclists as well as tourists from Italy and abroad. It was formerly a fortress and its high mountain location gave its residents a good view of potential invaders.
It's a quaint town full of nooks and crannies and small alleyways to hide and explore. There are several shops that sell alabaster, one of the common items to come from the Apennine mountains. Resembling marble but softer it can be made into a variety of shapes and colours and its semi translucence is perfect for lamp globes. It resembles the famous Carrara marble from which Michelangelo created David. Volterra also has a fine dining restaurant and we lament not having the stomach space to fit in more food.
We happen upon a small fair. Chocolate and biscuit sellers ply their goods with large blocks of crema, an intoxicating sweet mix of chocolate and cream sold in solid block form. Samples are easily handed out and we buy a block with white, milk and pistachio chocolate.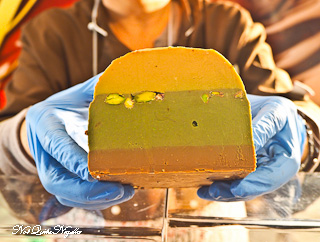 Another stand sells cantuccini cookies while another sells more chocolates. I buy some pistachio truffles filled with pistachio cream.
Nearby the truffle harvest is in full swing and there are an enormous range of truffle products including truffle creams which are a mixture of butter, flour and truffles. \\
Another section holds the cheeses including many pecorinos. The colour is determined by the amount of ageing and the ingredients that the wheels are coated in - black is black pepper and oil while a scarlet is tomato. Fresh ricotta and bottles of cream are also sold and there are organic cheeses on sale too.
We watch as a woman buys a slice of "Lardo di Colonnata" topped with truffle. This is a specialty of the Tuscan region combining two local items: pork and marble. Large basins of Carrara marble are filled with the bellied fat of a pig. These stacks are seasoned and aged in caves for up to 6 months. What results is a delicious filling for sandwiches served thinly sliced or in this case, topped with fresh truffles.
We sit in the sun like lizards seeking warmth. It's another one and a half hours til we reach the ship again and exhausted we fall upon the bed and rest for a little while before getting changed for the cruise's final dinner. It's busy this evening in Aqualina and Prime C as many have chosen to spend their final cruise night one of the top end restaurants. We have already been fortunate enough to visit both but are dining again at Aqualina because it changes its menu halfway during a 9 night cruise.
We are welcomed back warmly and even at 7pm the restaurant is full. We are shown to a table facing the back of the ship which gives us a view of the lights receding from Livorno. We opt for all four courses this evening although we are still quite full from that afternoon's feast. Service is very personable and everyone is in a good mood and yet slightly sad that this is the end of the cruise.
We were hankering for some pasta so we choose pasta dishes for both our starters. The house made gnocchi is topped with fresh basil pesto, toasted pine nuts and grated cheese. The gnocchi is tender and delicious and it is perfectly paired with the pesto.
The appetiser ravioli is two fat parcels of silky pasta filled with ricotta and spinach with a rich and tangy tomato based sauce and a quenelle of porcini mushroom duxelle. It's hard to choose a favourite of the two dishes as they're both excellent.
I had seen something similar on the Prime C menu earlier and regretted that I hadn't ordered it as I love bisque. So it was fortuitous that it was on tonight at Aqualina. The bisque is rich and full flavoured with some crab meat in the centre. It's the sort of soup that I didn't want to swap with Mr NQN!
That was fine by Mr NQN who was taken by the sweet pea soup with soft pieces of fried, shaved fennel on top. It's a creamy, well seasoned soup that tastes healthy but delicious.
Perhaps my favourite dish on the ship was this risotto with confit duck. The duck is perfectly confited with soft leg meat and a lightly crispy skin. The sauteed forest mushroom risotto is a simple but well executed complement to the duck and it's around now that I regret ordering so many courses because I just want to finish everything!
The seafood taglierini is a special pasta of the day and it is made up of a tangle of silky taglierini pasta and is topped with lobster tail, scallops, prawns and calamari. While the calamari, scallops and prawns are tender the lobster tail is a tad overcooked.
By now Mr NQN and are full to bursting but something kicks in and we just have to try dessert. The zabaglione is fluffy and light with the distinct flavour of marsala and some fresh berries and a rather interesting garlic and sugar puff pastry stick. It's light though so it doesn't feel overly sweet or filling.
If the risotto and duck confit was my favourite main during the cruise meals, then this was my favourite dessert. The limoncello souffle is light as a feather and comes with a very vanilla rich warm custard. I slide my knife into the souffle and pour the cream inside and it takes all my will not to finish every cloudlike spoonful of it.
So you want to go on a cruise but you've never been on one before? Here's what you need to know:
Each cruise has a different type of passenger so seek out the ones that have people you want to hang around with. Some are party cruises, some are family cruises, some are cruises that appeal to the moneyed. The age skew for most except for party cruises does tend to skew higher on the whole.

Balcony cabins tend to be the most sought after. Other ones can feel claustrophobic, particularly when cabins are much smaller than hotel rooms. You get used to showering in a tiny cubicle after a while.

All cabins have air conditioning. I loathe air conditioning and I have managed to get sick after every cruise that I've done (a total of two). You cannot get the air conditioning turned off as it is there to discourage mold which can be a problem on ships.

If you get sea sick easily, choose a cruise that travels through calmer waters. This Mediterranean cruise was perfect as Mr NQN gets seasick easily. Stay low and in the centre when the sea is rocky and bring medication.

Choose a cruise that doesn't have too many "at sea" days. One or two days of these is fine but it can get dull.

The signature restaurants that you have to pay extra for are usually worth it. The tariff isn't that high and can either be based on a flat fee or individual course prices (they're much lower than land restaurants). The other alternative is a mid level restaurant or the buffet.

Room service is free on most cruises. Yes that thing that you pay exorbitant rates for at a hotel is free! It's also fast and usually has a good range of food. We never went out for breakfast preferring to eat it on the deck on our balcony.

Internet is slow and expensive. The spa experiences are usually very expensive too, especially as they are often charged in USD and involve a mandatory extra tip.

Little creature comforts like kettles are not usually permitted in cabins. Tea and coffee can easily be ordered from your steward.

Your steward looks after you well servicing cabins twice daily. Some cruises include the tip in your rate, some you pay extra for the tip. They work very hard and you definitely want to tip them for looking after you but just carry enough cash to put it in the envelope to do so. $10 per day per person is about the average tip.
So tell me Dear Reader, what are your thoughts on cruising? Have you ever done one and do you or would you do the set tours or would you prefer to look around a city on your own?
NQN travelled as a guest of Azamara Cruises. The meals in Florence and Volterra were independently paid for.
Azamara Cruises
www.azamaraclubcruises.com
Fares start from $3,699 per person twin share for a 10-night Great Barrier Reef voyage onboard Azamara Quest. For further information or to make a booking, visit www.azamaraclubcruises.com, phone 1800 754 500 or contact your local travel agent.