The Ethics Centre's new series of dinners called "Hard Things To Talk About" pairs innovative and surprising food, performances, speakers and thought provoking conversation. This isn't a regular, "safe" dinner but one where your preconceptions may be dashed and you may be asked uncomfortable questions. It may also be one of the best times you'll ever have!
"I have a bias towards men with beards and a bias against ridiculous portmanteaus like chillax," said Girl Next Door.
"I have a bias towards pugs in costumes and men with good hair," I counter.
"Isn't that just a preference?" she asks.
Bias. It's inescapable. It's part of life. And for two evenings it is the theme to two very intriguing "Hard Things To Talk About" dinners hosted by the Ethics Centre where the concept of bias is paired with a 5 course menu with matching wines designed to have you questioning everything.
The location for these dinners is at Cafe Paci on Riley Street in Darlinghurst. Ex. Berta chef O Tama Carey has come on board to create a menu that is meant to both surprise and delight. She says that she loves the idea of turning around people's opinions of an item or dish and to challenge their tastebuds. Along with this theme tonight's discussions bring up uncomfortable questions and surprises come from all corners.
Tama says, "The initial concept was thought up by Lekki and Garrett from Glider, they actually first approached me to talk about it last year. From there we have had discussions along the way with a good brainstorming session on the menu a couple of months ago. In this session we talked more about the concepts and came up with some initial menu ideas in terms of look and flavour and feel."
Planning this menu involved approaching things slightly differently. Tama explains, "Generally when I approach a menu I do it from an ingredient base so this was quite a different way to start but once the ideas are in place it's still just about combining flavours to make up a balanced meal."
I arrive at 7pm and they lead me to the table where Girl Next Door is waiting. There are four share tables - some of the seats have chair legs positioned between our legs but once we spot the array of goodies on the table our attention is diverted.
On the table is a mound of green sprinkled fairy floss and they hand us a square black packet which are to open. This will reveal the ideas behind the night as well as a cryptic menu served up as a series of cards. Nothing is what it seems as our brows furrow as we sift through the cards. Everyone else murmurs questions to each other and it certainly has many puzzled and curious.
"Are you sweet or savoury?" the waiter asks. I take savoury while Girl Next Door goes for sweet. "There will be repercussions for this later," he says cryptically and then glides away leaving us none the wiser. A few minutes later they hand us a different cocktail. It's a salty yellow cocktail for me and a sweet sangria style cocktail for Girl Next Door, the latter being very popular.
We take a little of the fairy floss on the table. It's a fairy floss with sour nori dust. After the first initial surprise we take more, the sweet, salty and sea flavour combining well.
A straightforward menu this is not and the first card holds nothing but questions. Each card also has a question that you can ask your dining partners e.g. What's your most ridiculous bias?" or "When have you felt like you didn't belong?"
Ethicist John Neil steps up to welcome everyone to the dinner. He talks about the concept of unconscious bias and how bias is tied into human nature. In the long distant past it helped tribes assess threats in potentially hostile environments. But in today's world is it as necessary? He speaks of when he was tested for bias and was found to have a slight preference for white faces which he felt was personally disappointing given how much work he has done with indigenous communities. "Bias restricts. One of the greatest threats lie within us and stops us from forging the new," he adds. He says it's also why "we are all a little bit racist."
They set down the second small snack. Dubbed "Ice Cream" it is rye flatbread cones with chicken liver pate, onion caramel, pistachio and fried eschallot crumb. Everyone adores this and we savour each bite.
The wine that arrives with it is served from a cask bag and is a Commando G "La Bruja" 2013 which perhaps challenges some preconceptions. This is followed by the next course of "Chocolate Tart" and "Cannoli". The cannoli is a savoury crab and cricket cannoli with ricotta, candied vinegar citrus and chilli, fried capers and tomato powder. The chocolate tart is sanguinaccio tarts with sugna. Sanguinaccio is a sweet Italian blood sausage made with pork blood and chocolate while Sugna is whipped pork lard done here with fennel and chilli.
The next speaker Wendy Zukerman takes the microphone. She's a science journalist with the Radio National and she tells us how about science looks at bias. While humans can only detect colours with a wavelength between 400-700 nanometres the blue tit bird can see ultraviolet and a whole spectrum of other colours. And it seems that the male bird with the brightest feathers get the female tit's attention (pun intended).
The next courses are a bit more straight forward on the menu cards and references tribes and there is discussion about how people prefer to be around the faces of people that look the same as them. This is bias cut kangaroo carpaccio and fried egg emulsion given three treatments. At the 6 o'clock position is the "indigenous" one with saltbush and pepperberry, at the 9 o'clock position it is the "early settler" flavour with peas and hot mustard and at the 12 o'clock position is the "modern Australian" version with pickled turnip and wasabi. We are told to eat the first course with our fingers and then the second with a fork and knife and the third with the chopsticks provided. Tama says, "The kangaroo dish had so many ideas and ingredients behind it but i still wanted a really simple flavour progression of almost salty to rich to pickley."
I dash off to the bathroom quickly (I don't want to miss anything!) and am confronted with another question. Instead of men and women there is "Us" and "Them"! And which one do I go into? Them (which is apparently an unpopular choice at the table as most people said that they'd choose Us).
Suddenly the music grows in volume and we look up. At the next table is a man wearing an elaborate mantilla with beaded strands and a long flowy black skirt. This is performance artist and dancer Benjamin Hancock. He stops at certain people and holds extended eye contact. The music is slightly menacing or perhaps it's the intensity and unexpectedness that contributes to that and he moves smoothly, gracefully but ominously among the tables. Nobody can tear their eyes away from the performance.
The next course matches the performance as it is labelled "Threat" and the corresponding question is "Why are we afraid?". There are three parts: there are black sesame bread rolls with black mustard butter; baked blue eye with squid ink, green chilli and black garlic and roasted white beans with tomato, smoky eggplant puree and fried squid ink glutinous rice dough.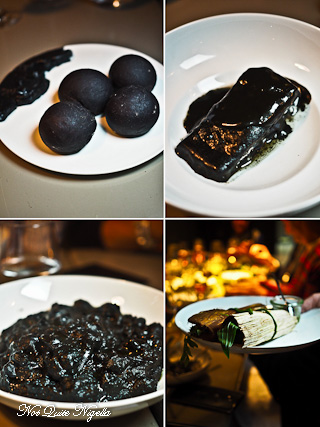 I adore these black courses but some at our table are a little confused by them all and one woman celebrating her birthday looks a little perturbed. However I love not knowing what is in the stew and tasting for flavours and textures.
The next course comes wrapped in paperbark. It is a "survival salad" made with weeds, leaves and herbs and comes with black volcanic salt a lemon spray and cucumber balls. We are to unwrap it, distribute the parsley oil on top and spray it with the lemon and season it with the salt.
Benjamin Hancock is back and this time he is wearing an all black sequin outfit with a phone on his mouth with a pair of glossy lips mouthing the words to Paloma Faith's "Only Love Can Hurt Like This". He spins, twists and contorts to the music before finishing to loud applause. It fits perfectly into the question on the card that says, "When have you taken a leap into the unknown?"
The next course is where our choice of sweet or savoury comes into play. I receive what looks like a thin fruit leather while Girl Next Door gets a meringue. The fruit leather is a sweet watermelon flavour while the meringue has a gorgeous salty sweet aspect to it the savoury provided by anchovy!
The final course has some welcome lightness to the night. It's a fun interactive dessert. We are given a chocolate sponge cake, fried rosemary, whipped cream, chocolate mousse, almond meringue, caramel coffee syrup, caramelised white chocolate and sage and white pepper biscuit crumbs to decorate our cake as we see fit. We splodge and crumble and share the final dessert creating our own favourite flavour combinations.
But the performances aren't over and Benjamin dons a fluffy tulle costume with bright pink sequinned legs and spins and flirts between tables. It's a cute performance much like a fluffy chicken (well one with pink platform heels) and perfectly suits the playful nature of the dessert.
I turn over the card for the dessert and the final question in the card is "What have you learnt from someone else recently?". Apt given the vigorous and fascinating discussions this evening.
So tell me Dear Reader, would you enjoy a dinner like this? Do you enjoy guessing what you are eating? And would you have chosen the "Us" or "Them" bathrooms and why? And what biases do you have?
This meal was independently paid for.
The Ethics Centre
The Ethics Centre is a unique centre for applied ethics, the only one of its kind globally. They provide an open forum for the exploration of ethical questions, what it means to be human. The Ethics Centre explores vital issues with innovative events and content intended to generate dialogue and debate.
http://www.ethics.org.au/
http://www.hardthingstotalkabout.com/
Booking Enquiries: 0405 306 623