The Camelia is a pub formerly known as The Camelia Grove on Henderson Road in Alexandria. It has been recently renovated complete with a new pizzeria with Napoletana style pizzas. It's also dog friendly and the perfect place to kick back on a Sunday afternoon.
I had a mental checklist of The Camelia:
Dog friendly: check!
Pizzas and pastas: check!
Open all afternoon: check!
Cute pink vibe: check!
I can't remember the number of times that I've driven past the Camelia Grove and not even noticed it but now that they've got pizzas that's a whole other matter. On this Saturday afternoon Mr NQN and I are despondent at being outbid at an auction and we figured the best antidote to this was to drown our sorrows in doggy kisses, pizza and cocktails. We meet friends Sammie, David and Teddy Roo at The Camelia. You can book online for the pizzeria but that area isn't dog friendly. It also looks very quiet and dark with most people enjoying the sunshine in the non-smoking beer garden.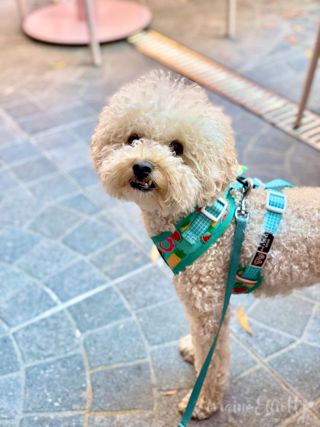 Teddy Elliott and Teddy Roo greet each other with immense enthusiasm straining at their leashes while the hoomans check in, show our certificates and are led to the salmon coloured, partially covered beer garden. We decide to start on two pizzas and a couple of sides just to see what the pizza situation is like. While some of the pastas sounded good it was always going to be pizza. The guys go to order and pay at the bar and the friendly staff bring the pizzas out to the table.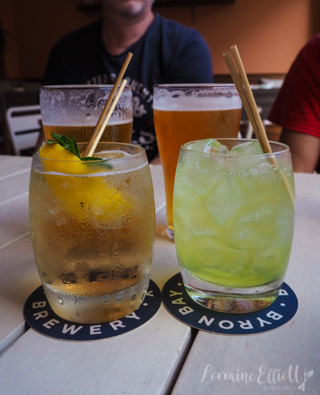 Sammie and David have beer while Mr NQN and I have cocktails. I have the Rosellene with strawberry, rose, prosecco and soda and he has the Jinn Sling which we both prefer with Hendricks gin, honeydew melon, lemon and cucumber.
If I see amatriciana anything I'll order it. This is an Amatriciana pizza with guanciale, bits of pancetta, basil and tomato with thin layers of lardo draped on top. This pizza is all about the luscious, silky texture from the lardo, a divine prized pork fat delicacy from Tuscany. If you're lucky you'll get some lardo in every bite.
My favourite pizza is always a spicy pepperoni one and The Camelia's is called the Little Hottie. This is a classic pepperoni pizza done very well with chipotle and chilli relish just to add a bit more spice. This is the crowd pleaser and for all four of us, this and the Amatriciana are the favourite pizzas of the day.
I thought "rustic potatoes" would be roast potatoes or smashed ones but they're chips served with a bit of rooftop rosemary and a pot of aioli. These are delicious and I think I ate most of these.
I slightly hesitated before suggesting that we get corn cobs You see I love corn so much but it really messes up the lipstick when you're trying to eat it and I have teeth that really seem to get a lot of bits stuck. I'm glad that we ordered the corn as it is sweet and juicy and well flavoured and the spring salsa with chilli, capsicum and onion is a welcome divergence from the corn rolled in cheese that you see on menus everywhere nowadays.
Having devoured and enjoyed the pizzas we go on to order two more. And I'd suggest checking the specials board because we only saw the calzone when a nearby table ordered it. This calzone is filled with mozzarella, ham and tomato sugo. It comes out puffy and piping hot steam rising when I cut into it. Everyone grabs their preferred piece (centres for me and Mr NQN, corner for Sammie and David) and it's very tasty although I miss a bit of chilli heat especially after the spicy pizzas (the chilli oil given isn't hot at all).
A confession Dear Reader: a little bit of thyme goes a loooong way with me and while I love mushrooms on pizza, the thyme was a bit too strong for me especially against the milder flavoured wild mushrooms, taleggio and truffle pecorino (I couldn't smell any truffle from the truffle pecorino). But Sammie is a big fan of the funghi or mushroom pizza.
As for the dogs? Teddy and Teddy Roo had a wonderful time being a part of it all but had to satisfy themselves with chicken snacks rather than pizza. It's a dog's life...
So tell me Dear Reader, do you order corn and other things that are harder to eat? And is it pizza or pasta if you had to choose?
This meal was independently paid for.
The Camelia
146 Henderson Rd, Alexandria NSW 2015
Mon - Thurs 12pm - late
Fri - Sat 12pm - 12am
Sun - 11am - 10pm
https://thecamelia.com.au