The newly opened Continental Bar & Deli in Newtown is already drawing in the crowds. Some are perhaps lured by the chops of Porteno and Bodega's Elvis Abrahanowicz and Joe Valore. Downstairs in the bar there are charctuerie and cheese plates but upstairs houses their bistro dining concept with specials like foie gras sausage with veal sweetbread and porcini mushrooms served with a truffle vinaigrette and potato puree.
"One of my favourite things is eating and tasting food and then talking about eating and tasting other food," says JY holding directing her fork for emphasis. It's no wonder that we're friends and over dinner we go on to talk about upcoming meals, where we should eat and what we've eaten that was good. We are at Continental Deli and Bar on Australia Street in Newtown. But we're not at the bar downstairs that serves charcuterie and cheese plates, we are in the newly opened upstairs section.
The menu downstairs is full of bar food and snacks and there's also a wall of tinned and preserved items to buy to take home. JY and I are smitten by a $40 bottle of organic Canadian smoked maple syrup and we toss up whether to buy some or not. She also wants the crème brûlée in a can.
JY wants one of their tinned tshirts that the staff are wearing. Staff are very friendly and lovely especially when we delay our departure upstairs to take pics and gawp over the range of vintage look tins. Owned by Bodega and Porteño's Elvis Abrahanowicz and Joe Valore it is about a month old and chef Jesse Warkentin is cooking in the bistro.
But hunger or greed gets the better of us and we take a seat upstairs in the dining room. There's an adjoining large private room as well. The menu focuses less on the charcuterie but more on bistro style dishes with a reworking of classic retro Australian dishes like peach melba and lamb cutlets and European dishes.
We seem to have the same taste so we go for similar things but then our waiter mentions an entree special: a foie gras sausage that just blows all our plans. We regroup and reconsider and decide to order three entrees and mains because the entrees always sound more interesting to us than mains that tend to follow the chicken, fish, lamb and beef routine. We watch as a couple order martinis or "martinnies" that are poured out of a tin.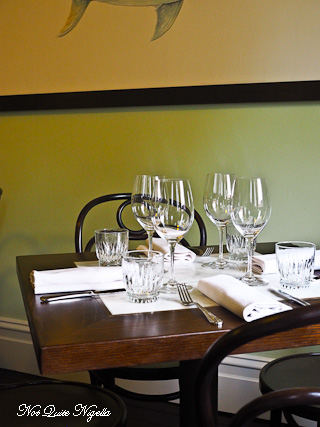 Our three entrees arrive at once and the first is creamy vichyssoise made with potato and wild rocket. In the centre is a round of toasted, buttery brioche and on top of that is spanner crab meat, picked on the premises. Having picked a spanner crab once I have vowed to never do it again if I can help it. The dish is rich and balanced with some rich elements that never become too much.
The prawn and lambs brain ravioli are two enormous ravioli. The filling tastes mostly of prawn with a softness from the mild tasting lambs brain. It comes with a creamy ginger, tarragon and Prosecco sauce. It's at this point that we wish we had ordered bread to mop up the sauce.
This special which makes me a little sad because that means that I may not be able to have it again. Rich and full of intense flavour it is filled with duck, foie gras, veal sweetbreads and porcini mushrooms on a bed of creamy mash, a truffle vinaigrette sauce and leaves of wild rocket. I've shown a cross section into the sausage made by LP Quality Meats.
We shared one main which is probably a safe idea as these three lamb chops are on the rich side and are heavily ringed in fat. That doesn't stop us from picking them up with our fingers and eating then. The tinned peas, yogurt and purslane give the unctuous meat a bit of light greenery.
Asparagus mimosa with a beurre blanc and shredded egg is elegant in its simplicity. We imagine all sorts of applications for a Sunday breakfast. The asparagus is a bit softer than I normally like but the beurre blanc and egg are excellent partners.
There are two seatings in the upstairs section and our time is almost up so we order dessert. The first one is a rhum baba for two but since neither of us are really that into rum we bypass this and the cheese plate for the two other sweet desserts. I look longingly at the dessert wine list, especially the Pedro Ximinez but hey it's not Friday night yet ;)
The creme caramel is a sizeable pudding all gloriously wobbly in texture, its caramel sauce spilling out over the plate. It is topped with a hazelnut cream and diced fresh fig. The caramel is taken a little too far and is a little bitter and obscures the delicate beauty of fresh figs.
But we both have eyes for this update on a peach melba here made with poached mango cheeks all luscious and sweet and dripping with juice as well as raspberry sauce, whipped cream and a tuile biscuit.
As JY is always up to a food challenge, the waiter seeing that we have half the creme caramel left challenges her to finish it. She obliges her small frame belying her appetite. "You should have bet something," I say. "I should have bet the smoked maple syrup!" she cries.
So tell me Dear Reader, would you prefer the bar or the bistro? And have you ever tried the smoked maple syrup and if so, was it good? Do you find yourself eating food and still talking about eating food?
This meal was paid for independently.
Continental Deli & Bar
210 Australia Street, Newtown, NSW
Tel: +61 (02) 8624 3131
Deli: Mon-Fri 11am-late, Sat & Sun 10am-late
Bistro: Dinner Wed-Sat 6pm-late Sun lunch 12pm