Up until now dining at LuMi on Pirrama Road was a 5 or 8 course degustation affair. Now LuMi has a brand new bar menu so you can eat as much or as little as you'd like. On the bar menu are snack sizes dishes playing into their Italian and Japanese style such as sea urchin or scarlet prawn gunkan sushi, a luscious Karuba burger and petite pithiviers filled with chicken, mushrooms and XO sauce with a chicken dipping sauce.
My friend JY aka the Black Widow keenly follows the comings and going at LuMi. She knows that they renovated recently and as soon as the new bar menu was announced, she suggested that we go there for our catch up dinner.
Sometimes food telepathy occurs. Somehow we both knew that we'd order one of everything on the menu. There was no need to discuss anything, just a quick look up and down the menu. "But let's skip the single oyster ok?" I said to her. "Of course," she answered.
She starts with a bergamot juice which I try. I like bergamot in Earl Grey tea and as a part of a range of flavours but as a single juice it's quite strong. I prefer the Gingerlini with Fever Tree ginger beer, guava and lychee puree.
The tuna tartare is chopped, raw tuna with bonito cream and crisp red shiso leaves on top. It's so pretty it seems a shame to unplate this but of course we do.
This is sent out from the kitchen. They're warm Comté grissini rolled out skillfully until long and twisted.
The gunkan sushi is priced per piece with a $10 supplement on caviar. You can choose either uni (sea urchin roe) or scarlet prawns. It's a pricey mouthful but I watch JY sit in stoned silence chewing. "Weird..." I think to myself before popping the mouthful into my mouth (don't try biting into it, it won't end well) and having the same reaction. The raw scarlet prawns are creamy with a few pops of salty caviar, straciatella cheese and a hit of citrus zest.
I like these "lesser" cuts of fish like collars, throats and wings. They're usually very tasty and I like things with bones or shells because I like the challenge of prising food out of them. With these Murray Cod collars you get appreciable chunks of tender, soft flesh out of them. It's simple and not unlike something you'd do at home. However the sambol isn't nearly enough and we ask for more which we finish off. Ahh that's better.
Much has been said of this pitivier on social media. This petite pie is filled with soft pork, shiitake mushrooms and XO sauce. It comes with a "chicken dipping sauce" aka gravy. They advise us to cut it into wedges and dip it into the sauce. I love warm pies with good, buttery pastry and this has a terribly moreish filling. Spooning the chicken gravy on top is perhaps a little more advisable than dipping it in (or risk losing half your pie in the sauce which is fine unless you are sharing). The XO isn't really apparent in the pie but as a chicken and mushroom pie with gravy it is everything you want and more. "We should have ordered one each," said JY a touch mournfully.
While I liked the yeasty sponginess of the flat bread and the whipped nduja held a lot of promise (because what's not to love about spicy pork?) neither of us really went for the whipped nduja. It is topped with chives and has a slightly grainy texture and a mild smokiness from the smoked paprika. I dipped the bread in the chicken gravy.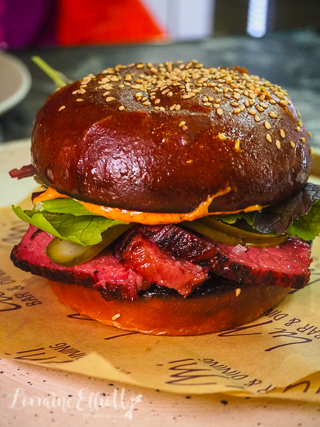 As the chef sets this down we are surprised at the large size of the slider. "We're working on the sizing," he says, almost as if trying to explain why the slider looks like a burger (and we're not complaining). Inside is karubi beef or boneless short rib, a luscious cut cooked so that it is so tender and resembles corned beef in pinkness. There's onion, pickled cucumbers and a fabulous habanero mayonnaise. I got a bit carried away with this slider and ate my entire half forgetting that we still had a few courses to go.
The pasta course is next and it's a neat, small twirl of squid ink taglioni with pieces of crab and lemon zest.
At this point I sort of have regrets about ordering so much as I was full by now. I admit my enthusiasm for the bug is kept in check by the unwise combination of a tight dress and groaning stomach. The bug would normally excite me a lot. It's a whole bug, the tender flesh cubed for easy eating with a butter sauce, desert limes, yuzu and cabbage XO sauce. It is very rich, especially with the butter and the desert limes are sweeter than expected as we both expected more sour notes. It's good but perhaps a fresh counterpoint on the plate would be nice.
Both bar menu desserts are simple as you'd expect. The crème caramel is a vanilla crème caramel and is simple but well done with a smooth as silk custard.
The buffalo ice cream is light, creamy and fluffy and is served with caramel sauce, creamy foam and caramel popcorn on top.
As we finish dessert, JY decides that she needs another scarlet prawn gunkan and orders one to have as her last bite!
So tell me Dear Reader, do you have food telepathy with any of your dining companions? Have you ever reordered a dish at the end of a meal because you enjoyed it so much?
This meal was independently paid for.
LuMi Bar and Dining
56 Pirrama Rd, Pyrmont NSW 2009
Wednesday & Thursday 6:30–11pm
Friday & Saturday 12–4pm, 6–11pm
Sunday 12–4pm, 6:30–11pm
Monday & Tuesday closed
Phone: (02) 9571 1999
lumidining.com/