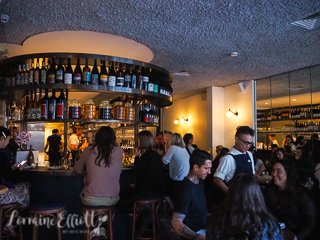 Cafe Paci is back and this time it's located on King Street in Newtown. Gone is the Finnish/Scandi fine dining restaurant with a set menu and in its place is a casual, neighbourhood style restaurant with bar and table seating. There are snacks, entrees and mains including pastas with a couple more substantial mains. A Scandinavian ingredient might pop up occasionally but this is more the exception with the menu that skips across Europe. The food is not the only accessible thing-the prices are also very reasonable.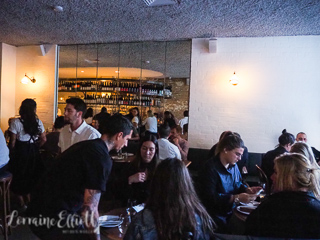 I miss the original Cafe Paci in East Sydney, named after Cafe Pacifico with half the name scrubbed out. Chef Pasi Petänen was born in Finland and I visited Cafe Paci 1.0 with half-Finnish Mr NQN and the Finnish half of the family. The room was shades of sombre grey, it was fine dining and not a cafe and the food was Finnish with the touch of Mexican and it was truly unique and only open for a couple of years closing in 2015.
Since then Pasi has been working at different pops ups in Sydney and Melbourne and in different kitchens from Sri Lankan Lankan Filling Station, Chinese Lee Ho Fook and Italian and wine at That's Amore. Now Cafe Paci 2.0 has opened up next to Bella Brutta and a few doors down from Mapo Newtown.
JY and I had been watching the opening of Cafe Paci with interest. I had driven past the restaurant site a few times and watched it slowly come together. While I was overseas JY let me know they had opened so a booking was quickly made. JY and I are sitting at the bar (she booked it as she likes watching chefs do their thing) but alas the seating doesn't stretch out to the kitchen. Also bar seating is a little tight so I'd recommend getting a table if possible.
Service is very friendly by all staff and they seem genuinely interested in how you find your meal. I'm still a bit tired from travelling and feel slightly nauseous when I eat too much so we restrain ourselves somewhat (we have been known to order an entire menu).
I wasn't sure what makes these spring barbajuans but they're tiny, square pastry pockets filled with ricotta and spinach as well as a side of hot sauce. They're nice and tasty but as JY points out they're a tad pricey for the concept.
The devilled egg has a delightful spiced butter piped on top of it as well as a nice pop of trout roe. It was inspired by the devilled eggs at Lankan Filling Station with lots of lovely spices in the butter.
Because JY and I share a food brain we knew exactly what we wanted to order and the first thing we saw was the chicken liver pâté filled Paris Brest with a layer of onion jam. "This reminds of a chicken liver Paris brest I had at Kazuki's in Melbourne," says JY. It's a lovely combination of smooth, silky pate and sweet, tangy jam with the crunch of toasted, slivered almonds on top.
We also ordered the raw Jerusalem artichoke, cut into fine shreds with an anchovy cream, parsley and grated hazelnut on top with some shavings of Comte cheese. It's lovely and creamy, the anchovy cream never overpowering it. I also like this with the hot sauce from the barbajuan too.
Potato dumplings is code for gnocchi. Soft light pillows of gnocchi to be exact with an XO smoked trout sauce. The trout really suits the XO and smoked trout is a much more accessible and easy substitute for dried, rehydrated scallops.
Another surprisingly good combo is the shredded pear and pecorino on top of the cavatelli pasta. The sweetness of the pear doesn't seem out of place. In terms of the sourdough component, we can't really discern a sour or tangy flavour to the pasta nor is the pasta puffy, it has a firm, winningly moreish texture.
We ordered the potato and molasses bread (a favourite at Cafe Paci 1.0) to mop up the sauces from the two pastas. The molasses bread has a shiny, slightly sticky outer and a soft, tight crumb. I'm also glad when they put salt on butter because unsalted butter makes me sad.
The dense chocolate cake is rich and served as a thin long slice. On top of this is rich cardamom caramel and a malt wafer whimsically decorated in hundreds and thousands. These not only add colour but an appealing crunch.
We knew we had to order this when our favourite waiter whizzes past us and whispers "Get the carrot sorbet!" before spinning away. It's another dish from Cafe Paci 1.0. On the base is a layer of licorice cake with just the right amount of licorice (made with a Finnish lolly called "Tyrkisk peber"), then a log of sweet carrot sorbet and then a cloud of the lightest yogurt foam. The only gripe? The licorice cake could have been a little larger to fit the topping but otherwise it's a devilishly clever combination of flavours and we are so glad that this has made a reappearance. And by the end we realise we aren't stuffed full, rather pleasantly so and the bill is also a nice surprise too.
So tell me Dear Reader, do you like to watch chefs do their thing in the kitchen? Do you closely watch restaurants opening? And do you eat salted or unsalted butter?
This meal was independently paid for.
Cafe Paci
131 King St, Newtown NSW 2042
cafepaci.com.au
Phone: (02) 9550 6196