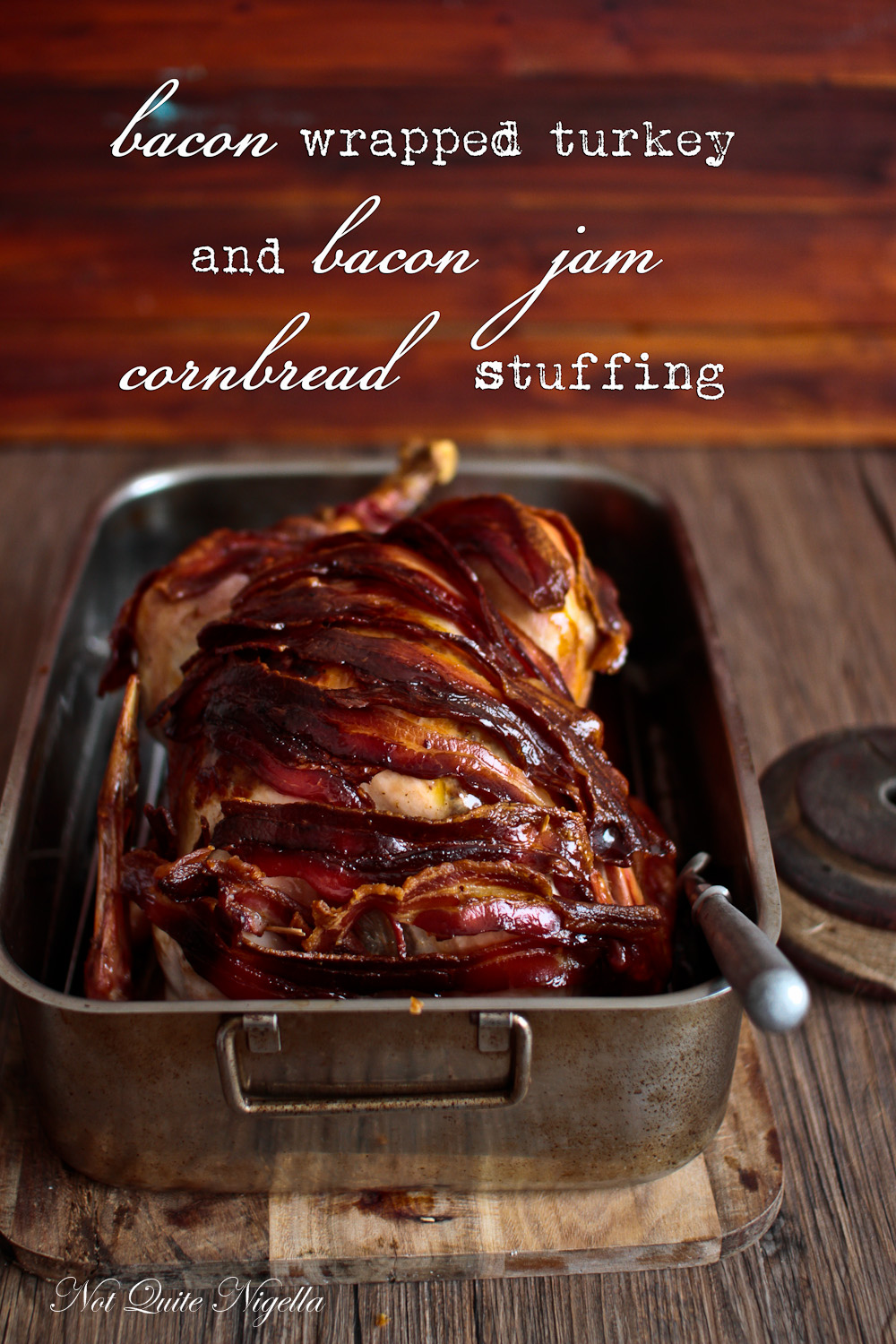 Want a festive roast idea for the holiday season? Look no further than this roast turkey. There's no need to brine the turkey to get succulent, tender meat. Here you stuff the turkey with a bacon jam cornbread stuffing, smother the breast with bacon jam butter and wrap the whole thing in bacon to keep the meat and skin flavourful and moist!
This recipe and prize is brought to you by Westfield
At no other time is the need to keep your sense of humour about things more important than during Christmas. It is getting perilously close to the pointy end of the year where tempers fray and relationships crack under the strain of demands. It all comes to a head at Christmas dinner, an occasion that is meant to be happy but is often preceded by frantic rushing around.
Our friend Louise was telling us about a Christmas while she was growing up on a farm in the country. Her grandmother was roasting a turkey and Louise could smell something amiss. She tried to tell her father but was given a sharp rebuke as her query appeared disrespectful but when it came time to take the much anticipated bird out of the oven, the smell of the rotten bird stank out the whole farmhouse.
There was only one place that was open on Christmas Day. It was run by a Chinese family who clearly had anticipated the boom in business and the queue stretched out long as far as the eye could see. There was a limit placed of two chickens per customer and it took one and a half hours to reach the front of the queue. And for a large extended family, there were just two chickens that evening for Christmas dinner. And they never made turkey again. Ever.
I sort of see Christmas like weddings - it's never going to be picture perfect. Something will go wrong and it will be absolutely fine that it is and as long as nobody goes to emergency then you just roll with it. So if life throws you a curveball (or in Louise's case, a rotten turkey) you can go to Westfields (Bondi Junction for me) to order a fresh or already cooked bird. You can pop down to the homewares store Plenty where you can buy all the tools to make something from scratch. Or you can go to the Chanel boutique and buy me a bag - just kidding! Okay I am not kidding but I doubt that anyone will since I can't convince Mr NQN that I need one.
Comedian Julia Morris's version of Christmas
So let's talk turkey. I love making turkey for crowds (and thankfully am yet to encounter a rotten one) so this year we made a turkey for Thanksgiving dinner. I know that celebrating Thanksgiving is an American tradition but we will literally use any excuse for a get together with friends. I'm thinking Kwanzaa will be next (just not Sandra Lee's Kwanzaa cake, even used ironically). Turkey is great because it easily feeds a crowd.
The turkey in this case is a beauty! Stuffed with a bacon cornbread stuffing, the breast is smothered in bacon jam (YES!!) butter and the whole bird is wrapped in bacon. We served this with home made cranberry sauce on the side too along with all of the trimmings. I always find myself a little surprised when turkey works out beautifully. I think it comes from a steady childhood diet of American movies where the turkey remains steadfastly frozen but this bird was perfectly cooked and tender inside.
Turkey is a lean meat so I worried a little about the breast drying out but this was tender and moist - perhaps you can see this from the cross section (and I'm going to ask for bird carving lessons for Christmas I think because I did a terrible job at it). And the stuffing was another favourite - I'm pretty sure adding bacon jam to anything is going to work and it paid dividends.
And I have an early Christmas surprise! One lucky reader in Australia will win a $250 shopping voucher to spend at Westfield Shopping Centre!. All you have to do is show me some photos of something funny that has happened to you at Christmas. The most entertaining story (judged by how loudly Mr NQN laughs, watch out as he has an odd sense of humour) wins! Just share a picture on Instagram, twitter or facebook tagging me and using the hashtag #thisischristmas! If you're looking for a gift for someone hard to buy for, a Westfield Gift Card is always a good choice!.
ETA: the winner is Wendy A. from St Ives!
P.S. I've got a tip: because Christmas shopping can be cumbersome with lots of boxes and gifts, Westfield Bondi Jucntion also have a Handsfree shopping service for when you valet park ($15). Whenever you make a purchase you show them your pass and they collect your shopping for you and deliver it to your car!
So tell me Dear Reader, tell us something funny that has happened to you at Christmas! Have you ever cut into a roast chicken or turkey to find it raw? When we were growing up, the oven was so bad that every chicken we ever roasted was burnt on the outside and raw in the centre!
DID YOU MAKE THIS RECIPE? Share your creations by tagging @notquitenigella on Instagram with the hashtag #notquitenigella
Bacon Wrapped Turkey with Bacon Jam Cornbread Stuffing!
An Original Recipe by Lorraine Elliott/Not Quite Nigella
Preparation time: 30 minutes
Cooking time: 2.5 hours
Turkey (ours was about 4kgs/8lbs. but the recipe for bacon jam and cornbread stuffing below is enough for a 6kg/12lb. turkey)
1 batch Bacon Jam (recipe here)
500g/1.1lbs. streaky bacon rashers
100g/3.5oz. butter, softened
Cornbread stuffing (enough for a six kilo turkey)
1 cup cornmeal
1 cup plain all purpose flour
1/2 cup sugar
2 teaspoons salt
1 cup buttermilk*
2 eggs
2 teaspoons chilli sauce (optional)
1 cup corn kernels
*To make buttermilk from regular milk, add 1 tablespoon of lemon juice or vinegar and stir to curdle.
Step 1 - Preheat oven to 180C/350F and line a square or round 20x20cm/8x8inch tin on the base and sides. In a large bowl whisk the cornmeal, flour, sugar and salt into a large bowl. In a jug whisk the buttermilk, eggs and chilli sauce and pour into the cornmeal mix and mix with a spatula. Add the corn kernels and bake for 20 minutes. Cool.
Step 2 - Preheat oven to 210C/410F and have a large roasting dish and rack ready. If the turkey has a neck and giblets, remove. Mine didn't. Mix the butter and 1/2 cup of the bacon jam together. Slide your fingers between the breast meat and skin and gently ease them apart. Spread the bacon jam butter with your fingers and push as far as you can across the breast.
Smothering with the bacon jam butter
Tucking it between the skin and breast
Adding the stuffing
Step 3 - Mix the cornbread and the rest of the bacon jam and stuff the turkey with the cornbread stuffing - do not pack too tight as it expands a little. Place on the roasting dish. If you have extra stuffing, place in an oven proof baking dish and add to the oven 30 minutes before the turkey finishes cooking.
Step 4 - Wrap the turkey in bacon securing the bacon with toothpicks. I know I covered the legs and thighs with the bacon but I would leave these uncovered to brown. Roast the turkey for 30-40 minutes at this temperature until the bacon starts to brown and then turn down to 180C/350F and cover the whole tray with oil sprayed foil. The total time depends on the weight of the bird - generally cook turkey for 30 minutes per kilo of bird. If you need the bird to cook til golden but the bacon is cooking too fast, cover the bacon with foil pieces. An internal thermometer should read 75°C to 80°C or 165°F to 175°F. Rest for an hour before carving.
Home Made Cranberry Sauce
300g/10.6ozs frozen cranberies
1 cup sugar
1 strip lemon zest
A little water
Step 1 - Add all ingredients to a saucepan and simmer together for 10 minutes.