A couple of stops away from the Colosseum is Testaccio, one of the friendliest neighbourhoods in Rome. Testaccio is known for its market as well as its food-its history as the slaughterhouse area means that the offerings focus on offal. Even if you're not an offal fan, there is plenty to eat from heavenly chestnut cream cakes to a cornucopia of delights at one of Rome's best food stores!
It was our last day in Rome. I looked over at Mr NQN and sized him up. "What do you think of visiting the former slaughterhouse area of Rome?" To his credit he didn't raise an eyebrow, he simply looked it up and realised that it was near the Aventine Keyhole. Testaccio is only two metro stops away from the Colosseum yet it is said that where "real Rome" lives.
The Monte Testaccio is the name of an enormous mound of ancient crockery or broken terracotta pieces due to the stacks of pottery. These form a hill or amphora graveyard that dates back as far as the Roman Empire. The Protestant cemetery in Testaccio also holds some famous names including English poets John Keats and Percy Shelly.
The Mattatoio or slaughterhouse is now an art gallery as gentrification has taken place but still it remains relatively low in tourist numbers compared to the rest of central Rome although this doesn't mean that they aren't friendly. Quite the opposite in fact as the locals are wonderfully welcoming.
We catch the train to the Pyramid stop. There's no tourist map available for Testaccio as it falls just outside the main sightseeing areas. Nevertheless we forge ahead. We are looking for Testaccio Market, said to be the best market in Rome. We ask a couple of people at an information stand. It turns out that it is an information stand on garbage but the man is helpful and furnishes us directions.
We walk past the Pyramid of Cestius an ancient pyramid built for magistrate Gaius Cestius and head up Via della Marmarata. Mr NQN heads right towards the Aventine Keyhole while I walk towards the market. I look up as a woman swings open a window her dark red hair in curlers and shakes out a purple jumper and hangs it from her window. A woman beeps her small Fiat at a man and yells "Ciao" out the window at him and he waves back smiling. It is just every day life.
Testaccio Market is open 6 days a week from early until 2pm or 6pm on Fridays. It's a locals market rather than an expertly displayed tourist market so there are a range of stalls from lingerie, shoes, clothes, cleaning products and a little further in are the food stalls.
I stop at a pescheria which is a fish stall. A man hands me a red rose with a flourish apropos of nothing. I blush holding the rose. Although it looks like I am the only tourist (or el turista) the stallholders are friendly and a Bongiorno is readily shouted. There is plenty of meat, fish and vegetables - there is even a store selling horsemeat - Carne Equine. The fruit and vegetables reflect the early Winter season but one thing that is plentiful is artichokes, trimmed and untrimmed.
It's lunch time so people are busy ordering slices of pizza cut to order but the most popular stand is undoubtedly the Mordi & Vai street food stand. The crowds flock to this panino stand where one single chef Sergio Esposito creates a panino to order from the display of delicious fillings spread out in front of him.
You take a ticket number and when it flashes you step up to place your order. Some people get whole artichokes Roman style or carciofi alla romana served on their panini and the number of choices can be vexing for the undecided. I feel nervous using my badly accented Italian in front of such a big crowd but he welcomes me with a big smile and nods approval at my order: Panino con trippe or panini stuffed with tripe. At €3-€4.50 they're a steal.
Trippa alla Romana is a classic Roman dish and Testaccio is where you'll find some of the best. The history of Testaccio as the location for the slaughterhouse means that the butcher's families were given the meat that wasn't able to be sold. "Quinto quarto" or the fifth quarter is the name given to offal. The name is given because weight of the offal was said to make up for about a quarter of the total weight of the carcass. The nobles received the first quarter, the clergy the second, the Bourgeoisie the third and the soldiers the fourth. Everyone else would receive the fifth or the offal. As a result the butcher's wives became expert at cooking offal and some of the best offal can be found here.
I'll be honest, sometimes tripe smells. It's that acidic smell of stomach acids. But I've had fantastic Trippa alla Romana at Righetto in Haberfield so I have high hopes. I'm not disappointed, the tripe is heavenly-soft and bathing in a rich, sweet tomato sauce. I savour several bites before packing the rest away for Mr NQN. I have also ordered a Roman artichoke and veal one and I leave this to eat with him.
I walk around the market a bit more. Aracini balls and hand made pasta are popular stands. There is an outdoor area with streetfood stalls that seems popular too. I buy some gorgeous rustic rolling pins from one stand and before I know it, my hour is up and I wait for Mr NQN.
I watch a nonna carrying her shopping and a waiting pedocab driver offers her a lift. There are pedocabs that provide a service where they take people a small distance for free to encourage people to shop there. A man asks me if he can take me for a coffee but I decline, I'm meeting Mr NQN. But due to a miscommunication, we can't find each other and it takes hours to located each other.
It's after 3pm and due to our misaadventures we've missed Agustarello a Testaccio, a restaurant on via Giovanni Branca. However next door is Trapizzino where three children, now out of school are enjoying a bread roll stuffed with various fillings.
Intrigued we stop in. Trapizzino is a triangular shaped pizza pocket freshly filled with a choice of fillings. They are friendly and explain all of the fillings. It's a hard choice but the zighini filling sounds good. We also try a suppli or arancini rice ball filled with rice and oxtail.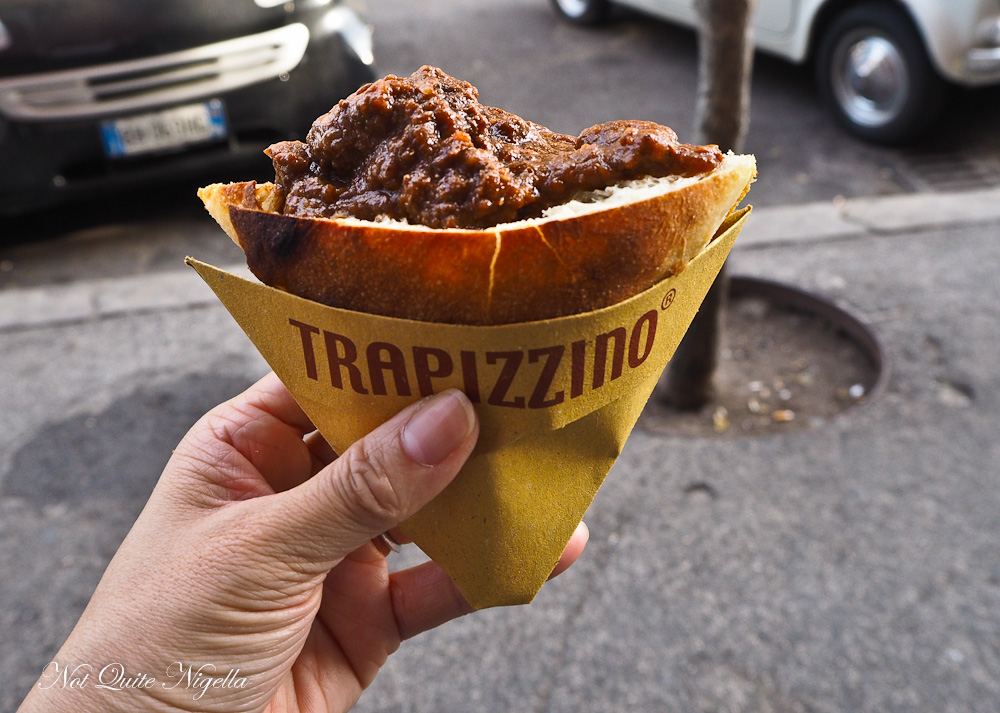 They place the trapizzino and suppli on a stand and we take a seat outside. The zighini filling is beef, berbere spice mix, tomato, extra virgin olive oil, onion and is fantastically rich and filling the meat slow cooked to perfection but still remaining in soft chunks. But for me it's the triangular shaped bread, spongy and soft on the inside but with a light crust on the outside that I love particularly with the saucy filling. The suppli is excellent, crispy bronzed on the outside but soft and tender within.
We move to the small park and take up residence on the park bench and devour our paninis from Mordi & Vai while kids play on the jungle gyms. The panini are no longer hot but the sauce and the bread combination is superb and I wish I had bought more for the plane ride home in a few hours.
Our time in Rome is now dwindling down to a matter of hours. With our mind preoccupied with gathering food treasures for the long plane trip we enter Volpetti on Via Marmorata. The store is neat in size but every corner and surface holds treasure. Open since 1973 it remains a favourite with locals and visitors the latter often proclaiming it to be the best food store in Rome.
I stare at the shelves transfixed - it's almost like being in a movie from yesteryear where every staff member in turn greets you with a gracious and warm "Bongiorno!" while slabs of pizza, glistening jam crostata and glace fruit, truffles, wheels of cheese and large slabs of ham and thick salamis vie for your attention.
The man behind the salami counter just happens to be Claudio Volpetti, one of the two brothers from Umbria. He beckons a finger and offers me a slice of salami. It's delicious, the flavour strong in truffle. He then offers me some garlic salami, and it's even better and we buy some on a panini roll with cheese which he also offers a sample of. For dessert, there's a slab of crostata which they also generously sample. Volpetti also have a pizza shop Volpetti Più on another street but we are running out of time.
Our last stop is Barberini, just a couple of doors down from Volpetti. The display is tempting and full of cakes and cookies. My eye is drawn to the Mont Blanc, always a favourite of mine and we order this along with a sfogliatelle (ever since making these, I really appreciate how difficult they are!) and an apricot jam cookie. We take these into the back room to eat.
Something just happens to me when I taste a cake that I like. Everything around me ceases to exist. I dig my fork into the Mont Blanc that is covered with a thin, soft chestnut pastry dusted thickly with icing sugar and hit the ring of meringue along with the whipped cream and chopped, sweet marron glaces. It's utterly fantastic and my eyes roll back in my head in bliss. "Taste this!!" I say to Mr NQN offering him a forkful and he concurs, it's magnificent. I made a version of it here for Christmas one year.
I then set my sights on the sfogliatelle filled with vanilla creme patisserie. The pastry shatters in my mouth and I can hear the crunch of pastry with every bite, the shards cushioned by the velvety richness of the custard. The cookie, with a generous dollop of apricot jam is short and buttery and I suddenly find myself wishing that all of these places were my local and that I lived in Testaccio. And I mutter to myself, "There's no place like Rome."
So tell me Dear Reader, do you buy things to eat on long plane rides? Do you ever lose yourself when you are eating something heavenly?
NQN travelled to Europe as a guest of Azamara Cruises and stayed in Rome as a guest of Accor and Mercure Coloseo. All meals in this post were independently paid for.
Mercure Coloseo
Via Labicana, 144, 00184 Roma, Italy
Phone:+39 06 770021
www.mercure.com/Roma
Testaccio Market
Via Galvani | Via Alessandro Volta, 00153 Rome, Italy Tel: +39 6 578 0638
Trapizzino
Piazzale di Ponte Milvio, 13, Roma, Italy
Phone:+39 06 3322 1964
http://www.trapizzino.it/en/
Volpetti
Via Marmorata, 47, 00153 Roma, Italy
Phone:+39 06 574 2352
http://www.volpetti.com/home
Barberini
Via Marmorata, 43, 00153 Roma, Italy
Phone:+39 06 575 0869