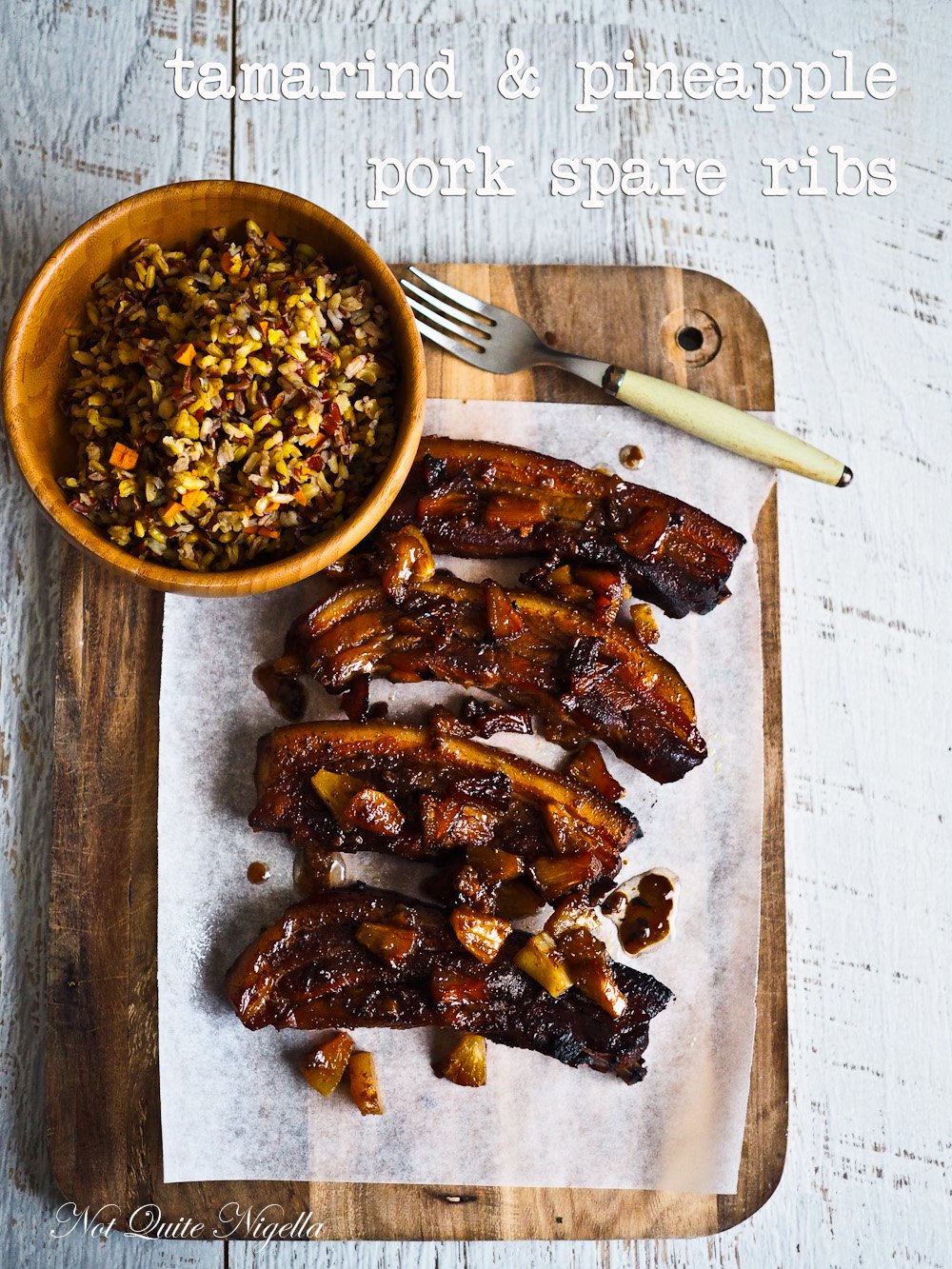 These gorgeous sticky but meltingly soft pork spare ribs are just about one of the easiest things you can make. With a small cast of a few ingredients you can transform this fantastic cut into something that you and your loved ones will happily devour. And a little caution: make double because they will be popular!
They say you're never too old to learn something new. I recently went away to Thailand with some beauty writers. I haven't had that much to do with the beauty industry and only occasionally cross paths with beauty and fashion at functions. Sometimes we are all grouped together under "lifestyle" and this was one of those instances. I have to say that they were lovely although they were quite different from food writers.
For starters they were photogenically thin. I also observed some things with their eating habits. They would order an iced long black or Americano without sugar or milk while I was sipping on a Thai iced tea. If you've ever had one you'll know Thai iced teas are ridiculously delicious because they are very sweet and creamy. They would also snack on fruit while I preferred the company of soup, crab cakes etc.
I realised mournfully that I would never get that amazing Instagram bikini shot with my food preferences. I would have to cut out everything that I loved so much. Then one night I saw that it wasn't as dire as it seemed. They helped themselves to pork belly. Was there hope?
I don't think I could ever give up some of the good stuff like pork belly or pork spare ribs. I got these at 1888 Certified Butchers in Double Bay. They mentioned that they only stock female pork. Sometimes male pork can have a taint or smell to it that can be unpleasant. This occurs in a small number of non castrated male pigs when they reach puberty and is often referred to as a boar taint - pigs raised on pasture don't usually have this issue. Some people are more sensitive to it than others and both Mr NQN and I are both very sensitive to it. Good butchers usually will only stock female pork and I remember visiting the Queen Vic Markets in Melbourne to see most of the butchers with "100% Female Pork Guarantee" signs.
Confession time: I've never made spare ribs before and I have no idea why. Because they're pretty fabulous I have to say. I wanted to give the pork ribs an Asian flavour so I used things that I had in my pantry. Unlike some Asian dishes, like say those of my mother which tend to have a long ingredients list, this one is short. It produces lusciously soft pork spare ribs with a sticky sweet crust. Perfect for a bowl of rice!
As for me and the Instagram bikini shot progress, I'll let you know on that ;)
So tell me Dear Reader, do you take Instagram bikini shots? Are you sensitive to the smell of boar taint in pork? What are your favourite snacks? Are they the light, fruity kind or the baked kind?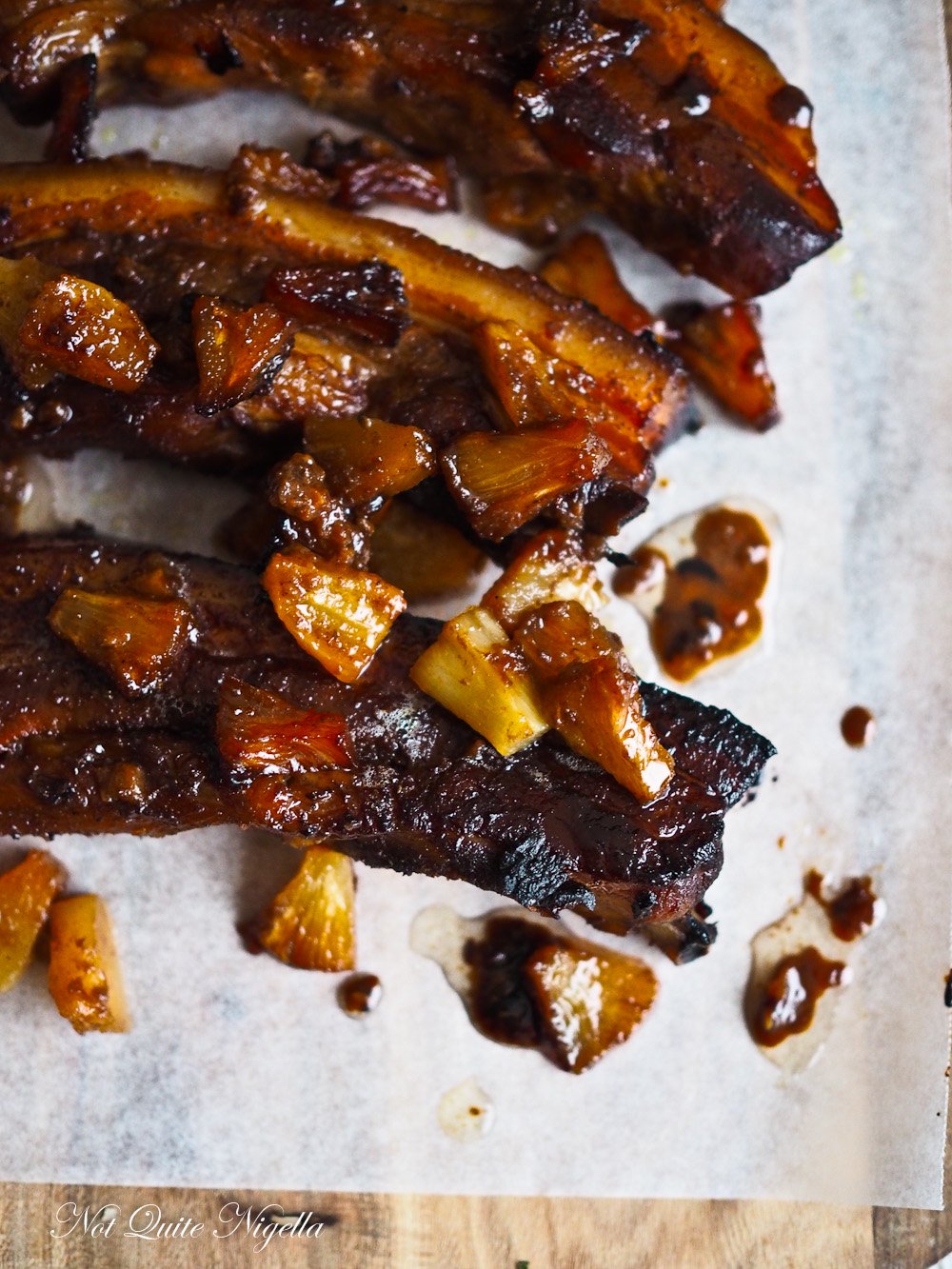 Pineapple & Tamarind Pork Spare Ribs
Degree of difficulty: very easy
Preparation time: 5 minutes plus marinating time
Cooking time: 4 hours
Serves 2
4 x pork spare ribs (about 800g)
2 cups pineapple juice
1/4 cup tamarind paste
2 cloves garlic, peeled and chopped
2 tablespoons palm sugar or brown sugar
1 teaspoon five spice powder
1 fresh chilli, sliced or chilli powder
1 cup pineapple pieces
Rice to serve
Step 1 - Marinate the pork for 1-2 hours in the pineapple juice, tamarind paste, garlic cloves, sugar, five spice powder and chilli. You can also marinate it overnight.
Step 2 - Preheat oven to 160C/320F. Line a baking tray with foil and place the pork, marinade and pineapple pieces on the prepared tray. Cover snugly with foil and bake for 4 hours turning over halfway. If the liquid burns add a bit more water after the 3 hour stage. If it isn't caramelised by the end of the time, remove the foil and turn the heat up to 180C/350F and roast uncovered for 10 minutes. Serve with rice.