Besotted by stunning buttercream flowers? Forget gum paste and fondant, delicious buttercream is the way to go. While these flowers look impossible, they're actually achievable and here we will show you how to create buttercream flowers from buttercream rununculus, succulents, sweet peas in all sizes and colours with cake and chocolate artisan Jessica Pedemont. Get ready for your friends and family to do a double take when they see these cakes!
The first time I met Jessica Pedemont, cake decorator, chocolatier and chef it was at Planet Cake in Balmain. She was showing us how to make a 3D handbag. I was so overwhelmed by the seemingly impossible task that I considered leaving quietly. I just couldn't figure out how to pack everything up and sneak out of the room. Luckily, my ineptitude at being a ninja meant that I stayed and completed my bag. And it looked like a bag!
So when she asked me if I would like to come to one of her classes I knew I would be in good hands. Jessica offers public and private classes from her studio in Canterbury. Students can pick from a range of upcoming classes or a group of four of more can have a class to themselves. I wanted to learn one thing that I've become besotted with: buttercream flowers.
I know that gum paste and fondant flowers are beautiful in their own right but often people don't eat them. People tend to prefer buttercream flowers for the taste and Jessica showed me just how to perfect buttercream flowers just like those seen by cake maestros like Iven Oven.
Let's great straight into it! Firstly, some tips for making buttercream flowers:
Tip 1 - Before you start, have the live flower or search google images for multiple, colour images of the flower or subject and print them out. I often have them on my iPad for reference next to me. The main flower that I wanted to learn, the rununculus is a winter flower so we couldn't get them so we used colour print outs.
Tip 2 - Just as important is the buttercream that you use. Jessica showed me what has to be the best tasting buttercream I've had that I'll share with you soon. She only uses Pepe Saya cultured butter so it has a gorgeous tang to it. The method to this buttercream is genius and it is so smooth and beautiful to work with but doesn't require a meringue to be made. With the buttercream, avoid using vanilla seeds as these will show up in the buttercream. This is the recipe for Jessica's buttercream that is so easy to make and so perfect to pipe these flowers with.
Tip 3 - Some colours require up to 2 hours to fully develop their colour. An example is Wilton's Juniper Green which was a grey/mauve shade that gradually became juniper green.
Tip 4 - On a flower abundant cake like this it is best to use two different shades of green for the foliage which gives it a more realistic look.
Piping tips
Tip 5 - Have an assortment of piping tips and bags at the ready. I will go through which tip you will need. Keep tips in "families" or "types". Often you can see the similarities in shape, some are merely smaller or larger version of each other.
Tray of buttercream flowers ready for the freezer
Tip 6 - You will need a freezer with plenty of space for this. You can technically pipe straight onto a cake but this is risky and even Jessica who has plenty of experience prefers to pipe them onto a piping nail. We will basically pipe the flowers on a square of parchment on a piping nail and then transfer them to a tray which we will freeze. Once frozen they will easily lift off to sit on the cake.
Remove buttercream flowers from freezer just before you need to use them. Place them back in the freezer if you are not using them.
Tip 7 - Using a tip coupler allows you to change the tips easily while using the same colour piping bag of frosting.
Couplers (and a tip above in a piping bag without a coupler fitted
Tip 8 - Don't be afraid to mix your frosting shades. Dip a skewer into the colour and then mix into the buttercream. Clean the skewer with a damp cloth and then dip into another or the same colour.
Tip 9 - Make your blossoms in a variety of sizes to mirror nature.
Tip 10 - Do this in air conditioning. I don't encourage you to try this during a hot summer's day without air conditioning.
Tip 11 - If you have shaky hands, brace your hands by resting your elbows on a bench or tucking in your elbows onto your hips.
So now let's start on the flowers!
You will need:
A large lot of buttercream (using 500g/1.1lbs of butter) in around six colours (including two greens i.e. a forest or juniper green and a yellow green shade)
Piping nails (you can use various sizes)
Cut out squares of parchment, about 2x2inches in size
Styrofoam cube
Piping tips
Piping Bags
Tip couplers
Did you make this recipe?
Share your creations by tagging @notquitenigella on Instagram with the hashtag #notquitenigella
How To Make Buttercream Sweet Peas
It's always best to start on the easiest flower and the buttercream sweet pea is easy. Start with a tip #XXX. There are two sides to the tip, a slightly wider end and a narrower end. Place a dab of buttercream on a piping nail and place a square of parchment on top.
With the narrower end of the tip facing up pipe five small arcs starting in the centre allowing your left hand (if you are right handed) to rotate the piping nail. Gently place near a plastic tray and slide the square of parchment with your flower onto the tray. Don't worry if your sweet peas aren't perfect. You can of course scrape the buttercream back into the bowl. Jessica says that it takes at least ten attempts before you are on the right track.
Watch the video on how to pipe buttercream sweet peas
Hint: Try flipping the piping bag so that the larger end of the tip faces upwards and you get a different style of flower with fatter petals.
Making flowers using the same tip but with the larger opening at top
How To Make A White Fantasy Flower Out of Buttercream
We are now moving onto the next flower, a slightly harder one but I found this one easy to do considering how complicated it looked! Start with a #2 tip with a pale yellow green buttercream. Pipe a small circle of buttercream and then pipe a ball of buttercream on top. Then pipe small droplets on top making sure to stop squeezing the buttercream so that you don't end up with a long line of buttercream.
Take a white buttercream and tip #61 and with the larger end facing down, get closer to the stamen and pipe a circle around it. It will look as though it is enclosing the stamen or hugging it. Pipe around the stamen two or three times stopping when you need to to turn. Lastly to create a lovely outturned effect rotate piping around in the other direction - the thin curved top will be facing outwards and will create a outward petal look. Carefully place on the tray and freeze completely.
Going around twice with the white buttercream
Then pipe in the opposite direction with the tip facing outwards to create an open petal look for the final layer
Watch the video on how to pipe buttercream fantasy flowers
How To Make Succulents Out of Buttercream
Left is a regular petal tip, the right is a succulent tip with rounded edges
The beauty of making succulents is that there is no real up or down side to the tip and that you need to stop piping at intervals to create the succulent effect allowing your hands to get used to rotating the piping nail without getting tired. Use tip #150 with a green buttercream. Holding the tip slightly angled down, create a curl in the centre as the base.
Then at a 45 degree angle, pipe small increments of buttercream, about 2 or 3 to a circle stopping and slightly overlapping each one until you reach a succulent the size that you want. Carefully place on the tray and freeze completely.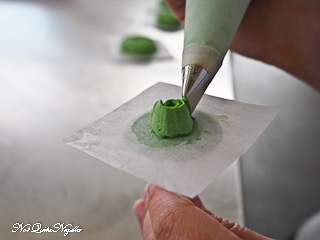 Watch the video on how to pipe buttercream succulents
How To Make a Buttercream Rununculus
By now if you've completed the other flowers you may find these easier than they look. They're intimidating sure, with three layers and tightly bound petals but I found these surprisingly straightforward. You can use two or three tips for this:
2 layers using the #101 tip (for the inner layer). You can also use 102-104 tips. A green colour buttercream is best.
1-2 layers using the #104 tip (for the middle layer). A lighter version of a vivid colour is ideal for this.
1-2 layers using the #125 tip (for the outer layer). You can also use #124 or #126 tip. A vivid or stronger colour is ideal for this.
The starting base
Piping arcs across the base
Start piping some green buttercream onto the piping nail making a rounded mound. Using tip #101 with the narrower end pointing upwards, draw an arc across the mound. You will draw four of these arcs and the tip will follow close to the flower as the rununculus is quite a closed flower.
Then take tip #104 with the pale pink and pipe arcs overlapping each other keeping the height of the rununculus about even. Do one or two rounds of these (two if you are making a larger flower).
Then take tip #125 with the brightest shade and do the same arcs with the darkest colour (you can also do the middle and outer layer with the same shade and a green centre). Do one layer and then finish off the sides with arcs that stay more on the side than on the top of the flower. Carefully place on the tray and freeze completely.
Watch the video on how to pipe a buttercream rununculus
To Assemble the Buttercream Flower Cake
Set up to decorate cake
Now comes the fun part! Assembly!
You will need:
Your buttecream flowers, frozen completely
Your iced cake, frozen
Two shades of green buttercream, a forest green and a yellow green
Two leaf tips (the numbers for leaf tips range from #30, 65, 66, 67, 69, 70, 106 or 352. All produce leaves of varying types).
A #3 and #4 tip to make tiny buds (these are so cute!)
Extra couplers
A shade of light pink buttercream in a piping bag fitted with the #3 tip and a couple
Tip #129 for random flowers to fill gaps
A cake turntable
Make sure the cakes and the flowers are all frozen and that you have extra buttercream to use to create a mount for the flowers. Draw an outline about half an inch from the edge and create a mound in buttercream.
Creating a mount for the flowers out of buttercream
The toothpick method
If you work fairly quickly you can position the flowers with your hands. You can also use two toothpicks if you need to but hands give you a bit more dexterity. Even with my "hot hands" (a pastry cook's scourge) they didn't melt as I made sure to only touch them briefly. Start with the largest flowers and place those on the buttercream topped cake first.
There will be large gaps of buttercream between the flowers but do not worry. Now take your leaf tips. We used 67 and 352 with one shade of green in each. I'd recommend using a coupler with the yellow green shade as you will be making some really simple, gorgeous buds using this and another tip.
Jessica's cake
Fill in the gaps with the piped leaves making sure to check the cake for gaps from every angle up and down and turn around.
My cake
To add the buds, switch the yellow green leaf tip to a #4 plain tip. Pipe some small balls of green buttercream among the leaves. Then take the light pink buttercream piping bag with a #3 tip and insert the tip inside the green ball of buttercream.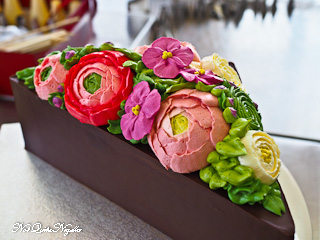 Jessica's cake
Using piping tips like #129 you can also pipe colourful little flowers wherever you feel that the cake needs them! Just use the pale pink icing you used for the inside of the blossoms.
And now without further ado, here is my cake! Okay you saw it at the beginning of the post but here are some close-ups. I have never piped a rununculus before and only piped using a couple of tips but I was surprised at how easily the tips brought the blossoms to life!
My cake
So tell me Dear Reader, which flower do you like the best? Do you take cake decorating or cooking classes? Do you prefer private or public classes?
Watch the video on how to put the final decorating tips on the buttercream cake
NQN attended the class as a guest of Chocolate Artisan
Chocolate Artisan
Jessica holds private classes as well as public ones. The cost for a private class is $165 per hour for one person. Additional people in private classes are charged at an extra $50 per person. This includes all equipment, supplies, lunch (for longer classes that run over a whole day) as well as an apron, tea towel and recipes to take home. She also has a list of classes available to choose from with no minimum numbers required.
http://www.chocolateartisan.com.au/
Mobile: +61 410 520 069
chocolateartisan@gmail.com