This striking cake is as pretty as a jewelled stained glass window. Tailor it to your favourite stained glass pattern. All it requires is a little patience and some time painting! Inside is a lemon and coconut cake layered with dark chocolate ganache. I called her Skylar.
I made this cake for Father's Day this year. It's been a while since I've made a cake this labour intensive and I wasn't sure if it would work out. I was feeling particularly lethargic as I tend to during August (cold weather does that to me) and making this cake stretched out over 3 days. The first day I baked the cake, the second day I covered it in ganache and fondant and then painted in the patterns. My favourite day was the third day when I drew the flower pattern in royal icing and filled in the gaps.
For the first two days I wasn't overly pleased with the result. Some of it was my doing: I mistook a tub of gum paste for fondant and I tried to roll out the gum paste which was so stiff and unpleasant that I had to abandon it to trudge out in the rain for some fondant. Also it didn't really look like much. However after all of that work I was pleasantly surprised at how this came together. It's not perfect but it's colourful and striking. I promise though Dear Reader that if you attempt this cake you will love the result. You don't need any drawing skills really to speak of or you can just copy a pattern you find online. I just freehanded the flowers and the pattern.
There are two techniques shown on this cake: just a simple paintbrush stained glass pattern on the main cake which is as easy as you can get (and if I can do it, anyone can). However I also show you how to do a floral pattern which is better when done with royal icing as this makes it look nice and raised, like real stained glass. There are pros and cons to each. The painting version while not requiring royal icing or freehand drawing skills takes a long time. The flower version is actually much quicker to execute than painting the whole cake. It's up to you how you want to do it. It's a big cake but it was a cake for my father as well as Mr NQN (dog dads count too!).
Speaking of things that take a while, I was reminded of my recent trip overseas that I never quite fully told you about. When we recently went to Portugal Mr NQN and I boarded a flight from Sydney to Singapore. We arrived in Singapore and were transiting to London but it was only then that we both realised that Mr NQN had bought the wrong ticket and that he was on another airline entirely! To compound the confusion, he had a very tight transfer and there was a man ticking off everyone's names and urging those on his flight to hurry to the new gate.
"OK bye!! Wait for me in London!" I yelled to him, confused at how this had gone wrong so quickly in the space of 2 minutes.
As for me, my flight was delayed significantly. Instead of taking off before midnight, we were now scheduled to depart at 2am. I was a bit worried about our 11:30am flight from London to Lisbon but I knew that we had 5 hour buffer in our schedule. The pilot announced that we would arrive at 7:30am so I figured we still had time. I got on the plane, popped two sleeping pills and passed out asleep.
I woke up 10 hours later and did the maths - the screen showed that we our arrival would be 8:30am, not 7:30am. "You're fine, you're fine," I said to myself. However that wasn't the only delay. As we were on an A380, the plane waited for an hour to get a gate because there were only a few gates that could accommodate an A380. I watched the time dribble away slowly. I didn't have internet on the plane and knew that Mr NQN would be watching the progress of the flight from Heathrow airport. I deplaned at 9:30am and connected to the airport wifi where I received an avalanche of his messages telling me exactly where to go. It would be tight but possible if the immigration and baggage gods were on my side.
Alas they weren't. I did manage to skip much of the queue, the man stamping my passport telling me sympathetically that he doubted that would make it because I still had to collect my bags. And he was right because of course my bag was one of the last to come out and I had a 15 minute walk to terminal 2.
I knew at that point that the flight was about to leave. Mr NQN messaged me, "I have to get on this flight, no point is both of us missing flights". I knew he was right although at this point I just wanted us to be together. I rushed to the TAP Portugal airline counter and asked them about the next available flight.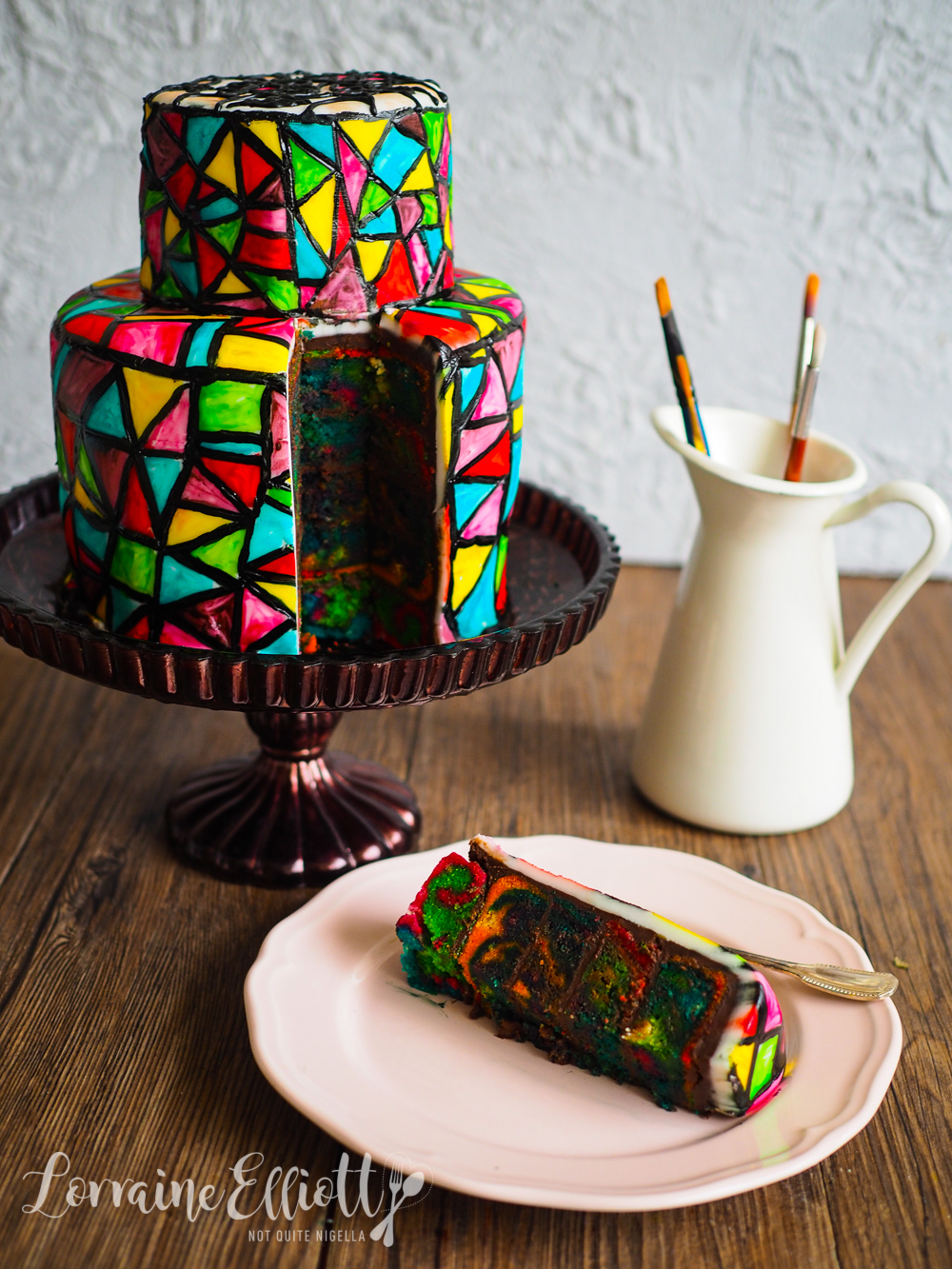 I had two options: to buy a business class seat for close to $1,000AUD or to wait until 6:45pm that evening and buy a seat for around $300AUD. The TAP woman then told me I had to decide straight away because there was only one seat left in business class and it could be sold any second! I quickly scanned my coverage and travel insurance wouldn't cover me and making Mr NQN wait all day for me at Lisbon airport seemed silly. I forked out the $1,000 for the business class fare, collected myself in the lounge and then boarded the plane. That one seat that I had to "urgently" decide on was actually in a half empty cabin but at that point I was just glad to be on a plane heading in the right direction.
And after travelling for 36 hours I was just glad to be able to get to Lisbon. Mr NQN was waiting for me, relief etched on his face! Sometimes things work out eventually, but it often feels like it won't - like this cake!
So tell me Dear Reader, have you ever had an expensive travel drama? And do you prefer the geometric stained glass pattern or the floral?
DID YOU MAKE THIS RECIPE? Share your creations by tagging @notquitenigella on Instagram with the hashtag #notquitenigella
Stained Glass Cake
An Original Recipe by Lorraine Elliott
Preparation time: Over 3 days (with waiting/drying time)
Cooking time: 1 hour
Serves 20-25 small, tall pieces
Degree of difficulty: hard
500g/1.1lb butter, softened
500g/1.1lb caster or superfine sugar
600g/21ozs. cake flour
6 teaspoons baking powder
3 cups coconut cream
12 eggs, room temperature
Finely grated zest of 3 lemons
180ml/6flozs. lemon juice
Edible colouring gels in orange, green, pink and blue
Chocolate Ganache
500g/1.1lbs dark chocolate
1 cup cream
To decorate
1kg/2.2lbs fondant
Vodka
Edible colour gels to suit your pattern (I used pink, purple, red, yellow, black, blue and green)
Royal Icing
6g/0.2ozs. egg white powder
35ml/1.2flozs. water
pinch cream of tartar
250g/8.8ozs/ icing sugar (not mixture, pure icing sugar)
Edible black colouring
Step 1 - Preheat oven to 160C/320F and line threex15cm/6inch tins and 1x10cm/4 inch tin on the base and sides. Beat the butter, sugar, flour and baking powder together using a beater attachment until smooth and light (around 3 minutes or so).
Step 2 In a large bowl whisk the coconut cream, eggs, lemon zest and lemon juice together. Add to the butter mix in 5-6 lots to avoid getting lumps. I made this a multi coloured batter but you can leave this regular vanilla looking too. If you're colouring it, divide into four bowls and tint each bowl mixing in the colour well. Use a tablespoon to dollop the mixture into each tin.
Step 3 Bake the cakes for 45 minutes or until the centre springs back when touched and isn't wobbly. The 10cm cake should bake within 30 minutes. Cool completely (I bake the cakes the day before).
Step 4 Trim the cake tops off if you have any doming using a cake leveller. Cut the half in half horizontally. Make the ganache. Place the chocolate in a large microwave proof bowl. Bring the cream to a boil and pour over the chocolate and cover with a plate and leave for 5 minutes. Then stir the cream and chocolate together-this may need 30 seconds or so in the microwave to fully melt it as it's quite a large quantity of ganache. Allow to cool at room temperature and become thicker and more spreadable.
Step 5 Using an angled spatula dab a little ganache on your cake board to secure one cake layer to it. Spread ganache between layers. Then spread ganache on the top and sides. This takes time and it's best not to rush this step and be generous with your ganache layer because everyone you want to be friends with loves chocolate and it makes the next step easier if it isn't too thin. Ganache the smaller cake separately and keep it separate for now. Place in the fridge to allow the ganache to set.
Step 6 Then comes the ganache smoothing. Take the ganache smoothing tool and scrape the ganache. This helps if you use a cake turntable, scrape and scrape until you get a smooth surface (it gets easier with practice).
Step 7 Then comes the fondant layer. Roll out the fondant onto a surface dusted with cornflour (fine cornstarch). Roll it out into a large disc (large enough to cover the cake with its height). Brush cake with a little water. Gently lift the fondant over the cake. I find it helps to gently fold the fondant in half and then lift it that way so that it doesn't tear. Cut off the excess folds making sure to reserve some fondant for the smaller cake. Smooth down the fondant cuts with your hands-the heat will smooth the fondant and seal any gaps or creases. Repeat with the leftover fondant to cover the smaller cake and then using a little water, place the smaller cake on top of the larger one. It will help if you let the fondant set a bit firmer at this stage.
Step 8 Take a pencil (don't worry, they don't use lead in pencils any more) and draw a pattern on the fondant (google some stained glass patterns and see which ones speak to you the most). Then mix a tablespoon of vodka for each colour you want to use and mix up painting solutions. Using small brushes, fill in the pattern. Allow to dry (I left this overnight). Then mix a tablespoon of vodka and black colouring gel and draw the outlines. Allow to dry.
Step 9 To draw the royal icing flowers version first make the royal icing. Place the icing sugar into a food processor and blitz out all the lumps. Then add the egg white powder, black colouring gel, cream of tartar and lemon juice so that you get a firm, stiffish pipeable consistency. Place in a small parchment piping bag (learn how to make a parchment piping bag here).
Step 10 I freehanded the flowers in pencil. Then I piped the royal icing and then filled in with a diluted colour (you can also colour in first and then pipe with royal icing).