Want to impress and surprise someone? Try this ombre vanilla cake that you can customise to any colour scheme. The outside ombre tahini orange blossom buttercream gives a little hint as to what may lay inside: a tower of graduating colour! It's a dream come true for colour lovers!
I actually made a couple of goes with making this cake. The first was a dismal failure. The cake was tough and it was hard to spread to the edges given the thin layer. That sadly went straight into the bin. But then I remembered a cake recipe where the batter was liquid-which was the perfect consistency for an ombre cake. It also just happened to be a very moist cake that was easy to make and also vegan. It was the perfect cake mix for an ombre cake, taking on colour easily and being a dream to measure and pour. There was no trying to coax stiff mixes to the edge of a cake tin here!
I know I tend to say cakes are easy. I guess I mean more straightforward you soon forget the effort once you have the cake in front of you. And although this has nine steps, it's really not that bad. I decided to call her Pamela because the name is feminine and this cake just screamed Pamela. I also have some lovely Dear Readers with that name too. HELLO!
How To Make an Ombre Cake
This cake is perhaps for more experienced bakers but you definitely don't need to be a cake expert. This video shows you just how easy this cake mix is (it's one I keep up my sleeve for when I want to make a super quick cake that stays moist for days afterwards). I've even pointed this recipe to Nina who isn't much of a cake maker because it is super simple. She may not have a passion for baking but she does have one passion: dogs.
She has recently started dog sitting for people as a side business. This allows her temporary time with dogs as her fiance Garth doesn't want to own a dog. The only problem is that she has a problem saying no to people that ask her to dog sit. She recently realised that she had said yes to looking after five dogs at the same time! And she didn't know how to break to news to Garth!
So she did it the best way she knew how. She bundled all five dogs into the car and picked up Garth from work "Surprise!!" style. There was Samantha the labradoodle, Lloyd the labradoodle that doesn't quite look like one, Millie the maltese and two sausage dogs Cinnamon and Spice.
Unfortunately that evening poor Nina found herself a bit overwhelmed by having five dogs. It all went relatively well until sleep time. Her regulars went to sleep well but the two sausage dogs whined and barked all night and Lloyd simply didn't understand any commands. Garth didn't get too upset because he could see that Nina was suffering through lack of sleep.
When Nina became a real life meme
Her plan to play with dogs had taken a serious turn and she rethought her idea of dog sitting. "So this is what makes you happy," said Garth, his affect completely deadpan. "The worst part is that he didn't say much and the way he said it was like he was resigned to thinking about the future-with five dogs," said Nina. "But I think I can only really cope with two," she added, no doubt a massive relief for both of them!
So tell me Dear Reader, what colour would you choose for your ombre cake? What sort of level cake maker are you? Or do you prefer savoury to sweet cooking? Do you have any other name suggestions?
DID YOU MAKE THIS RECIPE? Share your creations by tagging @notquitenigella on Instagram with the hashtag #notquitenigella
Ombre Vanilla Cake With Tahini Orange Blossom Buttercream Frosting
An Original Recipe by Lorraine Elliott
Preparation time: 1 hour 15 minutes
Cooking time: 25 minutes
4 cups plain all purpose flour
2.5 cups caster or superfine sugar
3 teaspoons bicarbonate of soda
1 teaspoon fine salt
3 cups water
1 cup oil
6 tablespoons white vinegar
1 tablespoon vanilla bean paste or extract
Pink rose food colouring
Buttercream (makes enough for this plus a bit more too but more is easier to work with)
750g/26.5ozs. butter softened
375g/13.25ozs. cups caster or superfine sugar (not icing sugar)
225ml room temperature water (test this with the inside of your wrist)
4 tablespoons hulled tahini
2 teaspoons orange blossom water
Pink rose food colouring
Decoration
Roses and orchids to decorate
Step 1 - Line the base and sides of 6 x 20cm/8inch round tins. If you don't have 6 of these, make the batter in batches. I have 3 tins and halved the recipe and baked them and then cooled and started all over again. Unless you have a big oven it is best to do this in two lots. Do not make the mix and let the batter wait. Preheat oven to 160C/320F.
Step 2 - Whisk the flour, sugar, bicarb and salt together in a large bowl. In a jug measure the water, oil, vinegar and vanilla bean paste. Make a well in the dry ingredients and add in the wet in 2-3 batches stirring to get rid of lumps. Pour into a jug and measure the batter.
Step 3 - You should have 2 litres or 8 cups of batter. Divide the amount of batter you have into sixths. I had 333mls (roughly) for each cake. Pour one plain vanilla cake, then add a little food colouring and then pour a second cake. Then keep gradually adding more colouring and pouring the cakes until it is a deep pink shade. Tap the cakes gently to get rid of large air bubbles and bake for 25 minutes or until a skewer inserted comes out clean.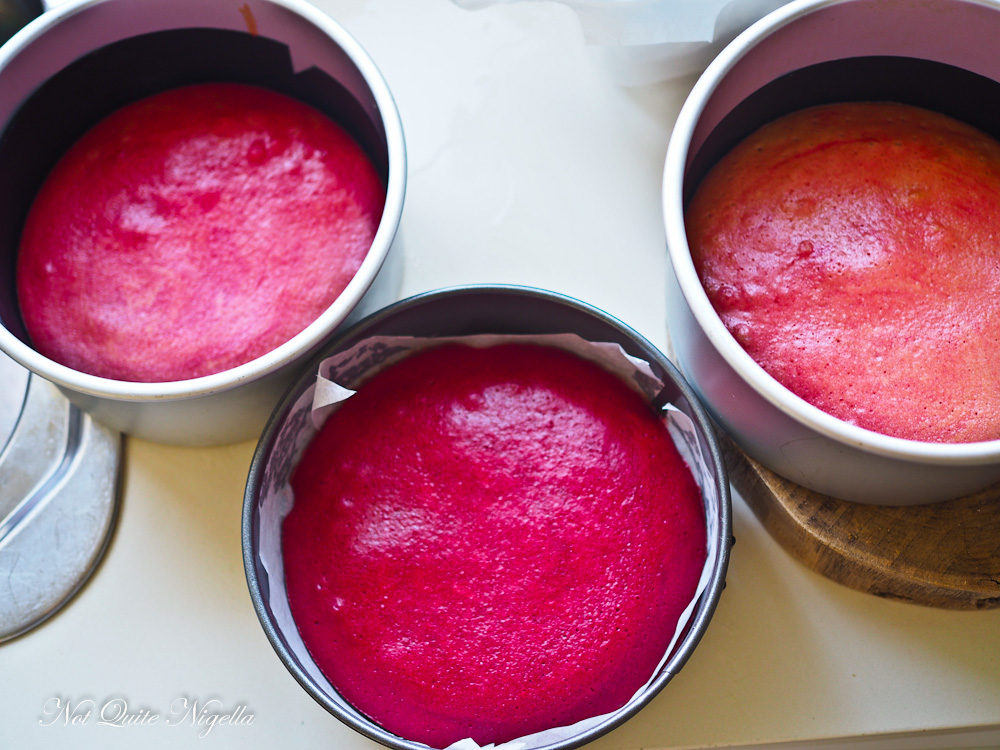 Step 4 - Allow cakes to cool completely and then place a layer of parchment between each cake. You can freeze the cake until you need it and it actually helps a little if you pop them in the freezer for 30 minutes.
Step 5 - Make the buttercream. Beat the butter on a low setting (3 out of 10) using a beater attachment. Add half of the sugar and water and then beat for another 3 minutes and then add the remaining sugar, water, tahini and orange blossom water and beat for 7 minutes. The sugar will no longer be grainy and you should have a lovely smooth buttercream.
Step 6 - Keep the frosting plain white for the time being. Place the bottom and darkdest cake on a cake turntable. Spread between the cakes starting with the darkest colour and then going to the palest (or you can do it the other way around). Make a crumb coat on top and also spread some on top. Refrigerate for 30 minutes.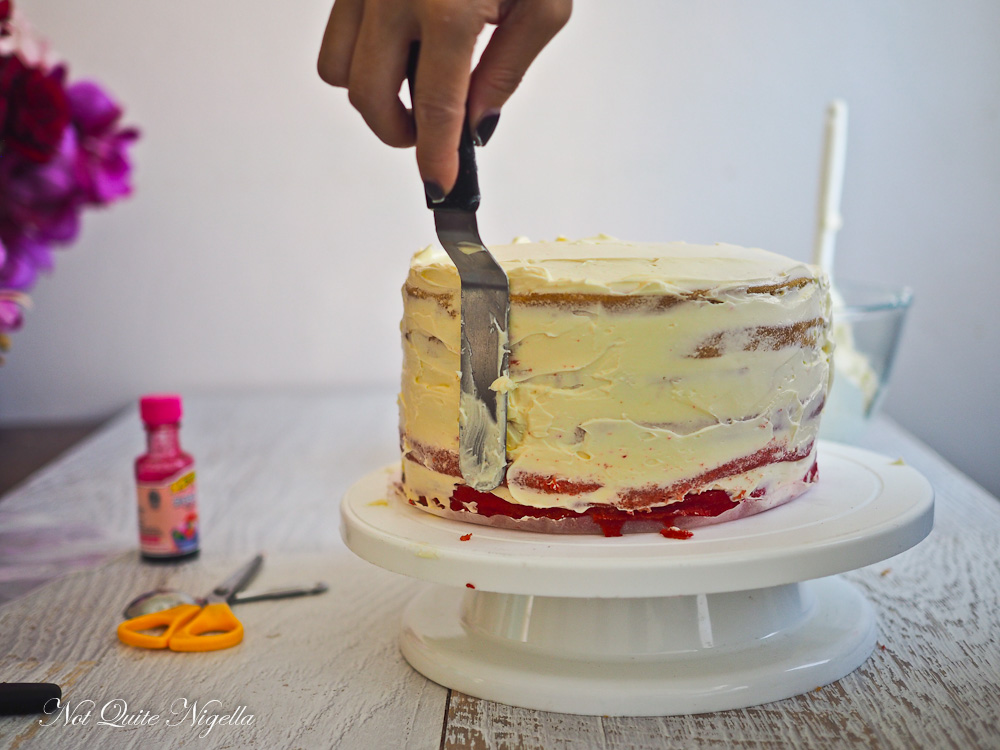 Step 7 - In the meantime take 3 large piping bags-you will be dividing the buttercream into three portions. Fill the first with a third of the white buttercream. Then tint the buttercream with a little pink to form a baby pink shade and fill the second piping bag with the next third and then add a vivid pink to make the final shade and add the remaining buttercream into the third piping bag.
Step 8 - Pipe thick logs of buttercream on the side. I did two rows of each colour but with your eye divide the cake into three and see how many rows you will need. Start with the darkest colour and then finish with the white.
Step 9 - Take a cake scraper and have an empty bowl ready. Gently turn the turntable around and the colours will meld. Decorate with fresh flowers and leaves.