We've got to have lamb" Nick said before adding "And lamingtons too!" It was Australia Day and we started it off with a bang. We boarded one of four ferries that were racing in Sydney Harbour. Ours, China Southern Airlines was a previous winner and we waited for the start eagerly. The four stately ferries were off, some move surprisingly fast when they have to and at one time each were in the lead.
Photos and video can't quite capture the sight of the flotilla of boats behind to cheer you on and spectate the event. It's an exhilarating feeling seeing all of the boats behind you and the only thing similar that comes to mind would be if were gliding into Hobart on a Sydney to Hobart vessel.
Later that day we were meeting Nick for an Australia Day dinner. And it seemed appropriate that we would be going to Sefa Kitchen, a Middle Eastern restaurant in Bondi Beach because Australia is so multiculturally diverse. I had already taken a look at the menu and spotted lamb on it so that was one box ticked.
Nick picks us up and we make our way in his car, mindful of parking in Bondi. Our booking is for 6pm so we're the first to arrive but the restaurant soon fills up. The decor is comfortable yet stylish.
Big sprays of tiger lilies, ceramic horse heads, posters of Lebanese movies and candlesticks are otherwise disparate items but here they come together. Our friendly French waitress explains some of the terms on the menu and the specials of the day.
The special cocktail of the day is the French martini. It comes with a strong hit of anise, the pineapple flavour taking a back seat to the strong spice.
Our food comes out share-style and course by course. The scallops are a great starter, the raw, silky textured scallops sitting on a bed of tahini, chickpea puree, slivered toasted almonds and herbs.
Chef Simon Zalloua was formerly of Rockpool and Embers and we remember the Brussels sprout dish from Embers well. The sprouts are halved and crispy texture with but with zing from lemon juice and a creaminess from the almond taratour sauce.
The tuna dish has three slices of Albacore tuna seared on the sides with a lightly smoky baba ghanoush and mild harissa sauce. It's good and clean tasting although it's quite mild and I would have thought that with baba ghanoush and harissa might be stronger in flavour.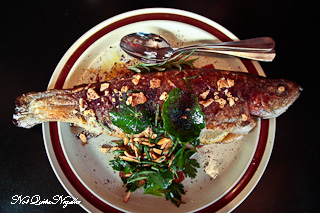 The whole rainbow trout comes out sprinkled in sumac and stuffed with slices of lemon. It is a special of the day but I debone it at the table. This is sizeable and even with two hungry boys it's hard to finish it. The trout has a good texture to it and the sumac and lemon gives it a good flavour although the fattoush salad is very small.
The lamb shoulder is generously dusted in a baharat spice mix and comes out tender and soft. It is served on a bed of pearl barley with chopped dried apricots and tahini, the barley giving the soft meat a chewy element and the dried apricots a sweet element. This is a dish that is deceptively large and again the boys only just manage to finish it off.
It's time for dessert and we pick two out of the three on offer. Sahleb is like a flour from an orchid tuber that is used to thicken. It is served in a thick cream topped with marinated, halved dried figs and toasted peanuts. On top there is an Arabic coffee granita which is really doesn't need as it's strong and we prefer the sahleb, figs and peanuts on their own.
The dessert that we all loved was the cardamom creme brulee served as a toffee topped scoop of silky caradmom scented cream. It comes with soaked prunes and sesame wafers and it's simple divinity in every spoonful.
We make our way back to the car and I turn to Nick and Mr NQN. "We haven't had our lamington or vanilla slice!" I say alarmed. We have three hours to go and despite the two desserts, I have a craving for a passionfruit icing topped custard slice. Fortunately, my two partners in crime are up for the adventure so late one Sunday night on Australia Day, we go searching for one.
Kings Cross is the first place that we visit. The late night suburb is rich in strip clubs and not so many gourmet bakeries. Nevertheless, more shops are open here and we stop by a few places. I stop at one deli that looks promising and there are decent looking cakes but no vanilla slice. She points me in the direction of their sister bakery three doors up and I enter hopeful. There are apple slices, apple turnovers, cream horns, lamingtons, jam and cream buns, nutmeg custard tarts - everything but a custard slice.
"How about Rose Bay or Double Bay with those cafes?" Nick suggests and we head East. The cafes concentrated on Knox Street offer European style cakes. Mr NQN and Nick the tennis fan stops to watch the championship point of the Australian open with Mr NQN's doppelganger Rafael Nadal. Nadal falls but I suddenly remember House of Pie in Matraville so I start dialing. It's a 24 hour pie shop.
"Do you have vanilla slices?" I ask eagerly.
"Yep" he answers.
"The ones with passionfruit icing?" I check.
"Yep" he confirms. Man of few words.
We drive to Matraville and are greeted with a display with at least a dozen vanilla slices. We share two of these, cutting them up. I sink my teeth into the custard slice. The passionfruit icing sticks to my upper palate and I can't think of a better ending to Australia Day.
So tell me Dear Reader, what did you end up doing for Australia Day? And when you get late night cravings, do you ever go out to try and satisfy them?
This meal was independently paid for.
Sefa Kitchen
292 Bondi Road, Bondi, NSW
Tel: +61 (02) 8068 6461
Saturday and Sunday 9:00 am - 3:00 pm, 6:00-10:00 pm
Monday Closed
Tuesday to Friday 6:00-10:00 pm
House of Pie
540 - 542 Bunnerong Road, Matraville, NSW 2036
Tel: +61 (02) 9661 3234
Open 24 hours