It all started on Instagram. That is, some suggestions offered from Jen Evans, the 2012 My Kitchen Rules winner who lives in Bangkok. Every day while we were in Bangkok she'd suggest something new. We would try it and it would be great. Then people on Instagram asked me to do a story about the best sweets of Thailand. I messaged Jen who not only volunteered to help me put the list together but offered to show me around her homeland the very next day!
It was hands down one of the best food tours that I've taken - not that it was a formal tour or anything like that. But Jen speaks fluent Thai and English and is a dedicated foodie due to the influence of her grandmother who taught her from a young age to pick the best ingredients from certain areas. She knew the answer to every question that I asked her from cooking to procurement and it was so informative and fun that I urged her to start her own food tours - and that day Jen's food tours started!
Along with traditional Thai desserts, modern day Bangkok also has a great range of creative desserts so we made sure to include some of these cross Western and cross Japanese delights. Jen also explained that traditional Thai desserts come in 6 categories: steamed, poached in thick sugar syrup, deep fried, baked over flat hot surface (like teppanyaki pan but smaller) and boiled. The sixth category however has no English word. "It's something that you start from a liquid form (mixture of water or coconut milk & flour or sticky rice with coconut milk etc) that you slowly stir and cook over low to medium heat, usually in a brass pan or wok until it thickens very slowly. This process is very time consuming," explains Jen. Also because the number 9 is a lucky number in Thailand without further ado, here is a list of 9 awesome sweets in Bangkok!
Modern Thai Desserts
1. Croissant Taiyaki
One look at where the middle and upper class Thais are inhabiting (luxury malls) will tell you one thing: they are obsessed with Japanese cuisine. And in Bangkok one of the most delicious things you can try is a cross cultural delight called a Croissant Taiyaki, kind of like a Cronut but possibly better. Instead of a thin wafer usually found with taiyaki they replace the outside with croissant dough (with coffee sugar crystals for extra crunch too). Originally from Japan, Croissant Taiyaki creates a buttery, divine snack with a choice of fillings: red bean, vanilla custard, green tea custard or pizza. There are two branches in Bangkok: in Central World and Emquartier although some of the fillings differ at each one.
2. Cube Chouxs at Pastel
If the range at Pastel is anything to go by, the future of choux pastry is in the cube form. These literally caught my eye as I was rushing past the stand and I had to go back and order one and sit down and eat it. Tokyo Cube Chouxs are simple: choux or eclair pastry on the outside, pastry cream or creme patissiere on the inside and a layer of diplomat cream and a colourful edible chocolate plaque on top. My pink flamingo choux of two flamingoes kissing is strawberry flavoured pastry cream with diplomat cream.
3. Issaya Patisserie
This patisserie is located on the 5th floor of Central Embassy and occupies a open sided space in the centre of the floor. Here you can find Thai ladies chatting with their friends while their nannies look after their babies. You can also find a gorgeous range of Western style cakes made with Thai flavours and flair. The sun cake is made up of a calamansi curd, blond chocolate and a cashew and biscuit joconde. The gelatos are also a welcome respite from the heat and come in Thai flavours.
Traditional Thai Sweets
4. Fried bananas or Gluay Kaek
The humble banana holds a special place in Thai hearts, especially the smaller bananas that are so very sweet. Near Nang Leung market they fry up bags of these crunchy battered treats that are split in half lengthways. Pink shirt attired sellers walk between cars at traffic lights selling this crunchy, moreish sweet treat.
5. Wedding sweets
Thai's love things sweet and the golden wedding sweets demonstrate this fondness. It is crucial at weddings that they have nine types of sweets and because gold symbolises good luck and prosperity, they are usually shades of gold. The golden colour is achieved using egg yolk as well as plenty of sugar. My favourite was the finely threaded Foy Tong which is painstakingly made. Jen shows me to a shop where the strands are cotton thin and points out that many stores nowadays make them thicker because it is easier.
Another favourite wedding sweet is Med Kanoon that are made of sweetened mung bean paste and coconut milk and are shaped into small ovals. They are then dipped in egg yolk and then cooked in sugar syrup. They are made to look like jackfruit seeds as a jackfruit tree in your yard is said to be good luck (and interestingly frangipane trees are bad luck). And of the non golden variety, there is also Kanom Chan or the layered jelly cake made up of nine (yes that lucky number again) layers. Jen explains that an indication of a good steamed Thai dessert is that the chewier it is, the better.
6. Khao chaeem or Jasmine Scented Water dessert
One of the most unusual things I have eaten is this dish. Many years ago it was not available to the public as it was considered Royal Thai Cuisine. Nowadays a modified non Royal version is offered at the Songkran Water Festival in April as a thanksgiving token to thank the gods for the rice harvest. Al dente rice is mixed in a bowl with jasmine scented water and plenty of ice (the weather is very hot during April). There are four items that are served alongside this bowl of rice and perfume water.
These range from sundried fish pounded then caramelised as well as grilled snakehead fish with lemongrass, wild ginger, shallot, coconut cream and shrimp paste that are shaped then coated in flour and fried. There is also shredded and caramelised pork or beef jerky and lastly, candied preserved turnip.
7. Khanom Farang or Foreigner's cake
When Marie Guimar of Portuguese, Japanese and Bengali descent married a prominent Greek called Constantine Phaulkon in the Siam Royal Court she brought over items like eggs and sugar to Thailand. The Farang or foreigners cake is more interesting for the history than the actual taste. Their origin is Portuguese and come from a period in Thai history about 200 years ago where Portuguese troops fought alongside Thai troops against the Burmese in Ayutthaya.
Some stayed and some Thai Buddhists converted to Catholicism and when Ayutthaya was taken over by the Burmese, the Portuguese were relocated to Thonburi. The original recipe is comprised of simple flour, eggs and sugar and they are a light baked eggy cake now with raisins on top.
8. Klong Klang Krob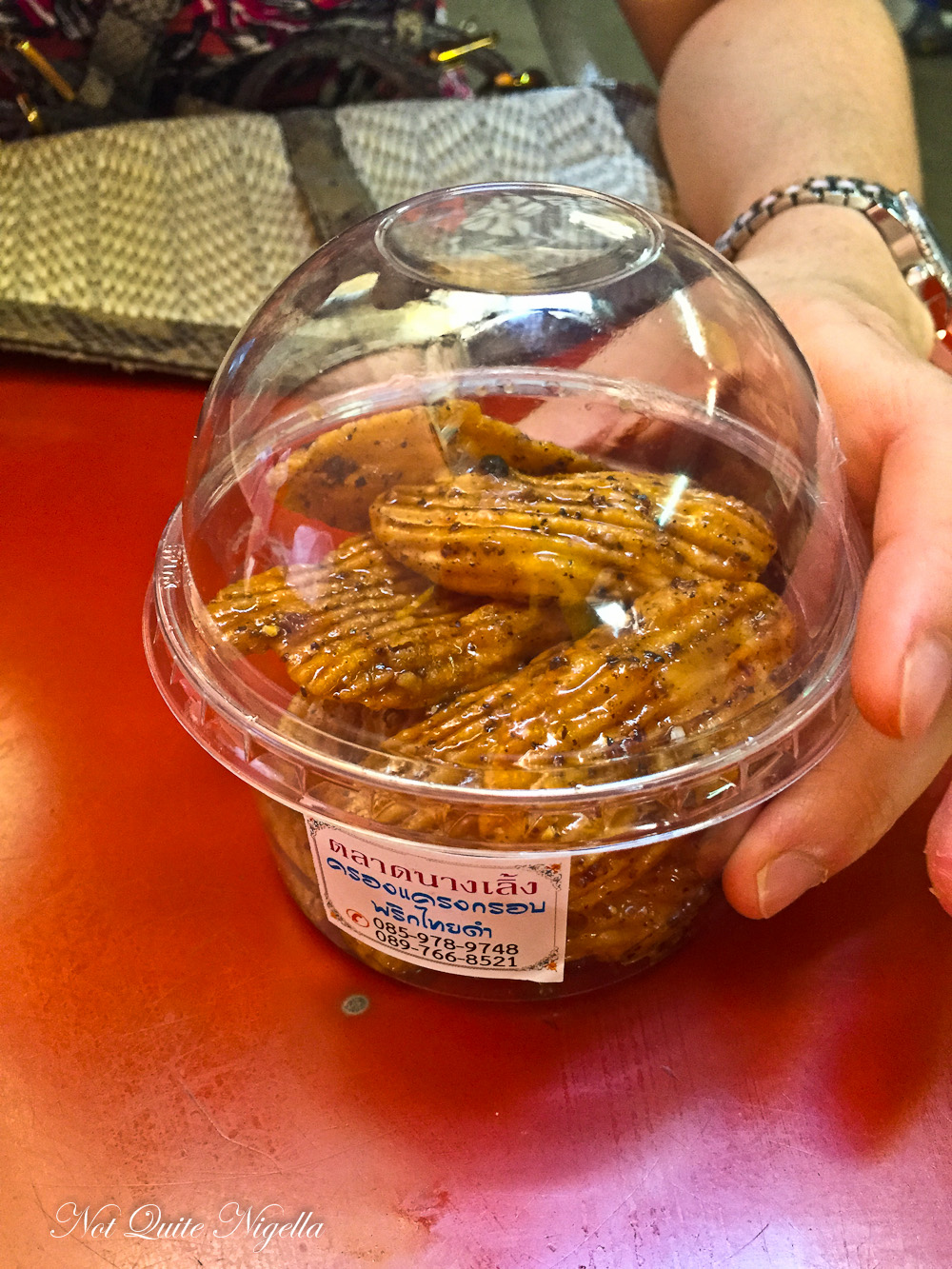 These crackers may not even steal a glance from you but trust me in that these are utterly delicious. They're a wheat flour cookie rolled on a gnocchi board and then deep fried and coated in a caramel coating with garlic and black pepper. Like salted caramel? You'll love these gorgeous cookies.
9. Pla kim (brown) Kai Tao (white)
Jen says, "They often say that Thai savoury food is sweet and our sweets are salty." It's quite true that the ever present sugar rush from Thai sweets are balanced by saltiness. She leads to a gentleman wearing a suit (quite a feat in this absolutely sweltering day) who is selling a double layered dessert with a brown layer topped with a white one. The Pla kim (brown) Kai Tao (white) are cooked separately. Jen says, "The brown part gets its colour from coconut sugar and the white part is just coconut milk and salt. The noodles are made from rice flour and water."
There are of course countless more desserts and if I could give any serious foodie a tip, it would be to book one of Jen's tours (and no I'm not getting any commission etc, I just loved it). She knows everything about Thai food and is flexible and can create a bespoke tour for you. You can contact her through her Instagram account.
These dishes were all independently paid for.