There's a certain expectation when you're considered a city's best hotel. Imagine then the dilemma of a place that many call the world's best. Ensconced in Dusit one of Bangkok's most exclusive areas, The Siam Hotel shares space with the Grand Palace and the Parliament building and is located right on the Chao Praya River. The hotel is made up of shades of Art Deco cream and black with splashes of tropical greenery. This is enhanced by antiques from the private collection of the owners, the Sukosol family and designed by architect Bill Bensley.
We arrive feeling a bit dishevelled from the flight but are directed to the cool confines of the reception area tucked away in the back corner of the first building. Fresh passionfruit juices are offered and our butler Wave introduces himself. There are two main buildings at The Siam. The first is the lobby and the second is the guest only building with the accommodation.
I barely know where to look-there are antiques, greenery, fountains and it all feels a bit touched by a magical wand. Wave shows us around a few areas like the gym and points us in the direction of breakfast tomorrow and the spa and then shows us our room #311.
I'm never quite sure what butlers do for guests. Some, like at the Raffles Hotel unpack and pack for you and are in close proximity should you need anything. Here they are more for making restaurant bookings and giving advice, much like a roving concierge really.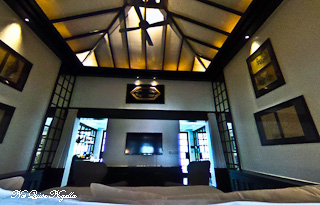 Please click and drag for 360° look
Our room is a Siam Suite and it is a long room on the third floor (the second floor is a smoking floor). The Siam Suite is spacious at 80sqm / 860sqf and carries through the Siam's black and white colour theme with vintage prints on the walls and sketches.
The room opens into a sitting area with a large flatscreen tv and a lounge with tea and coffee making facilities. The fruit platter is replenished daily and there are some banana chips on the table too as well as tea and coffee and nice touches like rocky candy sugar sticks instead of packets of sugar. There's even a tiny pair of scissors in the fridge to open up the little box of UHT milk too.
Please click and drag for 360° look
Next is the bedroom with a high dome ceiling and there's an impressive, enormous bed. This is perhaps one of the most comfortable beds I have ever slept in from the quality of the linens to the bed itself which is a large king bed that is very solid so when you're married to a man who loves to do triple somersaults while asleep you don't feel a single thing. Heaven.
Behind the bed is a good sized working desk with plenty of stationery and the suite has plenty of conveniently placed international plugs throughout. Wifi is free and fast throughout the property. If you are interested in Muay Thai boxing there is also lessons available along with yoga and tai chi.
The piece de resistance for me however is the free standing bathtub. This is positioned in the centre of the black and bathroom with two sinks, one at each end with plenty of room to put your bathroom essentials. There is also a separate shower and toilet.
Not everything is smooth as the sheets though. Although there is tea, there is no kettle and there is some confusion when I call for one. One staff member tells me that it is coming and after waiting 15 minutes I call again. They suggest to use the coffee machine which delivers coffee scented water and they tell me that there are no kettles. I start making myself a coffee when there's suddenly a knock at the door and I have the kettle.
The hotel's location is also one of the things that may make it less practical to stay at. Although to counter this there is a complimentary private boat that sails down the Chao Praya at set times and finishes at Saphan Taksin wharf.
Before breakfast Mr NQN does laps of the sparkling pool before emerging seal-like from the water.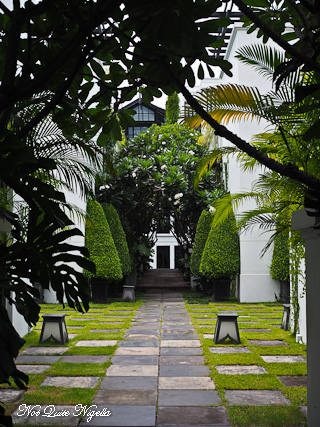 Breakfast is a leisurely affair. Offered between 6:30-11am it allows guests to sleep in or check out at the very respectable time of 12 noon. We walk down to the pier to breakfast at Chon restaurant where there is an al fresco section as well as a darker air conditioned sanctuary from the humidity inside. We opt for outside as the day is beautifully sunny and watch as boats outside gather the water plants in preparation for Mother's Day the following day. They will end up using these plants to make baskets.
The breakfast menu has an extensive choice of Western or Thai dishes for 850THB/$32AUD per person. Along with a la carte choices, there is also a small buffet with fresh juices (watermelon, pineapple, guava and orange), pots of yogurt, fresh tropical fruit and croissants, blueberry streusel muffins and pains au chocolat.
I am juggling a couple of plates but then our butler Wave appears and brings the plates to the table. He then chats to us about our plans for the day and offers to put together an itinerary for us with some shopping and transport options.
We wander through the resident's lobby peering at the antiques and the sun hits the foliage and then recedes giving it the perfect light for photos. I'm convinced that there is no way that you can take a bad photo of this hotel. It is simply one of the most beautiful hotels on earth.
Please click and drag for 360° Video
So tell me Dear Reader, what is the most beautiful hotel in your opinion? Would it bother you staying a distance from the action or do you prefer it that way?
NQN and Mr NQN stayed at The Siam as their guest but all opinions remain her own.
The Siam
Khao Rd, Wachira Phayaban, Dusit, Bangkok 10300, Thailand
Phone: +66 2 206 6999
http://www.thesiamhotel.com/