In a city as fast paced and ever changing as Bangkok there's something to eat for everyone. There's plenty of Bangkok street food sure, but when you want to go out to a restaurant to eat people are also spoiled for choice. There are countless pages of recommendations. So how do you know the best place to eat for a week in Bangkok? Follow this list (in no particular order) and your taste buds and stomach will thank you!
1. Bo.lan: For A Multi-Layered Thai Degustation
I try and stay away from reviews of places so that I can make up my own mind. But when Mr NQN asked where we were going that evening I told him and he pointed out the remarkable pattern of reviews for Bo.lan. People either love it or they don't get it it seems.
Bo.lan's name is a mix of the two chefs Thai born Chef Duangporn Songivsava (the "Bo") and Canberra born Chef Dylan Jones (the "lan"). The two met while working at David Thompson's Nahm and was open in 2009. Dylan is in the restaurant tonight and it is housed in a traditional Thai house. The decor is stylish with traditional Thai touches and service is deferential.
At dinner there are two menus: a briefer (but really still very comprehensive) menu for 2280THB/$85AUD and the balance or signature menu for 2680THB/$100AUD. You need to put aside 2-3 hours for this experience that starts with a welcome aperitif. It's Ya Dong Grachai Dum with sour fruit on the toothpick and a pandan spray. We are instructed to "Sip, Eat and Sniff" this and it packs a real punch.
Accompanying this are snacks of boiled peanuts, seasoned puffed rice (so addictive that the woman next to us buys the jar "Put it on my tab" style to take home to her son) and a salty sweet toffee nut cluster.
Things then move onto a five part amuse bouche with mouthfuls of crunchy flavours from a banana donut with prawn, pork crackling with young chilli, a crispy chicken salad, bamboo stuffed with pork and a steamed bean round. They had asked us what level we wanted the food out of three: Thai hot, medium or mild. We went with Thai hot and it was tingly hot but not intolerable at all and not all dishes have a lot of spice in them.
There's a lovely dish with rice noodles with chicken, prawn and segments of mangosteen with a lovely sprinkling of bird's eye chilli. This is then followed by an array of six dishes that all hit the table at the same time which is the traditional Thai style of eating. There is salad of mid-monsoon local edible flowers with smashed ocean prawn; Southern style stir-fry Santol fruit with herbal chicken and green peppercorns; Mon Style Curry of grilled beef with "Khii lek" leaves; relish of prawn and coconut cream served with assorted greens and fried Petchaburi whiting. Then there is a spicy soup of young bamboo shoot with pork ribs and Grilled Phanaeng Chicken as an accompaniment.
There's a great balance of flavours and textures here-for those that love light, fresh flavours the edible flower salad is perfect but for something more gutsy and robust the liberally sprinkled green peppercorns with the stir fry santol fruit (a delicious slightly sour but sweet round fruit) or the beef curry is for you. For something in between there's the crowd pleasing grilled Phaenang chicken with an intense sauce with plenty of fried shallots. For me though I loved the simplicity of the pork rib soup and the balance of flavours in the prawn and coconut cream relish with the vegetables to dip in or the deep fried, filleted whiting. These are served with a choice of jasmine or brown organic rice.
There's pre-dessert of coconut, sontal and rambutans on ice with a ginger syrup as well as a dessert of jackfruit, longans with coconut cream and sticky rice and a crispy wafer. These are served with a mint, honey, ginger and lemongrass green tea.
Our Thai degustation ends with the petit fours plate. With tiny morsels of banana and coconut cake, a jellied pandan layer cake, toasted brown rice cookies, coconut caramel toffee, rice cake with sesame and peanuts with a smoked candle and a coconut cream pudding with tapioca and toddy palm. It's like a jewel box and you never know quite what to pick up next.
2. Namsaah Bottling Trust: For An Instagram Worthy Gastrobar
Sometimes a place draws you in. Perhaps it's the look from the outside and in the case of Namsaah Bottling Trust, it's the candy floss pink exterior that causes a double take. A former soda factory (nam means water, saah is the old word for sparkling) it has been beautifully restored and renovated and sits on a quiet street apart from the main road. It is now a gastrobar owned by husband and wife team Ian and Sarah Kittichai and three other partners.
It's like you've arrived at a colourful dream where lighting fixtures are made of huge ostrich feathers, lounges are velvet and rooms are designated "the red room" "the blue room" or "the purple room". When one thing catches your eye, another follows.
Ian's story is a fascinating one. He tells us, "I am the only boy of nine children. Every morning at 2:30am I would accompany my mother to the wet market (Klongtoey Market), return home and then set out the produce we had bought. While I was in school my mother would make a dozen different dishes, mostly a lot of different curries. When I returned home from school, I would push a food cart around our neighborhood selling the food my mother had cooked...I certainly did not think of it turning into my career, as it was something I was doing to help my family survive and pay the bills. It was a tough job, 365 days a year, rain or shine."
Ian and Sarah Kittichai
His mother saved up to send Ian over to London where he started as a pot washer in a hotel kitchen due to his limited English language skills. Life was cramped-he lived in a 3 bedroom flat with 25 other Thai students. While studying English he was presented an opportunity to work in the kitchen when a chef didn't turn up and seeing his potential, the hotel sponsored him. He worked his way up and then moved back to work in Bangkok and then at the then Regent Hotel in Sydney before becoming an executive chef at 30 years old.
At Namsaah there is a great cocktail list. If you order a Mehkong Zombie, made with Havana 3 year rum, Havana 7 year rum, Mekhong, triple sec, peach liqueur, banana liqueur, orange juice, pineapple juice, cranberry juice, lime juice and grenadine a man in a mask (the zombie) will come out and deliver it to you with a flourish (I don't want to spoil all the surprises).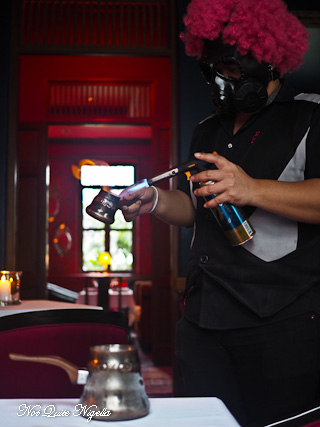 My favourite was the Salted Caramel Whiskey Sour that uses Sangsom whisky mixed with salted caramel-it's divine with just the right amount of salty sweetness and is ideal even for those that can't handle much whisky (me!).
Mehkong Zomvie 550THB/$21AUD (left) and Sangsom Salted Caramel Whisky Sour 260THB/$9.70AUD
The menu runs the gamut from bar snacks to main meals. It's a mix of Thai and Western flavours or an interplay between the two and it's hard to choose. We tried three snack items: the Salmon Tartare Wonton Tacos are totally on trend and crispy crunchy and filled with soft salmon and drizzled with mayonnaise.
Salmon tartare wontons 330THB/$12.40AUD, Momo 280THB/$10/50AUD and Sriracha Aioli Popcorn Shrimp 380THB/$14.30AUD
We adored the Momo beef dumplings, four moreish black pepper dumplings filled with wagyu. For something crunchy and fun the popcorn shrimp is also great. Crunchy soda battered shrimp are glazed with Sriracha aioli. Leave plenty of time to sit back here, you may not want to leave.
3. Issaya Siamese Club: For Crowd Pleasing, Classic Thai Cuisine
There's a moment when you realise that you're a huge fan of Thailand's biggest celebrity chef and you didn't even know it. And it finally twigs when we visit Issaya Siamese Club, Ian Kittichai's flagship restaurant.
Housed in a 100 year old building, whose ground floor originally was entirely open like a traditional Thai stilt house, it has now been transformed into one of Bangkok's best restaurants (it currently sits at #19 on the San Pellegrino 50 Best Restaurants Asia list). Issaya means the rainy season which is appropriate given that afternoon's weather and is named in homage to the chef's garden and the gardens that flourish during this period of the year.
Service is wonderful here and the menu is extensive. You can go for one of two of the suggested menus but we go a la carte simply because there are some dishes that have a bit of action at the table. At 7pm it isn't at capacity but come 8:30-9pm it will swell to become full with patrons.
Kradook Moo Aob Sauce 380THB/$14.22AUD
The pork ribs come out on a banana leaf wrapped stand, smoking profusely and glistening. These softer than down ribs are coated with Issaya's own chilli paste and melt in the mouth and you can eat the soft bone easily.
Kor Moo Yang 380THB/$14.22AUD
The size of the meals is very large so try as we might, it's hard to finish them. Next is some table side action with the Kor Moo Yang pork shoulder mixed expertly at the same with fresh mint, vegetables and a ground crispy pork dust with a jasmine rice dressing. Or if you're a fan of green curry flavours, try the Kaew Warn "Like a soup" Goong which is a green curry soup with prawns cooked at the table with flavours of kaffir lime and diced hearts of palm.
Kaew Warn Goong 380THB/$14.22AUD
You'll need more room for the mains and interestingly, they're served not share style but Western style although share style does suit this cuisine better.
The Kao Soy Osso Bucco 890THB/$33AUD
The Kao Soy Osso Bucco pairs the osso bucco cut with a rich, dark Chiang Mai curry sauce on egg noodles and chilli. The Black Cod Green Chilli sauce is no less robust in flavour but the lighter protein makes it a dish for those that want something a bit lighter.
Black Cod Green Chilli Sauce 990THB/$37AUD
And for dessert? Don't go past the Kanom Tung Teak which is also done at the table. Described as a coconut crepe soufflé for two they lay down two banana leaf squares and dole out mulberry sauce, coconut milk sauce, passion fruit foam and puffed crispy rice with edible butterfly pea blossoms from the restaurant's garden. Then crepes are filled with salted and sweetened shredded coconut, toasted sesame seeds and coconut whipped cream. This dessert is also called "Broken bucket" and with a deft touch the restaurant manager Kitty drops a "bucket" of thin chocolate that breaks and reveals the crepe hidden inside. It's a combination of light, creamy and chocolatey that works perfectly to follow a rich meal.
Kanom Tung Teak 560THB/$20.96AUD
Sarah explains the dish, "This is his modern twist on a very old Thai street food dish that is very difficult to find these days in Thailand. The original dish is a type of crepe soufflés filled with different condiments and fillings. This was known as a poor man's dish, i.e. – broken bucket or "it won't break your wallet" or "it won't break your bank"."
4. Le Du: For Modern Thai & A Great Wine List
I've got a plan for you Dear Reader (sorry I'm pushy that way). One night have drinks and nibblies at Namsaah Bottling Trust and then skip right next door to Le Du. Le Du is a restaurant and wine bar run by young Thai chef Ton Tassanakajohn. The name Le Du means seasons and this evening every table is reserved so you will need to book to get a table.
The menu has four sections: Cold; From The Sea and Forest; From the Ranch and Sin (dessert). Dishes can also have wine matching from their excellent wine cellar featuring wines from Spain, New Zealand, Australia, France, Hungary, Chile and Austria, all very thoughtfully matched to his food.
Chef Ton Tassanakajohn (right most)
Diners can also choose from a four course or their tasting menu for 2590THB/$97AUD with 8 courses including three amuse bouches starting with a divine mouthful of Sato Thai rice wine foam with dried anchovy to cherry tomato with garlic puree and sontol fruit with dried coconut and shrimp that hits all of the taste buds.
Black barracuda tartare 400THB/$15AUD
Chef Ton excels when he is creating dishes that are experimental with Thai flavours. His raw section features three dishes: the raw black barracuda tartare is a dish that sings. There is chilli, lemon basil and red onion jam-this is a local fish and the menu features much local produce.
Raw squid 400THB/$15AUD
And then there's the simple but perfectly executed raw squid with Thai bail, lemon gel and seasonal Thai herbs. The squid is sourced direct from the fishermen as the squid available at the markets is not sashimi grade enough.
Local 30 day aged beef tenderloin
The local beef tenderloin is dry aged for 30 days and served pink and juicy in the centre. This has flavours of eggplant (pea and Japanese), strands of young coconut shoots and a green curry sauce. The pork belly is served with a satay style sauce and is probably one of the safer dishes although it was perhaps where we missed the edge of the raw dishes.
Free range pork belly
But then dessert comes around and they're all different but gorgeous in their own distinct way. The lychee panna cotta is so soft it turns from gel to liquid on the tongue and is served with pickled young ginger and ginger ice cream.
A step further towards the adventurous is the incredibly refreshing and moreish dill ice cream with cubes of Vietnamese marou chocolate and orange segments. And if you really want to try something unusual but surprisingly non confronting in taste try the pork blood pudding, like a panna cotta served with Thai ice cream, caramel and raspberry. There's no metallic taste at all like some blood products can have, it's silky smooth and rich and strong in an anise flavour from the Thai basil ice cream.
5. Eat Me: For Fab Western Food & A Place To Be Seen
For a restaurant to be pulling in the beautiful people crowds after 19 years says a lot. Yet when you dine at the cheekily named Eat Me there's nothing really to indicate staleness or routine or being stuck in a rut, something that you might associate with a restaurant that has been in the business for almost two decades.
Chef Tim Butler
Eat Me sits at #23 on the 50 Best Restaurants Asia List and the constantly evolving space is one factor (they're opening up "bite me" bar below). You can try your luck with the enticing cocktail menu or have the bar make something up for you-I opted for the latter and the "eat me" vodka cocktail was fabulous.
Petit Kumamoto Oysters champagne granita + red wine mignonette 870THB/6pc or $32AUD
Chef Tim Butler originally from Maine in the United States also keeps things very interesting with a mostly Western menu full of "want to eats" like Petit Kumamoto Oysters served with sea urchin and champagne granita or the creamy, luscious Vivace sustainable Malossal Caviar with a soft boiled duck egg, chives and lime creme fraiche.
Vivace Sustainable Malossol Caviar, soft boiled egg + chive + lime crème frâiche 1500THB or $56AUD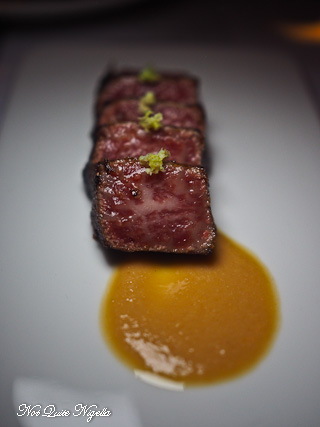 Japanese Omi Wagyu A5 Tataki, ponzu miso + fresh wasabi 100gm/1450THB or $54AUD
Then there is the incredible Japanese Omi wagyu A5 Tataki. This is quite frankly amazing. The beef has a crispy edge but the inside is so luscious, juicy and melt in the mouth succulent-this simple but effective treatment of wagyu brings out the best in the meat with the meat becoming almost squeaky tender.
Carabinero Prawn Risotto 1500THB/$56AUD
If you want something with a bit more familiar comfort the Carabinero prawn risotto with saffron and celery is sublime-but with a twist given the giant river prawns that grace the dish. You take out the "oil" of the prawn in the head and mix it with the risotto with some lemon and it adds a gorgeous, sweet intensity to the risotto. It's also big enough for two (or three). There are also dishes with Thai flavours too if you want to head in that direction but they're flavour influences rather than full on renditions of Thai dishes.
Desserts are Western classics from a super soft warm sticky date pudding with a fabulous vanilla bean ice cream to a cupcake of the day-this week is it a gorgeously decorate jasmine cupcake to a pavlova with fresh mango and passionfruit.
6. Paste: For Modern Twists on Historical Thai Dishes
One of the favourite pastimes in Bangkok is shopping and if you're in the market for luxury goods and designer trinkets then you're probably familiar with the Gaysorn Shopping Complex just near Chidlom station in Bangkok. But on the third floor lies a creative restaurant called Paste.
The food? Well let's just say you may find yourself taking your camera out several times to capture the food as well as the restaurant itself. This is refined dining from the genteel service, beautifully presented food and view of Bangkok below. The chefs behind Paste are married couple Bee Satongun and Jason Bailey. And a little tip: go for a set menu because going a la carte can be a tad pricey for lunch.
Watermelon & ground salmon with crispy shallots, roasted galangal & salmon roe, caviar 370THB/$13.83AUD
Many of the recipes are inspired by ancient Thai recipes with the relevant historical cookbook noted under the menu item. They set down an amuse bouche before our first dish arrives. The watermelon & ground salmon with crispy shallots, roasted galangal and salmon roe caviar is refreshing and livens the palate. The juicy watermelon is the perfect partner for the ground salmon floss that could tend to be dry by itself.
Roasted duck, nutmeg, curry paste and saw tooth coriander served on rice crackers 380THB/$14.22AUD
This is followed by roasted duck, nutmeg, curry paste and saw tooth coriander served on rice crackers, a perfect crunchy snack with a wonderful complement of flavours.
Live lobster steamed bao buns with pickled red radish and freshly made XO cream 420THB/$15.80AUD
We were rather smitten with the sound of the entrees or snacks so we went for a third: the live lobster steamed bao buns with pickled red radish and freshly made XO cream that are luxurious with tender, toothsome lobster slices.
Smoky Southern Thai curry 800THB/$29.92AUD
A smoky Southern mud crab curry does not disappoint both in the amount of already picked mud crab or spiciness with flavours of black pepper, pennywort, hummingbird flowers and Thai samphire.
Mushrooms and truffles 400THB/$14.95AUD
Dessert is pretty although we prefer the savoury dishes. The lychee ice cream is sweet while the shiitake mushroom white chocolate is like a firm ganache shaped into a mushroom with a light smokey savouriness to it. It comes with blue longan halves, chocolate almond thins, a chocolate truffle and a pandan sauce.
So tell me Dear Reader, which place did you like the look of? when you go to a country, do you tend to go for restaurants serving the native cuisine or so you alternate with Western or prefer Western?
NQN and Mr NQN were hosted at Namsaah, Issaya, Le Du and Eat Me. Meals at Bo.lan and Paste were independently paid for.
Bo.lan
24 Sukhumvit 53 Alley, Khlong Tan Nuea, Watthana, Bangkok 10110, Thailand Phone: +66 2 260 2962
http://www.bolan.co.th/2014/ Lunch: Saturday-Sunday12.00 pm to 2.30 pm
Dinner: Tuesday-Sunday 6.00 pm to 10.30 pm
Namsaah Bottling Trust
401 Soi Sirijullassayvok (Silom Soi 7) Silom, Bangrak Bangkok http://www.namsaah.com/
Open 7 days a week from 5 pm until 2am
0–2636-6622
Issaya Siamese Club
4 ซอย ศรีอักษร Chuea Phloeng Rd, Thung Maha Mek, Sathon, Bangkok 10120, Thailand
Phone: +66 2 672 9040
http://www.issaya.com/
Open 7 days a week, 11:30 am – 2:30 pm for lunch, 6:00 pm - 10:30 pm for dinner, bar closes at 1 am.
Le Du
3 10500, 399/3 Soi Silom 5, Silom, Bang Rak, Bangkok 10500, Thailand
Phone: +66 92 919 9969
http://www.ledubkk.com/
Open Monday to Saturday 6-10:30pm, closed Sunday.
Eat Me
20 metres off Convent Rd. (in Soi Pipat 2), 10500, Thailand
Phone: +66 2 238 0931
http://eatmerestaurant.com/
3pm–1am Daily, full kitchen & bar until 1am
Paste
3rd. fl, Gaysorn Shopping Centre 999 Ploenchit Road, Lumpini, Pathum Wan, Bangkok 10330, Thailand
Phone: +66 2 656 1003
https://pastebangkok.com/
Open 7 days 12–2pm, 6:30–11pm