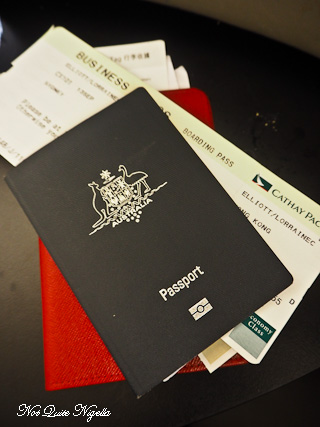 Trying out Cathay Pacific's Business Class offering starting at Hong Kong International Airport allows you to try one (or indeed two) of the airport's five lounges. After biding my time with food and showers at the Wing and Pier lounges, time calls for the overnight flight from Hong Kong to Sydney. Take a look at the food as well as the amenities on board.
Although we sit fairly still when flying, there's no getting around the fact that flying or trailing is tiring. In a first world kind of way of course. The end of a great trip is a bittersweet one. Wonderful memories are made but then the call of being home is strong and I'm ill (again) when I make my way through Hong Kong International terminal to my flight home. At the Cathay Pacific counter at Hong Kong International airport I eagerly await for the status of my boarding pass. At the moment it is Premium Economy but I am on standby for Business Class. I'm told to speak to staff at the lounge to verify my status.
I am directed to The Wing lounge - there are five Cathay Pacific lounges in Hong Kong airport. The Wing is the flagship lounge located near gate 2. There is a downstairs area with shower as well as an upstairs area with a noodle bar and coffee station. A large horde is gathered around a television watching some sort of sporting event.
The Wing lounge is broken up into Western and Chinese offerings and even though I've had 10 days of Chinese food, I head straight for the noodle bar where I help myself to dim sum, fried rice and vegetables. The noodle bar is created in conjunction with the Peninsula Hotel in Hong Kong. I try some of the hot food offerings cooked to order. There is a wonton noodle soup with pork and prawn dumplings. It's a neat serve with two dumplings, a soothing soup for my cold and thin vermicelli noodles and does the task of satisfying.
I fall upon the internet which I'm slightly embarrassed of. I mean I've only been away from the internet for a week but the restrictions in China mean that I have much to catch up on. I should not be this delighted to have it again. And after one and a half hour's work I decide to take a shower.
I go downstairs and the shower attendant is cheery and polite and shows me into my shower area. It's slightly depressing when a airline lounge shower is better than your shower at home but indeed it's all smooth woods and high tech buttons. There are Murad products on the sink-a cleanser, face moisturiser and body moisturiser and the drawer holds cups, shower cap, toothbrush and toothpaste, cotton buds and a hairdryer.
I turn on the water-there are two heads and the enormous monsoon shower head drenches me. The towels are large and I dry myself off and get dressed and head back to the second floor. I slide into one of the prized cup seats. These afford you a lot of privacy and have a small desk for you to use your computer.
It's getting later and I help myself to a tuna sandwich. The bread is soft and sweet and the tuna is well seasoned. A lounge staff member finds me to tell me that I am indeed flying business class.
I could have hugged him. He tells me that the gate takes about 20 minutes to get to but should I want to, I can try out the Pier lounge which is near gate 65.
I make my way to the Pier lounge. It's a similar style of lounge to the Wing but without the cup chairs so it is a bit more open. In the middle of it all is the First Class lounge which is completely empty (there is no first class on the plane on which we are travelling which makes up a good part of the people in the lounge at this late hour). The food selection is much the same and I feel like more soup so I have some sweet cream of corn soup and ramen with a breaded scallop and vegetables. The soup and ramen are good although the breaded scallop is a little unusual.
It comes time to board and I find myself in the front row in seat 11G. I'm offered a choice of orange juice, water or champagne Deutz Brut. My business man seatmate is excited, his eyes shining. "Sydney!!" he says excitedly pointing to the map. He continues speaking to me but I can't understand him and he starts to test the patience of the flight attendants with his repeated requests.
"Please wait a moment sir," they repeat smiling. He then plays his iPad at full blast and he reminds me of a hyper active kid in an older man's body. During the flight, every half hour or so he pops his head around the partition as if he is playing a strange game of peekaboo.
Just before take off they ask if there is anyone that is a doctor on board. I don't see what happens but take off is delayed a little and it's 1:30am by the time dinner is served. They hand out bottles of water and amenity bags by Agnes B. The head flight attendant comes around to introduce herself to each passenger personally which is a nice touch and I am referred to by name during the flight. I wonder how the flight attendants manage to do this for some many people.
For dinner there is a choice of two hot mains or one cold. I choose the hot chicken meal because I'm curious to see what the fried chicken would be like. It's not bad although it's not so much fried as in crispy but fried as in sweet and sour pork is fried and then coated in a sauce, in this case it's a lemon sauce. The rice is very good (I find rice rarely fares well on board).
The roasted capsicum and artichoke dip comes with three fat grissini and it is good although there is more dip than crackers. For dessert, the tartness of the fresh blueberries, strawberries and raspberries is offset by a sweet ginger syrup.
There is also a choice of three cheeses; a Cambozola, Double Gloucester and Chaumes with Cabernet paste. I particularly like the washed rind cheese and Cabernet paste.
They offer coffee and tea and they stop by with a box of Godiva chocolates. By 2am I finish off some television viewing and go to sleep.
With one and a half hours to go it's time to wake up. I've slept through some of breakfast service but they bring out my meal quickly. I eat the pineapple out of the fruit salad and the yogurt and peach sauce and toasted museli is creamy and crunchy at the same time.
I dig into the warm croissant when they come by with the hot meal selection. There is a choice of a Western breakfast or an Asian one and I go for the latter. I had expected the dim sum selection to be good as it was originating from Hong Kong but each dumpling is quite indiscernible from each other. It's just the enormous bean curd skin wrapped dumpling that I like and it is filled with ham, shiitake mushroom and fish.
"Sydney!" my seat mate says excitedly popping his head around to see me awake. "Definitely, Sydney" I answer him smiling.
So tell me Dear Reader, have you ever sat next to someone memorable? And have they ever called for a doctor on the plane on a flight?
NQN tried out the business class flight as a guest of Cathay Pacific. All opinions remain my own.
Cathay Pacific
www.cathaypacific.com/au