Qatar Airway's business class is unlike any other. From direct aisle access seats, to the first class range of food and beverage to little details that delight and surprise, there's only one challenge. How many afternoon teas to order?
Please note that this story was written before the start of the COVID-19 pandemic.
I bite my lip as I eagerly flip open the menu on my Qatar flight and am relieved to see that the afternoon tea is on offer! Would it be bad to order afternoon tea on every leg of the flight home to Sydney? After checking in at Edinburgh Airport I make my way to the Number 1 lounge near gate 12. It's a nice lounge, not overly flashy but comfortable and upon entering they hand me a menu of items that you order from the bar.
There's a basic continental breakfast selection available at the buffet and hot items are ordered from the bar. I order an avocado muffin adding bacon to it. The poached egg is quite cold inside but the rest is tasty.
It's just after 7am when we board the Airbus A350-900 flight from Edinburgh to Doha and it's a 6 and a half hour flight. I know this because one of the lovely flight attendants on the flight called Prim introduced herself to me and let me know this. She offers me a welcome drink (passengers are offered any kind, even mixed cocktails or hot drinks) and asks if I am familiar with the features of the seat and to let me know that there is one hour of free wifi. She brings me a glass of Gosset Grand Rose champagne.
I've been lucky enough to fly Qatar business from Sydney to Doha to Edinburgh so I feel right at home. This particular cabin on the A350-900 doesn't have the Qsuites and it is in two sections. The second section which I was assigned to sit in is in front of the economy section and Prim gently suggests that I move in case there is a baby nearby. There are only 9 passengers in the business class section so I practically have my pick of where to sit. I choose seat 6K a window seat. The cabin is in a 1x2x1 configuration so everyone gets aisle access.
The rest of the team come around and introduce themselves. There's also Pat and Yuki who ask if I'd like anything. Another flight attendant brings around a range of newspapers and I choose the New York Times.
There are lots of plugs on the side of the seat including a USB and universal plug adaptor. The seats can recline completely should you wish to sleep on a flat bed and there's a good range of entertainment on board.
Noise cancelling headphone compartment
Having already devoured Line of Duty Season 5 on the flight over I scroll through the selection and decide on Big Little Lies which I never quite completed on another airline.
Shoe storage drawer
The amenity kit is in a Brics pouch and features items from Castello Monte Vibiano with a face mist, lip balm and face cream and a Qatar pair of socks, ear plugs an adjustable sleep mask.
They take my order for food from the food and drink menu. There's a range of French champagnes as well as California, Chilean, French, Australian and Argentinean wines. Their wine list has been recognised by Business Traveller's "Cellar in the Sky" awards.
Passengers can dine at any time and specify a time for each meal. I make my selection trying to choose items that I haven't tried before and ask for a Virgin Mary as soon as we take off. This is brought quickly with a bowl of hot salted mixed nuts with pistachios, cashews and almonds.
There are no pyjamas on the shorter flights so I get changed into the pyjamas I've brought and read the latest Vanity Fair and settle in for my meal.
Fruit Salad
They extend out and set the table for me. A white ironed tablecloth is laid out and they place a napkin in my lap. There is a choice of still or sparkling water and then they lay out the setting with cutlery, a cute little flickering lantern and a bread basket. There's a croissant, pain au chocolat and a white roll with butter and a choice of strawberry jam, marmalade or honey. The fruit plate has kiwi fruit, watermelon, honeydew and dragonfruit which is an exotic choice given the port of take off being Edinburgh.
Poached eggs and salt beef hash
The main course is poached eggs with salt beef hash cake. The salt beef hash patty is tasty and comes with portobello mushrooms, roasted vine cherry tomatoes and asparagus that is quite soft. Runny centred poached eggs are never going to be a reality on a flight and these are cooked through but it's a good breakfast.
Steel cut oats with berries and cream
For "dessert" I have some steel cut oats served with berries and a little pot of berries on the side. A little later when I get peckish I creep around to the snack corner and grab some chocolate coated berries, olive oil crackers as well as sea salt caramel fudge.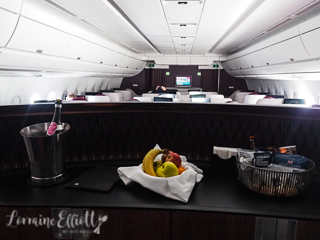 Snack section
Snack Haul
But all I can think about is afternoon tea. And after a few hours of watching Big Little Lies I ask for an afternoon tea. They heat up the scones and bring it out. It's a slightly different afternoon tea today. There is an egg salad sandwich, a roast beef and cheddar sandwich and a cucumber sandwich.
Afternoon tea
There is also a plain and fruited scone and these come with a pat of French butter, clotted cream and strawberry jam. There are also two sweets, a fruit cake topped with almonds and a raspberry meringue tartlet. I get a little peckish for some chocolate and they bring two double chocolate chip cookies. I wonder how hard I am going to crash back down to earth after this flight where every whim is catered to.
So tell me Dear Reader, if given the choice would you order afternoon tea on each leg? Have you ever flown Qatar?
NQN flew as a guest of Qatar Airways but all opinions remain her own.
Qatar Airways
https://www.qatarairways.com/