It is early in the morning at Sydney International Airport and the Cathay Pacific plane is a little late for boarding. Passengers twitch and get restless at the gate. A couple next to me cluck at the Malaysian Airlines plane outside wondering if they have any passengers. Flying in the wake of several airline tragedies makes one consider safety in the air and the wife reassures her husband that they might just be delayed while doing safety checks.
After a while we are called onto the plane and everyone takes a seat. I am in seat 18G, the last row in first business class section on the A330-300 A33G. It is a centre right seat. I'm offered a choice of orange juice, water or champagne and given that it is eight in the morning I take the water (clearly I need to work on decision making!). They offer us a range of newspaper from a trolley of newspapers and before we know it, we are taking off.
The noise cancelling headphones are stored in a little compartment to the side and are already plugged in. It's a nice detail that means that there is always somewhere to put them when you get up. The entertainment console on the left also shows remaining time for the flight and the local time at the destination which is a good feature as it lets you know the flight status without having the television on or switching out of your movie. There is also an international adapter and a USB port as well as two other adapters. You can adjust the bed by hitting one of the automatic settings or you an adjust each of the three sections yourself.
The amenity kit is brought soon after takeoff and it's an Agnes B pochette filled with socks, sleep mask, ear plugs, makeup pads, Agnes B toothbrush, toothpaste, Jurlique rose hand cream, day care cream and lip care balm. The bathrooms have Jurlique products inside with a mist spray, foaming cleanser and face cream.
I pop open the television screen and consider my viewing choices while the cabin crew start preparing breakfast. A tablecloth is laid down and they offer tea, coffee and juice. There's also a berry and soya milk smoothie on the menu but I don't see this until too late.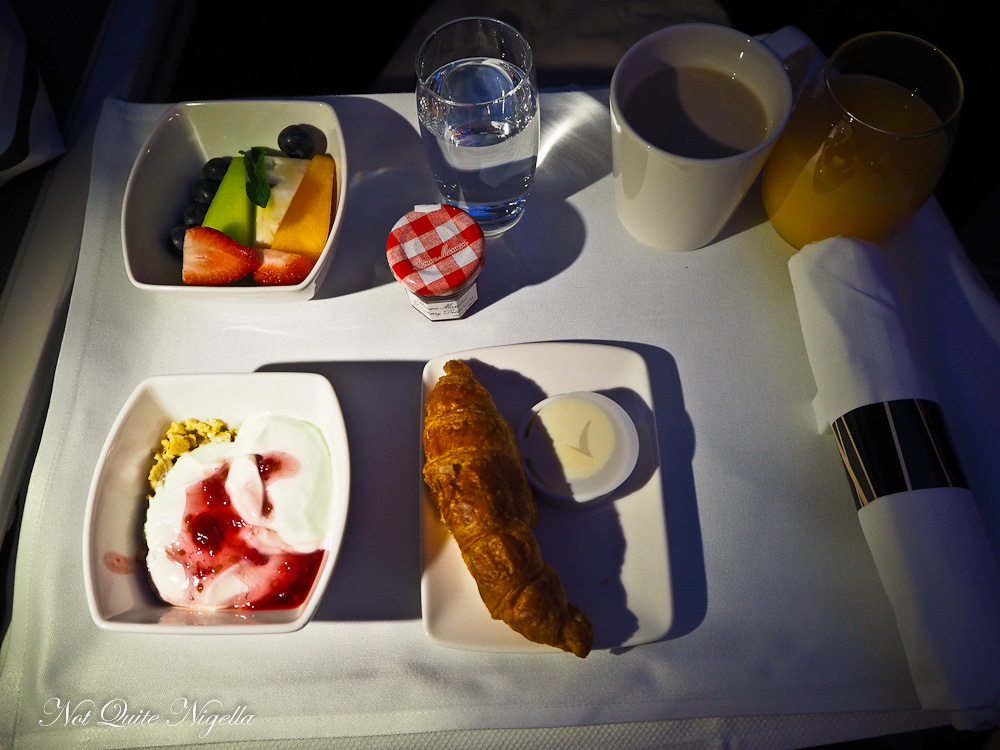 I settle on the movie Maleficent and there is an awkward moment with a flight attendant as she gestures to my armrest about half a dozen times without saying anything. I'm not sure what she means but it turns out that she wants me to take out my tray. Another flight attendant brings the first course-there's a choice of banana muffin, croissants and bread. I opt for a croissant and ask if there is strawberry jam as they just have honey and marmalade. With a smile he offers to bring me some strawberry jam . All staff refer to passengers by name which is a nice personalised touch. The yogurt is thick and creamy and topped with a berry sauce but the muesli underneath is curiously salty-so salty I wonder if they have accidentally used salt instead of sugar. There is also a fruit salad.
There are two meal services on this flight, breakfast and lunch and breakfast has a choice of three mains. There are two Asian choices, congee and dim sum and a Western choice. Any day that I can start with dumplings is a good day and dim sum it is for me. They offer me chilli bean sauce and chopsticks to go with my selection. The dim sum is good although the prawn har gau although tasty has a slightly dry skin with a crack. The noodles need a little pep of flavour and the pak choy is a large hunk made to be eaten with a knife and fork rather than chopsticks.
The 1-2-1 configuration solves many of the privacy issues that other configurations don't. It's actually hard to see the faces of the passengers sitting on each side with the slightly tilted seats. The best cabins for privacy are at the sides rather in the centre though as there isn't a particularly large partition between the seats. The bed is said to be a lie flat one but would be better with a mattress top as it can be hard on the back. Nevertheless, the early starting hour means that I get about three hours sleep. The pillow is also small, not much larger than those offered in economy cabins worldwide but the duvet style blanket is thick and warm.
They dim the lights and I fall asleep. Usually the business class cabin is quiet especially in comparison to economy with the only sound coming from the keys of computers. Alas I have a couple in front of me who talk loudly and animatedly throughout the rest of the flight. I guess that's what may happen on a day flight. I switch on "The Fault in Their Stars." Cue tears and distraction!
With just over two hours to go, the lights brighten in the cabin and they set the table for lunch service. I order a Virgin Mary and they set down a tray with the first course. It has been five hours so I'm not particularly hungry but boredom encourages eating and I find myself eagerly nodding when they offer me garlic bread.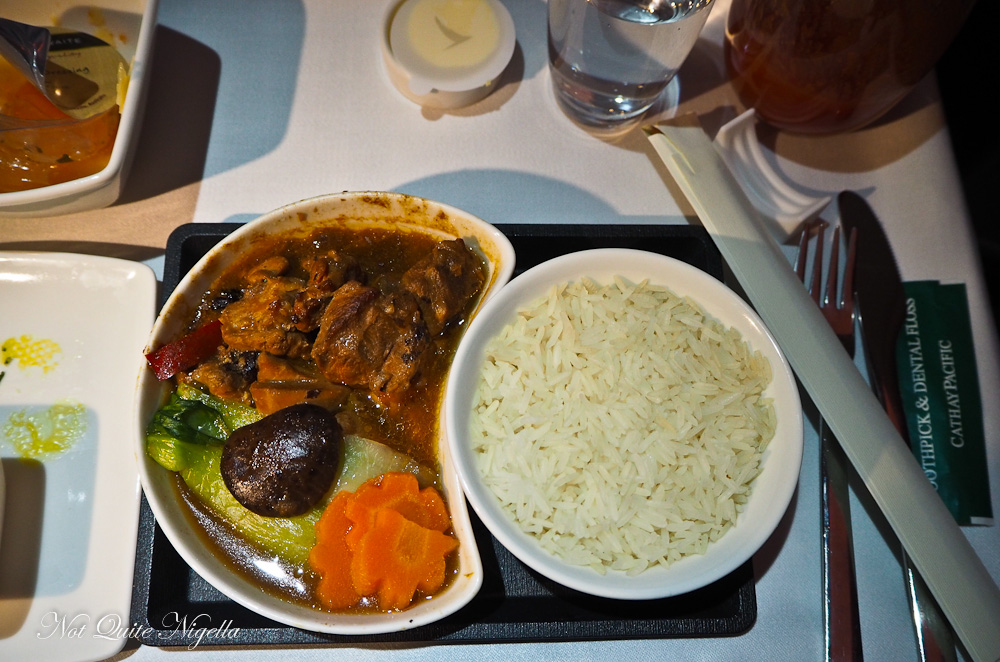 I get two slices of buttery garlic soaked bread - hello lover! The salad has sweet tomatoes and a Italian vinegar dressing. The cold platter is unusual-there's a cheese filled bresaola which is good but I'm not as taken with the tomato stack and the pastrami. For my main I choose the Asian meal-I tend to go for Asian or Indian meals and it is a black bean chicken with a bowl of rice. The rice is a little dry and the chicken needs more seasoning but there isn't salt and pepper provided.
A dessert trolley comes past and there's choice of three cheeses-a cheddar, brie and blue with crackers and a fruit roulade. I ask for some grapes to refresh the palate. Just when I think the meal is over they come by with some chocolate mousse cake with berry coulis and a box of Godiva. I ask for a cup of tea and the flight attendant remembers how I take it which is a nice touch although this is accompanied with a suggestion that I drink it with less sugar. I'm not sure what to make of that!
So tell me Dear Reader, has the recent airline tragedies made you reconsider flying?
NQN tried out the business class flight as a guest of Cathay Pacific. All opinions remain my own.
Cathay Pacific
www.cathaypacific.com/au‎