Every time someone in my family has a birthday we go out for Chinese food. It means that I have to find a new place that's nice enough for a birthday. Luckily when my sister Blythe had her birthday the new Botanic House in the Royal Botanic Gardens has opened with Luke Nguyen as the executive chef.
We've perhaps chosen the wrong entrance (tip the Henry Lawson Gate on Mrs Macquarie's Rd is the closest entrance). My mother and sister dislike walking while my father does it with a measure of resolve.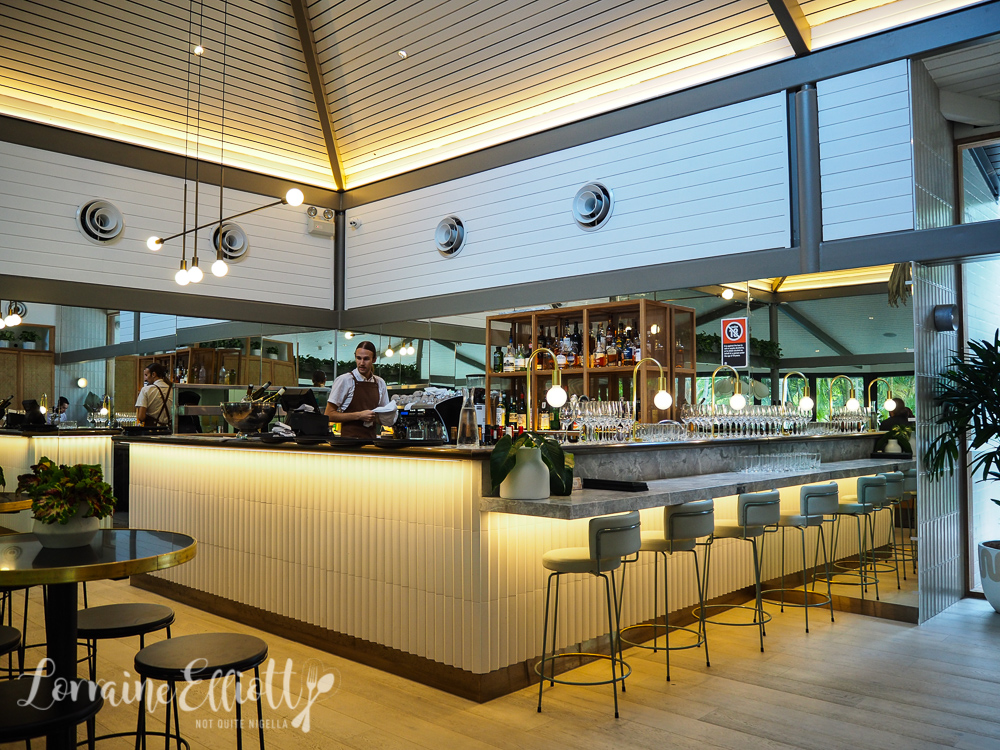 It has been a few years since we visited the restaurant. Gone is the outside verandah (I seem to recall it smelt like bats) and the space has been moved to a fully enclosed restaurant. There are large groups of diners and bookings are recommended because it gets very busy.
The menu is South East Asian with some native Australian ingredients as well. Service is friendly and efficient as we need to leave in one and a half hours.
We choose some items and they come out in a very timely manner. You can also get bottomless drinks for brunch for a 2 hour period but come noon it switches over to the lunch menu which we have today.
King prawn har gaus $14
We start with two types of dumplings. The king prawn har gaus are firm and springy with plenty of large pieces of prawns inside. They bring us soy, chilli soy and chilli sauce to dip these in.
Mud crab & scallop dumplings $14
Likewise the mud crab and scallop dumplings are pretty pink triangles with plenty of scallop in them.
Salt & pepper squid $20
This is Blythe's choice and the salt and pepper squid is lightly floured and deep fried until tender. It is served with native pepper and Vietnamese lemon sauce which is quite sharp and I think I liked these by themselves a little better.
Pork belly charcoal bao $16 for 2
There are two buns per serve of these charcoal buns and they're filled with slices of pork belly, some pork crackling, pickled vegetable and sriracha mayonnaise. I would have loved for the pork belly to reach to the sides as they're small pieces as not every bite gets pork belly.
Tempura eggplant $14
We ordered the tempura eggplant for my mother (she who loves fried food). These are tempura battered eggplant batons served with a plum dipping sauce with goji berries, sesame seeds and coriander. I actually prefer this dipped into the red curry sauce below.
Grilled salmon, pickled vegetables $24
I'm definitely the black sheep in my family because I love salad and tomatoes. The grilled salmon salad is my favourite dish apart from the dumplings. There's flaked salmon, palm hearts, halved cherry tomatoes, watercress, pickled carrot and cucumber and it's on the sweet and slightly spicy side. I go back for multiple helpings of this especially since others don't seem to be as keen on this as I am.
Vietnamese red curry $28
"So this doesn't have meat?" Blythe says suspiciously and at the same time admiringly. You see she's not really an omnivore, more a carnivore and a vegetarian meal is like anathema to her. But yes this is vegetarian, possibly even vegan and it is super tasty with snow peas, root vegetables, kipfler potatoes and a sweet red curry coconut cream sauce.
Grilled king prawns $36
There are four prawns per serve of these grilled king prawns served split in half and topped with a gold leaf accented house-made XO sauce and crunchy pieces of tempura'd saltbush. They're generous with the XO sauce and the prawns are well cooked so that they are still succulent.
Wok tossed 100 day grain-fed black angus $44
My father has stopped eating beef so my sister and mother ordered it because they wanted him to try eating it again (a vegetarian and vegan just wouldn't survive in my family). The 100 day grain fed black angus is like a version of Bo Lo Luc Vietnamese beef but with native pepper, garlic, oyster sauce and a green papaya salad on the side.
Egg & mushroom fried rice $16
There is one type of fried rice available and it's a vegetarian one although it is pretty tasty on its own. Years ago my family decided that they were always going to order fried rice because if you add up the cost of rice per person you may as well get fried rice.
Wok tossed warrigal greens $16
We ordered the greens to balance things and this is kangkong or water spinach, warrigal greens (a native green) with garlic, ginger, preserved bean curd, sesame. The bean curd and sesame adds a lot of flavour to these greens above the standard oyster and soy sauce seasoning.
They were nice enough to put Happy Birthday on a plate with a brownie for Blythe when I told them it was her birthday. And they were kind enough not to sing Happy Birthday to her because she loathes that sort of attention.
Fresh seasonal fruit, mango pudding, coconut sticky rice $16
There are three desserts on the menu and it's sorbet and ice cream and the following two. It's the start of mango season so we order the mango pudding with fruit and coconut sticky rice. The mango pudding is strongly flavoured with fresh mango and it's such a classic match with the coconut cream sticky rice.
Vietnamese coffee tres leches $16
The Vietnamese coffee tres leches cake isn't quite what I was expecting. That's not to say that it wasn't good but it doesn't seem to be a soaked cake, just a regular baked butter cake. It's said to be served with miso caramel and there is perhaps miso caramel cream dabs. On top is Chinese almond cookie crumbs and on the side is a soy sauce ice cream which is used more for the saltiness like a salted caramel than a strong soy sauce flavour.
So tell me Dear Reader, do you order steamed or fried rice at Chinese restaurants? And do you hate it when people sing Happy Birthday to you in a restaurant?
This meal was independently paid for.
Botanic House
Royal Botanic Garden
Mrs Macquaries Rd, Sydney NSW 2000
Monday – Friday: 12pm – 4pm
Saturday – Sunday: 9:30am – 4pm
Kitchen closes daily at 3pm Phone: 1300 558 980 botanichouse.com.au/