Have you seen those Nutella freakshakes adorned with chocolate dipped pretzels on the side? How about trying a pie version? With a base of pretzel crumbs, a light Nutella cheesecake mousse followed by chocolate coconut ganache and chocolate dipped pretzels? And surprisingly this is one of the easiest pies you will ever make as it is a no bake pie!
This pie was borne from a late night chat with my friend Belinda. The poor thing has been unable to go out for the last few weeks and the last time I saw her was at a cafe. We had ordered a Nutella pretzel shake but were a bit underwhelmed by the shake itself. While it sounded like a great idea, the execution wasn't very exciting. But at least we found a tasty combo.
"I'm totally going to eat pretzels with Nutella now. It's such a good combo" said Belinda and our conversation circled around food, television shows and hot men naturally moved back to the Nutella pretzel combo.
"I reckon you could mark a pretzel crust Nutella pie," she said.
My mouth started drooling involuntarily, a sure sign that something was worth making. I'm someone that really goes with instincts. Even to the point when it makes no sense to others. But this was a clear sign and it wasn't really my instinct, it was an involuntary reaction in my body to make this pie. Stat.
And then Belinda's response flashed up. One single word. "Make," she said echoing my thoughts.
Recently I've started going with my gut even more than normal and speaking up when something isn't quite right for me. I get a lot of emails and offers and some of them are really one sided and it's amazing how ballsy and "cheeky" (i.e. rude) some can be. I've started using the phrase, "That doesn't really work for me."
And it's wonderful. I really wish I had discovered this phrase earlier in my life. Nobody else can really argue with you that something does work for you. And for someone that wants everyone to be happy so I tend to acquiesce to things, it's really freeing. Because sometimes things just don't work for you. Like sometimes your plans just aren't in sync with someone else's and going along with them puts you out significantly.
I promise though that this pie works and these flavours work well together. Like in the most wonderful way. There is a saltiness from the pretzels that counters the sweetness of Nutella. And the filling is surprisingly light with the slightest hint of tang from the cream cheese. You may be tempted to add peanut butter or salted caramel but in this I'd suggest against it unless you ditch the pretzel crust - it may be too salty otherwise. But this is enormously versatile and can work across different flavours depending on what you like. And life should really be about what you love.
So tell me Dear Reader, are you a people pleaser? Or do you know what you like and stick to it? And what are your favourite topics of conversation with friends? Do you think you'd like this chocolate and pretzel combo?
DID YOU MAKE THIS RECIPE? Share your creations by tagging @notquitenigella on Instagram with the hashtag #notquitenigella
No Bake Nutella Chocolate Mousse Pretzel Pie
An Original Recipe by Lorraine Elliott
Preparation time: 30 minutes plus 1 hour freezing time
Cooking time: 0 minutes
175g/6ozs. pretzels
125g/4ozs. butter, melted
250g/8.83ozs chocolate
2 cups cream
1 cup Nutella
250g/8.83ozs cream cheese, softened (you can use light cream cheese as it tends to be softer)
Step 1 - Take 50g/1.7ozs of the pretzels and set aside. Take the remaining 200g/7ozs of pretzels and grind in a food processor to become fine crumbs. It takes a bit longer than biscuits. Mix with the melted butter and press into a well greased pie dish. Only press into the base of the pie (I know this goes up the sides but don't do the sides, the base is enough. Refrigerate.
Step 2 - Line a baking tray with parchment. Melt the chocolate and dip the remaining 50g/1.7ozs of pretzels in the chocolate (I dipped one half of them in). Place in the fridge to set.
Step 3 - Whip the cream until you get soft peaks that can still hold a shape. Transfer to a bowl. Switch to a beater attachment and beat the cream cheese and Nutella until smooth. Fold in the whipped cream. Spoon into the prepared pie dish and freeze for 1 hour.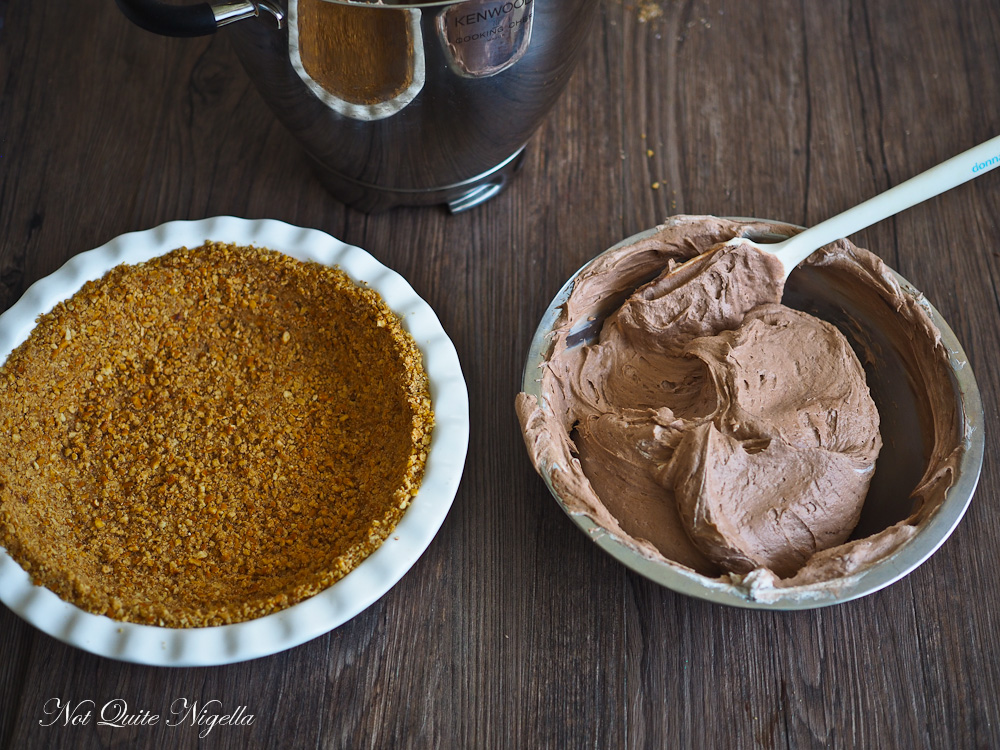 Step 4 - Remelt the chocolate and add the coconut oil. Pour the chocolate across the top of the pie and spread to the edges with a spatula. Place choc dipped pretzels around the edge and allow chocolate to set. Keep in the fridge.