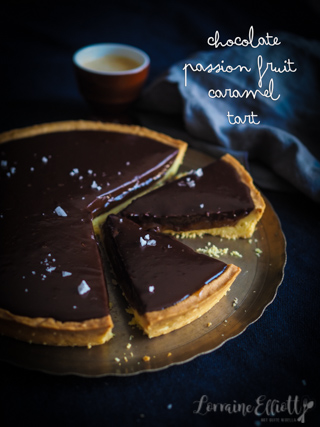 This chocolate passion fruit caramel tart is a dream dessert! It starts with a crisp, buttery base filled with a gorgeous lightly tangy passion fruit caramel made with fresh passion fruit. Then on top is a layer of dark chocolate ganache and a sprinkle of salt! It's the perfect dinner party dessert because it can be made ahead of time and doesn't need refrigeration!
My favourite fruits for baking are lemon and passion fruit. I love their tangy flavour and the way that tanginess this balances with sweeter cakes, chocolates and cookies. I was given a dozen passion fruits in my vege box as passion fruit are in season now and I knew that I needed to make passionfruit caramel. If you have never tried a passion fruit caramel you're missing out. It is literally the most delicious caramel you will ever eat. If you're in the Petersham area, stop by one.more chocolates. I have a massive addiction to their passion fruit caramels and they inspired this tart!
This chocolate caramel tart has three separate components: a pastry base, a caramel centre and chocolate topping. Home made caramel can be a bit intimidating but I promise that with these tips, you'll turn out a wonderful caramel that will set perfectly!
Did you make this recipe?
Share your creations by tagging @notquitenigella on Instagram with the hashtag #notquitenigella
Tips for making caramel
1 - Use a heavy based saucepan or pot and make sure that it is a largeish one as caramel bubbles up high and you don't want it over flowing. Thinner, cheaper pots can cause the sugar to burn too quickly.
2 - Caramel is made in three steps: first melt the sugar crystals. At this stage you can stir the sugar and water but be careful about having stray sugar crystals on the side of the pot. These tiny crystals can cause the sugar to crystallise like glass which you can't recover from. To remove any tiny sugar crystals, wet a pastry brush and brush down the sugar crystals into the syrup to dissolve.
3 - The second step is to let the syrup caramelise. Do not stir while it is doing this. This can take take around 8-10 minutes to occur.
4 - Then you whisk in the hot cream and butter and then bring it up to the soft ball stage aka 112C/235F. This can also take another 10 minutes or so.
Why won't my caramel set? The caramel needs to reach a "soft ball" stage where enough water has evaporated so that the caramel is sturdy and holds its shape. This is easy to ascertain with a candy thermometer. It can be tricky to judge otherwise and making caramels without a candy thermometer is risky for that reason. However you can test it using a glass of cold water. Drop a bit of the caramel into cold water using a teaspoon and it is ready when it forms a soft ball. Warning: be careful with caramel as it is very hot.
Don't have time to make pastry? Use a pre bought tart shell!
I'm someone that always has to have chocolate handy. I eat a little bit every day. I don't tend to go overboard, maybe one row or one square of a chocolate block is enough for me. But on my packing checklist "chocolate" is listed. To me, it's as vital as bringing underwear or shoes!
I had run out of chocolate on a recent trip as Mr NQN had dived into my stash so we stopped off at a chocolate shop. They had a beautiful selection of chocolates so I stocked up on gifts buying a couple of chocolates for myself. I then handed my basket over to Mr NQN while I had a look in an adjoining shop and asked him to pay for it.
He paid for it and we left. When we got home I took a look at the receipt but found we had been charged for a box of chocolate almonds. I asked him, "Did you buy chocolates and not share them with me?". "Nope," he answered. I guess we had been charged for something that we didn't buy.
Mr NQN sort of shrugged his shoulders and told me not to worry. But I have this thing. I more than happy to pay for things that I consume but I don't like paying for things that I don't get - like in this situation. If I had gotten the almonds then I would have been fine but I also extend this logic to things like fines and bank interest. "I'm going to ring them," I said to Mr NQN.
The next day I rang them ready with the receipt details, dates and time sort of steeling myself for debate. But the woman was lovely and understanding and when she asked me the staff member's name she said that she was new and apologised. And soon after the $15 was returned to my account! And of course Mr NQN had no idea what I was talking about when I told him as he has clear forgotten about it ;)
So tell me Dear Reader, do you have a favourite fruit for baking? And is it different from your favourite actual fruit to eat as is? And would you phone up to get the money back or are you more like Mr NQN who can't be bothered?
Chocolate Passion Fruit Caramel Tart
An Original Recipe by Lorraine Elliott
Preparation time: 45 minutes
Cooking time: 40 minutes
Serves: 8 people
For tart case:
130g/4.6ozs. butter
100g/3.5ozs. icing or powdered sugar
3 egg yolks
1 teaspoon vanilla bean paste
250g/1 cup/8.8ozs. flour
1/4 teaspoon fine salt
1/2 an egg white
For the passion fruit caramel filling:
1.5 cups/330g caster or superfine sugar
1/4 cup/90g/3ozs. glucose or corn syrup
1/4 cup/60ml/2flozs water
1 cup/250ml/8.8flozs cream
90/3ozs butter
1/2 cup passion fruit pulp (4-5 passion fruit)
For chocolate ganache topping
140g dark chocolate
1/2 cup/125ml/4flozs cream
Step 1 - Make the tart case. Beat the butter and sugar together on medium speed for 3 minutes. Add the egg yolks and vanilla and beat until smooth. Then add the flour and salt on low speed until it comes together to become a soft buttery biscuit mixture. Roll into a ball and place between two large sheets of parchment and roll out thinly to 2mm or 1/16th of an inch.
Step 2 - Place on a large baking tray and refrigerate for 2 hours or overnight. When you want to bake it spray a 22cm/8.8inch tart tin with oil spray and then take the pastry out of the fridge. It needs to be hard and not soft or sloppy. Trace the base of the tart tin out in the pastry and then place the disc inside the tin. Then cut out 5cm/2inch strips to make the sides of the pastry tin. The pastry will soften quickly.
Step 3 - Gently press the base and the sides together making sure that there aren't any gaps and dock the base and sides with a fork. You can also crimp the edges with your knuckles as shown below. Cover with cling film and place in the freezer for 30 minutes (or you can do this overnight). Do not skip this freezing step as it will prevent your pastry from shrinking or falling down.
Please note: you will not use all of the pastry in this tart but it is easier to make more than you will need. This pastry freezes well and will last for 6 months in the freezer.
Step 4 - When ready to bake, preheat oven to 160C/320F and bake blind-you do not need any weights for this pastry. Bake for 20 minutes. Then remove from the oven and gently brush the base and sides with egg white and return to the oven for 10 minutes. Cool while you make the caramel filling.
Step 5 - Place the sugar, glucose or corn syrup and water in a large, heavy based saucepan and heat on medium heat and let the sugar dissolve stirring occasionally. Be careful to avoid sugar crystals on the side of the pot above the syrup. If these drop into your syrup they can cause crystallisation. Wet a pastry brush and brush down any stray crystals.
Step 6 - Bring the temperature up to medium high. Bubbles will form and after a while it will turn a caramel colour.
Step 7 - While it is boiling, heat the cream, butter and passion fruit pulp (I measure the ingredients in a jug and microwave it for 1 minute). Have this and a whisk ready. When the sugar has turned a nice caramel/light brown shade, knock the heat down to low and then whisk in the cream mixture. Then clip a sugar thermometer to the side of the pot and heat it on high until it reaches 112C/235F-this can take a while but watch it carefully. Then pour into the prepared tart shell and allow to set for 1-2 hours (if you're in a hurry you can pop it in the fridge once it cools for 30 minutes on the benchtop).
Step 8 - Chop the chocolate finely and place in a heatproof bowl. Heat the cream until almost boiling and pour over the chocolate and cover the bowl for 3 minutes. Then stir the chocolate and cream together. Spread over the set caramel topping. Optional: sprinkle pyramid salt crystals or fleur de sel on top.