So about four years ago, I started this blog and never did I think ever that it would become not only a job but the best job in the world. This month, I celebrate my four year blogsoversary and today I celebrate my 1,477th post. I must admit I didn't do anything out of the ordinary because sometimes it feels like my life is out of the ordinary and I daren't upset the fine balance. But don't let me get all philosophical on you... now where was I? Oh yes cake!
Cake is an item that I always think of when I celebrate. Cake has much more meaning than the combination of flour, butter, sugar and eggs. It means friends, it means happiness and it means giving and it means love. I mean who ever gave a cake to someone that they hated? Cake also means relief or a sugary repast with stopping in the afternoon for a much needed break and it always present whenever something fun or wonderful happens. I first saw this cake on Vicky's lovely gluten free site Sweets by Vicky and she adapted the recipe from Willie Harcourt-Cooze from Willie's Chocolate Bible. She made it to celebrate her 100th post and I though it fitting to make it to celebrate the blog's four year blogsoversary. And not just because I wanted to eat it I promise ;)
The cake itself is a gorgeously moist and chocolate gluten free concoction filled in the centre with Nutella. The whole shebang is then drizzled in chocolate sauce and served with whipped cream or ice cream. It is a gloriously decadent cake but portion limited in size which is a measure designed to allow you to enjoy it and not go too overboard and it became an instant favourite in our household. Not only that but it is really quite easy to make too and you could have this ready and on the table in about 30 minutes. The only warning I will issue is that you will be asked to make this again. Repeatedly. I know of no human that can resist the lure of melted chocolate. And if like me, you've had some issues turning out these gloriously molten centred cakes, you could always serve them in the ramekins (and that way you can make sure that they're appealingly gooey in the centre).
So where we we? Oh yes the four year anniversary. In these four years there have been a lot of posts. The lovely Anna from The Hospitality Guru tagged me to reveal seven posts for seven reasons so I thought now was as good a time as any to do it.
Most Popular: Book Announcement
**http://www.notquitenigella.com/2010/11/01/the-not-quite-nigella-book-published-by-penguin-books/
It was a post I was holding onto for the longest time. Hugely superstitious, I just didn't want to announce it until I was certain that I had it all written and that my publisher Miss K loved it. It took about a year of not telling anyone and when I published the story it was like a tidal wave of hugs from all of you. Thank you to each and every one of you who reached out to me and gave me a virtual hug with your words.
Most controversial: Bacon Jam
**
**http://www.notquitenigella.com/2009/10/08/bacon-jam-your-wildest-dreams-come-true/
I think this is the recipe that I am most known for and most associated with. That's not a bad thing mind you and people have been intrigued by this very mysterious, delicious spread. Funnily enough, people ask how long a jar of bacon jam keeps and I'm unable to tell them because when I do make it it only lasts a matter of days before being gobbled up by hungry mouths. Some snorted and thought that it sounded terrible. Until they tried it and literally ate their words. I must admit there was a certain perverse joy in proving them wrong. Moral of the story, even odd sounding things can sometimes work.
Most helpful: Oceanic Cafe
**
**http://www.notquitenigella.com/2009/01/13/oceanic-cafe-surry-hills-sydney-a-step-back-in-time/
I don't feel qualified to judge whether any of my posts are helpful. I genuinely hope they are because I strive to be helpful. But one post which made me feel all warm and fuzzy inside was the Oceanic Cafe post. It is still one of the posts that I am most proud of (and it gets a chapter in my book) and it was one that I researched and laboured over. The best part however was the fact that the long lost Greek relatives of the mother and daughter team that run to Oceanic came to gather and talk on my site and have a little family reunion (see the comments).
Most beautiful: Strawberry Saint Honore
http://www.notquitenigella.com/2009/08/12/strawberry-st-honore/
Again I don't feel qualified to judge what is beautiful on the site but I do have a favourite picture and that is the Strawberry Saint Honore. I suspect my reasons for choosing it is more to do with the subject itself and the fact that this is my favourite pastry in the world.
Most surprisingly successful: How to make your own butter
**
**http://www.notquitenigella.com/2011/06/03/made-from-scratch-make-your-own-butter/
I had no idea that my how to make your own butter story would spark as much interest as it did. I have some sort of idea what stories will do well but I'm often proved wrong and this was a good example. I think readers, like myself, were surprised at how easy it is to make your own butter and how within minutes you can make your own delicious spread.
Most underrated: Penfolds Recorking Clinic
**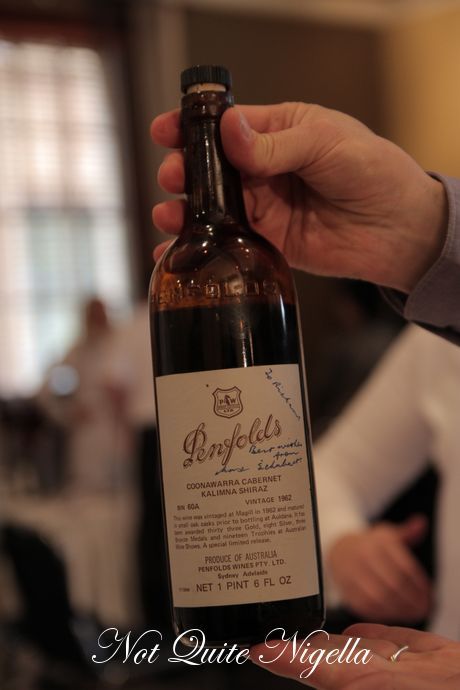 **http://www.notquitenigella.com/2010/09/06/vintage-penfolds-grange/
As I mentioned I sometimes have an inkling that a story will do well and sometimes not. I was hoping that this story on the Penfolds Recorking Clinic might do well just because I found it fascinating myself. But alas this didn't get readers as excited as it got me. Oh well!
Most proud of: OzHarvest or Freeganism
**
http://www.notquitenigella.com/2010/10/18/ozharvest-food-rescue/
**http://www.notquitenigella.com/2008/06/19/freeganism-the-new-frontier/
Again it's hard to choose one I'm proud of, I love each post and remember each very fondly. But I have to say that when I wrote the posts for both the Freeganism and the OzHarvest story I was giddy with delight and couldn't wait to hear what you thought of them. And like the wonderful readers you are you responded straight away. Which just confirmed that we are all on the same wavelength!
And I'm passing this onto: Angela, Bronnie, Celia, Christie, Claire, Hannah and Liss!
So tell me Dear Reader, if you could have any cake in the world for your birthday or anniversary what would it be?
Melting Nutella Cake
From Sweets by Vicky, adapted from Willie's Chocolate Bible by Willie Harcourt-Cooze
Makes 6 small ramekins
butter or oil spray for greasing
90g chocolate, 100% bitterness
1/3 cup Nutella mixed with 1 tbsp Bailey's (optional Bailey's)
To serve: vanilla ice cream or whipped cream
Adaption: Add a teaspoon of raspberry sauce instead of Nutella
Step 1 - Preheat oven to 170°C. Grease 6 x 1/3cup capacity ramekins very well (you don't want these sticking!).
Step 2 - Place the chocolate and butter in a heatproof bowl and set over a pot of simmering water. Stir gently until you get a smooth, shiny mixture. Remove from heat and allow to cool slightly.
Step 3 - In the bowl of a stand mixer, whisk the eggs, vanilla and sugar until the ribbon stage.
A generous teaspoon of Nutella. I'll admit I originally reached for a tablespoon. Freudian slip...
And then you'll put in another tablespoon of the batter on top of this
I made a half lot of three ramekins and did two with Nutella (top) and one with raspberry sauce (bottom)
Step 4 - Fold in the chocolate/butter mixture until almost homogenised. Add in the almond meal and fold until just combined. Spoon 2 tablespoons of the mixture into each ramekin. Drop 1 heaped teaspoon of Nutella into each cavity and cover with another tablespoon with chocolate mixture. Bake for 15-17 minutes. Remove from oven and run a knife around the edge. I find it easier to turn these out if they've been waiting for about 5 minutes as they continue to cook and are a bit too liquid otherwise. If you're nervous about turning them out you can serve them in the ramekins. Serve with chocolate sauce (see recipe below) and icecream.
Chocolate Sauce
60g dark couverture chocolate chips, 55% at least
Step 1 - Place the chocolate in a large heat-proof bowl. In a small saucepan, heat the cream over a gentle flame until small bubbles start to form. Remove from heat immediately and pour half over the chocolate. Stir gently before adding in the rest of the cream. Stir slowly until chocolate is completely melted and a smooth sauce forms. Use immediately or store in the fridge and warm up in the microwave when needed.
Jasper Conran at Wedgwood Baroque Chinoiserie Platinum Gift Bowl 14cm $89.95