Norsk Dor is not located in a gentleman's club. I repeat, it is not located in a gentleman's club. Because when you're standing outside 72 Pitt Street in Sydney's CBD and you count one number left to find number 70, it looks like it is.
Instead, you have to go down a discreet door, down to a basement level, past an drawing of a deer head and then buzz yourself into the door. And then you'll get to Norsk Dor. It's the latest place from the people at Uncle Ming's. Here the food is Scandinavian themed so we take along our favourite Scandis Mr NQN and Viggo while Louise and I tag along for the ride. Norsk Dor means "North Door".
The chairs have pelts draped over the back Noma style and the chef is Damien Domenico who has spent some time in Sweden working on oil rigs. We know this because Viggo and Louise have arrived early and had a drink at the bar. Proud Dane Viggo has also suggested to them to keep their Akvavit in the freezer as per Danish custom.
Custom cocktail $20
We take a seat in a booth and the menus are given to us. They fill our water glasses with large chunks of ice, quipping that they are, "Icebergs from Scandinavia". I ask about cocktails and bar manager offers to make me something unique. I tell him what I like (white spirits, fruit and bitters) and I ask him to make it pretty too he quips, "Baby look at me, I make everything pretty". He comes back with a cocktail perfectly suited to me. It's made with sloe gin, sherry, lemon and orange bitters.
Nordic style breads / lard / butter $8
We haven't seen each other for a couple of weeks so we're busy catching up and so when they suggest some bread, pickles and oysters we say yes to all of the above. The breads are bought in but they're good and meet with rye connoisseur Viggo's approval. It is hard to get proper Scandinavian rye bread in Sydney. They're paired with butter and a frozen goose lard sauteed with onion which we all adore.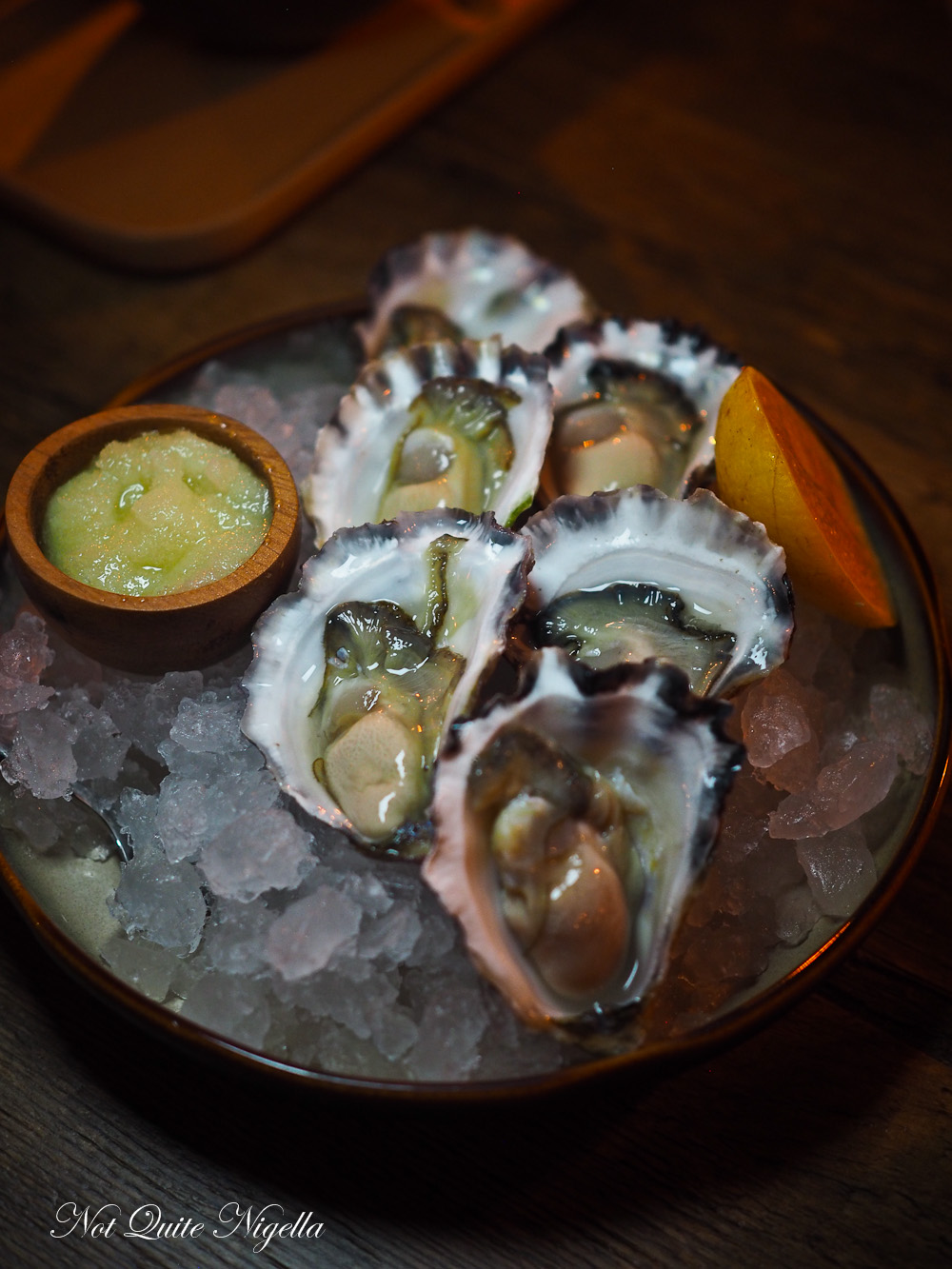 Local oyster / cider sorbet / citrus $4
Ahh nothing beats a great Sydney rock oyster. There's a bit of confusion as to where they come from but South of NSW is what we are told. The cider sorbet is quite sweet and I like it with a squeeze of lemon.
House Pickles $7
In contrast the house pickles (beetroot, carrot, cabbage) provide a nice salty astringency that gets our appetites going.
Bone marrow / akvavit / rye $17
I'm a freak for bone marrow and it's one of those foods that Mr NQN is gradually becoming to like much to my greedy self's chagrin. I used to enjoy having a whole serve to myself but this is smartly paired with a mini rye bread (although this could be a bit bigger), dill, pickled onions and chopped up pickles that ensures that the rich bone marrow never feels like too much. Viggo tsks at the Akvavit served warm and asks for a glass of frozen Akvavit. Yep, we've officially become "that table".
Smoked eel / cauliflower / orange / seagrass $19
Our waiter is very friendly but seems a bit new and when we ask about the seagrass that is supposed to be on the plate he gives us a really strange explanation of why it isn't there involving sand dunes. The head waiter then clarifies it's just a matter of the chef not being happy with the seagrass that was delivered and swapping it out for frisee. This is a nice dish, the smoked eel being a particular highlight and I wish I had a bit more bread saved to have this with.
Smoked Skagen / king prawn / roe / toast / cress $19
Skagen (pronounced Skay-en) is a place in Denmark so when Viggo enquires about this (I told you we were that table ;) ), they don't really seem to know what Skagen is and say that it is simply a prawn sandwich and nothing to do with smoking a Skagen whatever that may be. This is the same waiter who is really lovely but I think Viggo's questions flustered him but Viggo is passionate about his heritage. There is an enormous smoked king prawn on top of a layer of mayonnaise and potatoes and herbs as well as a little tobiko or flying fish roe and the whole thing is set on a round of rye bread. This is a good smoked dish and we all enjoy it.
Venison sampler / root veg / fennel / berry / carrot $44
Everyone's favourite main is the venison sampler. Here it is cooked three ways: smoked, shoulder and tenderloin. The smoked venison has a pickled flavour to it and comes thinly sliced while the tenderloin comes as four pink centered slices (not quite as rare as I've had venison) on a bed of carrot puree. There's also a log of carrot mousse, caramelised carrot and parsnip and a rich jus. I particularly like the sweet pulled shoulder with the crunchy top of fries.
Blue eye cod / sea urchin / potato / cress $38
The blue eyed cod is well cooked so that it isn't dry at all. It comes with a sea urchin cream and atop some slices potatoes and wilted greens. The creamy sea urchin sauce gives the cod a lot of rich flavour while the potatoes are very moreish indeed.
Cured king fish / red currants / Five spiced kipfler $35
I usually love cured kingfish but the combination of flavours didn't quite work for any of us.
Beef / langoustine / artichoke / horseradish $42
The beef comes pre-sliced and served with a gratineed half langoustine with a sprig of lavender and a half disk of horseradish butter. We like the tender beef but the horseradish butter could be a bit stronger in horseradish.
Hasselback potato $6
Who can resist a Hasselback potato? They come one potato per serve and are topped with rye crumbs and browned butter. I kind of wish I had ordered one to myself.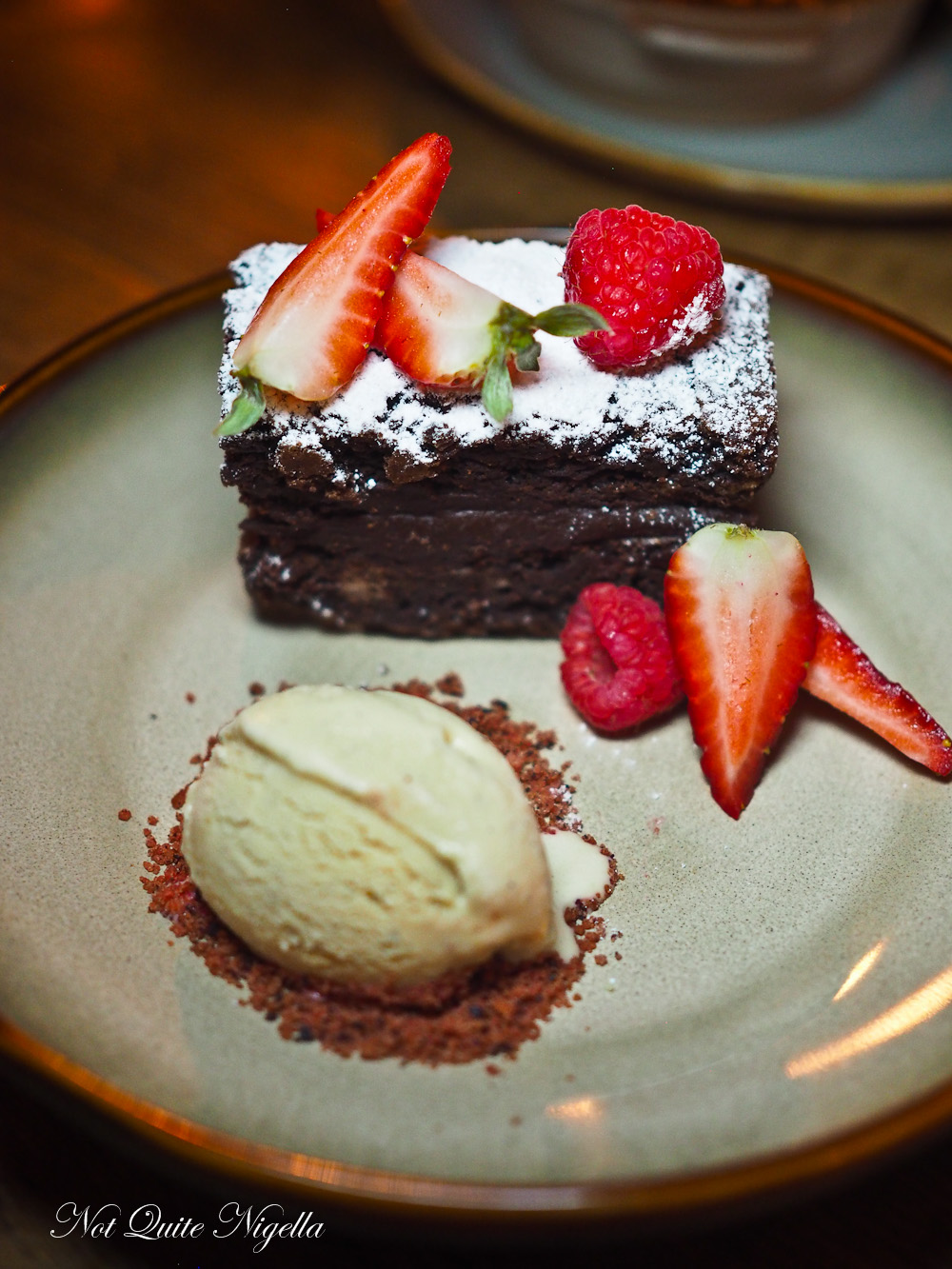 Swedish Chocolate Cake $15
It's time for dessert and we order three to share between the four of us. The Swedish chocolate cake comes with ice cream and fresh berries. It's a bit crumbly and a tad dry in texture. I think I was hoping for one that was a a bit more moist and light.
Liquorice brulee $11
This is an order for the two licorice loving (it's a Scandi thing) boys. It's a licorice brulee strong in anise with cherries with cardamom and orange biscotti. They adore it.
Goat's curd cheesecake with gingerm honeycomb and blueberry $11
The last dessert comes in a tall glass with goats curd cheesecake which is strong in ginger. It is served with blueberry sauce and a large shard of toffee. You really need a bite of the crunchy toffee for this to come together and the goat's cheese cheesecake is good albeit a little firm.
So tell me Dear Reader, are you ever "that" table? And re you passionate about your heritage? Have you visited anywhere in Scandinavia?
This meal was independently paid for.
Norsk Dor
70 Pitt Street, Sydney CBD, NSW
Open Monday - Saturday 5pm - 12am.