Have a hankering for Scandinavian food with a bit of fun? Ever wanted to drink a beer out of a horn or choose your knife? Mjølner in Redfern is a slightly hidden away bar and restaurant that serves up Viking worthy food!
"Just remember we're a fun dining restaurant, not a fine dining restaurant," says the manager of Mjølner before clarifying that if we want to pick up a bone with your hands and gnaw on it, that's fine with them.
The first thing is that you have to find Mjølner. I stood outside in the chilly winter breeze for a few minutes messaging everyone about its location. It turns out I only really needed to look behind me, not for a sign but a wooden door with the Mjølner crest on it. That's it above so you can look out for it. Don't be like me.
Upon entering what would a Viking do? Drink of skål of course. We pick up a small glass cup and they pour us each a complimentary serve of delicious honey mead. We skål and toast to good health. The glasses aren't made for resting on a table with liquid in them which is why you skål it all.
A waiter says that Mjølner (the hammer of Thor) is where they'd like to think Thor or vikings would hang out if they were around today. And there are two other things that might lure vikings here. First is beer drunk from horns-all bottled beers can be served in enormous horns.
They instruct us to keep the tip of the horns either to our left or right to avoid air bubbles and beer splashes. It's rather splendid for a while although once Viggo finishes his first beer, he goes back to using the bottle over the horn. Progress over hundreds of years and all.
Then our waitress comes bearing a leather roll of knives. Everyone gets to choose the knife that they eat with. There's a selection of different knives, all with different handles - Louise picks a metal bird handle, Viggo a metal handle while Mr NQN and I go for bone handles. They're heavier and bulkier and when you pick one up you feel as though you're going to eat something Viking style. The knives themselves look more menacing than they are and aren't overly sharp.
They recommend one entree, main, side and dessert although I think that's probably way too much food especially as the mains are very meat heavy. The chef is Tom Gripton formerly of Monopole. We start with some gin and juniper cured gravlax ocean trout which is gorgeous and served with pickled cucumber, horseradish cream and a paper thin linseed crisp.
Then we try the pig's head terrine, a mild flavoured terrine quite firm in texture served with a dill and parsley salad and chopped pistachios. There are thin crackers that are perhaps a bit too thin for the firm terrine to spread.
Then there's the bone marrow with a pork and beef powder on top. This comes with slices of light rye bread. This is pretty fabulous, the jellied marrow spreads easily on the bread.
The last entree is the cauliflower with brown butter and balsamic sauce and pepitas. It's a sizeable entree that I go back to a few times and actually would go well with the mains.
Mains come out in a timely manner and the signature dish is the lamb chump. It's a 800g piece of bone in lamb that has been roasted in the oven to a compact size designed for sharing. It's very soft with some appealingly crispy skin but it is quite strong in lamb flavour. Louise is however a big fan.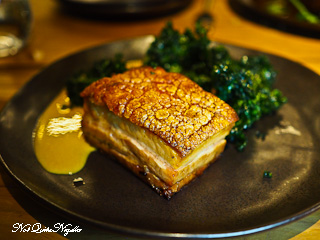 I adore the dry aged pork belly (there's a huge display wall of dry ageing meats) once I get a little bit of salt on it. The meat is soft and unctuous and the rind crunchy and it's served with kale chips and pickled beetroot with a sweet puree.
The beef short rib with thinly sliced Jerusalen artichoke and juniper comes off the enormous bone easily but given how meat heavy the mains are, it feels a bit too rich. Perhaps we should have ordered the fish or the vegetarian dish but we're all meated out. That's not to say that it isn't good but as most of us left the short rib til last to taste and it's a bit heavy.
The roasted celeriac is served with a garlic confit cream and roasted until caramelised with maple syrup. This is well loved by everyone at the table.
I'm a literal person at times so when the menu said "baby potato" I thought, "Hmmm I hope there's more than one baby potato." Don't worry literal friends there is more than one baby potato. They're served on clouds of horseradish cream-a perfect side dish to go with meat.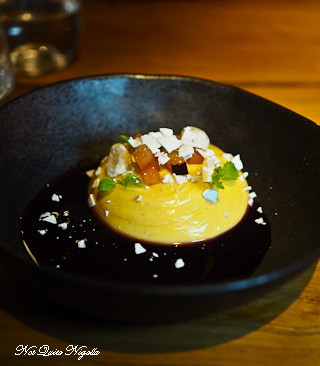 Lightness comes in the form of two desserts. The mascarpone dessert is sweet, not just a straight mascarpone but sweetened. It is ringed with a plum sauce, candied macadamias and charred lemon.
The rice pudding is immediately compared to Danish Viggo's traditional risalamande. It comes up well with a slight citrus flavour to it and a scoop of salted caramel dulce de leche for sweetness or a quennelle of rhubarb if you want to make it more refreshing.
So tell me Dear Reader, do you find theme restaurants like these fun? Which knife would you choose? Have you ever drunk from a horn?
Mjolner
267 Cleveland St, Redfern NSW 2016
Hours: Open today · 5pm–12am
Phone: 0422 263 226
Tuesday to Saturday 5pm-midnight Sunday 12noon-10pm
Closed Mondays
www.mjolner.com.au/