This unassuming little canteen on Jones Street in Ultimo is said to make Sydney's best ever gado gado. Indonesian expats and students make up a large client of their clientele and the prices are so reasonable that you may find yourself blinking twice. And the gado gado? Well it starts with a phone call...
"You've got to call one to two hours ahead to pre-book the gado gado. Or you'll be waiting ages!" said a friend to me when describing Willis Canteen. So precisely two hours before the time we want to eat, I call the mobile number to make a booking and to order the gado gado.
At first I get a voicemail. I try again in an hour and a harried, busy sounding woman answers the phone. I ask if I can book a table for two at six and she says "Yes!" and then hangs up. I ring back to try and pre-order the gado gado and she puts someone else, her daughter on the line. She knows the drill and the only questions are if I want the gado gado with or without rice cakes and if I want chilli. It's yes to both.
We were warned that this wasn't a fancy restaurant. Indeed it is simple as the name canteen suggests. It's a family run business with the two parents in the kitchen and their daughter looking after the floor. Willis is the mum and they called it canteen as they thought that restaurant sounded a bit too fancy. Bamboo lines the walls and it is a square shaped restaurant with larger tables in the centre. The daughter is very friendly and she greets us with a smile and turns around to collect our enormous bowl of gado gado. "Where would you like to sit?" she asks.
We take a seat and grab some water and some cutlery and plates come out. We dig into the gado gado while perusing the menu. It has been a long time since we have had a real bargain and the dishes come at an amazingly low price. This huge bowl of what simply has to be the very best gado gado in Sydney is a mere $12. The peanut sauce is perfectly balanced and there's a mix of bean sprouts, cucumber, green bean, tofu and rice cakes in there. The rice cakes give the salad a chewy soft texture against the crunchy vegetables. I particularly like the pink kerupuk merah garlic crackers on top too that serve as a scoop for the salad and watch many other tables around us all partaking of this dish.
When they set the Ketoprek down Mr NQN asks if they have brought out another Gado Gado and while they look and taste quite similar the Ketoprak is hotter with more garlic and a tangle of thin behoon vermicelli noodles in amongst the vegetables. On the way to use the facilities earlier I passed through the kitchen and saw enormous woks holding curries and one with a big pile of roasted peanuts. These peanuts form the base of the gado gado sauce.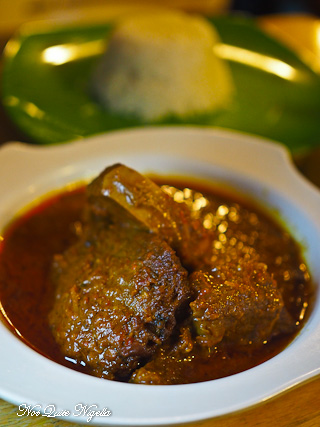 I have to admit that rendang is a tough one for me, because nothing beats my mother's rendang which we have evolved over time to suit our tastes. The flavours are good but the beef is quite firm and doesn't melt in the mouth like the one we make at home. This comes with a side of white rice.
Now the sate padang is not your usual satay (that's the sate ayam that is also on offer). Sate Padang is made using ox tongue with a creamy Padang curry sauce. It's not a peanut based satay sauce nor is it a hot curry sauce. It's pretty mild and it's served with pieces of rice cake. It's very mild but good but just don't go in expecting a regular chicken peanut satay.
For those cold nights, the deep fried beef rib soup is perfectly warming. It's a clear soup with several bone in pieces of beef short rib. These take a little gentle nudging to get off the bone but there is so much goodness in the soup that I think this would be ideal for those who ail. There is also a side of lemon and chilli.
There is dessert in the form of an ice cream fridge selling commercial varieties on sticks. But we want to stick with the flavour of the gado gado and Ketoprak in our mouths. We have enough for two more meals at home which we take away (we always warn waitstaff that we will over order and take food home-don't be alarmed ;) ).
So tell me Dear Reader, do you often over order and then take things home? Do you have a favourite cheap eat? And what do you think about calling ahead for food? Have you ever done it?
This meal was independently paid for.
Willis Canteen
392 Jones St, Ultimo NSW 2007
Phone: 0451 048 990
Closed Tuesdays (open this long weekend Monday public holiday)