This restaurant is now closed
I love insider tips. Thoughtfully whispered to me either by email, SMS or phone or even through the twitterverse, I find them invaluable. @kewpielovesyou tweeted me a couple of weeks ago asking if I had tried it. It was very new at that stage and I wasn't able to find much in the way of a review. Then my birthday snuck up on me (I don't know why, it's the same day every year) and I asked Mr NQN to research the restaurant while I was out for the day and book it if it sounded good. He read the eatability page which had three reviews, two of which were from reviewers with only one review which I tend to trust less but he still went ahead and booked it.
When I talked to him that afternoon he told me of his "research" and I was worried that we were going to have a less than stellar experience. Still this Saturday night on my birthday we found ourselves dining there with my parents. The name "1945" refers to the year of Indonesian independence.
Looking over us is a large painting of Kartini, a pioneer for women's rights in Indonesia and a national heroine. The waitresses hands us the cute wooden photo frame menus and explains to us that the meals are inspired by ristaffel (which literally means "rice plate" so serves are small plates designed to be eaten with rice and they recommend about 5 plates ought to do for each person. Considering the plates start at $3 and go all the way up to $6, we figure it was pretty easy to eat inexpensively. They also have their own organic wines specially made for them. We're tempted by the set meals only because there is so much choice but after dithering we instead opt for the a la carte to share for maximum carnage...ahem I mean tasting opportunities. This would mean splitting some dishes into four but luckily my parents and Mr NQN are used to it so they don't mind. We see that the set menus are popular with every component being brought out together on the one large plate.
My mum's order was for the Grassjelly drink served with Pandan flavoured milk and palm sugar. It's the kind of drink you don't want to share. In fact when my dad shows a clear interest in it she orders him another drink so that she can have more of this one (I don't blame her). The palm sugar syrup with the pandan imparts an almost iced coffee milk flavour to it and it's addictively moreish. And don't let the grass jelly idea put you off, you can barely taste the "grass" in the grass jelly.
My father ended up getting a Soda Gembira, a blend of rose flavoured syrup, sweetened condensed milk and soda water and it is nicely refreshing although the rose is a little overpowering (which is what we usually find with this drink where ever we order it).
Mr NQN's drink was finely grated exotic fruits with pandan sugar and lime juice. He loves it and the little tendrils of finely grated fruit are sucked up through a straw with a sweet, clear juice. It reminds me on eating the cabbage salad that comes with Japanese dishes though which is a touch disconcerting.
The name of this might not be too enticing for some but I really liked the boiled mung bean syrup with young ginger.
The food comes out quickly and all at once which is good as Mr NQN was hungry. We start with the grilled pork skewers spiced with cumin and coriander. The sauce is thick and rich and sweet and nutty whilst the pork is tender with a gentle char from the grill.
These fat steamed dumplings were steaming away when I walked past the kitchen on the way to the bathroom (which are very clean and smell of lemongrass!). They are filled with  pork, prawns and shitake mushrooms and are served with sweet and tangy chili sauce. They're like slightly larger than Chinese shumai and taste quite similar although I mostly taste pork and not so much prawn in these.
I do love a good juicy meatball but these are very unusual.The deep fried texture gives them almost a chickpea type texture (they're said to be filled with pork and prawn) and they're a touch dry as a result. The pork neck comes in bite sized pieces and is a touch chewy but flavoursome.
Ajam Panggang Ketjap grilled chicken drumstick $5 on left, Oedang Panggang Goerih grilled prawn $6 in centre and Ajam Goreng Koening deep fried spice braised chicken $5 on right
The simple grilled sweet and spicy chicken with a dash of lime is strong with the kecap manis and lovely char of the grill. The single prawn on a skewer with the shell was nicely cooked although since the shell was on it the spiced coconut milk baste didn't quite get through to the prawn meat once you peeled the shell off. The deep fried spice-braised chicken comes with a deep fried mix of spices and flavours including galangal that resemble cookie crumbs at first. The drumstick meat is tender and soft and it's not dry despite the deep frying.
Although we were warned on the menu with a three chilli icon and therefore hot, this mussel dish was very mild with a  sweet and sour sort of sauce  and kaffir lime leaves with three to a serve.
The small bite sized pieces of bone-in oxtail were great to nibble on (I do love meat on the bone) and it's sweet from the honey glazing. Like kecap manis, the sweet Indonesian soy sauce, we're finding that a lot of the food has a distinctly sweet and spicy flavour to it.
The stewed lemongrass beef fillet is pan fried with chilli, shallots and capsicum is not particularly lemongrassy and tasted strongly of the capsicum it was cooked with.
This was one of the specials on the board which appeared to be priced higher than the rest. This serve has five wings and they're coated in a thick kecap manis based sauce with chopped cashews on top making it sweet, tender and crunchy.
We all really liked the simple beef rib soup with with turmeric and candlenut and the soup itself has a lovely comforting feel and slightly sweet taste to it with lots of crispy shallots. I've decided that I want this when I'm sick  as it would do the trick. The pork rib flesh is tender and falls off the bone and the flavours of the soup permeate thoughout the soft meat.
What we originally thought was the  dish otak otak this is filled with spiced mashed tofu with basil and mini whitebait grilled in banana leaves. Whitebait itself is quite a delicate flavour so I don't really taste much of it and it tastes mostly like lightly seasoned tofu. The corn fritters with Coriander were simple but satisfying. And who doesn't love a corn fritter?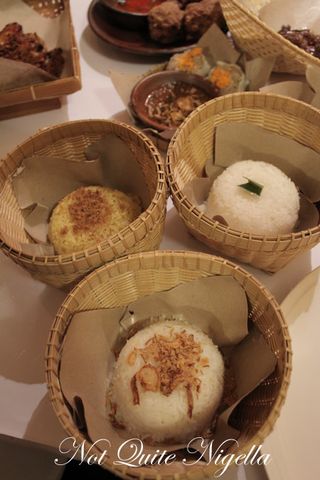 We tried three different rices and it has to be said all were excellent. There was steamed Jasmine rice Infused with pandan leaf (Nasi Pandan), Turmeric rice cooked in chicken stock, lemongrass and bay leaf (Nasi Koening) which was everyone's favourite and fragrant Coconut rice flavoured lightly with lemongrass (Nasi Oedoek) $3.
Onto the desserts! Our favourite is undoubtedly the Es Tjendol. It's that same addictive combination of palm sugar and coconut milk that we just cannot put down and I resort to drinking it instead of picking it up teaspoon of liquid at a time.
The colourful Es Pelangi would have been my dream dessert as a child-just look at all of those colours and those basil seeds which resemble eyes. Flavoured with lime and pandan syrup it's very sweet though and possibly a bit too sweet for me although others seem to like it.
_Kolak Pisang $7
_
Served either iced or hot we opted for the cold. This dessert divided us. Again it's the palm sugar and coconut milk but this was stewed with a plantain banana (the short, fat variety), sweet potato, sweet palm seeds it has a distinct molasses flavour to it which Mr NQN likes as he grew up eating molasses as his father thought that it was healthy but my parents and I find it a touch too strong.
We're all pleased and relieved that this little gem with so few reviews yielded us such a great meal. We agree that sometimes it's worth it just to dive right in and try a new place.
So tell me Dear Reader, do you prefer to share food when you dine out or do you like to have your own plate?
1945 Dutch East Indies Cuisine Restaurant
Shop 2. 42 Harris Street, Pyrmont, NSW
Tel: +61 (02) 9660 9699
www.1945.com.au
This restaurant is now closed