Pub Life Kitchen's burgers are stuff of legend. There's a neat list of four burgers available plus specials at this burger eatery attached to the Lord Wolseley Hotel in Ultimo. Do you go for the O.G. burger, a cheeseburger, a vegetarian burger (a crumbed cheese patty) or the crunchy chicken fillet burger? All come with a mountain of moreish fries. And the chicken wings? They're are a must order too.
"So I've decided to get off Tinder and go for girls in yoga classes instead," said our very single eligible bachelor friend The Wizard. We had literally just sat down at Pub Life Kitchen in Ultimo and were looking at the menu. But for The Wizard, women are never far from his mind whereas food is never far from mine. However we were so immersed in his theory approaching large groups of women exercising that we took a while to order.
Pub Life Kitchen is attached to the Lord Wolseley Hotel and is the brainchild of Jovan Curic. I had filmed an episode of Foragedtv with him about food bloggers and had always meant to visit as I have a strong love of burgers. He promised me the best burger ever so I was definitely curious.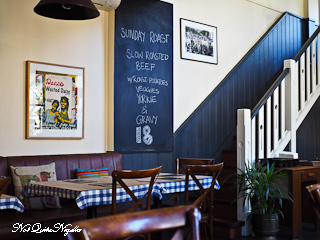 We are all hungry. It is Sunday afternoon and Mr NQN had gone for a 60mk cycle and The Wizard a long swim (and me? Well I baked two things, that counts right? ;) ). And when the waitress points out the Sunday roast we feel like we need to try that too. It's the last weekend of Winter but the windchill outside is icy so we'll use any excuse to bury ourselves under a roast.
The first items come out one at a time. The polenta chips come as a serve of six polenta fingers with a crunchy thin coating and a soft, grainy polenta interior. The jalapeno mayo is fantastic with these and adds flavour and creaminess.
But it's the wings that are seriously addictive. With the sweetness of maple syrup with a chilli hit the coating is super crunchy in the way that Korean Fried Chicken is but the maple sweetness gives it a unique flavour. And I will confess now that I ate half of these. Oops! Jovan's secret ingredient? "Butter. Butter makes everything better." Wise words.
The burgers and roasts arrive at the same time. All of the beef is salt cured, minced in-house and served medium rare. Jovan says, "Currently we are using coastal NSW, pasture fed chuck. We've been on this cut for the last 4 or so years. Prior to that we had used all kinds of blends and cuts. Chuck is the ideal cut. It's a lazy muscle, meaning it's tender and naturally has a nice fat content. Oh, it also used to be cheap!" The O.G. (original gangster) has a 200g or 7oz. char grilled beef patty, Jack cheese, PLK pickles, tomato, iceberg lettuce and aioli. The bun and filling are fantastic and it's a great intro to the burgers.
The key to a good burger according to Jovan is simplicity. "In my Balkan background, burgers are a street food. Better known as pljeskavice. I grew up eating them all the time, but turbo wog versions of course, Turkish-like bread roll. patty, cucumber, tomato, onion, ajvar, sour cream and mustard. I was also definitely a quarter pounder kid and a huge fan of a burger with the lot from the local take away." And it's the cheeseburger that has us most charmed. It's a 200g char grilled beef patty with 2 slices of Jack cheese, PLK pickles, red onion, mustard and tomato sauce. It's like a cheeseburger grew up, learned how to dress and rap and earned a Grammy (I'm on an Ice-T roll here). This isn't any sort of junior burger ;)
I also have a soft spot for the TLC or the chicken burger with an enormous fillet of the crunchiest deep fried and meltingly moist buttermilk chicken, 2 slices of Jack cheese, PLK pickles and green sriracha mayonnaise. This is enormous and would be best eaten on a day after exerting yourself. And I haven't even gotten to the mountain of fries on the plate. They're addictive and spicy and in a huge number.
The roast of the day is a slow roasted beef that is very tender and fall apart soft indeed. It comes with all the trimmings - peas, carrots, cauliflower, broccoli, crunchy edged potatoes and an enormous Yorkshire pudding. There is also plenty of beer gravy and it is so large that the boys can barely make a dent into it (the burgers and chips didn't help either).
There's no dessert but I'm happily dipping the fries into the wing sauce (don't knock it til you've tried it ;)). Jovan explains, "We have been slack on this front of late, there is usually is a dessert of the week. Last few included S'mores, poached pears with brioche ice cream and a chocolate lava cake with salted butter scotch and chocolate cornflakes. Snickers sundae choc-tops on the horizon." Sounds like a good excuse for a return visit...
So tell me Dear Reader, what is your dating advice for The Wizard? Where do you think would be a good place for him to meet women? And do you go for beef or chicken burgers?
Pub Life Kitchen
262 Bulwara Rd, Ultimo NSW 2007
Tel: +61 (0)484 848 400
http://publifekitchen.com/
Open Monday 5pm-9pm, Tuesday to Saturday 12pm-3pm and 6pm-10pm, Sunday 12pm-5pm