When Phoodle owner Alan's grandmother gave him her recipe for Pho, it was done so with strict instructions. "Do not change the recipe or I'll kill you!" she said to her grandson. It wasn't an instruction that was without merit. After all she owns the successful chain of Vietnamese restaurants Bau Truong. Alan initially had the idea of starting up a coffee bar and a snack place in St Leonards but it became such a success that he has expanded and his first proper restaurant and head kitchen is now in Sydney's Kingsford on Anzac Parade.
I only know all of this because he is super chatty. The lovely Jaqi and I meet up there for lunch. She works at the university just next door and the location is a prime spot for uni students. That also means that prices are student friendly and I'm pleasantly surprised to see fruit shakes for $5 and dishes for around $10-$12. Service is speedy and friendly and Jaqi engages him with questions about the eatery.
I've already had a good look at the menu and it's sizeable but not unweildy. A small warning though, you may want to visit with a group of friends because there are a lot of goodies and even with just two of us, we order enough for four people.
Vietnamese Iced Coffee $5
I start with a Vietnamese ice coffee-the front section has a range of coffees from cold drip, cold press and filtered. The Vietnamese coffee is strong and not overly sweet. Truth be told I like it sweeter but I think people would probably prefer it this way with less sweetness.
House Special Pho $12
Dishes arrive very quickly. The first is the pho, made using his grandmother's recipe where the broth is cooked for 12 hours. The Dac Biet has brisket, raw beef, beef balls as well as a plate of lemon, bean sprouts and basil.
In winter there's really nothing better for you than a cavernous bowl of pho and we slurp this full flavoured broth and pick up the slippery noodles with gusto. It's a touch sweet but not in a bad way at all. You dip the beef balls and brisket into the mix of oyster and chilli sauce.
Broken Rice with Grilled Pork Chop $10
Alan explains that the broken rice comes with some nuoc mam fish sauce and you can spoon some of this over the rice to moisten it as it can be dry otherwise. As many of the students at the university are from China they find themselves explaining this to them as they are new to Vietnamese cuisine. The grilled pork chop is cooked over charcoals giving it a wonderful flavour and this is a fantastic dish if you just wanted a plate of something all to yourself as there is salad, grilled pork, rice as well as a separate bowl of chicken soup.
Grilled Chicken with Sticky Rice $10
The grilled chicken is juicy and flavoursome with a nice caramelised char. It comes with four logs of crunchy, crispy sticky rice. The rice is quite sweet indeed and very crispy which is a nice contrast to the chicken. The rice cakes are quite thick so you do have to break them up and the ratio of rice to chicken isn't quite right as there is more rice than chicken but the flavours are good.
Vietnamese Pancake $14
The Vietnamese pancake however ends up being a favourite of mine. It's just the right amount of crispy and isn't greasy or oily as some of them can be. I also like the thinly shredded pickled carrot and cucumber that you wedge inside with the pork, prawn and mung beans and then spoon over the nuoc mam.
Mung bean shake and Strawberry and soursop shake $5 each
This week was so busy with little time to cook and I was eager to try the rest of the menu so that very night I return with Mr NQN and my parents. I start with a mung bean shake and Mr NQN has a strawberry and soursop shake (they're out of his first choice durian which delights my durian loathing mother). I love mung beans in every form and this sweet version in a shake is delightful although I'm not sure if others love sweet beans. Mr NQN's soursop and strawberries is perhaps a bit more accessible with more familiar flavours but I did prefer the mung bean shake of the two.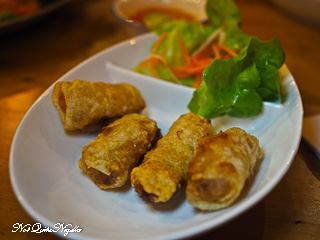 Seafood spring roll $10
I'm usually totally fine with sharing, that's how I prefer to eat so that I can taste more but in the case of these seafood spring rolls, I regretted the sharing decision immediately. These spring rolls are tiny, thumb sized rolls that are wonderfully crispy and filled with prawn and octopus. I'd order these in lots of two or three per person.
Deep Fried Quail $10
The deep fried quail is seasoned with salt, pepper and lemon and it is delicate to eat and tasty. It's soft enough to even crunch on the bones which is a matter of preference. My father and Mr NQN refuse to do it while my mother and I happily do so.
Pork Bun Bao $8 for 2
I thought that these pork belly baos were fine but not really spectacular. They're said to be their signature pork slice in a mantou bun. I guess with so many places doing amazing versions of these expectations are higher and these are a bit plain.
Vietnamese Shaking Beef $13
One of their specialties is the Bo Luc Lac or the shaking beef. They're fabulous - marinated, tender melt in the mouth cubes of beef and onion are seasoned with salt, pepper and lemon. You may need rice to add to this or you can also place a piece or two in a soft lettuce leaf with pickled carrot and crunch away for a low carb version.
Tomato Rice Crispy Chicken $12
The tomato rice is an interesting one for my father who loves plain steamed rice. "This is different," he says, his brow furrowing. But after a few bites he concedes that he does actually really like it. The tomato rice is served with crispy skinned chicken. The chicken is moist and good (although it doesn't beat the criskin chicken in Cabramatta's Tan Viet) but it's a good crowd pleasing dish.
Spicy Beef Noodle Soup $10
I'm going to say something that may cause you to unfriend me but I'm not a huge pho person. I like pho and appreciate that it is often the barometer for how people judge a Vietnamese restaurant but other dishes excite me more. Give me a spicy soup any day instead. Hands down this was my favourite dish this evening (apart from the seafood spring rolls). This spicy beef noodle soup is vaguely similar to pho but has a shredded salad accompaniment and chilli-the thing I love so much and miss if I haven't had it in a while. I also like the tubular rice noodles more too (they're easier to navigate to your mouth than the slippery flat rice noodles) as well as the lemongrass and chilli broth. Long story short: I wish I didn't have to share this too.
3 Colour sweet dessert $5
Service in the evenings is slower and while it is friendly it is a bit absent minded with plates not cleared for a long time and it can be hard to get their attention but these could be initial teething issues. There are about half a dozen desserts on the menu but there are only a few available. Three colour dessert is also called Che Ba Mau and features coconut milk, pandan jelly, butter and kidney beans, mung beans and sugar. It's so good that even my dessert phobic father goes for third helpings of this!
So tell me Dear Reader, are you new to Vietnamese cuisine and do you know which sauces go with what? And have you ever gone to the same place twice in one day? And what is your favourite type of noodle soup?
These meals were independently paid for.
Phoodle
255 Anzac Parade, Kingsford, NSW
https://www.facebook.com/phoodle.eatery Open for lunch and dinner