Everyone that walks past our table at Everise Handmade noodles does a subtle double-take. Some smile a small smile and look at the spread of eight dishes in front of us and two people. The table of three men next to us let out a guffaw and say "That's brilliant". It was a feast to end them all...
I asked Mr NQN what he wanted to do for this birthday dinner. We had had lovely picturesque lunch at Pier One's Snow Globe igloo and being a very down to earth guy he wanted something simple for dinner, preferably involving dumplings. Everise Handmade Noodles in Kingsford fit the bill. The picture menu shows a mixture of Henan cuisine, Xian food and other Chinese regional dishes but the main focus is hand made noodles in many forms be it stir fried, soup or saucy.
There was a method to my madness and I hate food wastage. I was going away for a few days and the leftovers would feed Mr NQN quite nicely indeed (because he can't cook and I didn't have time to cook anything for him).
I have to admit I ordered the next two things out of curiosity. I mean pickled peppers reminded me of the tongue twister "Peter Piper picked a peck of pickled peppers". These chicken feet are served cold and they've got a nice tingly spice to them although I'm not overly fond of cold chicken's feet. They're much better warmed up.
The pig's trotter is a fatty, saucy number best served warm on very cold winter's nights. It's like a red cooked pork with all the aromatic spices.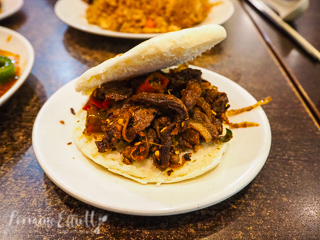 I love these little Xi'an "burgers". There are three different fillings available: beef, chicken and lamb and the woman that takes our order recommends the lamb. We both really enjoy this and the lamb slices are stir fried with chilli and cumin and stuffed inside a flat bread round.
Then come out the rest of the dishes. The cold noodles are ropy hand cut noodles with a saucy, slightly sweet pork mince, sliced iceberg lettuce and tomato wedges. They're tasty although the salad is a little odd with the mince.
The noodles come in a large bowl with thick, flat noodles and a mild flavoured lamb broth seasoned generously with white pepper. There are slices of lamb and vegetables in this and I add some soy sauce to season this further.
My favourite dish is the fried rice with slices of glazed eel. It has a light sweetness to this and is well seasoned yet if you don't love fish or eel you could still eat the rice as the eel just sits on top. I devour the eel pieces while Mr NQN leaves these behind. Honestly, I don't know what's wrong with him! ;)
I wish I had ordered this with the broad noodles which are extra but this is a really tasty dish with a good amount of spice and sauce. The sauce is a good base to dip the other noodles in or the boiled dumplings below. A little warning: if you don't like wings cut in half on the bone then you may not enjoy this because wings cut like this can be difficult to eat (Mr NQN doesn't so he isn't as keen on this).
Mr NQN loves these boiled pork and chive dumplings and when I asked him why he prefers them to the pan fried dumplings which are so much better he answers simply, "They're good value". And since it's his birthday we order a batch of his favourite good value dumplings although to me, I need to add chilli from their pot of chilli flakes with oil to really bring out the flavour.
There's no dessert on the menu but there is birthday cake at home so we pack up our seven containers of food and Mr NQN is happy that he doesn't have to worry about making dinner while I am away!
So tell me Dear Reader, what's your favourite type of dumpling? And if you could choose anywhere to eat on your birthday where would it be?
This meal was independently paid for.
Everise Handmade Noodle
474 Anzac Parade, Kingsford NSW 2032
Open 7 days 10:30am–3pm, 4–9:30pm
Phone: (02) 9663 1765