The Marrickville cafe West Juliett is a very popular cafe with locals and every weekend sees queues lining up for breakfast and lunch. They've got a menu full of vegetarian and omnivore goodies as well as a display of luscious looking home made cakes and sweets.
The first time I met Johnny was many years ago. We had filmed a television commercial together. He was the singer in the band and one of the fellow "influencers" in a Cornetto ad and we have kept in contact since. He lives in Melbourne and whenever one of us is in each other's home city we try and meet up. Sometimes it actually works out and when he recently visited Sydney he asked if we wanted to meet up for breakfast and fate worked out! I love talking to Johnny because while he is a young rock star, he also loves food, can talk recipes and he also gives me gardening tips!
As he was staying in Newtown, I had a ready list of places to suggest. He picks West Juliett which is a quick walk for him. He has arrived earlier than we and has nabbed a table and come 10am there will be a large queue outside. I order a chai latte with soy milk against my better judgment but when it comes, it is fantastic. It doesn't even taste like soy milk and comes already perfectly sweetened with plenty of ground spices. It is said to be roasted, blended and hand crushed in house. In fact all of the sweets are made in house and we see a pastry chef icing some cakes to go in the front cabinet.
This is definitely looks like the most popular breakfast item and we see dozens of these whiz past, topped with tendrils of watercress. It's a slice of grain toast topped with two poached eggs, avocado, feta, parsley, cress and lemon. It's fresh and creamy with plenty of salad on top. I wish there would have been more feta on it though.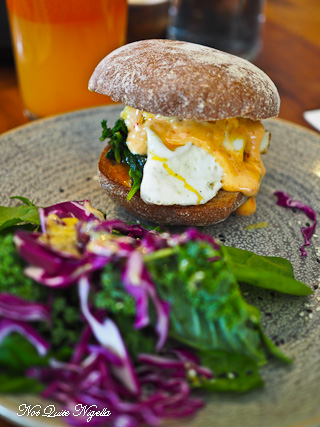 I go for the dark, soft roll, split and filled with a slice of fried halloumi, wilted, soft greens and a smear of spicy chilli marmalade aioli. The aioli really makes this roll and the fried egg and the halloumi are a good, creamy filling spiked with the spicy aioli.
Alas Johnny has to catch a flight back to Melbourne so there isn't time for sweets but I come back another day with the lovely Sammie from The Annoyed Thyroid. We became friends through our blog and once a month we serve lunch at the Asylum Seeker's Resource Centre. Sammie tells me that her biggest loathe is picking food from a menu so I am more than happy to decide for the both of us.
It's just after 1pm when we arrive so we decide to go for some items on the lunch menu. The lamb salad has roasted carrots, a generous portion of soft roasted lamb shoulder, puy lentils, almonds, feta and a thick tahini yogurt sauce. It's got a bit of everything in perfect proportions and we have trouble finishing off this large serve and they kindly pack this up for us.
For me halloumi is like bacon for vegetarians. I mean if I see bacon on a menu item I'll probably order it and same goes for halloumi. The sandwich is served on soft slices of Sonoma miche but it's sliced a bit thick for the filling and the kale makes the sandwich a bit dry. Some sauce (Liz Lemon's dipping sauce idea!) wouldn't go astray for the kale or a softer green like watercress would suit it more.
We did save room for the cakes because while I was paying last time I saw them taking out a cake fresh from the oven and ice it and I really can appreciate when a cafe makes their own. I take a look at the display and take a pick. The carrot cake is adorable and served with a walnut on top and some rosemary leaves. The carrot cake is moist and fresh but the rosemary needles are quite strong and really dominate the flavour. I'd probably take those off before eating the cake.
The caramel cake is covered in candied almonds and split in half so there is caramel frosting in the centre too. This is my favourite and it's hard to stop at just a few bites. So we don't naturally ;)
So tell me Dear Reader, do you prefer house made items or does it not really bother you? Are you a halloumi fan? I read recently that Australians spend a fortune on brunch-are you a bruncher?
These meals were independently paid for.
West Juliett
30 Llewellyn St, Marrickville NSW 2204
http://westjuliett.com.au/