A very charming little cafe in Petersham, Brothers Ben serves up tasty cafe dishes with a smile. And for vegans, there's also a sizeable vegan menu there too as well as pastries and delicious magdalenas aka Spanish muffins. All with the most welcoming service we've seen in a long time!
Brothers Ben isn't as the name suggests, run by some brothers called Ben. It's a cafe run by Ash, who is working the coffee machine. But it is a family affair. The four Bens are her grandfather, father and two cousins and helping her out is her mother. The four Ben's distinctive facial hair and haircuts are outlined in the front cafe window.
Sammie and I had just finished serving lunch at the Asylum Seekers Resource Centre so we took the short drive to Petersham for a late lunch. There are outdoor seats dappled in sun light (and a puppacino and dog biscuits on the menu!) but the inside feels toasty warm so we grab a table by the wall. It was a former butcher's shop in the 1800's and the original hooks and rail still remain.
We ask about the drinks-I'm interested in the beet choc but want to know if it's "healthy" tasting aka will I hate it. They reassure me that it isn't so I order it. It definitely beats (no pun intended) any other beet lattes. Ash explains that she experimented quite a bit and finally came up with the perfect solution-actual beet juice syrup paired with dark, dark chocolate to give it that ideal combination of earthy and rich but not alien (I still shudder at the memory of a bad beetroot latte).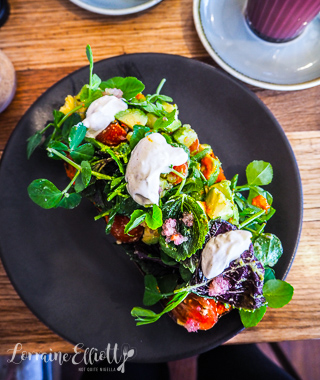 We had originally wanted to get a bacon and egg roll but after seeing the avocado toast come out we quickly switch. It is an enormous slice of crusty sourdough topped with a generous amount of bright orange muhammara, cherry tomatoes, finger lime, avocado chunks, shiso, labneh and chilli. It's a pretty damn awesome version of a very common dish with fresh flavours and the generosity of topping.
We decided to order one item from the 8 item vegan menu and we went for the chickpea burger. I'm not going to lie and say that the fried potato skins weren't a factor in that decision too. It's a soft chickpea patty, pickled cabbage slaw, watercress and baba ghanoush on a soft milk bun with the crispiest, thinnest potato skins. It's a delicious burger, satisfying even for an omnivore and the non vegan version also has fresco cheese.
Because Sammie and I never pass up dessert (we had just been waxing lyrical about Betty's of Harrogate) we took the opportunity to order a third item: caramel crumpets because to me crumpets just make winter much more bearable (and there's also savoury crumpets with lamb). The sweet ones are two thick and fluffy blueberry studded crumpets with grapefruit curd, poached rhubarb sticks, strawberry compote and ricotta. They're soft and thick and glorious and I wished I lived closer so that I could try the lamb version.
And to go we try chef Ruben's pear magdalenas. These are the lightest, fluffiest, dreamiest muffins you can imagine with a gorgeous crunchy sugar topping. I may just have to return with Mochi in tow where she will no doubt order a puppacino and dog biscuit.
So tell me Dear Reader, would you go for the sweet or savoury crumpets? What food to you makes winter better? Have you ever tried a magdalena?
Brothers Ben
74 Palace St, Petersham NSW 2049 Monday to Saturday 7am–3pm Sunday 8am–3pm Phone: (02) 8385 4923