If ever there was a food that conjured up a Pavlovinian reaction in people, it would be bacon. Many a lapsed vegetarian's downfall has been blamed on the delicious smoked meat and this year, Sydney has its very own Bacon Brewfest celebrating all things bacon! Headed up by Newtown cafe Cuckoo Callay, the cafe will also serve up a range of bacon dishes! Want to see what is on the menu?
"Last year we went through almost 2 tonnes of bacon," Ibby Moubadder the co owner of Cuckoo Callay says of last year's bacon menu. This year they're aiming for 3 tonnes of bacon. In 2015 the cafe located just outside Newtown train station served up a menu of 7 dishes for a 12 week period. It was so phenomenally successful that this year they are expanding. Not only will the cafe present a menu of 8 bacon themed dishes (including one for vegetarians with facon) but he and his partner Eleanor Harris have created Sydney's first bacon festival. The Bacon Brewfest will be situated at Chippendale's Central Park with a range of bacon themed goodies from eateries and patissiers around Sydney.
The event on the 27th of February kicks off the cafe's bacon themed menu and we were lucky enough to get a preview of the dishes to come. These will be available at Cuckoo Callay from the 1st of March and are on offer for breakfast and lunch along with a few of their most popular "regular" items.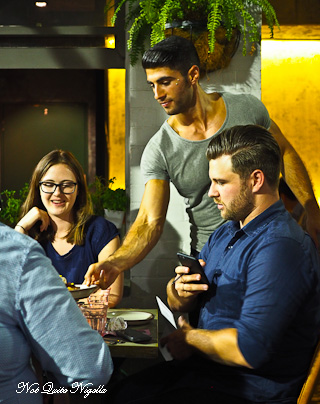 The bacon that is used in this menu is sourced from Bangalow Sweet Pork that is hormone and antibiotic free and supplied by small family farms. The pork is then smoked at De Novo Foods at St Peters over German Beechwood.
Starting with the breakfast offerings, there's the bacon Mac Daddy with double smoked bacon, bacon mac and cheese, fried egg and a bacony tomato jam all served on a toasted croissant. The egg is gooey and soft yolked which give the whole thing an appealing creaminess when it breaks. And sure it's messy when you dive in with your hands but it's worth it. Bring wipes ;)
My favourite savoury was something that sounded simple on paper. It's double smoked bacon with three feta and zucchini fritters that are as light as a feather and perfectly seasoned. There is also bacon jam, avocado corn salsa and a poached egg. Everything is well balanced here although the bacon jam could be more bacony (it's more tomato jam) and dare I say it, but this dish doesn't even need the bacon on top. Bacon blasphemy! ;)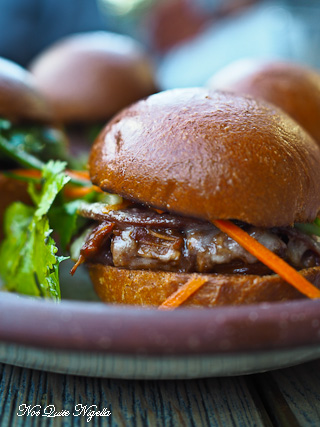 Okay it's Newtown. There are plenty of vegetarians here and they should be catered for, even during a bacon festival. Now this one is intriguing. It's a vegetarian pulled pork with facon (faux bacon). The fooled pork is a doppelganger for texture and taste although it is super saucy. And what do they use to make the pork? It's jackfruit! It looks just like pulled pork and the sauce is very sweet and abundant. They pair it with the facon, Gruyere cheese and Asian slaw on a toasted brioche bun. They will be full sized burgers rather than the sliders shown here.
This dish divided people. Viggo wasn't such a fan while I quite liked it. Like a cube of meatloaf, it is called a bacon box with a pork and Camembert filling. It is served with roasted truss tomatoes, spinach puree and tomato jam served with a runny centered poached egg.
Ever wondered what to get your Valentine? Why bacon roses of course! If you don't want to make your own, you can always order this for them. The "Bacon All The Rules" is bacon in a few forms: a bacon steak, bacon sausage (more a pork and herb sausage really), maple bacon and a double smoked bacon rose with bacon tomato jam and two poached eggs on thin sourdough slices. I liked spreading the egg and yolk over the bread and eating it with the sausage and bacon.
The most substantial dish is the Cherry Good Belly, a fat square of glazed pork belly, a square of bacon potato roesti, sour cherry sauce and chargrilled broccolini. The pork belly is good although I do love it when it's a bit more melty and the crispy edges of the roesti are nice but I think I prefer a flatter, crispier roesti. The cherry sauce is a good match to it though. And the broccolini is perhaps just there to let us know that yes we at our veggies :)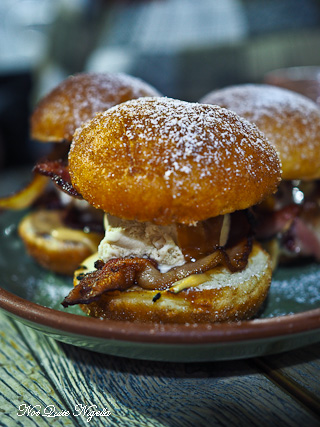 I will admit that I felt like the name of this bacon and peanut butter sandwich was a missed opportunity for an Elvis reference. Because it was Elvis Presley that first came to mind when I took my first bite. It's a donut bun sprinkled with sugar and cinnamon and filled with bacon and caramel ice cream, double smoked bacon, peanut butter mousse and salted peanut caramel. My first bite was great with the bacon and peanut butter mouse but once I hit the ice cream it changed a bit. I think half the ice cream would have done fine for this or I would have done without the ice cream and just made this a homage to the king.
Everyone's favourite sweet course however is the carrot cake waffle with a scoop of bacon and cinnamon ice cream, maple bacon, caramelised walnuts, fresh blueberries and freeze dried mandarin. There is a lot going on in the dish but it really is held together by a great carrot cake waffle and ice cream.
And you know what? Even the next day, after all of these courses, I still craved bacon...
So tell me Dear Reader, are you a bacon lover? Which dish appeals to you the most? Do you like bacon in sweet dishes? Would you go to a bacon festival?
NQN and friends previewed the dishes as guests of Cuckoo Callay but all opinions remain her own.
Cuckoo Callay
Newtown Railway station, 324A King St, Newtown NSW 2042 Phone:(02) 9557 7006 Bacon menu starts: Tuesday 1st March, 2016 and runs for 12 weeks Open: Monday to Friday 6am-4pm, Weekends 8am-6pm Bacon Brewfest: 27th February 2016, Central Park, 28 Broadway, Chippendale, 12pm-9pm