Gatherings scheduled around the busy eve of Christmas tend to be a bit ragged. People drop off citing hangovers, injuries sustained during parties while others pop in last minute making up numbers. It was originally Belinda, her girls Mia and Ruby, Mr NQN and me trying out the gastropub The Henson in Marrickville along with two friends that dropped out. At the last minute Nick decides to come along.
We thought that going to the Henson early at 5:30pm would be a good idea. Although it is open all day, come 5pm it is prime family dinner time and many large groups and families descend. The Henson is definitely family friendly with a dedicated play area for children where Ruby finds herself making friends. Mia silently plays a game at the table, engrossed in her screen. There are people of every single age group here. We're seated at a high table - the only one free when Belinda arrived. Nick swaggers in a few moments later.
Confession: I like sauce
Ordering is done at the bar and Belinda and I order the food while Nick and Mr NQN order the drinks. The cocktails are very reasonably priced at $10 and the food is an extensive selection of fairly upmarket pub fare. We collect our cutlery and napkins and a range of sauces and salts (five kinds: smoked chilli, lime & cumin, rosemary rooster, Szechuan pepper, fennel & chilli and sea salt). The kid's meals arrive quickly but the rest of it takes a while to come out.
Spiked coconut $13, Pina Colada $10, Henson Bloody Mary $10
You can order either virgin or spiked coconuts and I go for the latter. The spiked coconut is very drinkable. Spiked with Malibu it's the perfect tonic for the warm weather. They also give an extra cupful of it with which to top up your coconut.
Knuckle Sandwich $17
The first food item we try is the knuckle sandwich. It's filled with buttery soft wagyu brisket, fennel slaw, Swiss cheese, smokey mayonnaise on lightly toasted rye bread with fat, well seasoned chips. We all love this sandwich, especially the little kick of spice in each bite.
Ocean trout ceviche "san choy bow" $18
We ordered this for something a little healthier and more refreshing to balance the burgers and sandwiches. This is fresh and delicious with a generous amount of the ocean trout ceviche, smoked, corn, coriander, nori, radish and ponzu and the slightly bitter witlof cups.
Karaage Chicken burger $17
The karaage chicken burger is enormous. Luckily the bun is soft and it's easy to eat. It is filled with crispy chicken pieces, pickled greens, charred onion and a sweet miso mayo. It also comes with chips.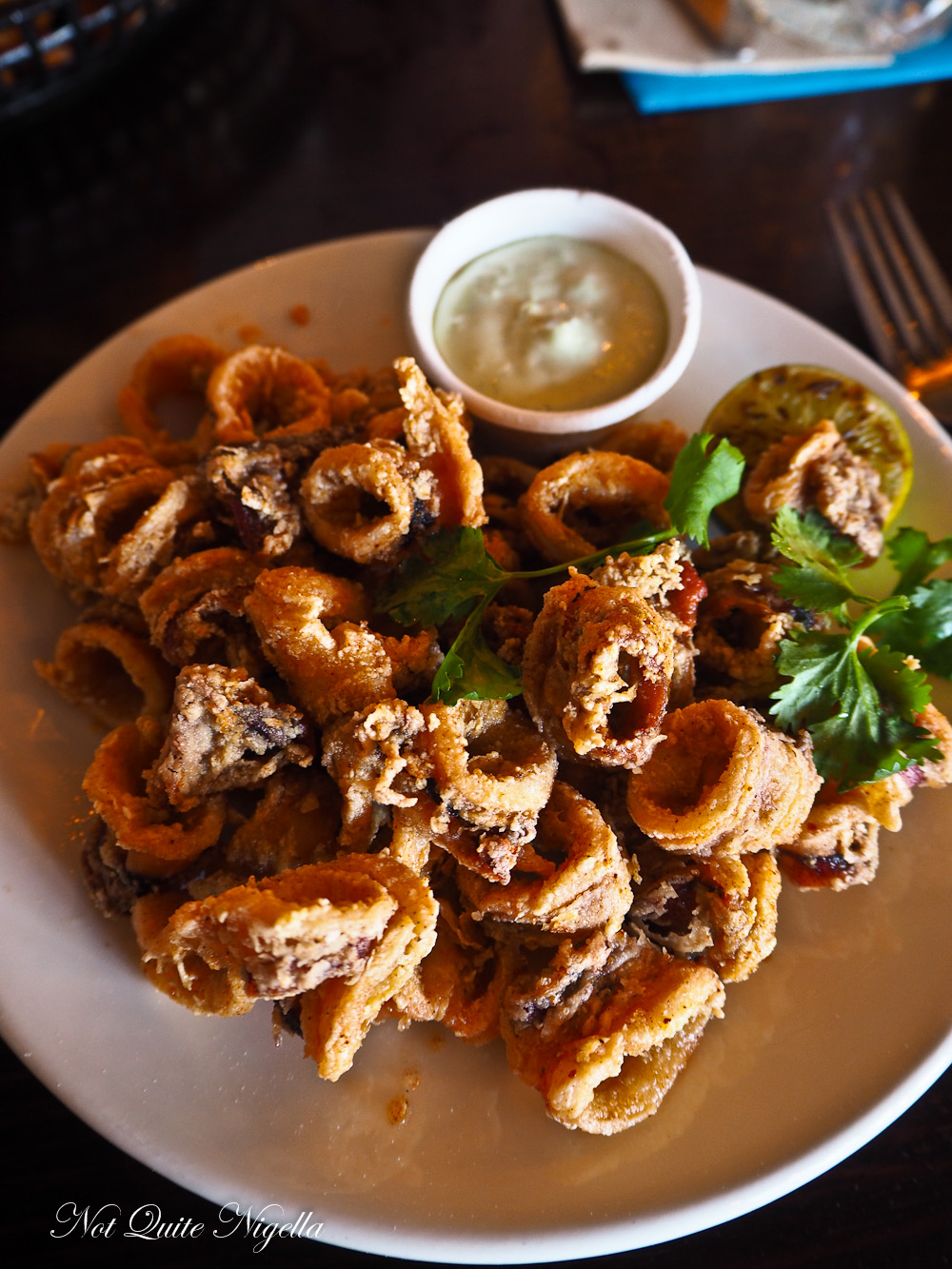 Crispy squid, jalapeno aioli $14
This is a very generous portion of lightly dusted crispy squid with a pot of jalapeno aioli. It's good but the other dishes claim our attention more.
Smoked cauliflower Mac 'n' cheese croquettes $15
The croquettes come out as a serve of three enormous croquettes. Filled with smoked cauliflower and macaroni and cheese they're crunchy on the outside and soft and smokey on the inside. We didn't get much truffle in the truffled mayo but they're still good.
Chunky kumera chips $8
The kumera or sweet potato chips are crinkle cut style and are crispy on the outside but soft and sweet on the inside. They're sprinkled with nigella seeds with a tahini yogurt. I end up dipping these into the jalapeno aioli.
Dirty Bird $24
And then there is the Dirty Bird. We were tossing up between whether to get the 1/2 kilo buttermilk chicken wings or this and we were swayed towards this by the name and the woman taking our order. We're glad we did because this along with the Knuckle Sandwich are easily the favourite dishes of the evening. The Dirty Bird is a half a flame grilled ten spice free range chicken served with yellow rice and raw slaw. It comes with a dollop of creamy, spicy sauce that is perfect for dunking the tender, juicy chicken pieces into. The only complaint? More of that sauce please! :P
Churros "chips" $11
By about 7:30-8pm, things have gotten a bit quieter and more tables have freed up and there are no more queues to order food so we get up and order dessert - one to share because we are all quite full but curious about one dessert. We weren't quite sure what the churros chips would look like. Resembling a plate piled with corn chips, they're cinnamon dusted deep fried chips served hot with two scoops of ice cold malted vanilla ice cream and Mörk (self described "cacao artisans" in Melbourne) chocolate fudge. The combination of the hot chips and the cold ice cream work well together perfectly as does the crispiness of the chips and the creaminess of the ice cream. We put down our spoons, defeated.
So tell me Dear Reader, do you always order dessert when you go out, even if it is to share? And are you a big sauce/condiment person? Our fridge door is totally full of sauces and condiments! And are you on the look out for family friendly places? And psst! Good luck with the Christmas preparation - not long now!! ;)
This meal was independently paid for.
The Henson
91 Illawarra Rd Marrickville, NSW 2204
Ph: +61 2 9569 5858
http://www.thehenson.com.au/
Closed Christmas Day