In Japan the art of creating food has a certain element of patience to it. But can you guess how long it might take to reinvent a burger and turn it from a bread bun to a rice bun? It took Sokyo chef Chase Kojima one and a half years to develop his brilliant take on a rice burger. A crispy rice burger actually.
Gojima is a portmanteau of Kojima's name and Gohan, the Japanese word for rice. Located in The Star opposite Momofuku Seiobo where Zumbo was located, it serves up a mix of meat and sushi fish burgers and fries as well as a range of frozen custards that are served either as a thickshake or as a scoop of frozen custard (aka ice cream).
There is both an indoor and outdoor area to eat in and you just have to turn up and hope that you don't have to wait very long because it is already proving very popular. It's very early days yet so the wait for burgers is a little longer than they'd like but we are only waiting about 10 minutes for our burgers.
Now first things first for those unfamiliar with a rice burger. Gojima's rice burger is different from rice burgers e.g. Mos burger. The rice (a secret blend) is cleverly shaped into a rectangle that curves around the filling and is covered with a nori sheet for easy eating. The genius to this burger unlike the ones in Japan that I've tried is that the rice is crispy in a patented technique. Yep crispy so it adds a whole dimension of texture to the burger.
I've brought along my mum and my dad, the latter is one of the biggest rice fans in the world to try these burgers. He won't necessarily want to sit down to a regular burger but if you mention that there is rice his ears perk up. But incidentally my parents are the only people in their age bracket here, rice burgers are apparently a younger thing.
Gojima Cheeseburger $12.90
We start with the classic cheeseburger (and sorry the lighting isn't great in the store itself). There's tomato, soft lettuce, a Angus beef patty with pickles, American cheese, onions, lettuce and "special sauce". It tastes just like a regular cheeseburger but with a delicious crunchy layer on the outside and the nori and rice doesn't feel out of place at all.
Gojima Chicken Burger $12.90
Next is the Gojima chicken burger with a lusciously juicy yet crunchy chicken fillet with cheese, tomato, pickles, onions, soft lettuce but the key here is the miso sauce that goes so well with the chicken. It's intense and sweet and adds so much to give this burger its own distinct taste.
Gojima Mushroom Burger $12.90
Then I try the mushroom burger. And you know how sometimes vegetarian options are ok, some even good but burgers can be really hit and miss? I really enjoyed this burger and this was the first burger that was devoured. The mushroom katsu is pure umami goodness.
Gojima Stack $16.90
The Gojima stack burger is for the person that doesn't do things by halves. This is the double baby. But it's a double with a beef patty and a mushroom katsu patty (there is also a double beef patty burger available). The rest is the same as the cheeseburger and the only challenge is actually trying to fit this in your mouth without wearing it!
Salmon Miso Sushi Burger $14.90
I was slightly confused. There was a sushi menu which I thought was actual sushi but it's actually a list of three sushi burgers. The most popular is the salmon miso with Tasmanian salmon slices, cheese, lettuce, cucumber, radish, pickles, scallions and that fabulous Gojima miso sauce. This is another favourite and Mr NQN is a big fan of this. I wish we had tried the two others now (the spicy tuna and kingfish sweet mustard). He's such a fan that he happily agrees to revisiting in a couple of days.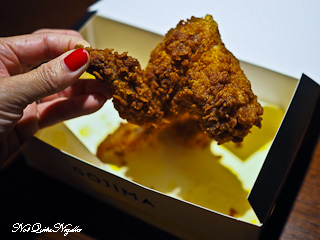 Fried Chicken $8.90
The fried chicken is dried for 24 hours before being coated with crunchy crumbs and deep fried. There's usually one wing and one drumstick in this Japanese style southern fried chicken but there are two wings in tonight's box. It's juicy on the inside and crunchy on the outside.
Fries $3.90
The fries are alas the only thing that we could find fault with. They're cold although the umami salt is very moreish. We could have easily asked for a new batch as they were checking to see how people's meals were but we didn't.
Frozen Custard 2 Scoops $6.90
Because you are ordering at the counter and taking a buzzer to your table you need to tell them when you want your dessert. They brought it to us when we had just started our burgers but we asked them to put it in the freezer for another 15 minutes. There are three frozen custard flavours: green tea, chocolate & miso and strawberries & cream. I ordered the last two as scoops of ice cream but you can also get them as a thickshake. The strawberries and cream is divine, just the freshest fruit and cream. The chocolate miso is actually subtle on the miso, just giving it a touch of saltiness and depth of flavour. If anything, it tastes like a malted chocolate like Milo.
Then we visit a couple of days later. We wanted to try the tuna and the kingfish burgers but they've sold out of kingfish. A couple of days ago they had to shut during the afternoon to restock as demand has been so high. We end up with a cheeseburger and a chicken burger as well as the tuna burger, fries and a green tea thickshake.
Spicy Tuna $14.90 (with chicken burger and cheeseburger on top)
The only one we hadn't tried before was the tuna burger which I actually like just as much as the salmon because it has that added level of spice. Although the filling is thinner than that of the meat burgers, it doesn't feel like there is too much rice. Apart from thin slices of raw yellowfin tuna there is American cheese, lettuce, cucumber, radish, pickles, scallions and Gojima spicy mayonnaise.
The fries again could be hotter (we're told the heat lamp isn't currently working) but the thickshake delivers everything that it promises. It's thick and I mean suck in hard because this baby is dense and is flavoured with a delicious and sweet matcha flavour to it. I wonder if Mr NQN will join me for another visit in another couple of days?!
So tell me Dear Reader, have you ever tried a rice burger and if so what did you think of them? Do you think you'd prefer the fish burgers or the meat or vegetarian burgers?
This meal was independently paid for.
Gojima
The Star, Café Court
80 Pyrmont St, Pyrmont NSW 2009
Monday to Thursday 11.30am-10.00pm
Friday and Saturday 11.30am-11.00pm
Sunday 11.30am-9.00pm
www.gojima.com/