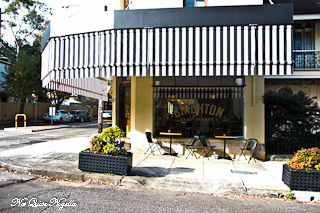 Technology and GPS's are great - that is until something goes wrong. And yes I totally know that both are first world problems - forgive me :). I am trying to get to know the Inner West of Sydney. So when Belinda suggested visiting Brighton the Corner in Petersham I was more than happy to make the drive. I put in the address in my car's GPS system and was on my way.
Arriving in Petersham, I pass two cafes on the corner but my GPS told me to keep going right. So I follow the voice before deciding that the public school is not in fact thre cafe that I am looking for so I head back. Roadworks mean that I circle the roundabout a few too many times and the couple sitting outside Brighton The Corner are staring at me, amused and smirking. I feel like I'm in a scene from National Lampoon's European Vacation.
Belinda is already waiting for me in the cafe. "I saw you doing the loop around the roundabout," she says smiling, stifling a laugh.
Brighton The Corner is placed on the corner of Brighton and Palace Streets and has a welcoming atmosphere with a banquette against one wall and a large share tables as well as tables on the outside (bonus entertainment: the couple totally making out while sharing the one chair). Chef Scott Duncan is formerly of Jah Bar in Manly and it was after the business was abruptly sold that he and business partner and barista Nigel Park opened up this cafe. They've also just received their liquor license and will soon open for dinner from Thursday to Saturday.
What would have to be the prettiest drinks are the house made sodas. The lemon thyme is aromatic with thyme and sweet with the tang of lemon while the blush pink watermelon and basil is stronger in watermelon than basil. It has us thinking of all sorts of party ideas.
The braised brisket is a lovely contrast in textures from a soft centreed poached egg, crispy edged smash potatoes, soft strands of braised beef brisket, crunchy tempura onion rings and a dark green mojo verde. This is Belinda's favourite and the spices used to add aroma and flavour remind us of Indian dishes.
There is a choice of three sandwiches and we initially go for the pork belly but that has just sold out. Instead I bow to my obsession with chicken sandwiches and order that - the other choice is a vegetarian sandwich. The chicken comes as large torn chunks of chicken with pieces of celery and mayonnaise on a fresh grainy loaf.
Oh how my heart beats for a crumpet and these are house made ones. Having made them I know what a labour of love these can be. These are slightly different to a crumpet in that they're a bit denser and they are also pan fried to a crisp and doused with Dulwich Hill honey butter. Scott tells us that the crumpets are something that have become a hit with customers and now he can't take them off the menu.
There are no desserts but hey isn't that what crumpets are for?
So tell me Dear Reader, do you use your GPS often?
This meal was independently paid for.
Brighton The Corner
49 Palace St, Petersham NSW 2049
Phone:(02) 9572 6097
Open 7am-4pm weekdays
8am-4pm weekends