Many Sydney siders have fond memories of times at the Hotel Palisade. Perched on top of the hill the Millers Point hotel has held a lofty position above the rest of Sydney. Behind the brick walls lies plenty of stories for the history buff but for the modern day admirer there are places to "play" from the spectacular Henry Deane cocktail lounge with sweeping harbour views to the beautifully decorated and renovated hotel suites.
I've always said that I'd love to live in the historical The Rocks area of Sydney. The streets and the original buildings give the clearest idea of what life used to be like in Sydney,
It was a work function at the Palisade that reminded me of this hotel. My eyes drank in the views of the water below, the Harbour Bridge, the construction showing that progress stops for no-one in Sydney. And the latter makes the juxtaposition of this 1915 hotel more pronounced.
The Palisade Hotel was originally designed by Irish Architect Henry Deane and its position on top of the hill saw it as the tallest building in Sydney at the time. It was used as a first and last port of call for Anzac soldiers before they boarded boats for Gallipoli. It closed in 2008 and in 2015 it underwent an internal refurbishment with new owner Richard Sapsford.
First the public bar opened, then the Henry Deane cocktail lounge. The last to open was the hotel rooms in December 2015. It followed an extensive renovation which saw the eight rooms refurbished by designer Sibella Court. The rooms were formerly a brothel and given the age it is said to be haunted by a few ghosts (but more on those later!).
Downstairs is the pub or public house that serves drinks and pub style food. This is also where hotel check in takes place (and there's also a cheeky "press for champagne" button - it doesn't work no matter how many times you click your heels together and wish for it to). I'm greeted by a very friendly staff who take my bag and shows me to my room.
The best sleep in the house is the Regi James suite. All suites are named after local personalities. This suite has a balcony and views of the harbour and is beautifully decked out-the blue and cream theme mirrors the water and sandstone buildings just beyond.
Click and drag for a 360 degree view
The bed is a queen bed. It is fairly comfortable but a bit bouncy. It faces a sunny lounge room with a sink, bar fridge and mini bar supplies.
Fresh roses sit in a bowl and it's tempting to either lie back for a nap while the sun shifts across the room. But then there's the outdoor terrace that offers a cool breeze with sweeping waterviews that also tempts.
Wifi is free and works at a decent pace and each room comes with a flatscreen television equipped with Netflix and a Marshall speaker. There's also a small bathroom with a shower (the bathroom window could do with a curtain though!). The room is also well lit at night, just a pull of the tasselled drop and the light comes on.
And amenities are very generous with a deluxe kit of L'Occitane products with everything except for hair conditioner here.
Being a boutique hotel there are a couple of things that the Palisade doesn't offer and that is room service and a breakfast in house (guests receive vouchers to nearby places for breakfast). There is no air conditioning due to heritage restrictions which doesn't bother me but it may be an issue for others. There is a Dyson fan though.
Click and drag for a 360 degree view
Anecdotally I have been told that the hotel can be noisy on Friday and Saturday nights. I stayed on a Thursday night and while the noise downstairs was fine with ear plugs the nearby dismantling of the Harbour Control Tower woke me up at 7:30am.
Crowd around for story time Dear Readers. I mentioned ghosts right? Well we didn't see any that night although we were told that the most common ghost is a man in a four piece suit and a top hat that is known to float between rooms and offices. But when the staff were chatting to me they casually mentioned another ghost. They call this woman the cashew ghost who is known to leave cashews all over the hotel. And I recalled something very, very peculiar when I checked into the room...
When I first walked into the room there was a single cashew on the bed and an empty bag of cashews in the sink. Given that the room was spotlessly clean I couldn't fathom how housekeeping could have overlooked that at all.
The errant cashew is apparently a frequent report of hotel guests and I am the second person that week to find a random cashew in my room. Sometimes the ghost leaves the cashew on the stairs or at strange places. So it's either a ghost or a mischievous staff member (I'm hoping for the ghost theory because that's more intriguing).
The jewel in the Hotel Palisade's crown is the award winning fourth floor Henry Deane cocktail lounge where the young and beautiful flock. This is a very popular place but you can book tables at lunch to nibble on bar food and drinks and enjoy the view but at night it can be hard to nab a table.
Some sections such as the "Flying Fox" area with Pyrmont views seats 10 and can be booked with a minimum spend. There are also areas like the Push Room, Dining Chamber and the Linnean Room that can be booked out.
Click and drag for a 360 degree view
We start with some cocktails-the Coconut and Pandan Daiquiri offers a salty tangy lime kick at first before giving way to the smooth flavour of pandanus leaf. Greg's Grog served in a tiki mug is made with Appleton Signature, Havana 3 year, black pepper, passionfruit, pineapple, lime and bitters. And you cannot go wrong with an Aperol Spritz in a shade of orange to rival the sunset.
The food takes a little time to come out. The crab sandwiches on soft, sweet milk buns are divine with plenty of seasoned crab inside.
The tuna tataki is another favourite item with seared sesame tuna slices, dashi jelly, wasabi aioli and microherbs. I instantly want another.
The lamb cutlets are ideal for sharing, each juicy cutlet coated in what the menu says is "something saucy". I'm not sure if that means that the sauce changes regularly but this evening it comes with a salsa rossa, a delicious capsicum and tomato based sauce. And don't worry, use your fingers to nibble on the lamb chop bone because everyone's too busy watching the view to notice.
Downstairs at the public bar is where you find more hearty serves and more traditional pub grub done well. The chicken and leek pie is served on a bed of mash with gravy and topped with peas. There's chicken, leek and potato inside and provides a hearty, tasty meal.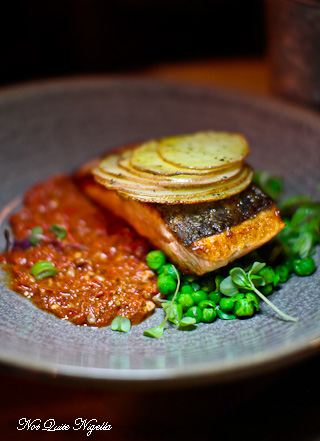 The salmon fillet is the fish of the day. It's luscious and has some of the same salsa rossa on it as well as slices of potato. We're too full by now to even contemplate the donuts (and then there's the sago coconut dessert upstairs that sounds amazing too).
We retire upstairs to our suite - if you're a light sleeper you're best to bring earplugs because the bar upstairs officially closes at midnight or 10pm on Sundays. Or if you can't beat them, then best to join them. And leave a cashew behind.
So tell me Dear Reader, who do you think is behind the cashews? A ghost or a staff member? Do you eat nibble on the last of the lamb chops with your hands?
Hotel Palisade
35 Bettington St, Millers Point NSW 2000
Phone: (02) 9018 0123
www.hotelpalisade.com/