It was a once in a lifetime opportunity to climb the Harbour Bridge during Sydney's Vivid Festival. And there was an added sweetener, I'd be able to bring my camera up to take photos and videos! Take a look at the view during the Vivid Climb and see where else you can get a sublime view of Vivid from!
Dear Reader, I have a fear of heights. I once went on a bushwalk in the Blue Mountains and burst into tears when I was faced with an enormous set of stairs I had to scale. But given the incredible opportunity at hand, I decided that now was the time to tackle my fear of heights.
It's something that BridgeClimb Sydney are aware of as 1 in 20 people are concerned with heights. They also have some tips to help people overcome pre-climb nerves. Since the Bridge Climb started in 1998, they've had 3.9 million climbers to the summit of the Sydney Harbour Bridge with a 100% safety record. Famous climbers include Hugh Jackman, Heidi Klum, Ben Stiller and Jamie Oliver among many, many others.
The whole process starts with suiting up. The all in one suits are designed to cover your entire body except for the your hands, feet and head. The grey of the suit is designed to blend into the steel arches to minimise distraction for the 200,000 cars that drive across the Harbour Bridge daily.
The key is also to prevent anything from falling down onto the traffic below which could cause an accident and items like glasses are attached to the climber using clips. You keep on all your clothes except for your coat or jacket which you put in a locker. Small earrings and rings are fine butlarger pieces of jewellery and watches need to be removed.
You then don a belt and head torch as you are tethered to the bridge for the entire walk. There is also the option to get a fleece jumper, beanie and handkerchief and these are all clipped to your body and easily accessible.
"Don't look down, don't look down," I say to myself repeatedly. The entire climb is 1,300 steps to ascend 134 metres to the summit. We are lucky enough to be able to bring our cameras on the climb to capture these pictures of Vivid and nothing is going to deter me.
There are three guides for our group of seven and we stop at several spots on the way to get photos and video. There are some areas where you can see below but the fact that I'm tethered to the bridge the entire time gives me comfort and I'm fine with the heights. Once we reach the summit we watch the light show below. It's surprisingly warm in the fleeces and there's just a mild level of wind and not a drop of rain-an ideal night for it. We watch little boats and enormous ferries make their way across the harbour. One boat beams with a neon "I love Sydney" sign. It's a breathtaking view and one that everyone savours.
Also at the summit is a neon dancefloor that was set up just for the Vivid festival. Dance tunes play high up in the air. It's all a bit surreal and by the end we will have spent 3 hours on the bridge drinking in the views. And yet it only feels like an hour.
There are many other places to watch the Vivid lights from and one place for Vivid with a view (although not as spectacular as the bridge) is at the nearby Glenmore Hotel, just up the road from the Bridge Climb so you can go after you've worked up an appetite with your climb.
We head up all the way to the rooftop bar. It is a very popular place especially during Vivid but on a Wednesday night we were easily able to find a table for three. Mr NQN goes downstairs to the middle bar to buy a teapot of Mulled Cider which is perfect for he, Ivy and I to sip on and we warm up next to the heaters.
Mulled Cider $32
We order food at the bar - unfortunately they mixed up our order and the bartender came over and blamed us for being unclear (Ivy wanted to point out that her job is to communicate with others and to be very clear about instructions) but he turned on his heel after telling us off. This left a sour taste in our mouths (especially when it was his mistake).
Tempura Prawn Tacos $16
The food arrives remarkably quickly. My favourite food of the night were the tempura prawn tacos that come four to a serve. They're paired with pineapple salsa, iceberg lettuce, chilli mayo, chilli, coriander & lime. The tempura prawns remain super crunchy and I could easily eat a few of these.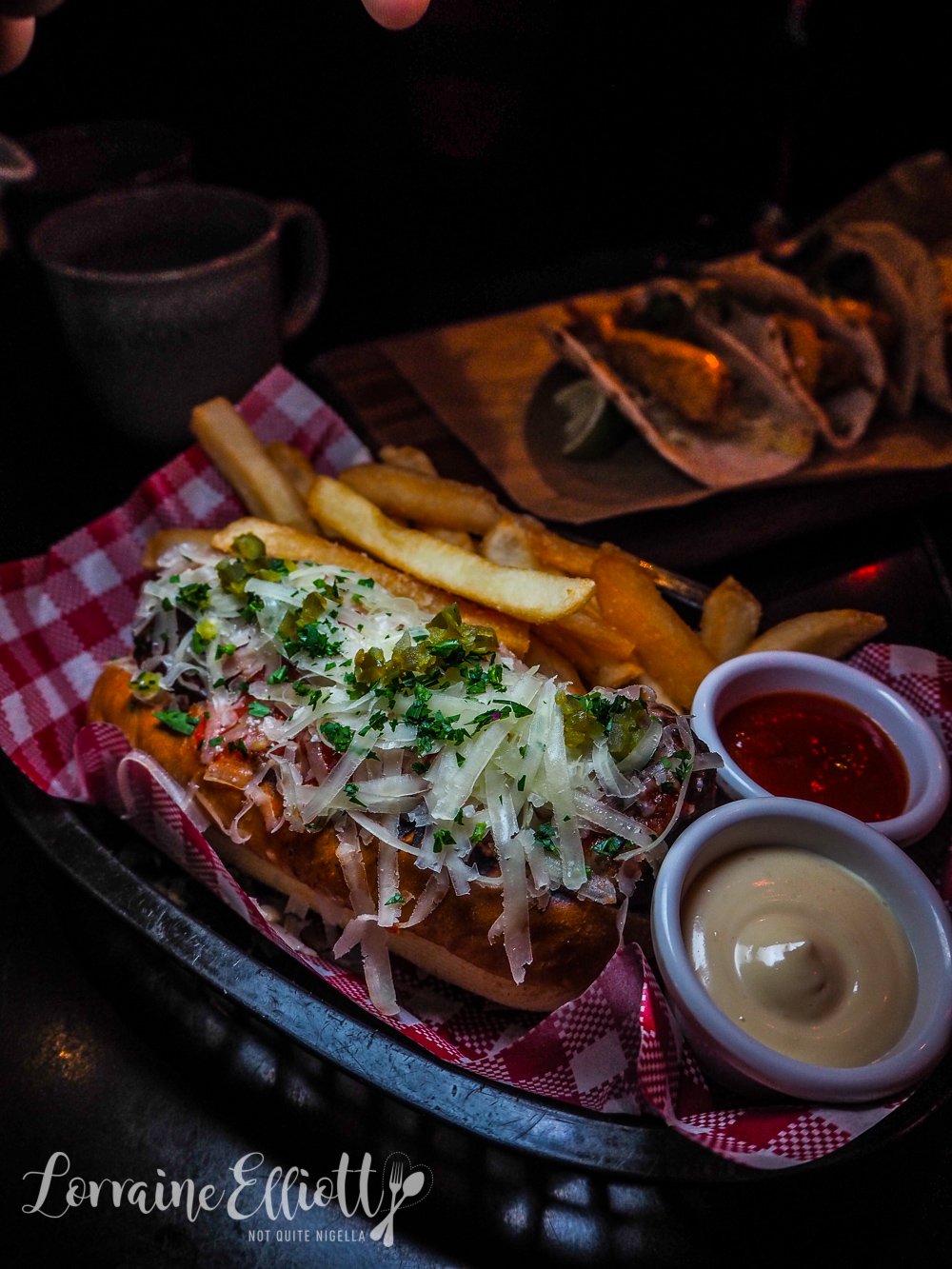 Meat Ball Sub $20
The meatball sub is a soft bun filled with Angus beef meat balls, grated manchego cheese, jalapeño, parsley and a tomato marinara sauce on top. It is nice enough but needing some seasoning. I do love that it comes with great fries though and we asked for tomato sauce and mayo on the side for the fries.
Chicken Parmi $25
I always feel like a classic parmi should be ordered at a pub (or at least a schnitzel). This one comes topped with a chunky tomato sauce, double smoked ham, cheese with coleslaw and chips. It needs a bit of seasoning but it's enormous and filling. I mostly help myself to the chips on the plate.
So tell me Dear Reader, have you seen Vivid? Are you afraid of heights? And would you ever return to a place after you have a negative situation with staff?
View from The Glenmore Hotel
NQN and Mr NQN did the BridgeClimb as their guest. The meal at the Glenmore Hotel was independently paid for.
BridgeClimb
3 Cumberland St, The Rocks NSW 2000
bridgeclimb.com/
The Glenmore Hotel
96 Cumberland St, The Rocks NSW 2000
theglenmore.com.au/