What happens when two ex Noma sous chefs open up their own restaurant in Copenhagen? Chefs Samuel Nutter and Victor Wågman found themselves going from the extravagantly decked out Noma kitchen where cost is no object to one in which they have to count the pennies themselves. The change reflects itself in the menu with some rather surprising and (for some) challenging offerings. Victor says, "We try to make interesting servings with odd pieces."
Victor Wågman
Bror, meaning "brother" is located on Sankt Peders Straede just a few doors down from our Hotel SP34 in Copenhagen's Latin Quarter. For the past few days we had walked past it doing a low and slow. With a Bib Gourmand in the Michelin guide (which denotes a restaurant with exceptional good food at moderate prices) it is dubbed the little brother to Noma. The plates and chairs are mismatched vintage pieces reflecting the duo's first venture outside the lush budgets of Noma.
Victor greets us at the door of the small two level restaurant. We are having a few appetisers here and then moving on to a degustation at their new restaurant Ante just around the corner. There was a rumour that we were having something that might be challenging to some people. Namely the menfolk.
Bull's testicles
We take a seat and they bring us wine and our first snack. It's bull's testicles. They look remarkably unconfronting though - like a mini schnitzel. To the side is a serve of tartare. So how do bull's testicles taste? Well they're delicious. Like a very tender and juicy crumbed chicken schnitzel.
Bull's penis chips
They're not done with us yet though and some of the male writers get increasingly uncomfortable at the next item. "Crispy dicks" are literally a bag of dicks of bull's penis. Here they try and use up every item of the beast to push the krone as far as it will go. The bull's penis has been brined, boiled, peeled, frozen, ballotined, sliced and deep fried. The dick chips are light and crunchy and served with a wild garlic creme fraiche. And you know what? They're also very good and I'd happily eat both again with gusto.
Danish peas
The third appetiser comes from a less offal section of the food pyramid. It's Danish peas with fried rye bread and frozen herb granita. It's refreshing and the peas' sweetness is highlighted by the granita.
We head around the corner to our next place: Ante named so because they wanted to up the ante on what they were doing. The restaurant is subtly signposted with no signage apart from a number "1". It's located literally next to Cocks and Cows (seems to be a theme tonight!).
The 18 seater restaurant is a small square area that is very dark and cloaked by heavy curtains. All diners must arrive at 7pm as the courses are served to everyone at the same time. This is to ease the pressure on the kitchen but also because the music is timed specially to coincide with the dishes.
Ahh the music. Well it defines eclectic. It swings from wolves howling and forest noises to the Terminator soundtrack to 80's music like Roxette "it must have been love" and Toni Braxton's "unbreak my heart" in acapella.
Sweet, salty, acidic, bitter
There is also an option of wine pairing or a juice pairing. The first course comes out and it is a four parter to get the taste buds going in every direction. Each bite from left to right comes on a powder which is more for stability but is edible and goes from sweet, salty, acidic and bitter. The sweet is a buttered new potato with milk powder, mint, preserved dead-nettles on nettle powder that is quite dry and powdery.
My favourite is the next portion: the salty which is oyster, beach herbs (which can vary depending on what the kitchen forages) atop seaweed powder. The third is the acidic consisting of green strawberry, crème fraiche, dried green strawberry on strawberry powder and the fourth is bitter made up of rye cracker, dried cod roe, woodruff emulsion, onion cress on rye.
The next item is for the sixth sense of taste: umami. This is a small round of grilled baby kohlrabi with a mushroom glaze that reminds us of Vegemite and other salty, umami spreads.
Onion
Up until now I hadn't really noticed the music but as they are explaining the next dish I hear...wolves? They bring us a plate of onions, dried onion shells, spring onion, burnt onions and birch leaves. We are to take a herb and cheese breadstick to ladle out the contents of the onion skins on top while the rest are for decoration. And this is a beauty. The onions have been caramelised for five hours and topped with Swedish Präst ost (a classic hard Swedish cheese). It's like a French onion soup concentrated into one small round of gooey, cheesy sweet onion flavour. And I would like a plate of 10 of these please as it is pure pleasure. I love onions and they're such an underrated vegetable.
Peas
The peas are a clean break from the cheesy intensity of the soup above. They're wonderfully sweet and not at all floury in texture as some fresh peas can be. They are served in a ramson 'pod', with pea shoots and a pea, lemon verbena kombucha and ramson sauce. This is also another favourite dish of mine with its subtle flavour and sweet delicacy.
Asparagus tips
It is white asparagus season and these asparagus have a wonderful texture to them with just the right amount of bite. They're coated in a sauce made of salted, cured and dried cod roe combined with mayonnaise and sprinkled with green asparagus powder.
Asparagus Tetris
This is a very cute dish called "Asparagus Tetris". There are two parts to this. Raw asparagus is sliced into different lengths and you take the metal toothpick to pick it up. It comes with a bowl of a slow cooked egg yolk, pine shoots, rye crumbs, diced shallots and Spanish chervil that you stir together with the spoon and you dip the asparagus into the creamy egg and eat. It's crunchy, fresh as well as creamy.
Crab and dill bouillon
But they're not done with this course as the luscious thick yolk sauce still remains in the bowl. To use up every last bit of this they give us a warm stone crab and dill bouillon. It's wonderfully full flavoured with the essence and sweetness of crab highlighted with dill.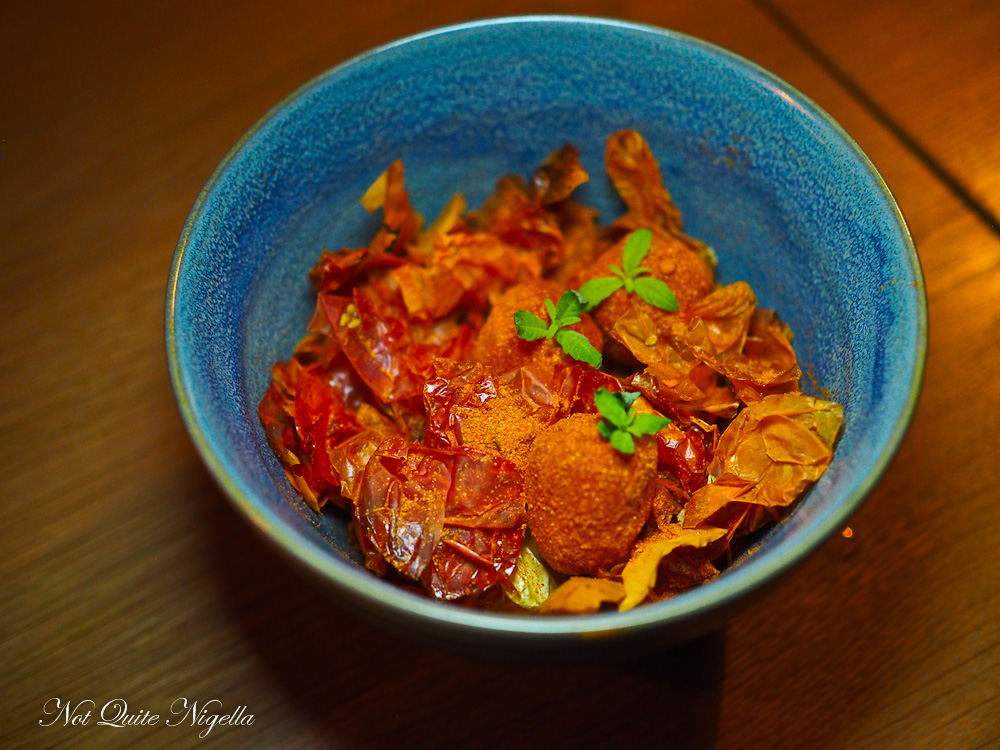 Tomatoes
The tomato season in Denmark is very short due to the colder climate but what grows is very sweet because of the cooler weather. These cherry tomatoes are semi dried and hollowed out and then filled with lemon verbena emulsion and then rolled in an intensely flavoured tomato skin powder. I love the intensity of sweetness with this one bite morsel hidden among the skins.
Bloodless Mary
The wine pairings have been superb with some exceptional matches but it's the cocktail that comes with dessert that has us swooning. It's a bloodless mary.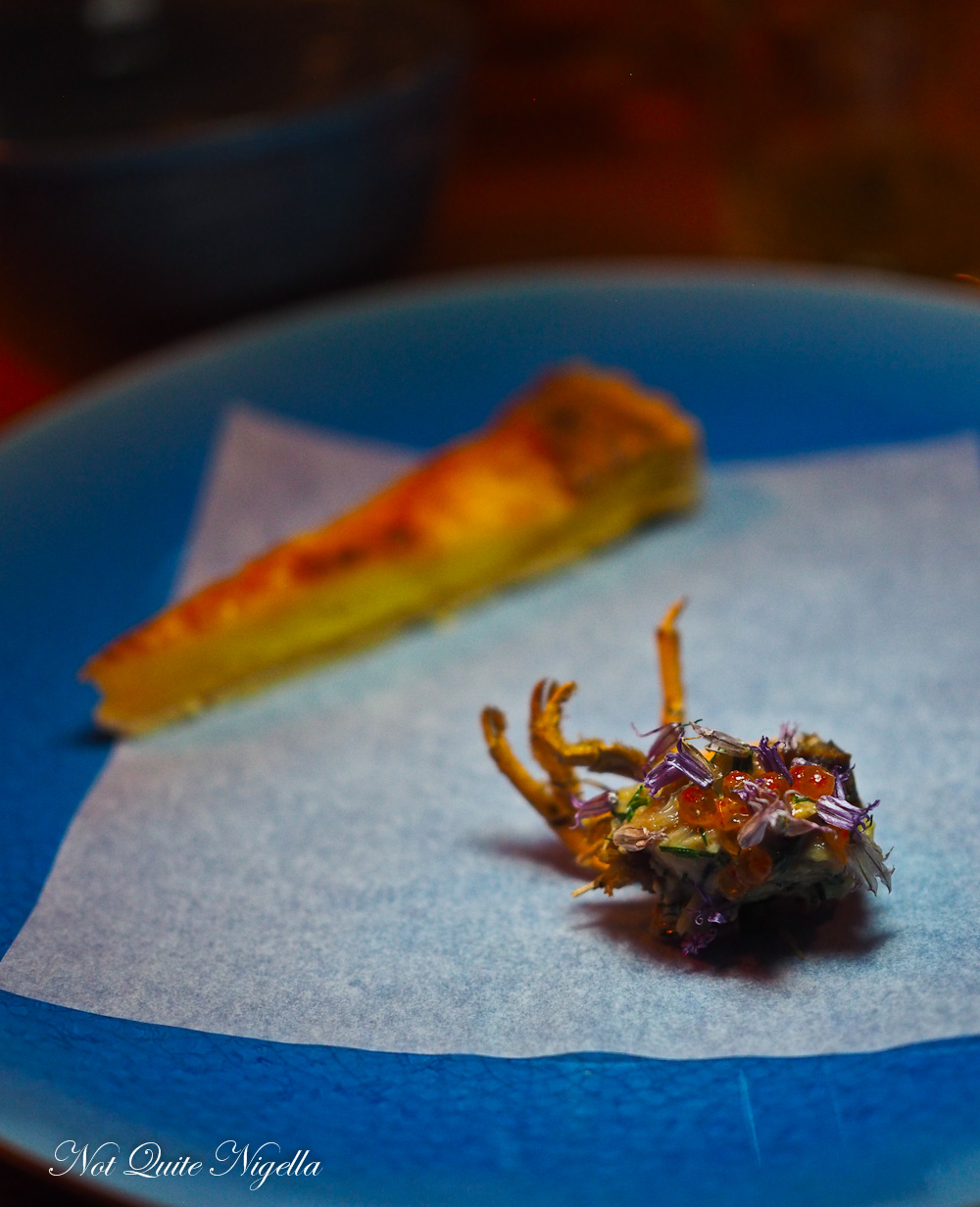 Crayfish party
With Sweden being so close (they're very close to Malmo) the Swedish crayfish party gets a look in but things are not exactly as they seem. It is a crayfish head an intense mixture of the tail meat, crème fraiche, dill and chive flowers. You can eat the whole crayfish head and then take alternate bites of the head and the cheese tart. It's rich and crunchy and fun to eat.
Mackerel Sperm Sandwich
A few days before I met a friendly guy in a restaurant who told me about the items on the menu at Ante and a talking point was this mackerel sperm sandwich. Here it is served on grilled sourdough bread with pan fried mackerel sperm with a paste made of mackerel liver, grilled beach mustard and beach horseradish. It has a slightly bitter aftertaste but the buttery sourdough is crunchy and it's definitely worth trying for the novelty factor. They explain that this idea came about when they received fish with sperm and they decided that it would be a waste to not use it.
Lobster Tail
The crayfish are actually made out of a lacquered sweet filo pastry glazed with lobster for flavour and beetroot for colour. Inside is a rich, intense filling of lobster claw and tail with an emulsion made with the lobster brains and sorrel. By now I'm getting very full and feel terribly sad that I can't finish every morsel of this.
Pork loin
The last savoury course is of course the national meat: pork. The pork loin is from the South of Sweden that has been hung for 2 weeks to intensify the flavour. They explain that much of Danish pork isn't free range so they use Swedish. It has been cooking on the barbecue since we arrived and is served very simply with chicken glaze and grated truffles. It is very light on truffle flavour but the pork is very succulent and savoury and we all enjoy it, especially the crunchy crackling on top.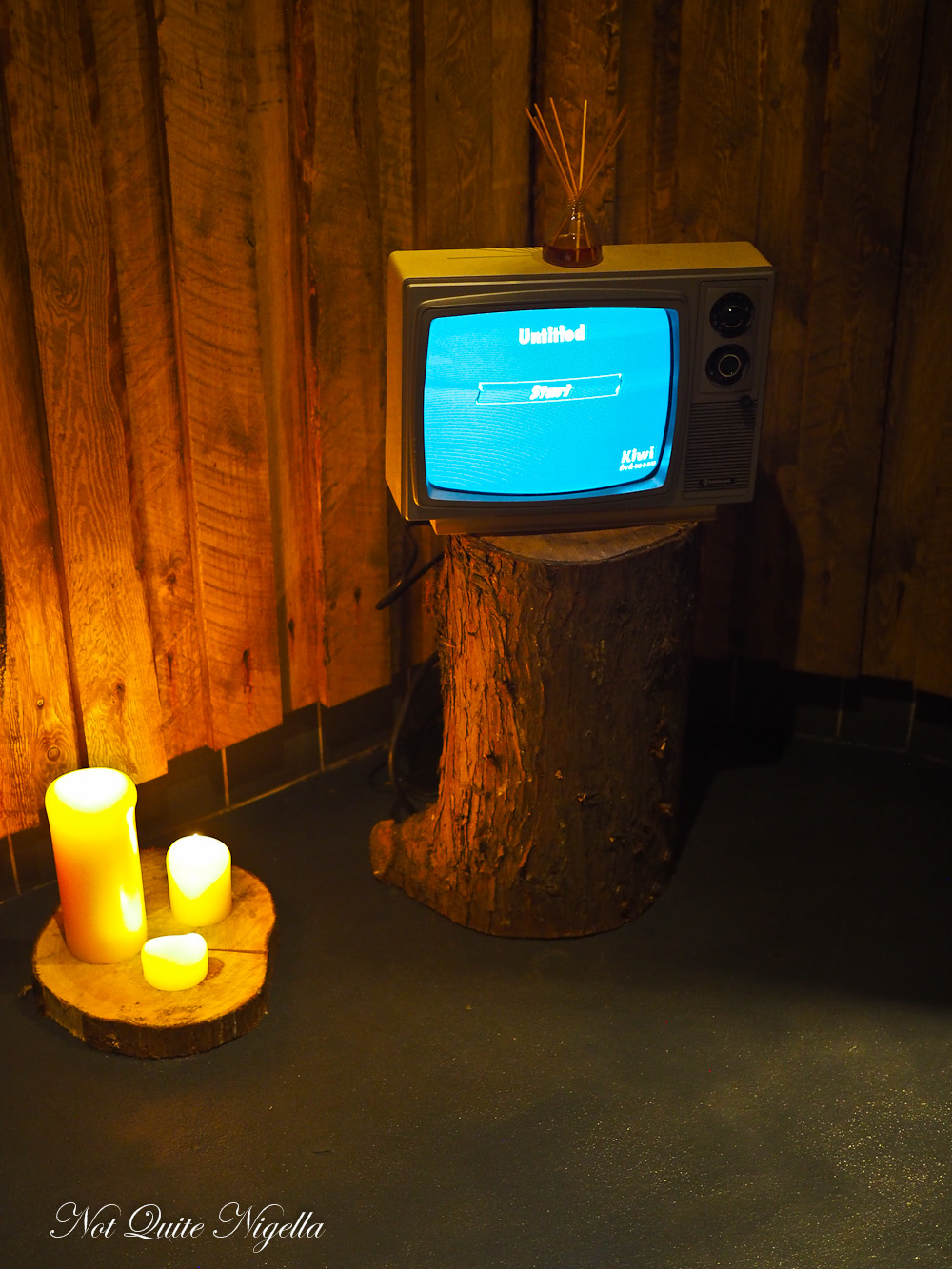 It's time for the desserts and the pace is good without much lagging at all. And a special mention must be made of the interesting bathroom (here's a quick peek).
Sheep yoghurt sorbet
The first dessert is a palate cleanser. It is a perfectly balanced number featuring a sheep's milk sorbet, a whey caramel and shavings of dried horseradish on top. And you know even though I've eaten so much I finish every drop. It's divine.
Grandma's strawberries
Danish often claim to have the best strawberries in the world and it may well be true. These Elsanta variety of strawberries are from Lolland Falster islands. They are served with Spanish chervil, cream, and tiny balls of Spanish chervil meringue and decorated with elderflower. And like the course before I can't stop but go back for seconds and thirds because this share course is superb. Light, refreshing and not heavy at all but full of natural flavours.
Brown cheese cookie
A cookie isn't just a cookie here. This one is made with brown cheese, whey and decorated with perfectly placed leaves of wood sorrel that are purple on one side and green on the other. These give the cookies a fresh flavour, much like grape skins.
Petit Fours
Coffee and tea is served-the tea available is a lemon verbena and is fragrant and uplifting. The first petit four is a seaweed cone filled with a kelp ice cream topped with kelp powder. It's actually not quite to my taste as I really think of seaweed for sushi (also eat it quickly as it will melt and drip).
In the corner they cook some fresh honey pancakes. These are served with a plate of crème fraiche, cloudberry jam and flowers. You use the hot, crispy pancake to pick up the sauces which have a pronounced tartness to them. Truthfully I preferred the crispy sweet pancake on its own but tasting cloudberries is quite a treat.
Our very last morsel is a marshmallow grilled on the bbq and served on a sprig of rosemary. The luscious fresh marshmallow collapses in the mouth and imparts a sweet finish to the evening.
So tell me Dear Reader, what did you think of these meals? Is it the sort of meal you would enjoy? And do you usually notice things like the music playing at a restaurant? And have you ever eaten a bull's penis before or would you?
NQN visited Copenhagen as a guest of Wonderful Copenhagen & Singapore Airlines.
Bror
Sankt Peders Stræde 24A, 1453 København, Denmark
Phone +45 32 17 59 99
Ante
Jarmers Pl. 1, 1551 København V, Denmark
Phone+45 32 20 49 00
http://www.bror-ante.dk/