I flick the magazine open and the words sprang out at me. Does that ever happen to you? Your eyes just catch a sentence that seems tailor made for you? I was on my way to Copenhagen and the words "Copenhagen was voted the most charming city". Now that's a big claim. Plenty of cities have their own charm. And besides, aren't Danes like most Scandis? A bit reserved?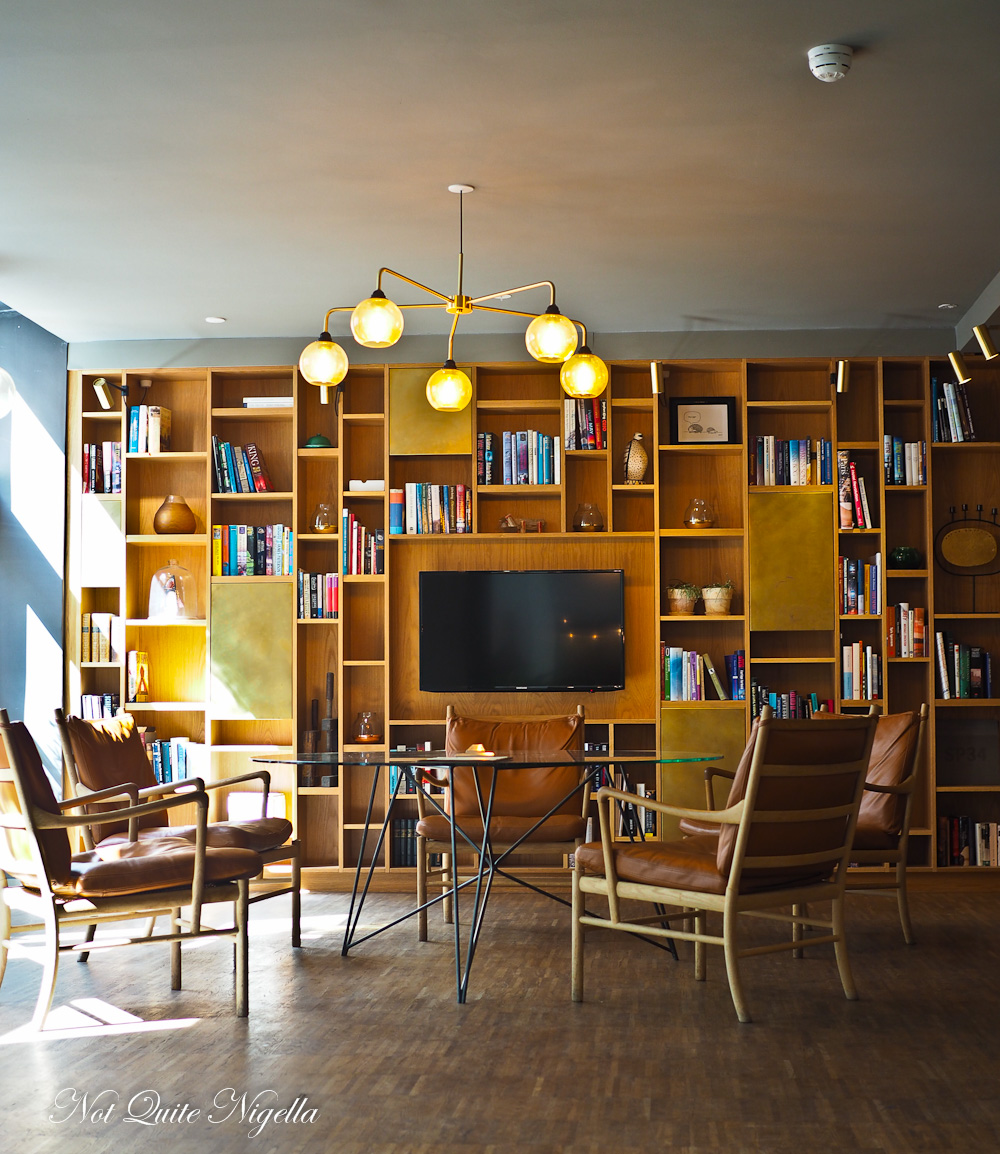 The 6am arrival at Copenhagen airport is one where I peel my eyelids open. They're steadfastly closed having crossed time zones and everything feels a bit surreal. And by 8am I arrive at the hotel, SP34 in the Latin Quarter just a hundred metres away from the action. Understandably my room isn't ready so I get some recommendations from the very helpful staff at the hotel and make my way out to explore Copenhagen. The Latin Quarter is so named because until the late 1700s people used to study Latin at Copenhagen university and it wasn't until then that Danish was used.
Since it's 8am on a Saturday things are pretty quiet but just a few doors down from the hotel is a bakery on Sankt Peders Stræde called Sankt Peders Bageri. There is the familiar kringle emblem denoting a bakery shows and I watch as they slide trays of hot baked goods in the window display filling it up with golden delights.
I have a laundry list of things I have to order: the spandauer, our friend Viggo's favourite and a Frosnapper, which is seed pastry. And on Wednesdays they're known for their enormous cinnamon scrolls. There are usually several types of flavours and types but these gargantuan ones only retail on Wednesdays and they sell 4,000.
When I go to pay they tell me that they don't take foreign credit cards (they'll be the exception and everywhere else is very card friendly). I ask about where the nearest cash machine is but before they can tell me I get a gentle tap on my shoulder. A man says, "Don't worry I'll pay for your pastries. Consider it a welcome to Copenhagen," he says kindly.
When I try to decline he won't have it. "Have a wonderful time in Denmark," he says to me as he departs. Ahh this is what they mean by the most charming city! And that's another myth smashed because Danes are very friendly and outgoing (okay compared to the lovely but shy Finns and I haven't been to Sweden, Norway or Iceland yet). When I look confused when reading a map people come up to me and help me out.
The pastries are buttery, warm and layered. The Spandauer has a thick wodge of icing and almond vanilla custard in the centre-it's very sweet, perhaps a bit too sweet for me but if you love icing this baby is for you. The Frospanner also has a laminated butter pastry and is twisted and dusted with poppyseeds. Frø is the Danish word for seed and there are poppy and sesame seeds. They're moreish and the aroma of cinnamon, baking and the warmth inside makes you want to stay. And I also went back on Wednesday to try the enormous onsdagssnegle or Wednesday cinnamon scroll for just 15KR or $3AUD.
One thing really surprised me when walking around Copenhagen. It was the number of Australian accents I'd hear around me. They weren't just tourists though. They were people that lived and worked in Denmark. And ever since Mary Donaldson married a man called Frederick and became Princess Mary, there has been a greater link between the two countries ever since.
Just nearby is Church of Our Lady or Copenhagen Cathedral, where Prince Frederick and Princess Mary were married. Most of Denmark converted to Lutheran religion in 1536. It has a minimalist aesthetic to it and the clean lines inform the Danish design philosophy. All of Scandinavian countries are strongly Lutheran so they developed similar design philosophies.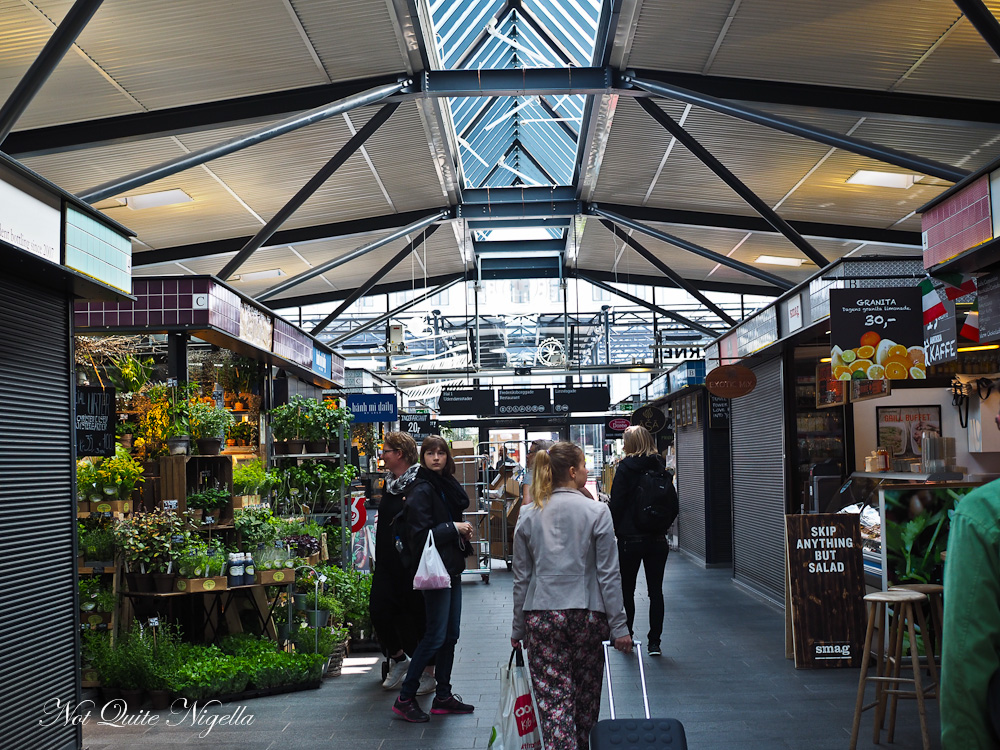 But there's a lot to explore in this city and following my map I head towards Torvehallerne, one of the must stops for a food enthusiast. There are two enclosed glass buildings plus an outdoor area for flower and produce vendors. There is food from all around the world and fresh produce to buy.
Because of the lack of sleep on the flight I'm headed straight for what is said to be Copenhagen's best coffee vendor Coffee Collective. They have three branches in Copenhagen and one of them is at the Ahlefeldtsgade end of the market. The coffee menu is short and sweet and there's a range of pourover coffees and an emphasis on iced coffees. Although ironically at the time that I was there which was summer, the temperature is the same as winter in Sydney!
I opt for a cappuccino and it comes after a short wait-there's often a long queue for coffees and people can drink them at the bar. A lille (or little) cappucino is 32KR or almost $7AUD but it is a great coffee.
Sipping the last of the coffee slowly I take a look at Xocolatl a chocolate shop that makes all of its chocolates in Denmark. There are flavours like salted caramel, mango, sesame and passionfruit & coconut but also Nordic liqueurs and licorice features in some of these. There are large and miniature frogs as well as individual chocolates. I buy some individual ones for my aunt while I buy Viggo some frogs that I think he'll like. They're filled with stout and chilli, citron stout and smoked beer.
I exit the first hall out onto the the outdoor area. I stop by the market's only asparagus stall and have a chat with Kim the owner. She offers me some asparagus to eat and it's crisp and delicious. Her selection of asparagus is enormous and I've never seen white asparagus that fat before. She lifts up one stalk that is over an inch in diameter and explains that these asparagus are supposed to grow this large so they do so without turning woody. She also displays asparagus roots so people who are curious can see what they look like.
I wander around the streets trying to make sense of the names to no avail. There's plenty of gade and straede and I get royally lost at one stage. But I am lucky enough to make it in time for my booking at Restaurant Schonnemann, said to be one of the best places for Smorrebrod in Copenhagen and recommended by Viggo's Danish friend Simon. The menu is mostly made up of Smorrebrod or open sandwiches topped with a variety of meats, seafood and salad all on a slice of rye bread. It's an elegant restaurant and very busy and it's almost impossible to get a table without a booking. Luckily the very helpful Anne-Sophie from the hotel SP34 made a booking for me that morning.
They've got an option for those that want to try the most typically Danish smorrebrod and it's a selection of three mini sized smorrebrod. Except you know what? They're not mini sized at all, they're quite substantial and good value at three for 198KR or $40AUD. Service is absolutely lovely here and even though I'm dining alone I'm not made to feel weird at all. In fact there are other solo diners here including one gentlemen who I have a nice chat to who is eating his way around Copenhagen.
The sandwiches arrive and they are much bigger than I expected. You are supposed to eat the marinated white herring one first. This is served with onions, capers and a curry salad and it is delightful. I do love herring and other fishy fish so I really like this, especially with the mild and creamy curry, onions and dill. It is meant to be eaten with a schnapps and they have what they believe is Denmark's largest schnapps menu at over 100 varieties.
The second sandwich is a fried plaice fillet with mayonnaise, Greenland shrimps that are boiled at sea and freshly peeled and lemon. The waiter tells me that all Danes grew up on this and it's wonderful especially when you squeeze a bit of lemon on top. I love the crunchy fish crumb, the rye bread underneath, the sweet shrimp and mayonnaise.
The last sandwich is a roast beef with remoulade, grated fresh horseradish and crispy onions. It too is delicious and I can see why they put these three on a plate together. It's the best of all worlds really.
At Restaurant Palaegade on Paladegade (or Palace Street near Amalienborg Palace) they serve herring in two ways: fried and curried. For larger tables they are given a selection of house made rye bread and spreads and toppings that they can help themselves to including 3 minute soft yolked eggs, lard, capers, caper berries, ransoms garlic and samphire.
Herring smorrebrod
Hummertatar med aeg frit, logmayonnaise 170KR/$34AUD
But if you're looking for something special their house specialty is a tartar of langoustine with a crispy soft centered egg and cress garnished with fronds of Spanish chervil. It's luscious and rich and decadent. The creamy centered egg is so rich against the crunchy rye toast.
It's the afternoon and I can check into my room at SP34. There are three levels and the lobby area is interesting with plenty of black and white photos of Danish celebrities. Check in is at the bar and when you turn right when you walk through the door. I go upstairs to my room #226.
The room is pretty basic and small but with a clean design in a very unusual shape. I quite like clean design but only if there is a lot of functionality. There is only one desk power plug, only one bin, no fridge, no places to put beauty products but there is a safe (but this can slide out so it's really a lock box). And a kettle to make instant coffee and tea. But the bed is quite comfortable and the bathroom has a heated floor.
The bathroom is relatively spacious and has a large shower basin and curtain and sink with Ren products (although these are just basic: soap, body gel, shampoo 2in1 and a body lotion). The shower water pressure is low and water from the shower disperses all over the floor and there is no shelf in the shower to put the products and nowhere to let your towels dry out properly. There is fast and free internet though and there is a happy hour in the bar from 5-6pm. Hotels in Copenhagen aren't cheap and this is about $500AUD a night.
The location however is excellent and the service level is very high and the common areas are very striking. I have to say that Anne-Sophie during check in and every time I saw her was a standout spending lots of time with me recommending me lots of great places to eat out at (and they were all solid recommendations) and making bookings for me.
Danish people love being outdoors in summer-even a water temperature of 15-17C which would normally frighten off an Aussie has them taking dips into the harbour. They also love sitting outdoors on deck chairs enjoying the water views. On a sunny day one of the nicest ways to see Copenhagen is on one of the boats-but we're not talking the canal boat cruises where you are travelling up and down canals with a large group of tourists. Go Boat is a boating company that has "picnic boats" for rental. These seat up to 12 people and you steer the boat yourself up and down the harbour. It's a fantastic idea and people can bring food and drink along or they also sell drinks.
The boats themselves are solar powered using solar panels on the roof of the main building and the boats are made from recycled bottles. In the next build of boats they will be made out of recycled windmills. Blankets are provided as it does get quite windy but we traverse down the smaller canals and watch the blissful life of people who live by the water. One man lies back on a hammock on his boat while other people kayak and stop on the banks to chat or work on their computers. While the sun is out people are making the most of it.
One of the stops with Cycling Copenhagen-these are apartments!
Another way to familiarise yourself with Copenhagen's many neighbourhoods is with Cycling Copenhagen. They will take you to the major spots and point out history or architectural highlights. Cycling in Copenhagen is easy with very wide bike paths and a seemingly cooperative attitude between cyclists, pedestrians and cars. Car drivers are not aggressive nor are the cyclists going to mow you down. Copenhagen is also flat with a maximum height of just 28 metres so it is ideal for cycling. They tell us that 55% of Danes ride their bike every day.
During the tour Cycling Copenhagen's Christian shows us neighbourhoods like Vesterbro, the Meatpacking district, the canals and Christianshavn. One neighbourhood that I had heard so much about was Christiania, also dubbed "Freetown". This 34 hectare area on the island of Amager just South East of the city centre is fascinating and the subject of much interest from tourists.
It's a self governed and self proclaimed autonomous area that was first squatted by hippies in the 1970s. Their colourful paintings and lifestyle are prominently displayed but it is not without controversy. Although cannabis is illegal in Denmark (you can have 50g/1.7ozs. on you but you can't buy or sell it, make of that what you will), Christiania is where you can buy cannabis on their Green Light District or "Pusher Street". The Christiania area has been the subject of recent police raids so the atmosphere was quite tense there.
The Pusher Street rules are: Have fun, don't run and no photos and the last point is one of their strictest rules. Sellers wear scarves over the bottom halves of their faces to conceal their identity because selling is illegal. It's quite surreal.
The Christiania bikes that are famous all over Copenhagen
Nevertheless it is a very popular place to visit for tourists providing you follow these rules. There are plenty of restaurants and the atmosphere outside the pusher street is good. And there is nowhere else in the world where you get this mixture of hippies and the motives of the sellers on pusher street.
Christian leaves our tour at Paper Island for Copenhagen Street Food, one of the most popular places for Danes to spend their time having lunch. Named after its former life as a paper storage warehouse they have transformed it into a vibrant hub for street food, a concept that is progressively growing.
Open in April 2014 it now houses a range of street food from all over the globe and is one of the top attractions for visitors to Copenhagen. It was inspired by Dan Husted's visit one year to Burning Man and come December 2017 the stalls at Paper Island will be torn down, without a trace and they will relocate to different premises.
But for now we are in search of lunch. We take our spoils outside where the seating all made using recycled and upcycled shipping containers and benches. There are duck fat chips from Copper and Wheat for 45KR/$9AUD. These are a slender cone of crunchy fries with a horseradish aioli. And then there's the Polse Kompagniet (polse is Danish for sausage). There are four items for sale including one side of vegetables.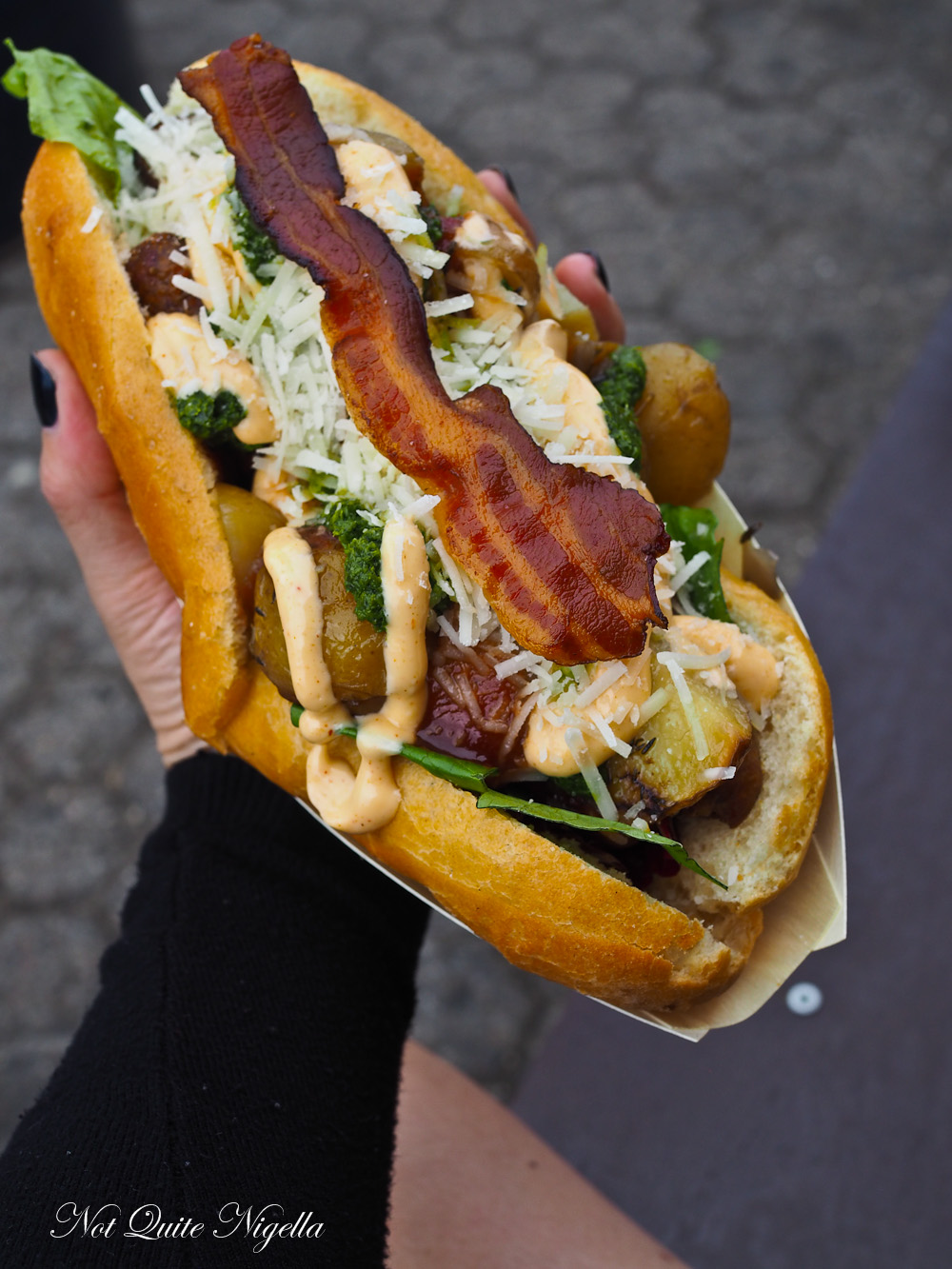 I go for the most enormous one, the super street food super dog. In the organic bread roll are two sausages-their sausages are made of meat and spices only. There's also red cabbage, cos lettuce, roasted potatoes, carrots, onions, spicy mayo, parsley pesto and Caribbean Sauce. I added potatoes and bacon on top at an extra cost. And even if it doesn't come cheap (this hot dog is around $25AUD) it's pretty magnificent and blow me over if it isn't one of the best hot dogs I've ever had. We also get a fantastic toasted sandwich from Toast filled with pork roast, red cabbage for 75KR/$15AUD.
And just for good measure, if you want something utterly insane then you need to head off to Fisch Art and join the queue for a burger. Now there are several kinds to choose from and they're the opposite of diet food. The biggest is the Overlord that is like a surf and turf on steroids. I'll be honest the bun isn't great, it's toasted and hard but the inside is a mad combo with whisky onions, scallops, prawns and a beef patty, bacon and triple cheese cream. It also comes with a side order of sweet potato fries. I preferred the hot dog over the burger but for sheer gluttony this has to win some sort of prize.
There are a range of sweet stalls but after how much we had eaten the only thing appealed was an ice cream from Hansen's. Danes love licorice but if you aren't as much of a licorice lover then you should try it with raspberry gelato-the two go beautifully together.
If the crowds get too much then I've got a little secret for you. Retreat into the Silver Streak Coffee Club's pistachio green painted caravan there are two seats and a table for you to hide away in.
Back in the main part of town, if you want something a bit sweeter then La Glace on Skoubigade just off Vestergade is one of Copenhagen's most well regarded cake shops. Founded in 1870 by a man who passed away after 6 years it was taken over by his wife and since then has been primarily managed and owned by women. Owner Marianne Stagetorn Kolos tells us about her "cake palace" and the cakes that feature there.
The most famous is the Sportscake named after a play called Sportsmaend, a political anti government play that was supposed to be played at the Royal Theatre (the cake has nothing to do with sports). This is also the runaway best seller cake and has been on the menu for 125 years with the same basic recipe with crushed nougat in whipped cream and a macaroon base. It is decorated with caramelised choux balls. It's very sweet and light, and mostly like whipped cream.
Many of these cakes have a very light consistency from the apple cake, HC Anderson and the Karen Blixen. The cake named after the Danish author is a chocolate sponge, mocha truffle and roasted hazelnuts and coffee mousse as she owned a coffee farm in Africa. My favourite two cakes are the HC Hat with caramel mousse, lemon caramel ganache and chocolate layers as well as the Blaebaer Genskaer which is a blueberry mousse, chocolate with licorice, currant jelly, chocolate almond base with fresh blueberries and a macaron on top. Even for someone like me that is just developing a like for licorice this is subtle enough and well balanced.
You can also try plenty of sweets at Torvehallern markets. There are seven kinds of Danish cinnamon buns at Laura bakery and I have a tough time choosing but we go with the classic cinnabun for 25KR/$5AUD. For good measure we also try a Fragilite for 40KR/$8AUD a multi layered raspberry cake layered with tiny white chocolate pellets-yep that is actual white chocolate not a mousse so it's a sweet but lovely number. And to finish there is a Hindbær snitte 25KR/$5AUD, a raspberry biscuit slice with almond biscuit layered with raspberry jam and icing. Hindbær means berries in Danish and snitte meaning cutting referencing that the biscuit is made as one large tray and is sliced up. It is the Danish version of the Alexander Torte.
And then it's a stroll through a quieter residential area on Rosengade (rose street). There are rose lined avenues and confectionery box coloured houses. Bikes are parked outside-they're not a hipster affectation, they're the most popular mode of transport in Copenhagen and bike lanes are everywhere.
The Nyboder area is a fascinating area to come upon. I feel like rubbing my eyes to rid them of jetlag when I see the perfectly proportioned yellow orange houses all lined up. This area was formerly the housing for the Danish Navy and the rows and rows of houses all in Nyboder Yellow (it's recognised as a specific type of yellow in Denmark). The proportions of these houses are remarkable and look like a regular house shrunk down by a third.
We climb the banks of Kastellet, a star fortress that has been wonderfully preserved. Atop the banks you get a nice view of the surrounds and it is also very close to The Little Mermaid and within walking distance of Amalienbourg Palace. St Alban's Church catches the light just so and takes on an almost fairytale appearance.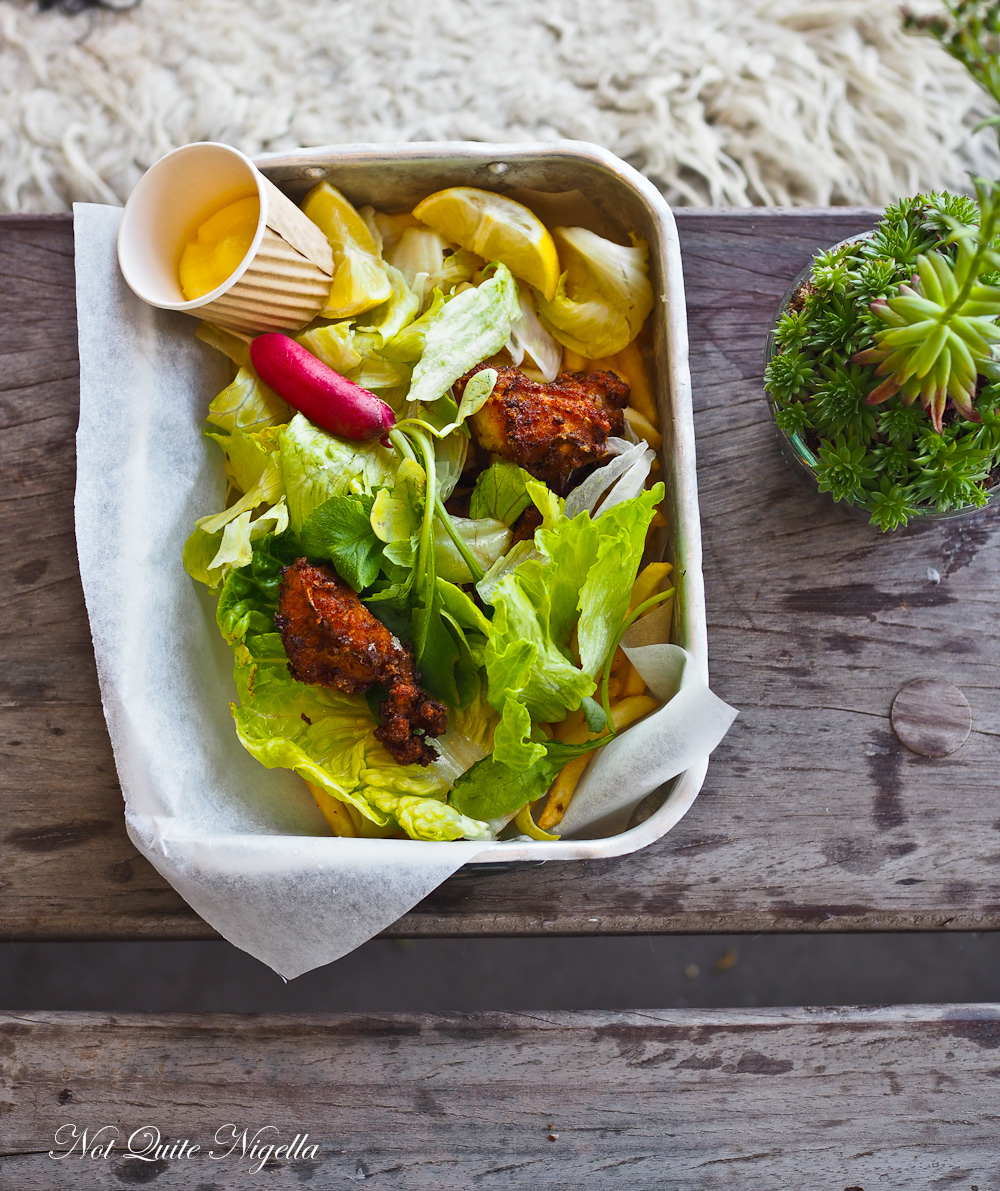 For lunch we stop by Toldboden which is where many Danes like to spend time on the summer. You can sit outside and eat your fish and chips or lobster roll or there's also a number of people sitting on chairs watching the harbour.
You can order at the bar and there is a choice of seafood dishes along with wine, beer and cocktails. As we are still full from the morning we decide to split a serve of fish and chips. They're ok but need a bit of spice or seasoning to them but it's a nice place to sit down and rest your feet. The benches are lined with fur pelts and the whole place is relaxing and photogenic.
About 5 minutes' walk away is the main statue of The Little Mermaid. And when I say most visited I mean it. There's a crowd swarming getting photos and it's similar to when you see the Mona Lisa. It's quite small and the overwhelming urge you get is to run away from the thronging crowd.
Another 10 minutes walk away is Amalienbourg Palace which is a series of four identical buildings and is said to be where the royal family visit for Winter. Every quarter of the hour the guards change position and people can also watch the changing of the guards at 11:30am.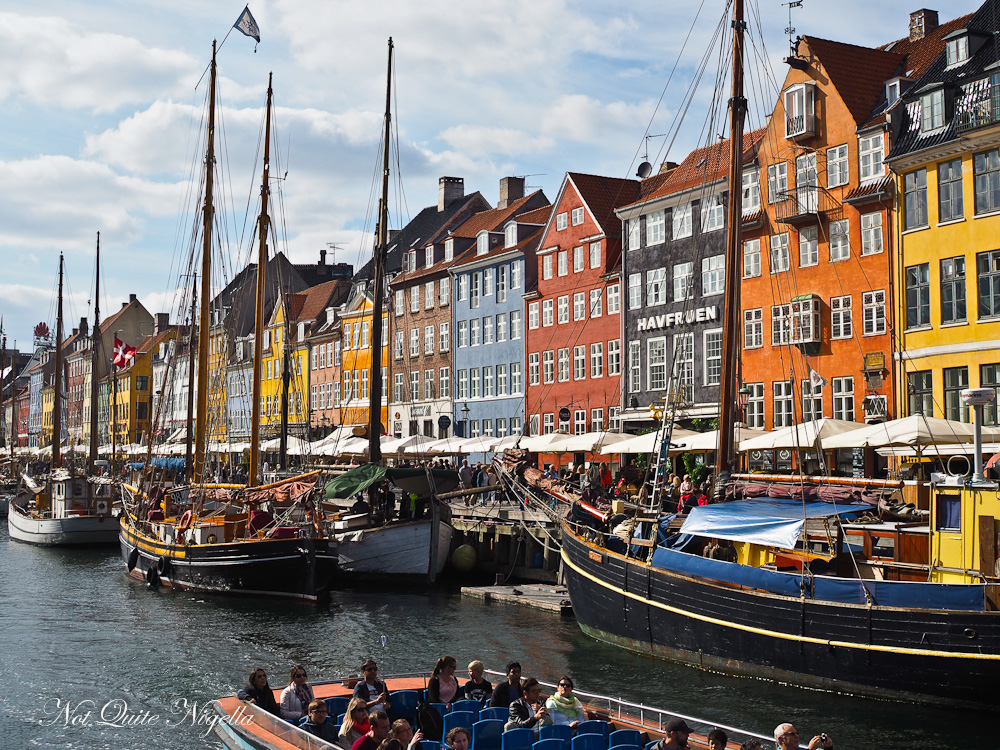 About 10 minutes' walk away is the area of Nyhavn or New Haven. Built in the 17th century it is a canal waterfront area that is very popular with tourists. There are lots of boats that taken people down the canal and the restaurants are very busy profferring up food from every country. We spend a little time here stopping for an ice cream at Vaffelbageren - strawberry because Danish strawberries are in season and cookies and cream. The ice cream melts rapidly but the strawberry flavour is very good. We savour each bite trying to make our moment in the sun last.
So tell me Dear Reader, what country or city do you think is friendly to tourists? Would you visit an area like Christiania? And have you ever tried Smorrebrod?
NQN visited Copenhagen as a guest of Wonderful Copenhagen & Singapore Airlines. All food except at Restaurant Palaegade, Le Glace and Paper Island was independently paid for.
Sankt Peders Straede Bageri
Skt Peders Stræde 29, 1453 København K, Denmark
Phone:+45 33 11 11 29
Cash only, no international cards accepted
Torvehallerne
Frederiksborggade 21, 1360 København K, Denmark
Restaurant Schønnemann
Hauser Pl. 16, 1127 København K, Denmark
Phone:+45 33 12 07 85
http://www.restaurantschonnemann.dk/
Restaurant Palaegade
Palaegade 8, Copenhagen 1261, Denmark
Phone:+45 70 82 82 88
http://palaegade.dk/frontpage/
Hotel SP34
Sankt Peders Stræde 34, 1453 København, Denmark
http://www.brochner-hotels.dk/our-hotels/sp34/
Go Boat
Islands Brygge 10, 2300 København S, Denmark
http://goboat.dk/en
Cycling Copenhagen
http://www.cycling-copenhagen.dk/
+45 2176 2829
Copenhagen Street Food on Paper Island
Trangravsvej 14, 7/8, 1436 København K, Denmark
Phone:+45 33 93 07 60
http://copenhagenstreetfood.dk/en/
La Glace
Skoubogade 3, 1158 København K, Denmark
Phone:+45 33 14 46 46
https://laglace.dk/en/
Toldboden
Nordre Toldbod 18-24, 1259 København, Denmark
Phone:+45 33 93 07 60
http://toldboden.com/
Vaffelbageren
Nyhavn 49, 1051 København K, Denmark
Phone:+45 33 14 06 98
http://www.vaffelbageren.dk/en/